Looking for the perfect bundt cake? Try this Strawberry Swirl Bundt Cake – a moist vanilla cake with a strawberry swirl inside, topped with fresh berries and beautiful buttercream flowers!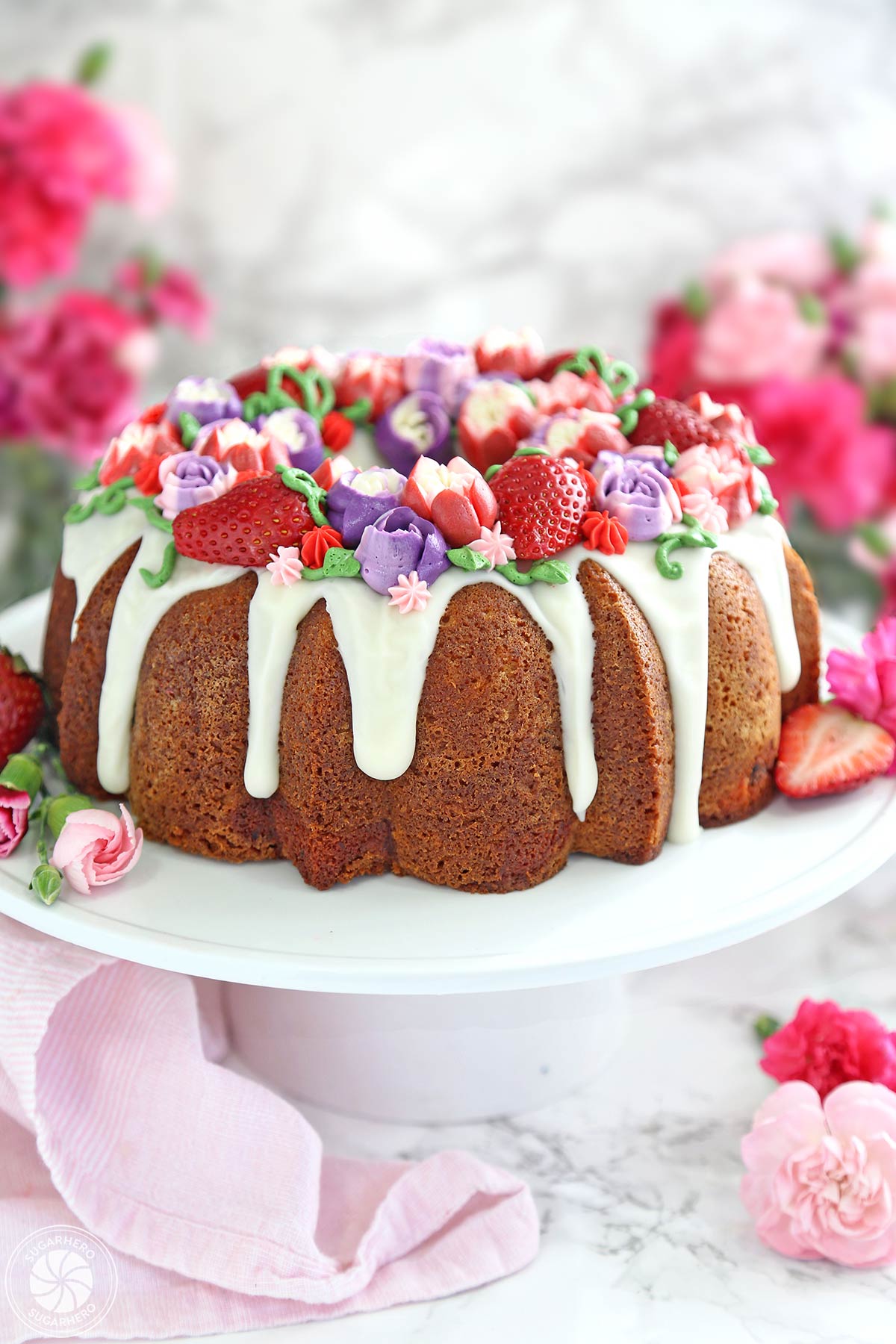 We haven't had much of a winter this year, but even so, I've been eager for spring to come. I am READY for warmer weather and sunshine and bright flowers everywhere. Now, I'm not saying I'm a witch (…and I'm not saying I'm not…), but in an effort to conjure spring early, I've been making lots of happy, cheerful spring desserts. Don't miss these beautiful Hydrangea Mini Cakes or easy Chocolate Flower Cupcakes.
To mis-quote Chandler Bing, "Could this Strawberry Swirl Bundt Cake BE any more springy??" It's a moist vanilla cake with a swirl of strawberry cake in the middle, topped with a lemon glaze and a garden of fresh berries and buttercream blooms on top. It's almost too pretty to eat (almost!) and makes me smile every time I look at it.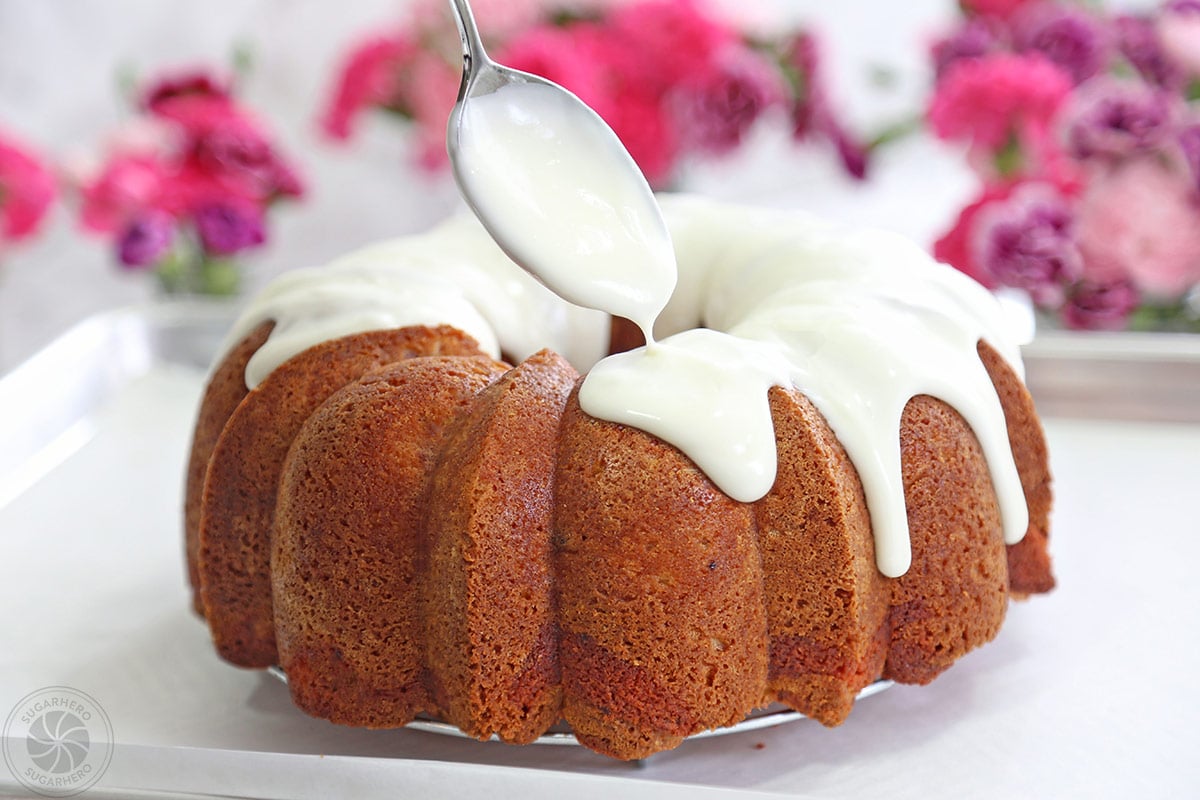 A good glaze texture is so important for bundt cakes, and so hard to nail! I usually like my glaze to be fairly opaque, as opposed to thin and barely-there, so I aim for a pancake batter consistency when I make it. This might make the glaze too thick for some people, but I have literally never uttered the phrase "too much glaze" in my life, so I am definitely not one of those people.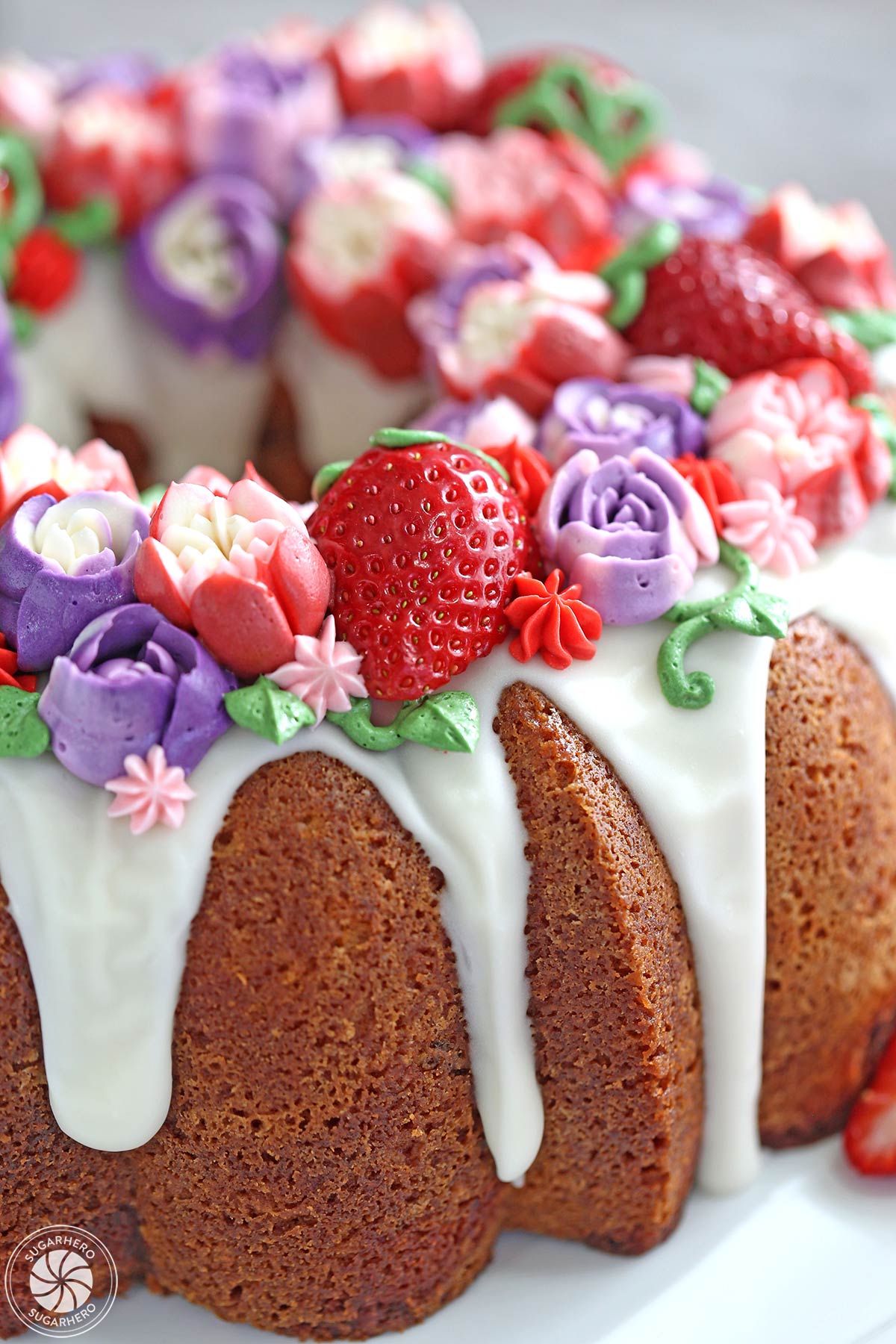 I started by piping buttercream vines along the top of the cake, then put cut strawberries in even intervals along the top, and added some frosting loops to the back of the strawberries to mimic the stems–I think this helps them look more integrated into the other buttercream decorations.
Next, I pulled out my favorite Russian piping tips, and added an assortment of different colors and shapes of flowers all over the top: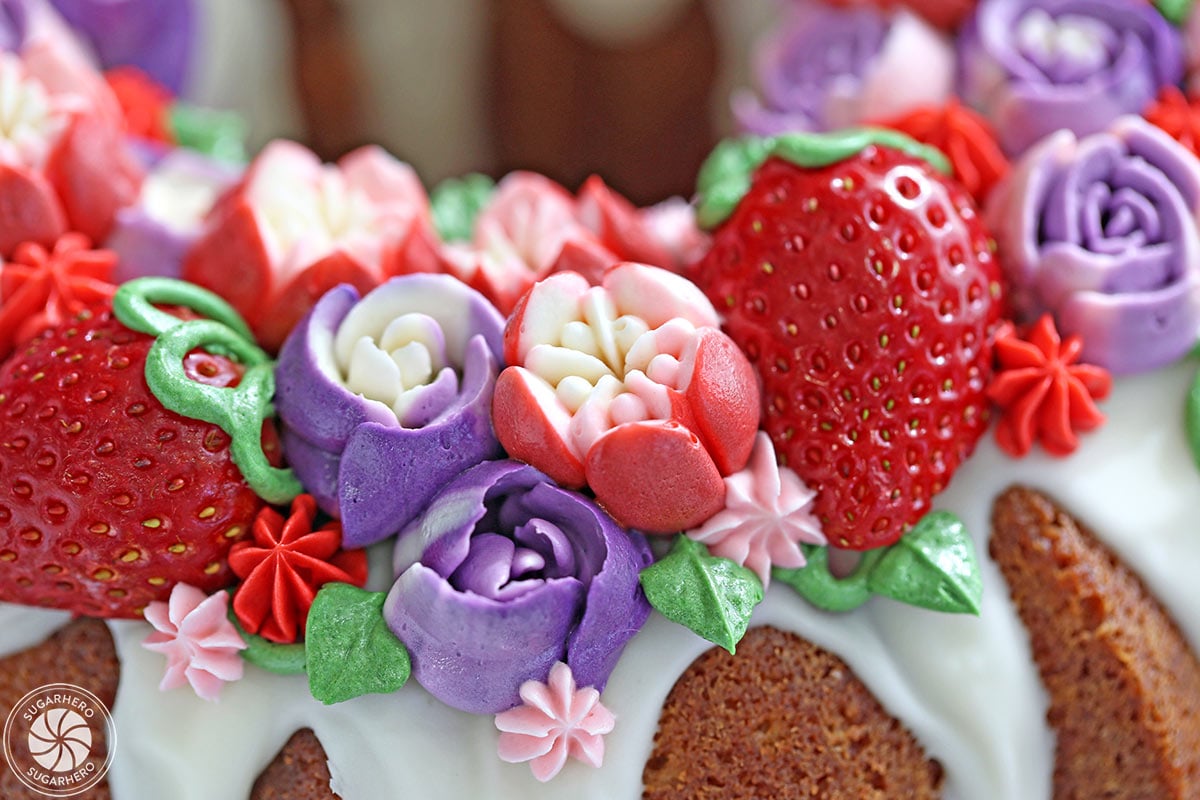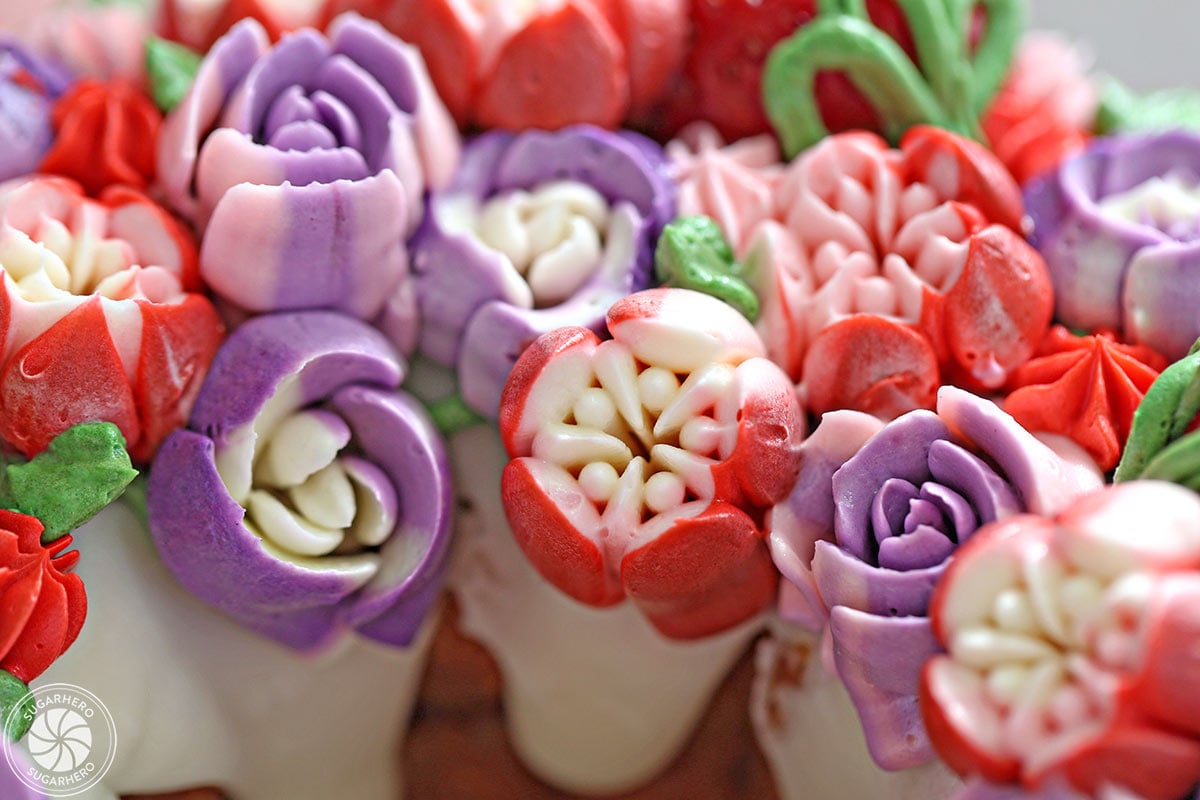 You can make the flowers as full or as sparse as you like. I've literally never met a cake I didn't want to douse in buttercream, so I went for a very full, lush look…but you don't have to take things as far as I did! In fact, once I covered most of the surface with the Russian piping tips, I went back with a few small star tips, and added some colorful stars in between. Finally, I filled in any last gaps with green leaves here and there.
The cake has a traditional pound cake texture, with a tight crumb and a lovely subtle vanilla flavor with a slight sour cream tang. The strawberry swirl in the middle comes from mixing strawberry puree and chopped strawberries into a portion of the batter. I love this realistic strawberry flavor, but be aware that if you don't add pink food coloring, it's sort of a muted mauve color. I don't mind food coloring (obviously) so a bit of pink gel coloring helped make my strawberry layer a more traditional pink.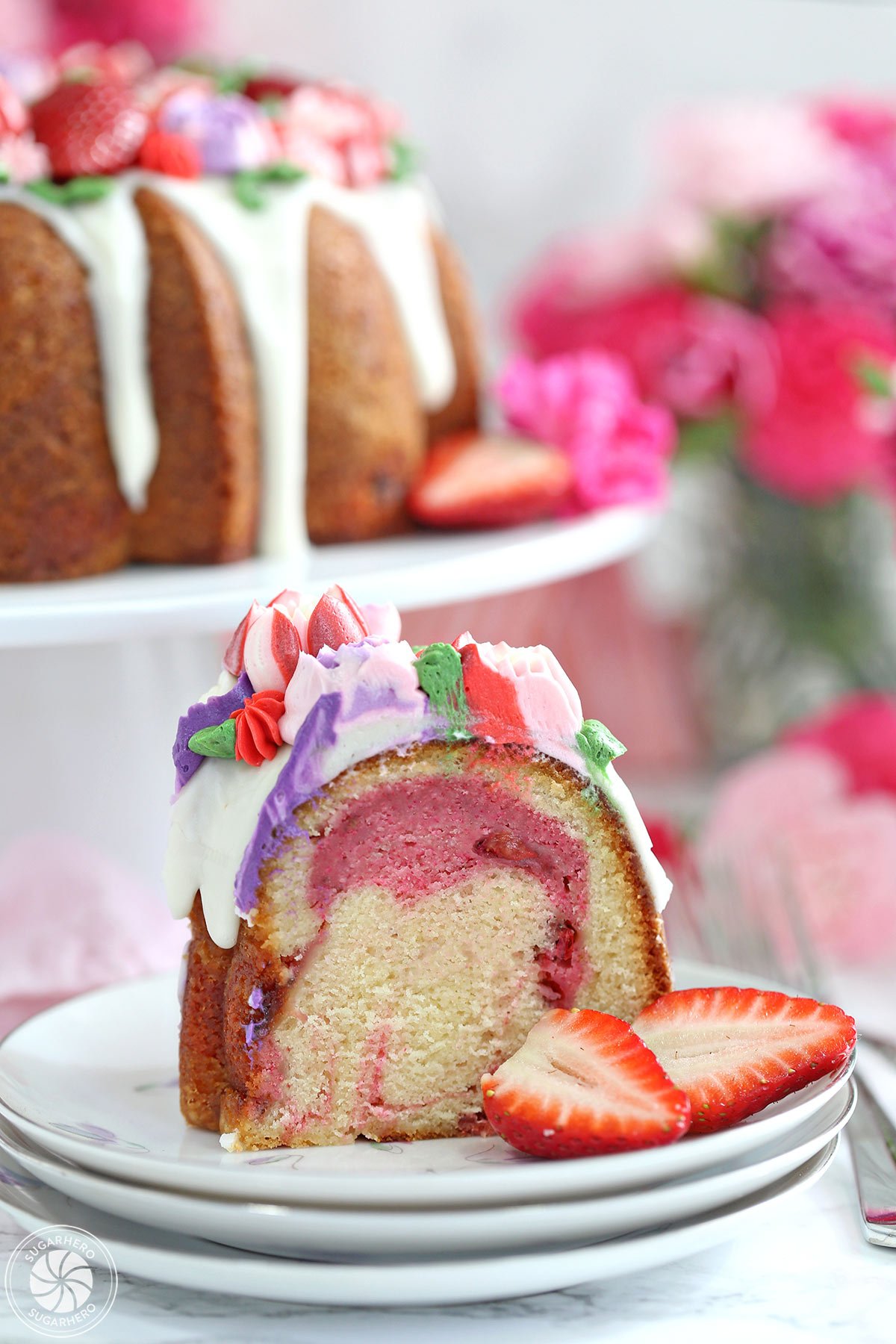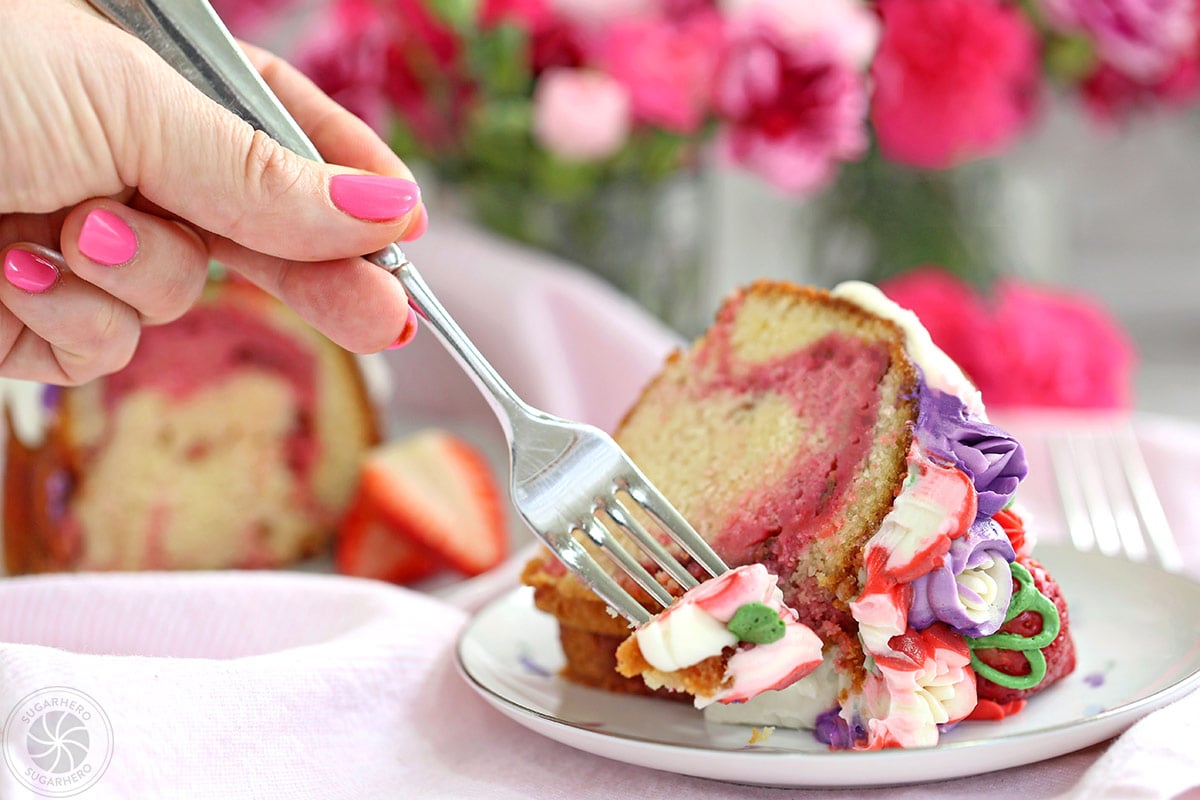 I hope this cake brings a smile to your face, too, and I wish you all sunny skies and colorful flowers in the very near future. If you want to see how this cake is made and decorated, check out the video below!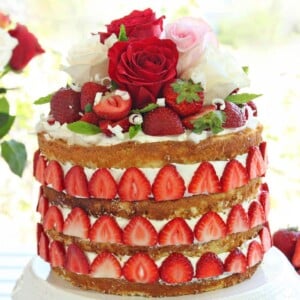 Strawberry Rhubarb Shortcake
This Strawberry Rhubarb Shortcake is pillowy soft, moist and flavorful. It is the perfect balance of tangy buttermilk and rhubarb, sweet white chocolate and sliced fresh strawberries!
View Recipe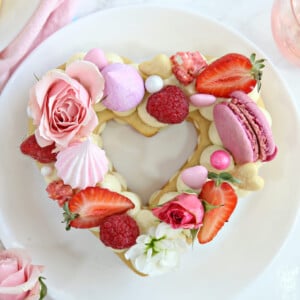 Trendy Cream Tarts
These Cream Tarts are all the rage! Also known as cream biscuits or cream cakes, they're a beautiful and unique twist on traditional cakes. You can cut them into letters, numbers, or shapes, and decorate them with fruits, flowers, and all your favorite candies.
View Recipe
Don't miss our collection of the 10 Best Valentine's Day Cakes – see the whole web story here!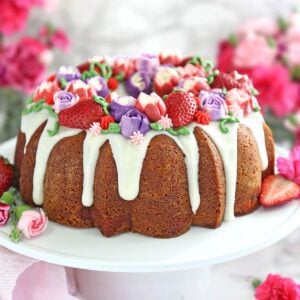 Strawberry Swirl Bundt Cake
Looking for the perfect bundt cake? Try this Strawberry Swirl Bundt Cake – a moist vanilla cake with a strawberry swirl inside, topped with fresh berries and beautiful buttercream flowers!
Ingredients
For the Decorations:
6

oz

powdered sugar

(1 1/2 cups)

¼

cup

milk

½

tsp

lemon extract

or other flavoring extract

2-3

cups

buttercream frosting

tinted assorted colors

3

fresh strawberries
Instructions
To Make the Bundt Cake:
Preheat the oven to 375 F. Spray a 10-15 cup bundt pan with nonstick baking spray—I like the Bakers variety with flour mixed in.

Combine the sugar, butter, baking powder, and salt in the bowl of a large stand mixer fitted with a paddle attachment. Mix on medium-high speed for about 5 minutes, until very light and creamy.

Turn the mixer to medium-low and add the eggs one at a time, beating well after each addition, then mix in the vanilla extract.

With the mixer running on low, add about a third of the flour. After the streaks have disappeared, add half the sour cream. Continue to alternate the wet and dry ingredients until they are all added to the batter, stopping when just a few streaks of flour remain. Stir the cake batter with a spatula, scraping the bottom and sides of the bowl well.

Separate out about a third of the batter, and add the strawberry puree, chopped strawberries, and pink food coloring (if using) to the batter. Stir gently just to incorporate.

Add half of the plain batter to the bundt pan, then add the strawberry batter on top, and finish with the rest of the plain batter. Twirl a knife or skewer through the batter to swirl the flavors together.

Bake the bundt cake at 375 F for 55-60 minutes, until a toothpick inserted into the center comes out clean. Let the cake cool for 15 minutes, then place a wire rack on top and invert the cake. Carefully remove the cake pan and let it cool completely before decorating.
To Decorate:
Whisk together the powdered sugar, milk, and lemon extract until smooth and shiny. The glaze should be fairly thick, so that it looks opaque on the cake, but thin enough so that it drips down and doesn't just sit in a clump on top. I like to aim for the thickness of a pancake batter to start. If it seems too thick, add a bit of milk, and if it seems to thin, whisk in a little more powdered sugar.

Spoon the glaze on top of the cake, and use the spoon to nudge it down between the ridges of the bundt cake. Let the glaze set for at least an hour before finishing the decorations.

Fit a piping bag with a #2 tip and fill it with green frosting. Pipe a swirl of vines over the top of the cake.

Pull the stems off the strawberries, and cut them in half. Press the half strawberries, cut side down, in even intervals around the top of the cake. Use the green buttercream to draw frosting stems on each strawberry.

To make multi-colored flowers, lay out a piece of plastic wrap about 12 inches long. Spread a rectangle of frosting on the center of the plastic wrap. Take a second color of frosting and spread it on top of the first. If desired, add a third or even a fourth color on top. Roll the frosting over itself to make a cylinder. Grasp the ends of the plastic wrap in each hand, and twirl it quickly so the frosting is burrito-shaped and the ends of the plastic are tightly twisted.

Fit a large piping bag with one of your Russian piping tips. Snip off one of the plastic wrap "tails" and insert the frosting cylinder into the piping bag, snipped-side down. Hold the piping bag perpendicular to the top of the cake, about ½-inch from the top. Squeeze with steady pressure until the frosting comes out and forms a flower shape. Stop squeezing, then lift the tip so that the frosting tapers off into flower petals.

Add flowers of various colors and shapes all around the top of the cake—you can make it as sparse or as full as you want. Finish by swapping the tip on the green piping bag for a leaf tip, and add green leaves in between the berries and flowers.
Video
Recipe Notes
This recipe calls for 2-3 cups of prepared buttercream frosting. You won't use all of this, but if you want an assortment of colors, you'll need enough frosting to provide that variety, and will have some left over for another use. You can use any fairly stiff homemade frosting you have on hand—my favorite is this Easiest Swiss Meringue Buttercream recipe.
Measuring Tips
Our recipes are developed using weight measurements, and we highly recommend using a kitchen scale for baking whenever possible. However, if you prefer to use cups, volume measurements are provided as well. PLEASE NOTE: the adage "8 oz = 1 cup" is NOT true when speaking about weight, so don't be concerned if the measurements don't fit this formula.
Want to learn more about baking measurements and conversion?
Nutrition
Calories:
365
kcal
|
Carbohydrates:
52
g
|
Protein:
4
g
|
Fat:
15
g
|
Saturated Fat:
9
g
|
Cholesterol:
89
mg
|
Sodium:
144
mg
|
Potassium:
107
mg
|
Sugar:
36
g
|
Vitamin A:
525
IU
|
Vitamin C:
5.6
mg
|
Calcium:
46
mg
|
Iron:
1.2
mg
Tried this recipe?
Snap a pic and hashtag it #SugarHero. We love to see your creations on our Instagram @elabau.