This post may contain affiliate links. As an Amazon Associate I earn from qualifying purchases. Please see my disclosure policy for more information.
Oh hey, remember when my son had a birthday over a month ago, and I posted all about his Where the Wild Things Are cake, and promised to follow up with party details shortly thereafter? And remember how I then got distracted by Mother's Day, and important holidays like National Chocolate Chip Cookie Day, and the Very Berry Month of May? Dang, when's a girl going to find the time to publish a birthday party post around here? Well, as promised ever so long ago, I'm finally back to talk on (and on…and on…) about Asher's Where the Wild Things Are party! There IS a delicious sugar cookie recipe down below, so if you're only here for the sweet stuff feel free to scroll on by. But if you're looking to throw a Wild Things party of your own, I hope you find some inspiration here! I've tried to be thorough and include lots of pictures and links to the resources I used. You can also check out my Wild Things Pinterest board where I've pinned lots of other ideas and parties from around the web. And without further ado…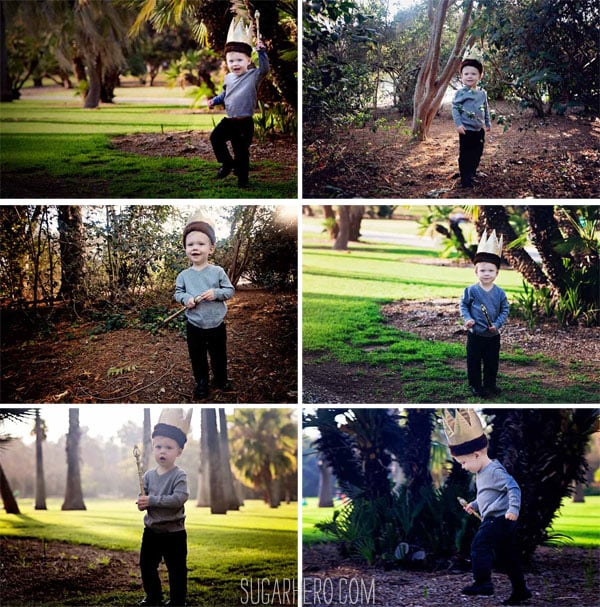 The wild thing himself! Pictures by Adrea Scheidler
First step? Themed pictures, of course! We worked with Adrea Scheidler again, who did his adorable Hungry Caterpillar pictures last year. We met at a local park that had some nice wooded spaces for him to run around, and had him wear a gold crown and carry a gold scepter. [I ordered the crown from this etsy seller, who sold it to me without the rest of the Max costume. The gold scepter is from this set on Amazon.] I originally wanted him to wear the full Max costume, but one thing I learned from last Halloween is that he is not a happy costume kid. Rather than have him be hot and unhappy in the pictures, I opted for just the crown and scepter to lightly reference the book. I think it was a good call–Adrea was able to get some fantastic shots of Asher marching and running around, and he was happy to wear a crown for a few minutes. We took these pictures about 2 months before the party, and used them for the invitation and then as decorations at the party. Speaking of the party, let's jump right in!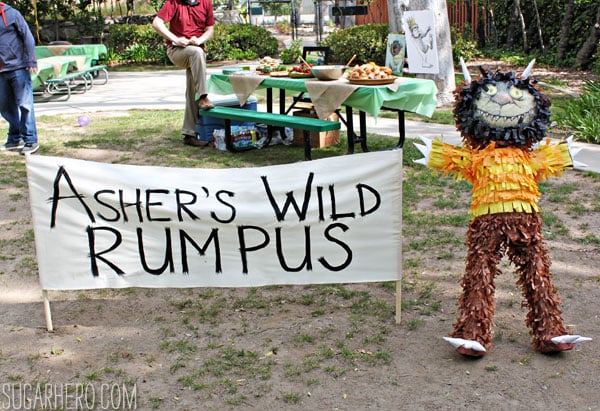 We again held his party at a local park. Guests were greeted by this hand-painted sign that was just a length of muslin attached to two wooden dowels and painted with regular acrylic paint. The giant Wild Thing next to it (named Carroll, if you're a fan of the movie) is actually a pinata! Much more on his construction down below.

Last year we had guests sign a book for Asher as they arrived, and it quickly became one of my favorite mementos. I love looking through it, seeing sweet notes from our friends, reading them to Asher, and remembering that fun day. I decided to do that same sort of "guest book" again, and so I laid out a copy of Where the Wild Things Are on the welcome table, along with a picture asking folks to sign his book, and a jar of Sharpies.

Throughout the party I displayed pictures of Asher in costume with quotes from the book–the one on this table is an introductory quote that reads, "And he sailed off through night and day and in and out of weeks and almost over a year to where the wild things are." I also displayed his crown and scepter from the photo shoot, and put everything on a square of furry material that was left over from his Halloween costume. (He was a (reluctant) werewolf, and the fur was purchased at JoAnn's.)

If you're a regular reader, you've seen this cake before! (If not, check out this post for the recipe and tutorial pictures showing how to make a Wild Things cake.) The cake was displayed on a giant 16-inch, 3-inch-thick tree slice that I got for $5. I'm sorry if it's in poor taste to brag about prices, but I was so excited about scoring that beautiful piece of wood! My original plan was to buy one online–I live in a pretty urban area, and don't have the equipment or resources to cut a tree slice myself. I'd looked at craft and home improvement stores, but hadn't found anything big enough for what I wanted. There are many places you can buy slices online (like these 12-14″ slices for $20) but after factoring in shipping, I basically talked myself out of paying a lot of money for a piece of wood I would probably only use once.
As a last-ditch effort I went to a local firewood place that's basically just a parking lot full of wood, stumps, and kindling. The man who assisted me was so nice and helped me to pick out the perfect round stump to slice. This sucker is heavy, huge, and only cost $5 total. Score! I displayed it on a piece of burlap, with green branches from Ikea sticking out of florist foam behind it. The cake was flanked by two more pictures of Asher with quotes: "They called him the most wild thing of all / and made him king of all wild things."

Let's get to the good stuff: the food table! Of course, it was presided over by yet another Asher picture: "Then all around from far away across the world, he smelled good things to eat."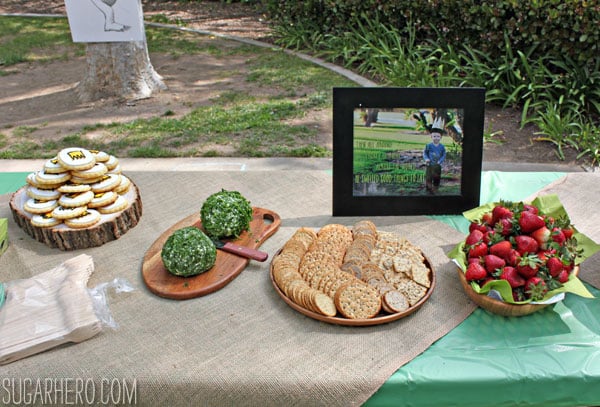 I really tried to learn my lesson from last year and simplify things in the food department. The party was from 10-12, so I decided a full, elaborate lunch wasn't necessary. We did have a lot of food, it was just pretty simple and fast to prepare: assorted rolls, lots of clementines and fresh strawberries, a Chinese chicken salad (from a Costco pack) and crackers and cheese balls.

I am not usually a cheese ball person, but I thought it might hold up better than cheese slices, which got a little sweaty and dried-out during last year's party. I used this Dilled Onion Cheese Ball recipe, doubled, and it was a huge hit! Lots of people asked for the recipe–maybe it's time for cheese balls to make a comeback? I rolled one ball in dill and one in parsley, to give them a "mossy" look that fit the forest vibe.

And the birthday boy finally makes an appearance! He's munching on a crown-topped sugar cookie (recipe below) and wearing an adorable custom shirt from twinzzshop on etsy. (Highly recommended, Kelly was wonderful to work with.) The shirt is hand-embroidered and the message underneath is another quote from the book: "I'll eat you up, I love you so." I loved this shirt so much, I used the design as inspiration for the favor bags we gave out. Unfortunately, this is one of the few happy pictures I have of Asher from the party–we found out later that he had an ear infection! He seemed okay in the beginning but lost steam about halfway through and spent the latter half of the party sleeping in my dad's lap. He had so been looking forward to his party, it was sad for all involved that he ended up being sick. He was a trooper for the first hour, though!

Let's talk pinata. I put on my crafty pants and transformed an ugly monkey pinata into an awesome Wild Things pinata! I bought the pinata in LA's Pinata Alley, which is a stretch of stores near the Fabric District that specialize in pinatas and party goods. It is a truly amazing place, and if you're in the area I highly recommend checking it out. There are stores that do custom pinatas, as well as tons of places to buy really cheap pinatas, party favors, and candy. I got a 4-foot monkey pinata for $13, which is much less than most party stores charge for one half that size.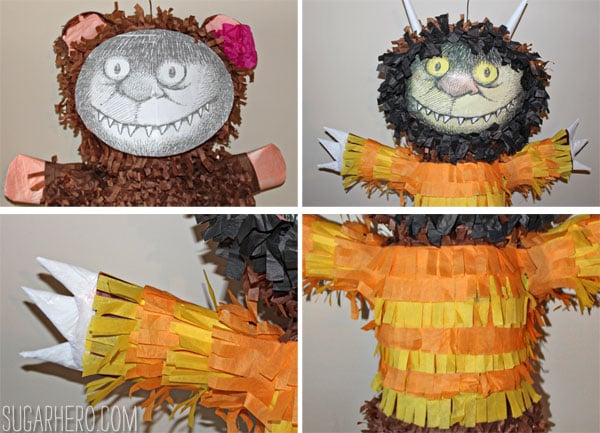 To transform my monkey into a Wild Thing, I scanned a page from the book that had the wild thing facing forward (this is surprisingly hard to find!) and photoshopped it a bit so that the eyeballs were looking forward–in the book they were turned to the side. Then I printed it out on two sheets of paper so that it was large enough to cover the monkey's face, and taped them together. (The first B&W picture is a test run to make sure the face was a good fit.) I used Mod Podge to stick the paper onto the pinata, and it worked pretty well–use the matte variety so the face isn't too shiny! Jason and I spent some quality hours cutting tissue paper into long strips, then fringing the strips and sticking them to the pinata. (Crepe paper or streamers will also work, but the rest of this pinata was covered in tissue paper and I wanted the texture to match.)
I trimmed off most of the brown "fur" on the chest and we attached fringed orange and yellow paper in stripes, using double-sided tape to make it stick. We also taped black paper around the face, so the face would blend with the brown fur, and scrunched it slightly to give it texture. Finally, I used cardstock to make the horns and claws on the hands and feet, then covered them with white tissue paper and Mod Podge'd over it to give it a smooth appearance. The process took several hours (I'm guessing 5-6 total?) over the course of a few days, but it was worth it. I'm not the craftiest kid on the blog, but I was so proud of my Wild Thing! It was bittersweet to bash him with a stick, but we went for it.

Asher rose from his sick bed (sick lap?) to take a few swings. Even though the pinata was cheap, it was stubborn! Plus, we had mostly younger kids hitting it, so it took a while to crack that sucker open. Finally, someone managed to sever the head from the body…

…and we got a series of great pictures of Jason flinging candy on children from a monster's torso. Quality entertainment, there.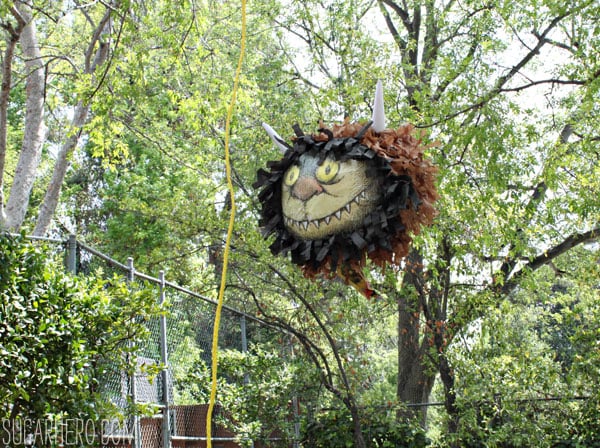 AND it provided us with this excellent visual: a wild thing's head dangling from a rope on a tree. I'm sure that didn't traumatize any of the children at the party…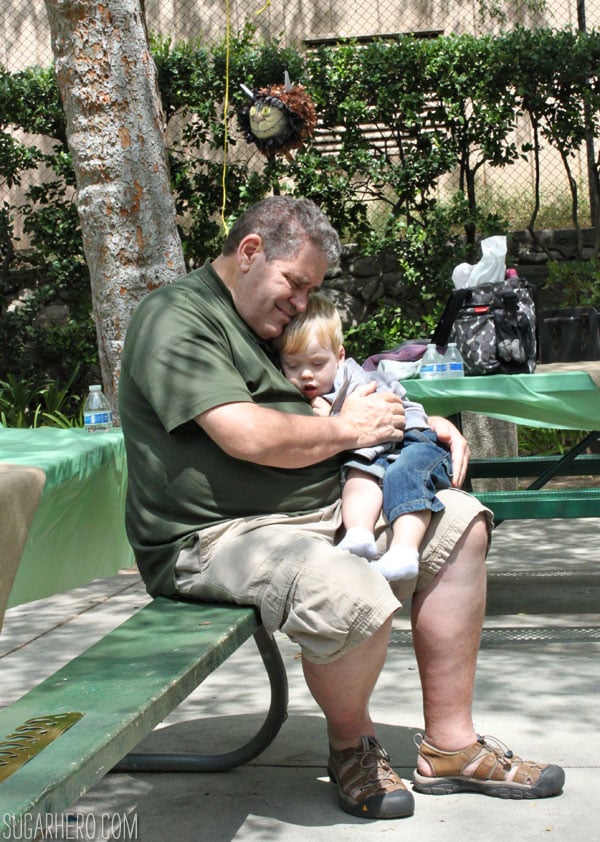 One more shot of our poor boy, napping with Papa while everyone else enjoys the party. Please also note the head dangling in the background…

We had a few more Wild Thing decorations set up around the park, like this picture station. I scanned a picture from the book at a really high resolution, then photoshopped fur onto the entire face. I had the picture printed into a 24″x36″ poster through Vistaprint, then mounted the poster on a piece of foamboard using spray adhesive. Once it was mounted, we cut a small hole in the face for people to peer through. We hammered some dowels part-way into the ground, and propped the poster against the dowels. Folks had a great time taking their own Wild Thing pictures, and we got some real gems from our goofy friends.

I made another poster (using a scanned image, Vistaprint, and foam board)–this one was Max in costume, sans tail. I cut out a bunch of cardstock tails and we were going to play "Pin the Tail on Max," but we ended up scrapping it. I had brought lots of big bubble wands and inflatable balls, and those, in addition to the playground and pinata, were enough entertainment for the kiddos. Tail-less Max just wound up being decorative, which was fine with us too.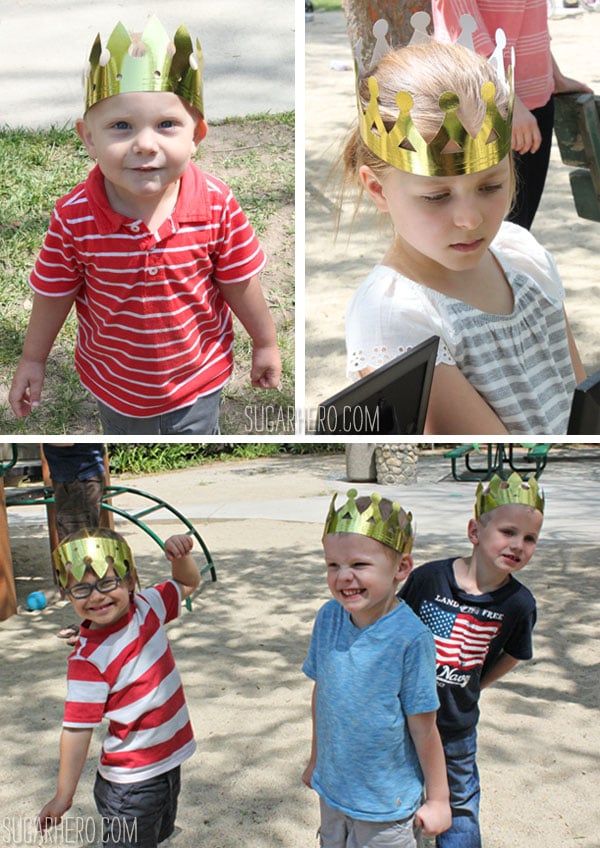 I bought these gold crowns and we gave them out to all of our guests to wear during the party. I was surprised at how much the kids loved them, but I guess I shouldn't have been–as soon as the kids put them on, they basically burst into a simultaneous chorus of "Let It Go." The Disney force is strong with them, and princesses (and princes) are always in style…even at a Wild Things party.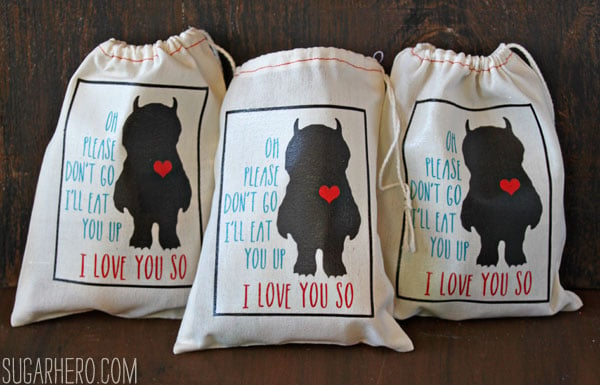 Now for my favorite part: the favor bags! Every guest got a muslin bag decorated with a Wild Thing outline and the quote, "Oh please don't go, I'll eat you up I love you so." I was originally going to make the bags myself, which is theoretically possible but practically speaking utter nonsense. I ended up buying the muslin bags pre-made and it was a great decision–it was much easier and they looked awesome. The decorations were made using iron-on transfer sheets and a design I made in photoshop. You can buy the iron-on transfer image I made here!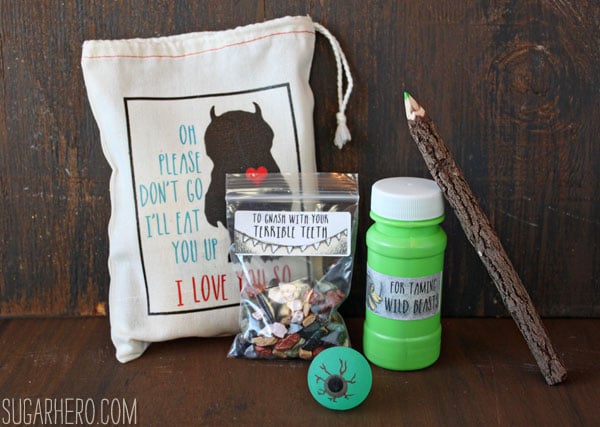 Each bag was stuffed with: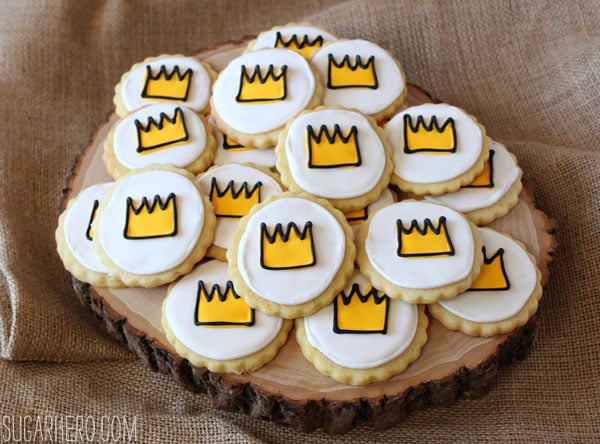 Did you make it this far? High five! I have some cookies for you! Of course the cake was the big dessert centerpiece of the party, but since I have an incurable sweet tooth myself, I wanted to have a little something for people to munch on with lunch before we got to the singing and cake cutting. I made these lemon sugar cookies with lemon royal icing, decorated with cute little royal icing crowns. It wasn't the fastest dessert I've made, but the cookies, crowns, and icing could all be done in advance, so the work was spread out over several days, which was nice.

I drew a quick crown shape in Photoshop. I intentionally wanted it to look a little juvenile and messy, to fit the playful vibe of the party. I printed out a page with row after row of the crowns, then put that paper beneath waxed paper and traced my royal icing crowns on top. I think it took 2 episodes of Law & Order to finish about 60-70 crowns. (Yes, "Law & Orders" are a standard unit of time around here.) The recipe makes about 50 cookies, but I knew there would be some breakage so I made a bunch of extra ones just to be safe…besides, it doesn't make any sense to stop working before the perp has been sentenced, right?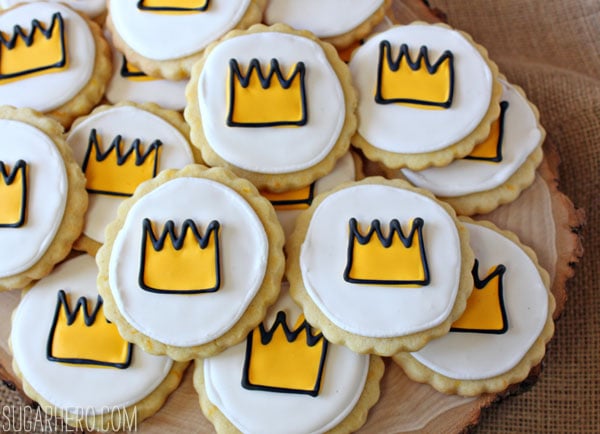 This is the Platonic ideal of a sugar cookie: buttery, crisp on the outside, soft in the center, with a sweet-tart lemon flavor. They make a wonderful party treat, or wrap them in a plastic bag, tie them with a ribbon, and give them out as edible favors! This sugar cookie recipe is adapted from Sweetapolita, and everything I know about royal icing I learned from Bake at 350. If this is your first time using royal icing, I recommend checking out her tutorial, because it will tell you much, much more than this brief recipe ever could.
Where the Wild Things Are Sugar Cookies
These sugar cookies are a classic! Topped with royal icing, they make great party treats or party flavors.
Ingredients
Supplies:
Squeeze bottles

#2 piping tips
Instructions
To Make the Sugar Cookies:
In a large bowl, sift or whisk together the flour, salt, and baking powder. Set aside.

In the large bowl of a stand mixer fitted with a paddle attachment, combine the sugar and lemon zest. Work them together between your fingers until the sugar is moist and very fragrant. Add the butter and then beat the butter and lemon sugar together, starting on low speed and moving to medium, until the butter and sugar are well-mixed and the color has lightened. (Because the butter is cold, it will be hard to beat at first, but starting with cold butter will help prevent the butter from being overbeaten and help keep them from spreading.)

Add the eggs one at a time, beating after each addition, then add the extracts. With the mixer running on low, gradually add the flour mixture. Once it is nearly incorporated, with just a few streaks of flour remaining, stop the mixer, remove the paddle, and stir it by hand with a spatula. Be sure to scrape the bottom and sides of the bowl well.

Divide the dough in half and press each one into a flat disc. Wrap them well with plastic wrap and refrigerate them until firm, about 1 hour.

When you're ready to roll, preheat the oven to 350 F. Divide a disc of dough in half, and keep the dough you are not working with in the refrigerator to keep cool. Place the dough between two sheets of waxed paper and roll it out until it is a little less than 1/4" thick. (I prefer to roll my dough between two sheets of waxed paper so I don't have to add any additional flour. If you don't want to, or can't, just make sure your work surface is dusted with flour regularly to prevent sticking.) Cut into shapes and place on a parchment-lined baking sheet. Re-roll the rest of the scraps together and repeat with the remaining dough.

Place the sheet in the freezer for 15 minutes before baking. Bake cookies at 350 F for 10-12 minutes, until the edges have started to take on a golden color. Cool on the baking sheet for 5 minutes, then carefully transfer them to a wire rack to cool completely. Cookies can be made several days in advance and kept on a well-wrapped cookie sheet in the freezer (optimal) or at room temperature (less ideal—they are more likely to get stale this way.)
To Make the Royal Icing:
Combine the meringue powder and water in the large bowl of a stand mixer fitted with the paddle attachment. Beat on low speed until they're combined, then sift in the powdered sugar and beat on low until the sugar is moistened. Add the corn syrup and extract, and beat them in.

Turn the mixer to medium-high and beat for 3-5 minutes, until the frosting is shiny, bright white, thick, and forms stiff peaks when you remove the beater. Press a layer of plastic wrap right on top of the icing until you are ready to use it, so it doesn't start to dry out. If making a day or two in advance, transfer it to an airtight container and press plastic wrap on top of the icing, then put the lid on top. Store is in the refrigerator, and stir well before using.
To Decorate the Cookies:
Draw or print crown shapes (or your shape of choice) in a repeating pattern on a piece of paper—this will be your template to ensure your decorations are all the same size. Place this paper on your work surface and tape a long length of waxed paper over it.

Divide out about a third of the royal icing into a separate bowl, and add enough yellow gel food coloring to get a bright, vibrant yellow color. This is your icing for piping the outline of the crowns. Scoop about a cup of the icing into a piping bag fitted with a #2 small round tip pastry tip. To the rest of the yellow icing, add a little water, a spoonful at a time, until it is the consistency of syrup. When you lift the spatula from the icing and let it dribble back into the bowl, the trail should disappear in about 2 seconds. This is your icing for flooding. Transfer it to a squeeze bottle.

Using your template as a guide, outline about 5-6 crowns in a row on your waxed paper, then squeeze the flood icing in the outline. You can use a toothpick to spread it to the edges so it doesn't leave any gaps. Repeat, doing about 5-6 crowns at a time, until you have as many yellow crowns as you want. You can scoot the template around underneath the waxed paper to give yourself fresh places to work once you have filled up one area of the waxed paper. I made 60-70 to account for breakage and the occasional ugly crown.

After all the crowns are filled in with yellow, take about a cup of the stiff white royal icing and mix it with black gel food coloring in a small bowl until you get a strong black color. (This will take a lot of food coloring.) Transfer the black to a piping bag fitted with a #2 tip, and outline the crowns with black icing. Let the crowns dry completely overnight, for at least 8 hours, before transferring them.

Fill a piping bag fitted with a #2 tip with stiff white icing. Outline all of the cookies in white. Thin the remaining white icing by adding a spoonful of water at a time, stirring gently, until you get the consistency of syrup, as described above. Transfer the thinned icing to a squeeze bottle, and flood the center of the cookies with the thinned icing. Use a toothpick to nudge it to the edges of the outline if necessary so that the entire surface of the cookie is filled. Allow the cookies to sit out overnight to set the icing. Reserve the remaining royal icing to use as "glue" to adhere the crowns later.

The next morning, use a thin metal spatula to carefully loosen the crowns from the waxed paper. Dot the backs with a dab of royal icing, and press a crown into the center of each cookie.
Recipe Notes
You will probably be left with extra royal icing--I prefer to make a larger batch in case I need to re-do any colors or designs.
MEASURING TIPS
Our recipes are developed using weight measurements, and we highly recommend using a kitchen scale for baking whenever possible. However, if you prefer to use cups, volume measurements are provided as well. PLEASE NOTE: the adage "8 oz = 1 cup" is NOT true when speaking about weight, so don't be concerned if the measurements don't fit this formula.
Click here to learn more about baking measurements and conversion.
Nutrition
Calories:
234
kcal
|
Carbohydrates:
38
g
|
Protein:
3
g
|
Fat:
7
g
|
Saturated Fat:
4
g
|
Cholesterol:
26
mg
|
Sodium:
145
mg
|
Potassium:
57
mg
|
Fiber:
0
g
|
Sugar:
26
g
|
Vitamin A:
235
IU
|
Calcium:
11
mg
|
Iron:
0.8
mg
Share by Email
Share on Facebook
Share on Pinterest
A note about the stickers and images used: If you want to use the labels and iron-on transfer image I've used, they're now for sale in my Etsy shop! Click on over to snag the Eat You Up iron-on bag transfer image, Gnash With Your Terrible Teeth label, Taming Wild Beasts label, and even an Eat You Up 8×10 art print. They're an instant digital download, meaning once you buy them you can download the high-res file right away–how's that for instant gratification?!
I also receive a lot of requests for the files used in the posters–unfortunately I no longer have the images used for the posters and cannot provide those. If you don't have access to a scanner to scan the poster images yourself, I suggest trying a print or copy shop and seeing if they can assist you.
This post contains Amazon affiliate links. For more information, see my Affiliate and Advertising Policy.