These Blueberry Pavlovas consist of a crunchy meringue shell, filled with whipped cream and topped with fruit. The moisture from the cream softens the meringue, so every bite is a little crunchy, a little gooey, and really delicious.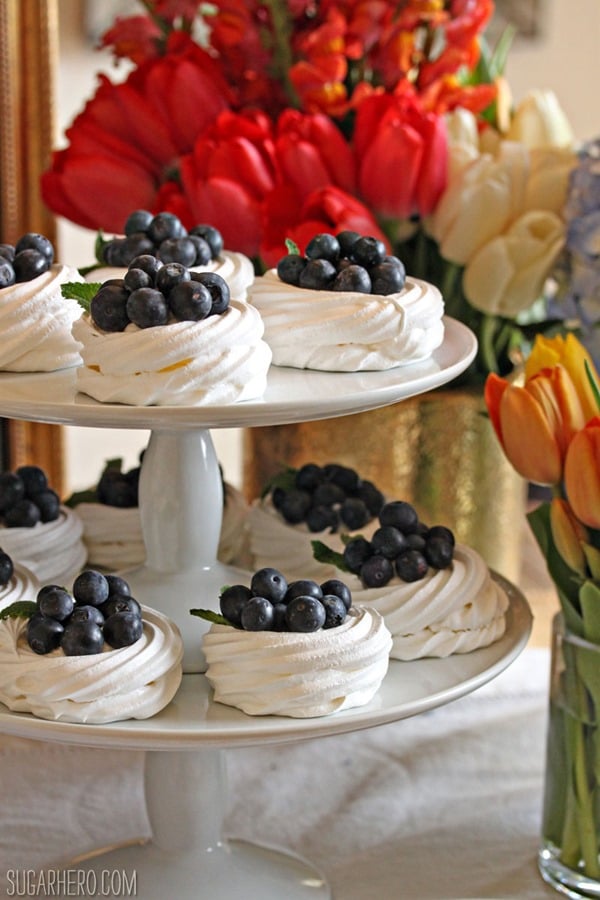 I have something a little different to share with you today! I've teamed up with my friend Chelsey from West Coast Capri to bring you a Mother's Day tea party! Chelsey has a gorgeous lifestyle blog where she posts about fashion, design, beauty, and food. I have a pretty good handle on food, but I'm completely fashion illiterate, so I basically creep on her blog and live vicariously through her life. When I read about her Valentine's Day party and her Isle of Capri birthday party, I was smitten and knew we had to work together on a themed event. Her decorating skills, my food…it would be a party to remember!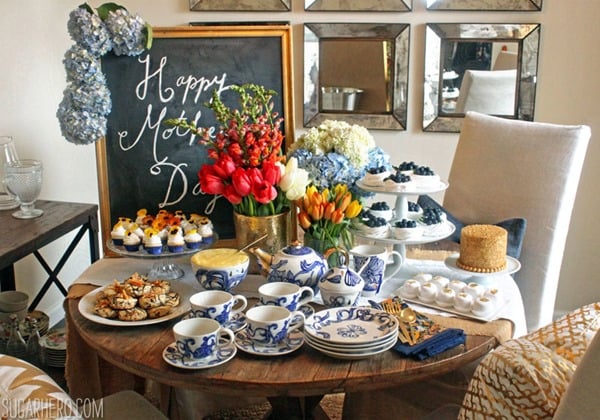 We wanted to create the ultimate tea party for Mother's Day. If you think about it, it's a natural combination. Moms are awesome. Tea parties are awesome. Wee little bite-sized desserts that you can eat by the dozen while holding your pinky in the air? Also awesome. My mom most definitely deserves a tea party, buuuuut since she lives far away, she'll have to settle for a long-distance Skype session with her darling grandchild. (Sorry, mom.) I ate a few mini cupcakes to honor her.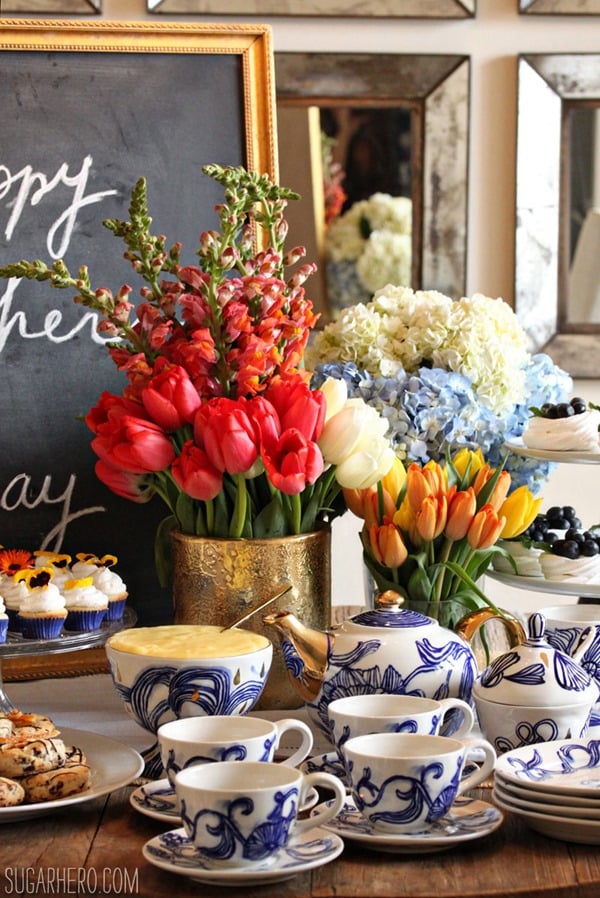 Anyhow, if you have a mom, grandma, aunt, sister or friend in your life who deserves to be honored this Mother's Day, I hope this will provide a little inspiration for you!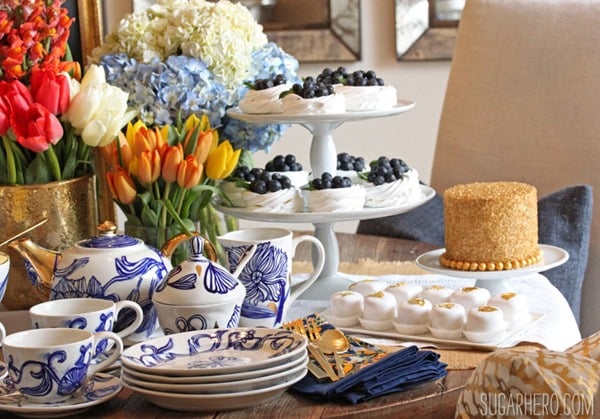 Chelsey hosted us in her beautiful house, and decorated the space with overflowing bouquets of fresh flowers, including some of my favorites like hydrangeas and tulips. She also found the most gorgeous tea set at Anthropologie that gave our party a romantic yet modern vibe.
We did a lot of party brainstorming (check out our Mother's Day Tea Party Pinterest board!) and pretty much every tea party we came across had a similar look: soft pastels, lace, flowers, frills…you know the drill. And I am not mad at pink macarons or fondant flowers on cookies, but it's all been done and it's all so expected. I love that this tea set had a bolder look that gave our party a luxe, contemporary feeling. And couldn't you just stare at this teapot for hours? Just me, then? Okay.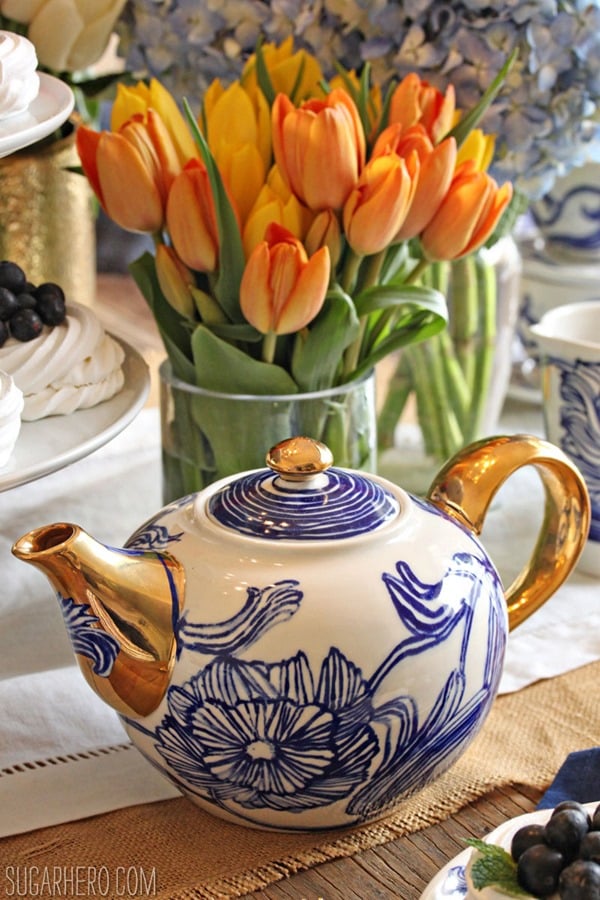 But what's a tea party without finger foods? I made four mini desserts for the occasion: mini blueberry pavlovas, lemon cupcakes, hazelnut orange chocolate scones, and raspberry vanilla petit fours. Oh, and a giant vat of lemon curd. Because tea party.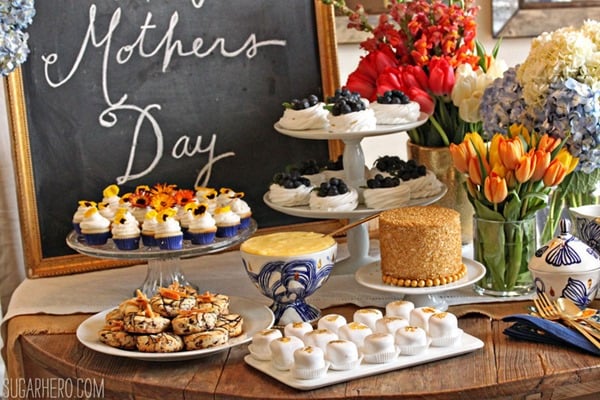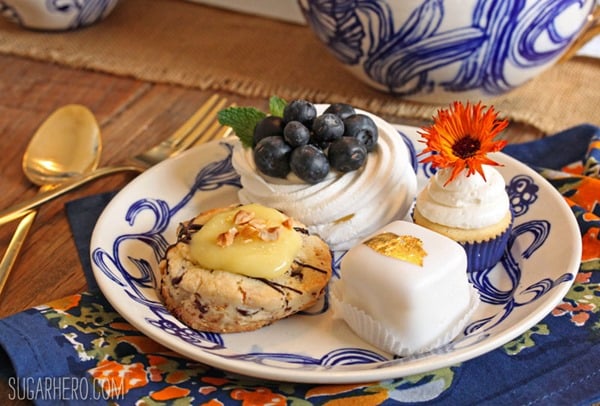 I also couldn't resist making a few baby cakes for the occasion. Only one ended up on the final table, but that's okay because this one was my favorite. Covered in sparkling gold sprinkles, and decorated with a ring of gold Sixlets, it's a little more simple than my usual style, but so elegant. A good reminder to myself to not make things more complicated than they need to be! Sometimes a few gold sparkles are all you need.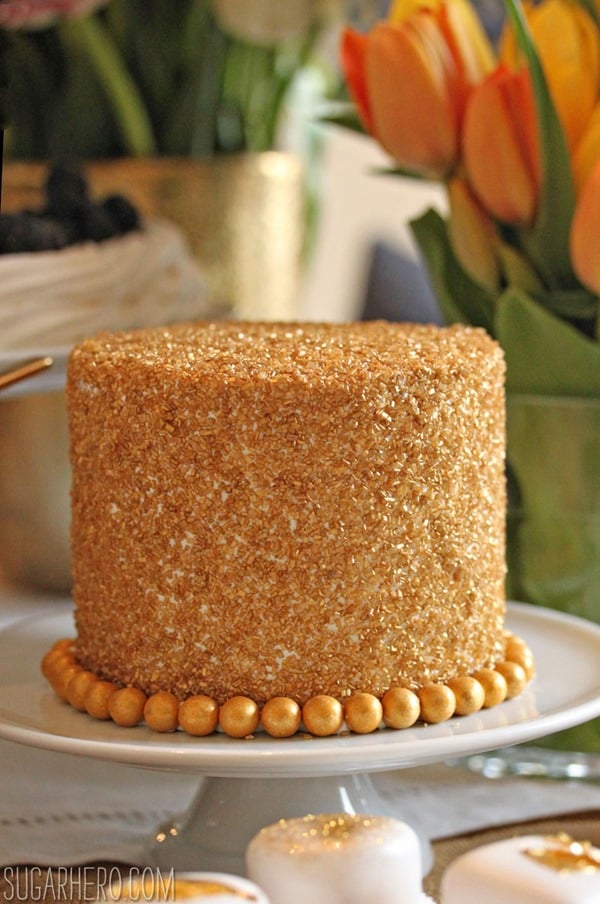 I'll be featuring recipes from the tea party over the next few days, starting with these mini blueberry pavlovas. Now that spring is truly underway and I've started to see more berries pop up at the store, I wanted a light dessert where the fresh fruit could shine. The fact that they coordinated perfectly with the navy and white tea set didn't hurt either!
Pavlovas consist of a crunchy meringue shell, filled with whipped cream and topped with fruit. The moisture from the cream softens the meringue, so every bite is a little crunchy, a little gooey, and really delicious. I've made large pavlovas for the blog before, but since a tea party demands daintier treats, mini pavlovas were definitely the way to go this time.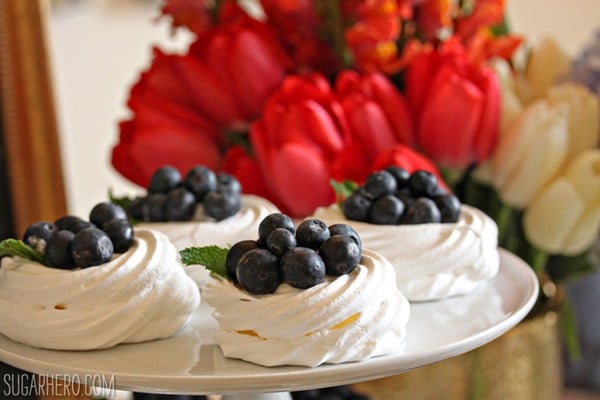 You can make these with any fruit you like—berries are traditional, but kiwis, mangoes, pomegranates, and cherries would all be wonderful. The shells can be made several days in advance, which makes them a good dessert for a party. Have everything prepped and ready to go, bang out the assembly in a few minutes, and before you know it, you're piling these pavlovas on a plate like a party-throwin' boss.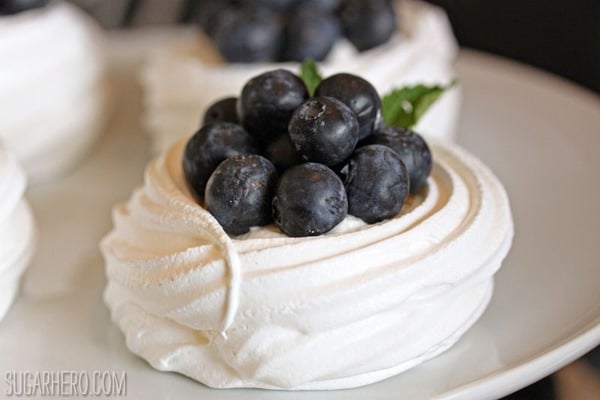 The pavlova recipe is below, and keep checking back for more tea party recipes throughout the week! Be sure to visit West Coast Capri for Chelsey's take on it, including resources for all the decorations and linens so you can throw a tea party of your own!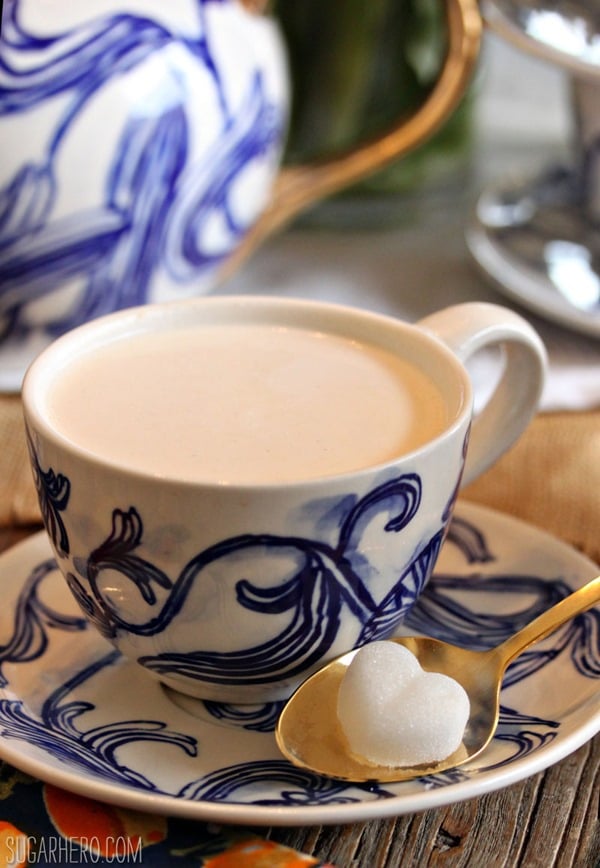 💜More Tea-Party Desserts You'll Love
Blueberry Toasted Coconut Tart
This Blueberry Toasted Coconut Tart has a toasted coconut shell, toasted coconut pastry cream, and a delicious fresh blueberry topping.
View Recipe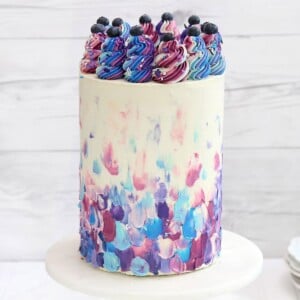 Blueberry Layer Cake
This mile-high Blueberry Streusel Layer Cake is extra-tall, extra-gorgeous, and extra-delicious! It's a twist on the usual blueberry cake recipe, with six moist rounds of sour cream cake, layered with fresh blueberry sauce and sprinkled with streusel in between.
View Recipe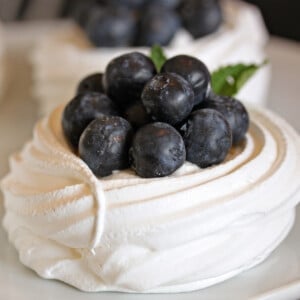 Blueberry Pavlovas
These Blueberry Pavlovas consist of a crunchy meringue shell, filled with whipped cream and topped with fruit. The moisture from the cream softens the meringue, so every bite is a little crunchy, a little gooey, and really delicious.
Ingredients
5

large egg whites

at room temperature

1/4

tsp

cream of tartar

1 1/4

cups

superfine sugar

aka caster sugar or baker's sugar

1/4

tsp

salt

1

tsp

vanilla paste

or

2 tsp

vanilla extract

1 1/2

cups

heavy whipping cream

1/3

cup

powdered sugar

2

pints

blueberries

fresh, rinsed and patted dry

Fresh mint leaves to garnish

to garnish, optional
Instructions
Preheat the oven to 250 F (121 C). Cover a baking sheet with parchment, and trace twelve 2 1/2″ circles on the parchment, using a cookie cutter or the bottom of a glass as a pattern. (The pavlovas will spread a bit as they bake, so leave a few inches between them. If you don't have a cookie sheet large enough, use two sheets rather than crowd the pavlovas.)

Place the room temperature egg whites in the very clean and dry bowl of a stand mixer fitted with a whisk attachment. Any trace of fat might cause the whites to not whip properly, so make sure the bowl and whisk are clean, and that there are no traces of yolks in the whites. Whip the whites until they are foamy, then add the cream of tartar. Continue to whip on medium-high speed until they hold stiff peaks. Don't over-whip and let the white get crumbly and dry.

Once at stiff peaks, turn the mixer to medium speed and add the sugar, a tablespoon at a time, over the course of 2-3 minutes. You want to incorporate the sugar gradually so it all dissolves easily. After all the sugar is added, scrape the bottom and sides of the bowl with a rubber spatula, then beat the egg whites on high speed for 5-6 minutes, until the whites are very glossy and stiff, and the sugar is completely dissolved. If you rub the meringue between your fingers or taste it, you shouldn't feel any of the sugar crystals.

When the whites are done, add the salt and vanilla paste or vanilla extract, and gently fold them in, stopping as soon as everything is mixed. Scrape the meringue into a piping bag fitted with a large open star tip. Using your traced circles as a guide, first pipe a flat circle, then pipe around the edges several times to create a nest shape. If you don't have a piping bag, you can just pile the meringue onto the circles with a spoon, and swirl the bowl of the spoon around the center of the meringue to create an indentation.

Bake the pavlovas for 1 hour and 10 minutes at 250 F, then turn the oven off. As the oven cools you can crack the door slightly, but don't open it all the way or remove the tray until it's completely cool. The cooling process will take another hour or two. The pavlovas can be made in advance and stored at room temperature, lightly covered with cling wrap, for up to 5 days.

Once the pavlovas are cool, whip the cream with the powdered sugar until firm peaks start to form. Pile the cream in the center of the pavlova. Spoon the cream into the centers of the pavlovas, then top with a generous mound of fresh blueberries and a few mint leaves, if desired. Serve immediately.
Recipe Notes
This recipe calls for superfine sugar, also known as caster sugar or baker's sugar. It's more finely ground that typical granulated sugar, and it produces a superior texture in the pavlova, without any grittiness. It can be found in the baking aisle of many stores, but if you can't find it, you can make your own by whizzing granulated sugar in a food processor for several minutes. It should be noticeably finer and a little powdery, like very fine sand, by the time you're done with it.
Measuring Tips
Our recipes are developed using weight measurements, and we highly recommend using a kitchen scale for baking whenever possible. However, if you prefer to use cups, volume measurements are provided as well. PLEASE NOTE: the adage "8 oz = 1 cup" is NOT true when speaking about weight, so don't be concerned if the measurements don't fit this formula.
Want to learn more about baking measurements and conversion?
Nutrition
Serving:
12
g
|
Calories:
249
kcal
|
Carbohydrates:
36
g
|
Protein:
2
g
|
Fat:
11
g
|
Saturated Fat:
6
g
|
Cholesterol:
40
mg
|
Sodium:
81
mg
|
Potassium:
113
mg
|
Fiber:
1
g
|
Sugar:
32
g
|
Vitamin A:
480
IU
|
Vitamin C:
7.8
mg
|
Calcium:
25
mg
|
Iron:
0.2
mg
Tried this recipe?
Snap a pic and hashtag it #SugarHero. We love to see your creations on our Instagram @elabau.