This unique Raspberry Almond Spiral Cake is unlike any other cake you'll make! It's surprisingly easy to construct, gorgeous, and delicious!
Traditional cake rolls are so last century. Now that it's the twenty-first century, we are kicking it new school. We are no longer content to just roll our cakes—we're spiraling them instead. Yes, despite what amusement park kiosks might have told you, Dippin' Dots are not the dessert of the future—spiral cakes are. Get on my level!
Raspberries are one of my very favorite ingredients to work with. I knew I wanted to do something a little different this time. Because raspberries have such a wonderful juicy texture, and pair well with so many different flavors, they're the perfect vehicle for experimentation—recently I've combined them with brie and puff pastry, rose petals, pistachio mousse, and blended them into drinks with watermelon and lime.
I love all of those recipes, but this Raspberry Almond Spiral Cake just might be my favorite raspberry creation yet. It's an ultra-light almond chiffon cake, topped with chocolate whipped cream, chopped fresh raspberries and sliced almonds, and rolled into a tight coil. The top is left uncovered so the beautiful spiral pattern is on display, and the fillings peek out just a little bit, giving tantalizing hints as to what's inside. When it's cut, you can see that each cake slices is made from vertical strips of cake sandwiched together—how cool is that?
"Yes, yes," you say, "That is indeed a sexy cake. But how does it taste?" Friends, this cake looks and tastes just like spring. It makes me want to put on a sundress, pile the table with fresh flowers, throw open the windows, and have all of our friends over for a long, lazy brunch.
Sadly, Southern California didn't get the breezy spring memo, so instead I was sweating in a decidedly unladylike fashion in my 95 degree kitchen while making and photographing this…but at least the cake transported me to a cooler place. The flavors are well balanced, and each element is so light, it's almost refreshing, even though that is not an adjective you would typically associate with chocolate or almonds!
This cake might look tricky (see above re: cake of the future) but it's actually pretty easy to make—I'd say it's only a little more difficult than making a regular cake roll! I adapted this recipe and technique from Vintage Cakes, which is a charming cookbook by Julie Richardson that I cannot recommend enough.
The chiffon cake itself is very forgiving, and it rolls beautifully without cracking or needing any special treatment. The whipped cream on the sides and the scattered berries and nuts on top are designed to cover any flaws, so have no fear—you can do this. Here's a handy photo tutorial to show the way…
You might be tempted to try and use frozen raspberries in this dessert instead. Resist! A huge part of the charm is the texture of the berries as they pop in your mouth, and the sweet-tart bite of the fresh berries. Substitute fresh blackberries if you must, but please don't use defrosted frozen berries in this one. Splurge on the best fresh berries you can find, make this cake, and then thank me with your mouth full. (It's cool. We're not fancy here.)
💗More Dessert Recipes You'll Love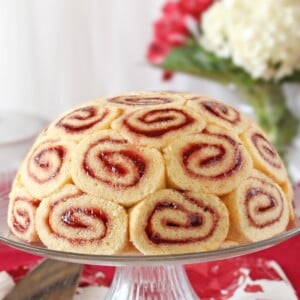 Charlotte Royale Cake
Charlotte Royale is a spectacular cake that is two desserts in one. An outer shell of Swiss cake rolls hide a beautifully creamy filling studded with strawberries. It's fancy enough for even the most special birthday, but the light texture makes it a great everyday dessert option.
View Recipe
Patterned Pumpkin Roll
This Patterned Pumpkin Roll with a gorgeous autumn leaf decoration will be the star of your dessert table! A moist pumpkin cake is rolled around a pumpkin spice cream cheese filling, and the outside is decorated with a design of colorful fall leaves.
View Recipe
Raspberry Almond Spiral Cake
This unique Raspberry Almond Spiral Cake is as delicious as it is pretty! A moist almond cake, chocolate whipped cream, and fresh raspberries are all rolled into a beautiful spiral shape.

Instructions
Spray a 12×18-inch rimmed baking sheet (half sheet size) with nonstick cooking spray. Line it with parchment, spray the parchment, and dust it with a light layer of flour. Don't skip this step or you won't be able to roll the cake properly! Preheat the oven to 325 F.

In a large bowl, sift or whisk together the cake flour, 3/4 cup (5.25 oz) granulated sugar, the baking powder, and salt. In a small bowl, whisk together the oil, water, yolks, and both extracts.

Place the egg whites in the bowl of a large stand mixer fitted with the whisk attachment. Begin to whip them on medium speed. When the whites are frothy, add the cream of tartar and continue whipping. Once they start to hold soft peaks, slowly add the remaining 1/4 cup sugar, a spoonful or two at a time, until it's all added. Beat the whites on medium-high speed until they're glossy and hold firm peaks.

Add the yolk mixture to the dry ingredients, and stir them together with a spatula until smooth. Gently fold a third of the beaten egg whites into the mixture, trying not to over-mix and deflate the whites. Add the rest of the whites in two batches, stirring delicately. Pour the cake batter into the prepared pan and gently smooth it into an even layer.

Bake the cake at 325 F for 18-20 minutes, until it is a light golden brown and it springs back when pressed. Cool the cake on a wire rack until it is at room temperature. While you wait for it to cool, place a mixing bowl and whisk attachment in the refrigerator to chill.

To make the chocolate whipped cream, pour the cream into the chilled mixing bowl. Sift the powdered sugar and cocoa powder on top, then mix on medium speed, stopping occasionally to scrape the sides of the bowl. Whip until the cream is starting to hold peaks, but stop when it has the texture of shaving cream—don't overbeat, or it will separate and look grainy.

Coarsely chop the raspberries, reserving a few whole ones for decoration.

Using a ruler, measure the cake into five equal strips widthwise, and cut the cake with a sharp paring knife. If you are using a 12×18-inch pan, you should have five strips that are 12 inches long and a little more than 3.5″ wide. Lift up a strip and cut through the parchment underneath, so each strip of cake has a corresponding strip of parchment underneath it. Keep the cake strips in the pan for now.

Spread a little more than half of the chocolate whipped cream on top of the cake in an even layer. Distribute the chopped raspberries evenly on top, and scatter the almonds over the raspberries. Press down on the berries and nuts gently, to embed them in the cream.

Beginning with a cake strip at the edge of the pan, start rolling it into a cylinder, using the parchment to help roll the cake, and peeling the parchment back as you go. The filling might start squirting out of the cake a little bit, and that's okay—that's part of the beauty of this dish! Once the cake is rolled in a tight cylinder, stand it up in the center of your serving dish.

Take a second strip of cake and start winding it around the first, beginning where the first strip ended. Press it firmly against the sides of the cake as you wind, using the cream to help adhere it to the cake. Peel back the parchment as you press the cake together. Repeat with the remaining strips of cake, winding them in a spiral and peeling the parchment off. Once the last cake strip is on, gently press the whole cake together with your hands to get it as firm and secure as possible.

Frost the sides of the cake with the remaining chocolate whipped cream. If desired, top the cake with a few chocolate shavings, whole raspberries, and/or extra almond slices.

Refrigerate the cake for at least an hour, so that it will be firm enough to cut neatly. The cake can be made up to a day ahead of time—if making a day ahead, carefully wrap it in plastic wrap or store in a covered cake dish so it's not exposed to air in the refrigerator the entire time. Leftovers will keep for several days in the refrigerator.
Video
Recipe Notes
The cake recipe is adapted from the Butterscotch Cream Roll-Up cake in Julie Richardson's Vintage Cakes. This book is so, so charming, and I can't recommend it enough.
Measuring Tips
Our recipes are developed using weight measurements, and we highly recommend using a kitchen scale for baking whenever possible. However, if you prefer to use cups, volume measurements are provided as well. PLEASE NOTE: the adage "8 oz = 1 cup" is NOT true when speaking about weight, so don't be concerned if the measurements don't fit this formula.
Want to learn more about baking measurements and conversion?
Nutrition
Calories:
408
kcal
|
Carbohydrates:
33
g
|
Protein:
5
g
|
Fat:
30
g
|
Saturated Fat:
19
g
|
Cholesterol:
126
mg
|
Sodium:
128
mg
|
Potassium:
196
mg
|
Fiber:
3
g
|
Sugar:
22
g
|
Vitamin A:
832
IU
|
Vitamin C:
7
mg
|
Calcium:
70
mg
|
Iron:
1
mg
Tried this recipe?
Snap a pic and hashtag it #SugarHero. We love to see your creations on our Instagram @elabau.