Now you can have your cake AND your cookies too! This Neapolitan Chocolate Chip Cookie Cake is made with three layers of thick chocolate chip cookie cake sandwiched between chocolate, vanilla, and strawberry buttercream.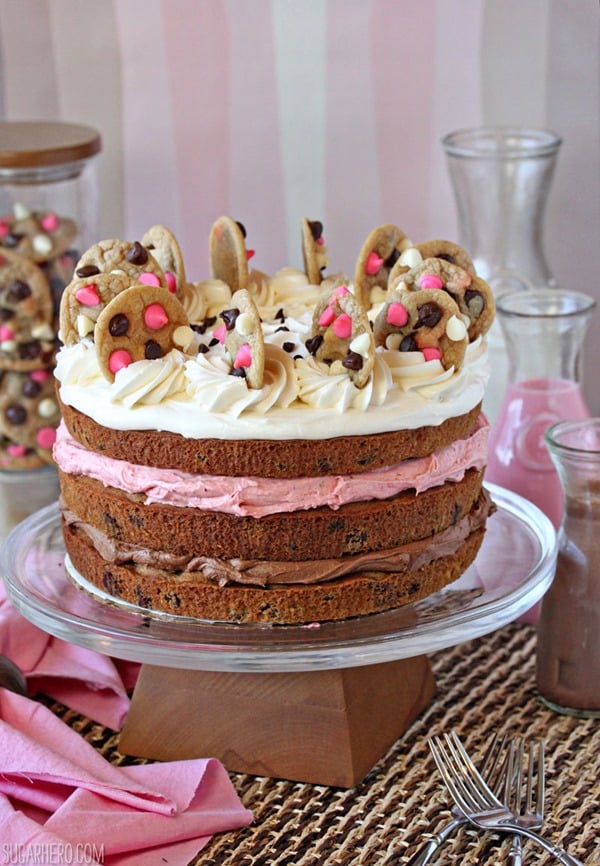 I receive a lot of press releases in my inbox. They usually start with a chipper greeting and an assurance that "I know your readers will love this!" before seguing into a pitch about gluten-free dog biscuits, or fat-burning pumpkins from Peru, or my personal favorite, a man who invented a new form of psychological therapy that takes place on a skateboard. (I mean, it doesn't have anything to do with dessert, but all snarking aside, how fun does that sound?)
Either those PR pros are out of touch with what my readers actually love, or I am, because if I had to estimate the number of times those pitches actually seemed relevant to SugarHero, the answer would rhyme with "shmero."
…until now.
Recently, I received an email telling me that May 15 is National Chocolate Chip Cookie Day. Unfortunately, I don't actually know what the email was trying to promote, because I stopped reading after that and sprinted to my calendar to make sure that I had this important holiday marked down. (However, if other pitches are any indication, the email probably took a left turn and was about chocolate chip-flavored steak sauce or cookie-scented perfume.) **
**Update: the day after I wrote this blog, I got a press release about chocolate chip flavored salad dressing. Not joking! I think I should win some sort of Most Psychic Blogger prize.
No matter—it had accomplished its mission. I love cookies, and I love made-up food holidays, so you know that I'm going to be celebrating National Chocolate Chip Cookie Day tomorrow, and I hope you will too. Hang the cookie wreath and play the cookie carols! I'm bringing this Neapolitan Chocolate Chip Cookie Cake to celebrate.
This might look like a typical cake, but the layers are actually made from chocolate chip cookie dough, baked in 8-inch cake pans. I tweaked the dough to produce extra cakey cookies, so the layers bake up soft and fluffy—you don't want to be sawing through chewy cookie layers when you're trying to serve it! They still have the familiar brown sugar taste of chocolate chip cookies, though, and are still packed with (you guessed it) lots and lots of chocolate chips.
In between each giant cookie is a thick layer of frosting, because I've never met a cookie I didn't want to frost, or a cake I didn't want to embiggen. If you're less of a frosting fan you can easily cut the recipe by a third to make a more reasonable portion, but the cookie layers were substantial enough that I found they stood up well to a big ole scoop of frosting.
Besides, this cake is as much about the frosting as it is about the cookies. The layers of chocolate, strawberry, and vanilla frosting are what make it special, and Neapolitan-ish, and they elevate it from the typical giant cookie cakes you can get at the mall. I used unsweetened chocolate to give the chocolate layer a deep, rich taste, while the strawberry layer gets its light and tangy flavor from freeze-dried strawberry powder. Be sure to try this delicious Cookie Dough Frosting next!
I'm not saying you have to make this cake for National Chocolate Chip Cookie Day, but I do think you should eat some sort of chocolate chip cookie to celebrate. Let not all those press releases be sent in vain. Carpe cookie!
🎂More Desserts You'll Love
Strawberries and Cream Layer Cake
This Strawberries and Cream Layer Cake is a moist strawberry cake full of whipped cream and fresh berries. Decorated with white chocolate panels and curls, it's a real show-stopper!
View Recipe
Cookie Monster Cupcakes
Looking for more chocolate chip inspired recipes!? These cute and fun Cookie Monster Cupcakes are stuffed with cookie dough filling and decorated to look just like little cookie monsters. They are the perfect treat for little ones and will be enjoyed by all!
View Recipe
Neapolitan Chocolate Chip Cookie Cake
Now you can have your cake and your cookies too! This Neapolitan Chocolate Chip Cookie Cake is made with three layers of thick chocolate chip cookie, and sandwiched with chocolate, vanilla, and strawberry buttercream.
Instructions
To Make the Cookie Layers:
Line three 8-inch cake pans with parchment paper, and spray them with nonstick cooking spray. Preheat the oven to 350 F.

In a large bowl, sift or whisk together the flour, baking soda, baking powder, and salt, and set aside. Combine the butter and sugar in the bowl of a large stand mixer fitted with the paddle attachment. Beat them together on medium speed until light and fluffy. Add the eggs, one at a time, beating well after each addition, then add the vanilla extract.

With the mixer running on low speed, add the dry ingredients and mix until just a few streaks of flour remain. Stop the mixer and finish mixing by hand, using a rubber spatula to scrape the bottom and sides of the bowl well. Add the chocolate chips and stir them in completely.

Divide the dough between the 3 prepared pans—if you want to use a scale to portion them, each pan should get about 20 oz. Bake the cakes for about 22 minutes, until they're golden brown, starting to pull away from the sides of the pan, and a toothpick inserted into the center comes out clean. Cool the cookie cakes on a wire rack until completely cool. They can be made in advance and kept, well-wrapped in plastic, for several days until ready to use.
To Make the Frosting and Assemble:
Place the unsweetened chocolate in a small bowl and microwave it in 30-second increments until melted. Once melted and smooth, set it aside to cool to room temperature.

Place the freeze-dried strawberries in a food processor and process them until they are a fine powder.

Combine the butter, powdered sugar, 1/3 cup milk, vanilla extract, and salt in the large bowl of a stand mixer fitted with a paddle attachment. Beat on low speed until the sugar is moistened, then raise the speed to medium and beat for 2-3 minutes until light and fluffy.

Divide the frosting into three approximately equal portions, making one slightly larger than the other two. (This will be the top layer, which requires more frosting for piping decorations.) Add the melted chocolate and a tablespoon of milk to the second portion, and stir until well-mixed. Add the strawberry powder and the remaining milk to the third portion and stir until well-mixed.

Place one cookie layer on your serving plate, and spread the chocolate frosting on top of the cookie. Add a second cookie on top, and spread the strawberry frosting on the second cookie. Finally, top the stack with the third cookie. Spread some vanilla frosting on top, and use the rest to pipe rosettes or other decorations around the edge. Top with chocolate chips, sprinkles, or mini cookies.
Recipe Notes
Freeze-dried strawberries can be found at Trader Joe's and many online stores. If you don't have access to them, you can substitute 1/3 cup strained strawberry puree instead. You may want to add a drop or two of pink food coloring to boost the color, and add more powdered sugar if necessary to make the frosting stiffer.
This recipe provides a very generous amount of frosting. If you like thinner layers of frosting, or don't want to do decorative piping on top of the cake, you can reduce it by a third.
Measuring Tips
Our recipes are developed using weight measurements, and we highly recommend using a kitchen scale for baking whenever possible. However, if you prefer to use cups, volume measurements are provided as well. PLEASE NOTE: the adage "8 oz = 1 cup" is NOT true when speaking about weight, so don't be concerned if the measurements don't fit this formula.
Want to learn more about baking measurements and conversion?
Nutrition
Calories:
1030
kcal
|
Carbohydrates:
147
g
|
Protein:
7
g
|
Fat:
46
g
|
Saturated Fat:
28
g
|
Cholesterol:
123
mg
|
Sodium:
520
mg
|
Potassium:
721
mg
|
Fiber:
7
g
|
Sugar:
114
g
|
Vitamin A:
1020
IU
|
Vitamin C:
361.4
mg
|
Calcium:
83
mg
|
Iron:
11
mg
Tried this recipe?
Snap a pic and hashtag it #SugarHero. We love to see your creations on our Instagram @elabau.
This post contains Amazon affiliate links. For more information, see my Affiliate and Advertising Policy.