This post may contain affiliate links. Please see my disclosure policy for more information.
Until recently, I've never given honey too much thought. My father worked as a beekeeper when he was younger, which meant that he was full of entertaining stories about bee shenanigans–including a dark time when a hive "went rogue" and made their own queen–and our pantry was always full of his honey.
Jeopardy trivia break: did you know that honey is the one food that never spoils? It can literally last for hundreds of years. It might crystallize, but it will liquefy again once warmed.
Anyhow, I grew up eating that honey, and then graduated to buying my own in little bear-shaped bottles. It was nice, it was sweet, it wasn't too memorable. And then I tried this:
I got some of this Wild Raspberry Honey from Bee Raw . It would be a slight exaggeration to say that this honey changed my life, but it certainly changed the way I think about honey. It. Is. Amazing. I could eat it by itself, with a spoon. It's really mild, and fruity, with some mellow tart notes not unlike a raspberry! Incredible.
So after making yogurt-honey parfaits and honey sandwiches, I decided to put it to good use by showcasing it in a few dessert recipes. Of course, my first thought was baklava.
I've never made baklava before but I often order it when we have Greek food. It's not to everyone's taste but I love the combination of crispy phyllo dough and toasted nuts soaked in a honey syrup. Of course, the problem is that it's easy to do wrong, and there's nothing appealing about an overly sweet, soggy mess of gooey dough.
Instead of the traditional large pan cut into squares, I made Baklava Fingers based on this recipe from Baking Obsession. The fingers are maybe more time intensive to make, but they're less messy to serve and eat, and I also think they look nicer when served with…drumroll please…
Spiced Orange and Honey Sorbet. (recipe from Epicurious.) This was such a delightful surprise! I chose it because I thought it would fit in with the honey and Middle Eastern theme, but we loved it in and of itself. It was incredibly light and refreshing, and all of the spices made it more interesting and playful than a straight fruit sorbet. It's a perfect summer recipe.
Another benefit of the orange sorbet is that it helped cut the sweetness of the honeyed baklava, and the baklava added some much-needed texture to the sorbet. Of course, now that the dessert is gone and my honey jar is almost empty I feel a bit adrift. I've tasted the good stuff and I don't want to go back to the bear! Maybe my dad will send me some of his "vintage" honey from the garage…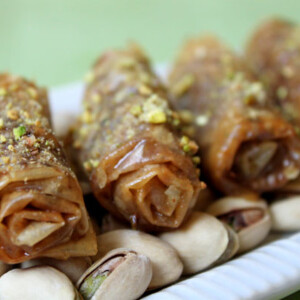 Print Recipe
Baklava Fingers
These Baklava Fingers with Spice Orange Sorbet is a delightful combination of honeyed baklava and fresh sorbet that is surprisingly delicious, time to change it up!
Servings:
32
baklava fingers
Ingredients
1

cup

pistachios

¼

cup

granulated sugar

½

tsp

ground cardamom

½

tsp

cinnamon

8

phyllo sheets

8

tbsp

unsalted butter

(4 oz), melted

½

cup

water

½

cup

granulated sugar

¼

honey

2

cinnamon sticks

6

cardamom pods

crushed

peel of 1 small lemon

removed in wide strips with a vegetable peeler
Instructions
Center an oven rack and preheat the oven to 350F. Cover a large baking sheet with parchment paper or silicone mat. Set aside.

In a bowl of the food processor, combine the pistachios and sugar. Process until finely ground. Stir in the ground cardamom and cinnamon.

Cover a working surface with a large sheet of parchment paper. Place 1 sheet of phyllo on the parchment paper, with one long side parallel to the edge of the work surface. Cover the rest of the phyllo with plastic wrap first and then with a damp dish towel (avoid direct contact of the phyllo with the wet towel to prevent the phyllo from getting soggy).

Using a pizza wheel, cut the phyllo sheet into 4 equal rectangles making two perpendicular cuts through the middle. Work with one small rectangle at a time; place it with one long side parallel to the edge of the working surface. Cover the remaining 3 rectangles with plastic wrap. Visually, divide the rectangle into thirds lengthwise. Brush the middle third with a little bit of melted butter and sprinkle with about 1 tbsp of nut mixture. Fold the upper third over the filling, then brush this folded part with a bit of butter and sprinkle again with another tablespoon of nut mixture. Fold the lower third over the filling again and lightly brush with butter. Gently roll the strip, buttered side up, over a handle of a wooden spoon. Delicately slide the cylinder off the spoon and place it onto the prepared baking sheet. Repeat with the remaining phyllo. You will get 4 baklava fingers from each phyllo sheet, 32 in total.

Bake for 20 to 22 minutes until golden brown. Cool on the baking sheet on a cooling rack.

Meanwhile, make syrup. In a small heavy saucepan, combine the water, sugar, honey, cinnamon sticks, cardamom pods, and lemon peel. Bring to a boil over medium heat and simmer, stirring with a wooden spoon, until the sugar is dissolved. Take off the heat. Transfer the baked and cooled fingers into a rimmed baking pan (like glass Pyrex) just large enough to fit them all. I like to stand the fingers upright first to allow the syrup to penetrate better, and then drop them on their side. Pour the hot syrup over the fingers leaving the peel and spices behind. Give the fingers a turn in the syrup to saturate, wait for several hours before serving. If you have any nut mixture left, sprinkle it over the fingers before serving. They can be kept in air-tight container for about a week.
Nutrition
Calories:
278
kcal
|
Carbohydrates:
43
g
|
Protein:
5
g
|
Fat:
8
g
|
Saturated Fat:
3
g
|
Cholesterol:
7
mg
|
Sodium:
342
mg
|
Potassium:
95
mg
|
Fiber:
1
g
|
Sugar:
5
g
|
Vitamin A:
105
IU
|
Vitamin C:
0.3
mg
|
Calcium:
17
mg
|
Iron:
2.5
mg
Print Recipe
Spiced Orange Sorbet
These Baklava Fingers with Spice Orange Sorbet is a delightful combination of honeyed baklava and fresh sorbet that is surprisingly delicious, time to change it up!
Ingredients
3

cups

water

1

cup

sugar

1/2

cup

clover honey

2

tablespoons

finely grated orange peel

1

tablespoon

chopped peeled fresh ginger

2

whole star anise or cardamom pods

2

whole cloves

1

small bay leaf

, preferably fresh

2

cups

chilled fresh orange juice

3

tablespoons

fresh lemon juice
Instructions
Combine first 8 ingredients in heavy large saucepan. Bring to boil over medium-high heat, stirring until sugar dissolves. Boil until syrup is thick and mixture is reduced to 2 cups, about 12 minutes. Discard bay leaf; cool syrup.

Strain syrup into medium bowl. Add orange juice and lemon juice. Transfer to ice cream maker and process according to manufacturer's instructions. Transfer sorbet to container, cover, and freeze until firm, at least 6 hours and up to 3 days.
Nutrition
Calories:
1540
kcal
|
Carbohydrates:
398
g
|
Protein:
4
g
|
Fat:
1
g
|
Sodium:
54
mg
|
Potassium:
1126
mg
|
Fiber:
2
g
|
Sugar:
381
g
|
Vitamin A:
1045
IU
|
Vitamin C:
282.6
mg
|
Calcium:
107
mg
|
Iron:
1.7
mg