This post may contain affiliate links. As an Amazon Associate I earn from qualifying purchases. Please see my disclosure policy for more information.
These Hydrangea Cakes are gorgeous miniature cakes that look like hydrangea flowers! You'll be surprised to learn how easy it is to make the pretty, colorful blossom design on the outside. The inside is beautiful, too, with swirls of multicolored cake!
This year is FLYING by. I can't believe spring is almost over already. (And more importantly, I can't believe it's almost summer vacation and my boys—husband and son alike—will soon be out of school and home all day. Hold me!)
All of that is to say, I have several "springy" projects I've already made—and a few more I'm planning on—and I have to hustle to share them before it's old news and we're all watermelon and pool party obsessed!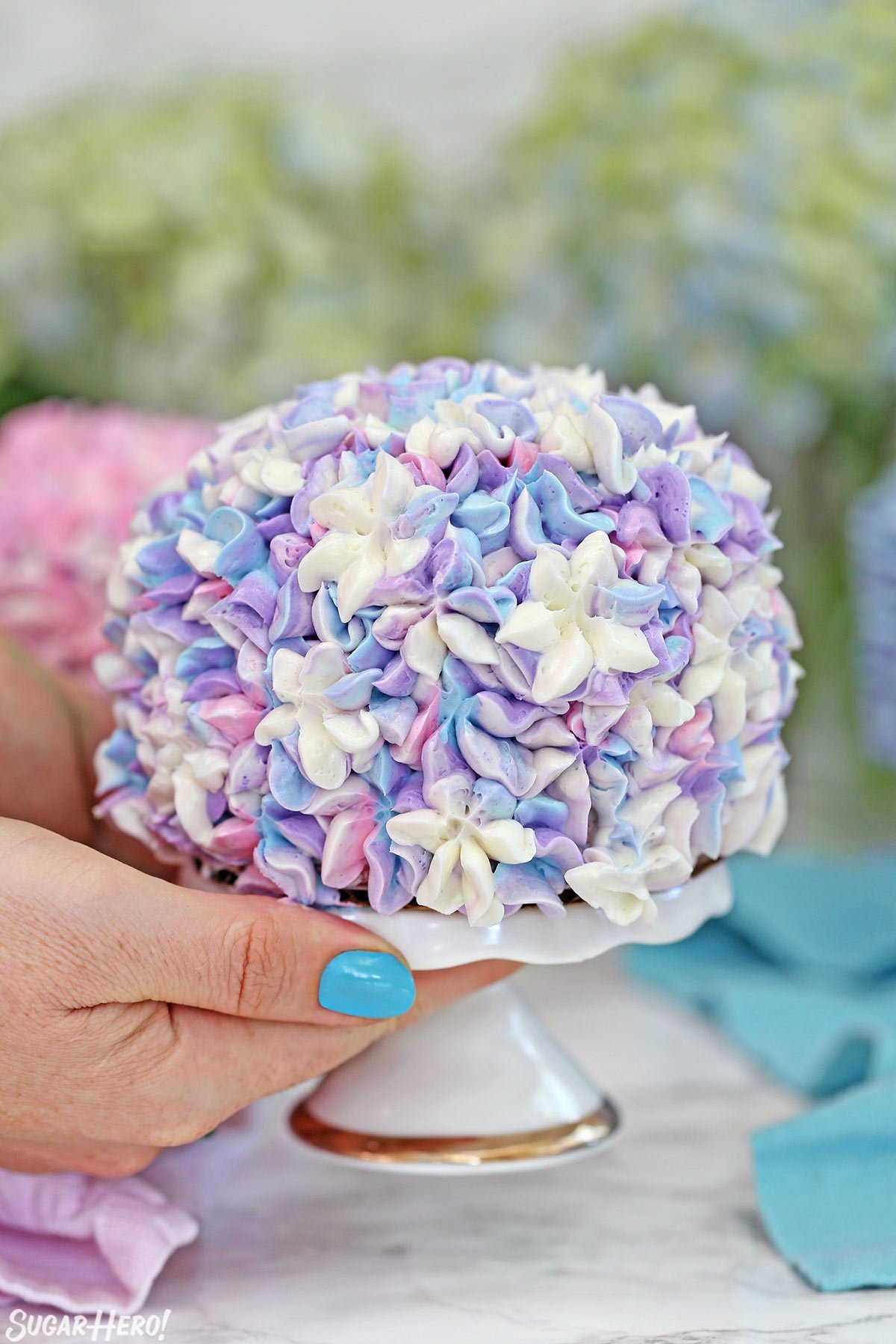 Honestly, though, even if I shared these in the dead of winter, I still think these hydrangea cakes would be appropriate. They're too pretty, too eye-catching, too happy-making (yeah, that's a thing I just made up) to go out of style, same with these stunning and Easy Chocolate Flower Cupcakes!
If you follow me on Facebook, these might look familiar to you. I shared them in a Facebook Live broadcast the week before Mother's Day, as a not-so-subtle hint to make Mom something tasty and beautiful on her day.
So if the short how-to video at the top of this post leaves you wanting more—more instruction, more piping examples, more of my sparkling wit and personality—you can watch the replay of the Facebook Live video here. We do these every Sunday, so I hope you'll join me for one sometime! And sign up for the mailing list so you get notified of when they're happening and what projects we're doing.
END SHILL. BACK TO THE CAKES.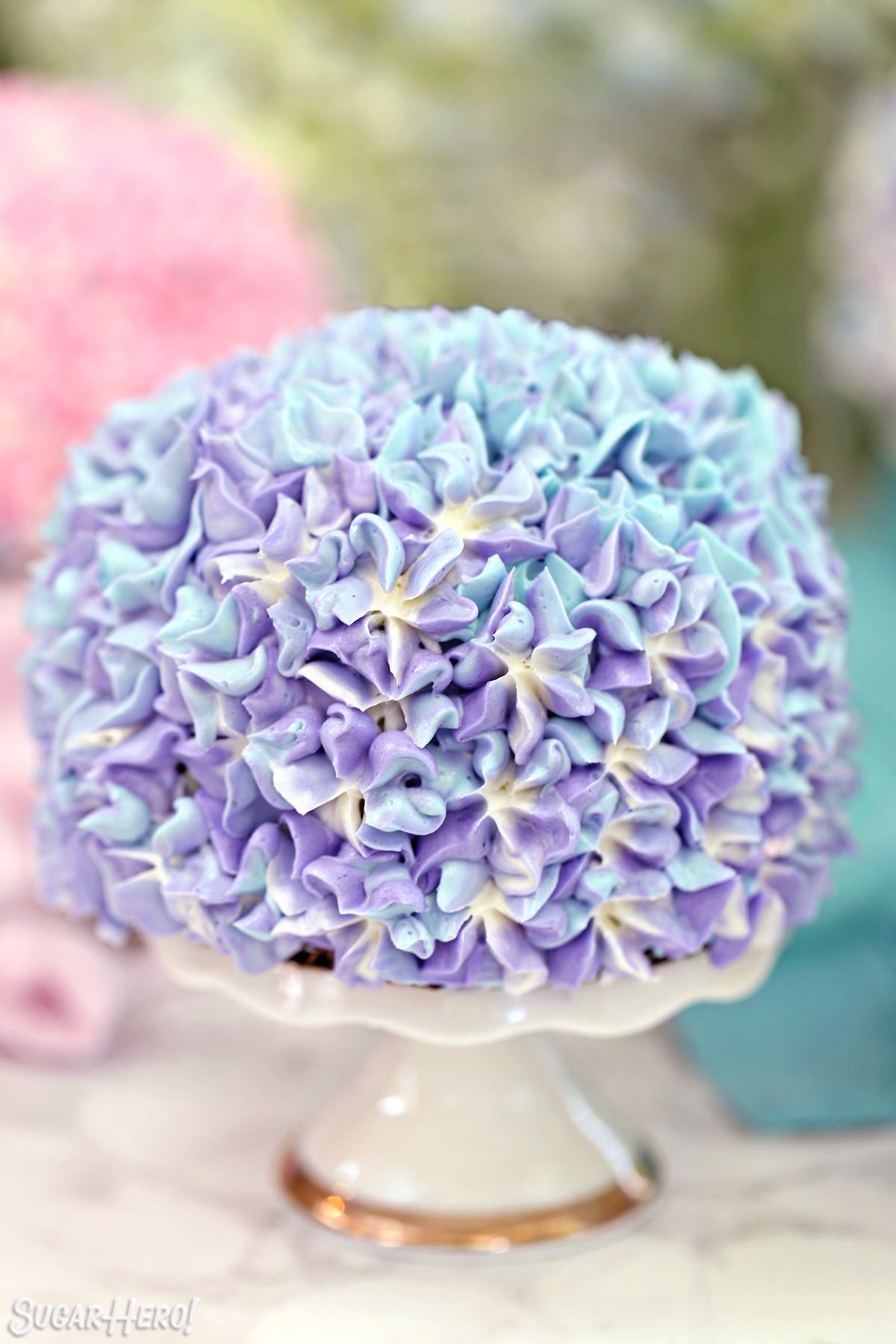 Here are a few things you should know about them:
They're freaking adorable. Okay, maybe you already knew that.
They're made with a velvety white cake batter. It's super soft and tender, with the most delicate crumb and a soft vanilla flavor. You can use other extracts if you like, though. I think a touch of rose water would be delicious!
The cake batter itself is colored and swirled together, so they also have a pretty pastel color scheme on the inside
They're only 4 inch cakes, but with all of the frosting, each one definitely serves 2 people—maybe 3, depending on your tolerance for buttercream
Each one is different and unique, and I love that! You can make a whole bouquet of colorful hydrangea cakes, and no two look alike
Decorating them is surprisingly easy! My husband said he could do it himself, and that is SAYING SOMETHING
It was impossible to stop taking pictures of them. Seriously!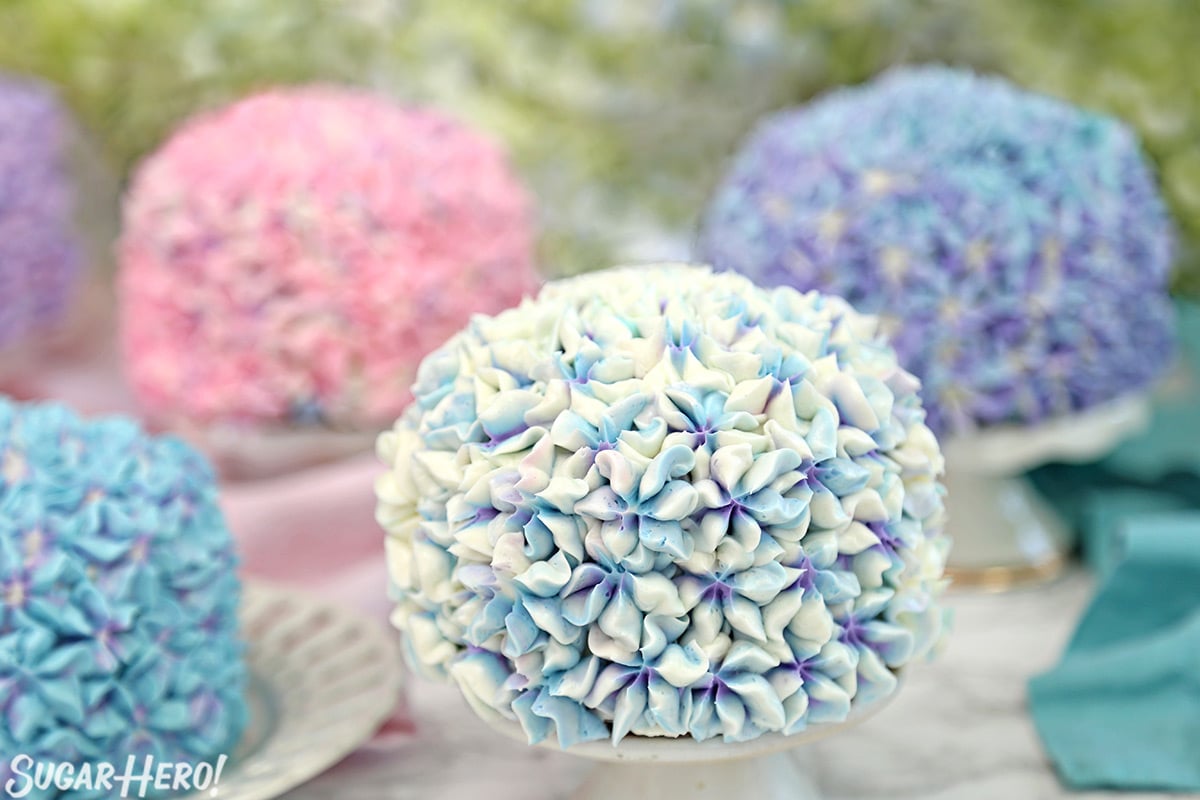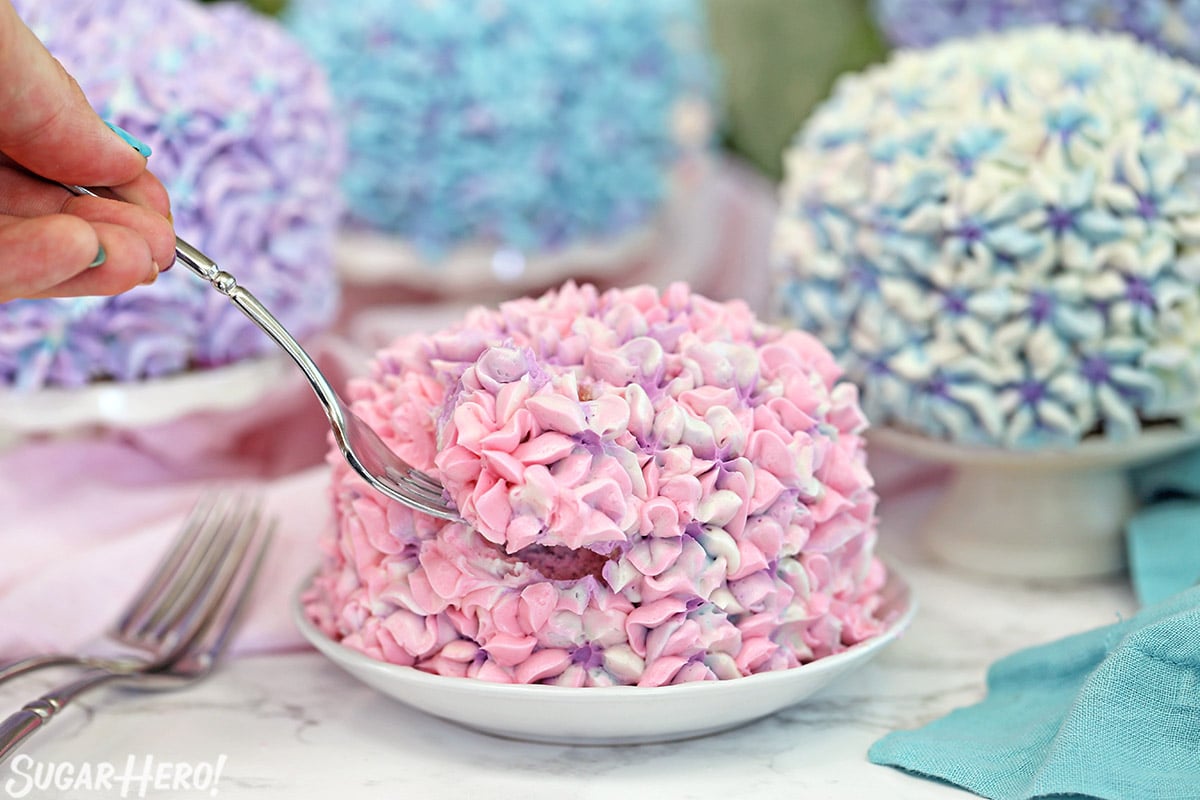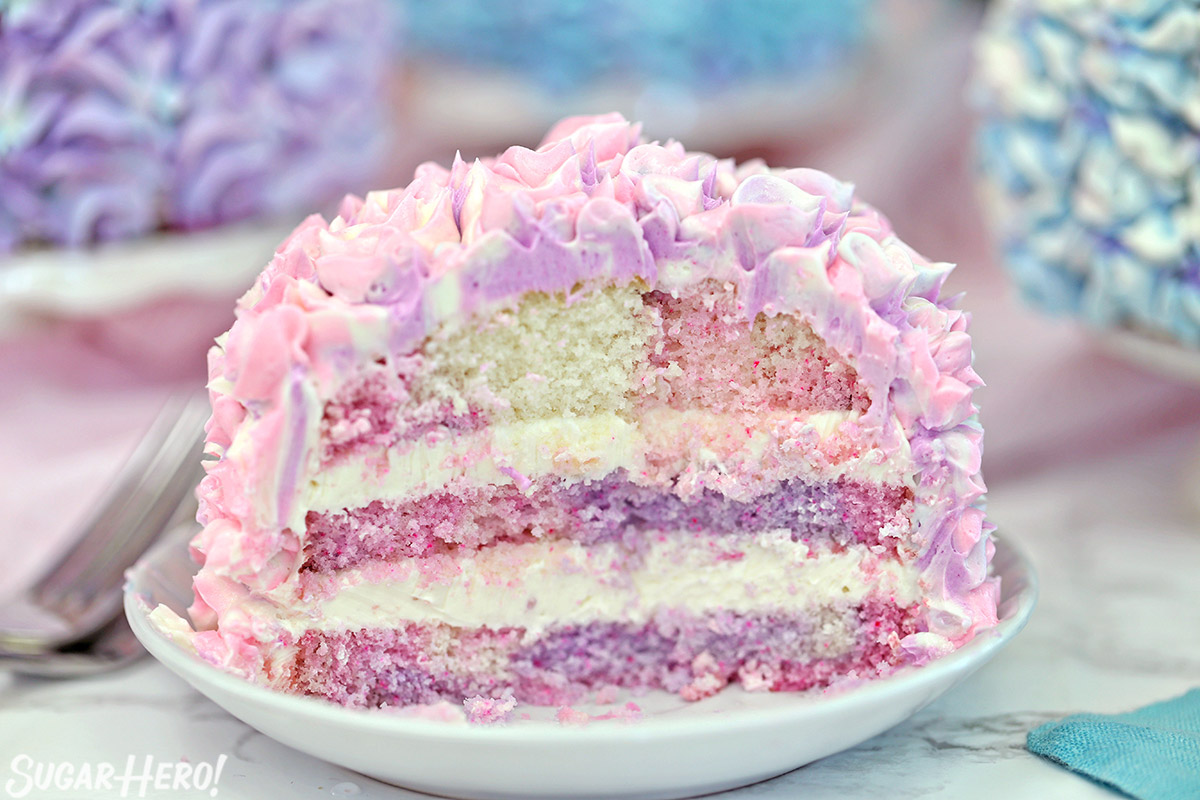 Isn't that interior view lovely? I had so much fun mixing up both the inside and outside colors. You don't have to go whole hog and do the cake batter swirls, but as long as you're getting the food coloring out, why not, eh?
Finally, you don't need to do mini cakes like this. Not everyone is a weird cake pan hoarder like me, with lots of mini cake pans, so you can definitely do these as an 8- or 9-inch cake. (In fact, someone in the Facebook group did just that, and shared the prettiest picture of her large hydrangea cake!)
I hope you'll give these a try, and if you do, I hope you'll share a picture too. Now get out there and enjoy the rest of spring before summer hits!
Hydrangea Cakes
These Hydrangea Cakes are gorgeous miniature cakes that look like hydrangea flowers! You'll be surprised to learn how easy it is to make the pretty, colorful blossom design on the outside. The inside is beautiful, too, with swirls of multicolored cake!
Ingredients
For the Cakes:
10 1/2

oz

granulated sugar

,

, (1 1/2 cups)

10 1/2

oz

cake flour

,

, (2 2/3 cups)

1

tbsp

+ 1 tsp baking powder

3/4

tsp

salt

4

fl oz

egg whites

,

, (see Note below)

1

cup

milk

1

TBSP

vanilla extract

6

oz

unsalted butter

,

, at room temperature

Gel food coloring

,

, (I used Americolor electric purple, regal purple, sky blue, and soft pink)
For the Buttercream:
6

fl oz

pasteurized liquid egg whites

,

, (3/4 cup)

24

oz

powdered sugar

,

, (6 cups)

½

tsp

salt

24

oz

unsalted butter

,

, at room temperature

2

TBSP

vanilla extract

Gel food coloring

,

, (I used Americolor electric purple, regal purple, sky blue, and soft pink)
Instructions
To Make the Cakes:
Preheat the oven to 350 F. Line six 4-inch cake pans with parchment rounds, and spray the parchment and pan sides with nonstick cooking spray. (Note that you can make these cakes in different sizes depending on what size pans you have. If you make larger cakes, just extend the baking time and watch them closely.)

Combine the sugar, cake flour, baking powder, and salt in the bowl of the stand mixer fitted with a paddle attachment. Mix on low speed for about a minute to combine the dry ingredients.

Lightly whisk together the egg whites together with a quarter of the milk and the vanilla extract, and set aside for now.

Add the remaining ¾ cup milk and the softened butter to the large mixing bowl and mix on low speed until the dry ingredients are moistened. Turn the mixer to medium speed and mix for a minute and a half.

Add the egg white mixture in three batches, mixing for 20-30 seconds after each addition, until you have a smooth batter. Scrape the bottom and sides of the bowl with a rubber spatula, and give the batter a few more stirs to make sure everything is incorporated. Divide the batter into 4 even portions, and color one purple, one blue, and one pink. Leave one portion white.

Use a spoon to scoop spoonfuls of the batters and plop them in a random pattern in the prepared cake pans. Fill them about halfway full—each pan should have about 7 oz of batter. Bake the cakes at 350 F for 30-35 minutes, until the sides just start pulling away from the pan, and a toothpick inserted into the center comes out clean.

Let the cakes cool on a wire rack for 10 minutes, then gently turn them out and let them cool completely. I find it's easiest to cut and stack cakes that have been chilled, so if you have time, wrap them with plastic wrap and put them in the freezer for at least 30 minutes, until they are firm but not frozen all the way through. If you are making these in advance, they can stay in the freezer for up to several weeks. Let them partially defrost, until they are firm but not rock-hard, before assembling.
To Make the Buttercream:
Combine the whites, powdered sugar, and salt in the bowl of a large stand mixer fitted with a paddle attachment. Mix everything together on low speed, until the sugar is moistened and no dry patches remain. Turn off the mixer, scrape down the sides and bottom of the bowl with a spatula, then turn the mixer to medium speed. Beat on medium for 5 minutes.

After 5 minutes, turn the mixer to medium-low and start adding the softened room temperature butter, 1-2 tablespoons at a time. Once all of the butter is incorporated, add the vanilla extract and mix it in. Stop the mixer and scrape down the bottom and sides once more. Turn the speed to medium and beat the buttercream for 10 minutes. At the end, you'll have a frosting with a wonderfully light and creamy texture.
To Assemble and Decorate:
Place the cakes on small cake cardboard rounds, and set one on a cake turntable. Use a sharp serrated knife to cut it into 3 layers. Spread a layer of white buttercream between each layer, and cover the top and sides with a thin layer of frosting. Repeat with the other cakes, so they are all layered and covered with a thin coat of frosting.

Divide the remaining buttercream into smaller bowls. Leave some white, and color the rest different shades of blue, purple, and pink. You can do as many colors as you want, but I like to do at least 4-5 to give all the cakes a different look. Fit a piping bag with a large star tip – I like to use a Wilton 2D, but a 1M would also work.

To make multi-colored flowers, lay out a piece of plastic wrap about 16 inches long. Spread a rectangle of frosting on the plastic wrap, about 10 inches by 6 inches. Take a second color of frosting and spread it on top of the first. If desired, add a third or even a fourth color on top. Roll the frosting over itself to make a cylinder. Grasp the ends of the plastic wrap in each hand, and twirl it quickly so the frosting is burrito-shaped and the ends of the plastic are tightly twisted. Snip off one of the plastic wrap "tails" and insert the frosting cylinder into the piping bag, snipped-side down.

Pipe big, messy stars all over the cake. You don't actaually want them to look like stars, so twist and turn the bag as you pipe them to make them a free-form blossom shape. Layer them on top of each other so they don't look too neat. When you're finished with a cake and done with that color combination, remove the extra frosting in the plastic wrap, and add a different cylinder of frosting. (It's an easy way to change colors without changing piping bags!)

Repeat until all of the cakes are decorated. For the best taste and texture, serve them at room temperature.
Recipe Notes
For the cake, you may use egg whites that you've separated, or use pasteurized 100% egg whites from a carton. For the buttercream, since the egg whites are not cooked, pasteurized whites from a carton are necessary for food safety reasons.
The cake recipe is adapted from a white cake in Rose Levy Beranbaum's The Cake Bible. (An excellent book that I highly recommend!) The frosting recipe is my Easiest Swiss Meringue, adapted from a recipe by Lauren Kitchens.
MEASURING TIPS
Our recipes are developed using weight measurements, and we highly recommend using a kitchen scale for baking whenever possible. However, if you prefer to use cups, volume measurements are provided as well. PLEASE NOTE: the adage "8 oz = 1 cup" is NOT true when speaking about weight, so don't be concerned if the measurements don't fit this formula.
Click here to learn more about baking measurements and conversion.
Nutrition
Calories:
946
kcal
|
Carbohydrates:
101
g
|
Protein:
7
g
|
Fat:
58
g
|
Saturated Fat:
37
g
|
Cholesterol:
153
mg
|
Sodium:
303
mg
|
Potassium:
216
mg
|
Fiber:
1
g
|
Sugar:
82
g
|
Vitamin A:
1810
IU
|
Calcium:
90
mg
|
Iron:
0.3
mg
Share by Email
Share on Facebook
Share on Pinterest