These Black Sesame Shortbread Cookies are not your average cookie. Black sesame seeds and orange zest give them an exotic flavor and striking appearance. Great on their own or dipped in chocolate!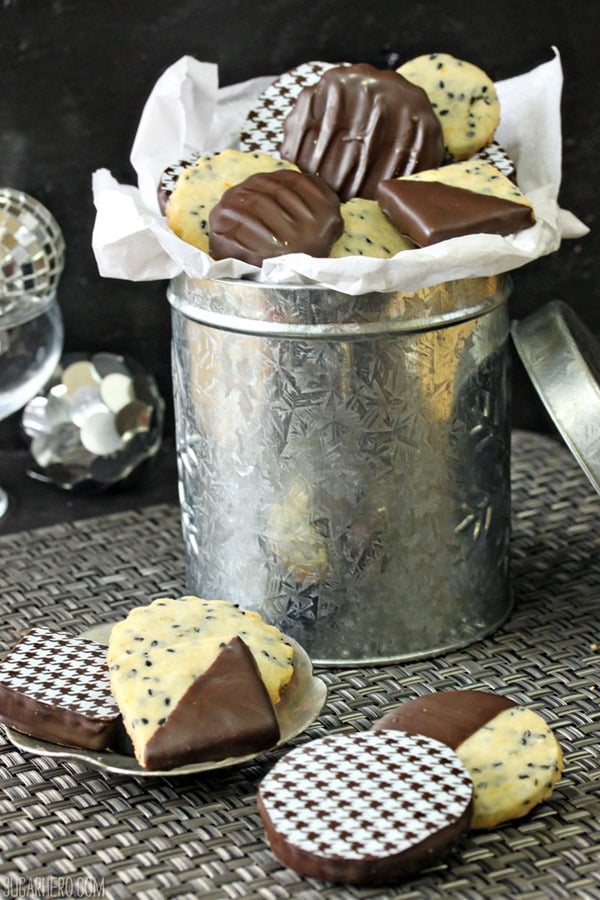 So this was going to be a pre-Christmas "cookies for a cookie exchange!" post. Then it was going to be a "fancy cookies for a New Year's party!" post. Now it's basically an "ooof it's hard to get back into the swing of things and why can't we all just get paid to read novels all day?" post. Yes, 2015 might be a year we need to ease into slowly.
If we have to be back at the daily grind, then I insist we have some cookies to help us ease the transition. And not just any cookies, but black sesame shortbread with orange zest, cardamom, and a sexy chocolate houndstooth suit.
This may sound backwards, but the flavor of these cookies was actually inspired by the decorations. I went on a mad chocolate transfer sheet-buying binge one night (look out, y'all, I party hard) and picked up a few sheets of this super-cute houndstooth pattern. I was instantly smitten and started thinking of fun ways to incorporate it into my Christmas New Year's unrelated-to-any-holiday cookie plans.
Chocolate transfer sheets are really easy to use, and they instantly make any dessert look fancy! They're basically acetate sheets with designs printed on them with cocoa butter. When the sheets come into contact with wet chocolate, the cocoa butter pattern transfers to the chocolate, and when it hardens the sheets can be easily peeled off. To decorate cookies, you just have to cut the sheets into squares and press one on top of each chocolate-dipped cookie. Simple, right?
Underneath all that fanciness is a buttery, orange-scented shortbread flecked with black sesame seeds. I love the way the black and (not-quite) white coloring of the cookies reflects the black-and-white pattern of the houndstooth. It all felt very modern and sophisticated, and I made sure to eat these with my pinky held high in the air like the classy dame that I am.
After consulting my trusty Flavor Bible, I decided to add a bit of cardamom to the dough, in addition to the black sesame and orange zest. It was subtle, but it added a nice warm, spicy undertone. If you don't have ground cardamom, you can substitute cinnamon for a different, but also delicious, flavor combination. And if you don't already have black sesame seeds available, best of luck, because it took me about 5 different stores before I finally found some. (After which I promptly bought about 2 pounds of them. I will be adding black sesame seeds to my food until the day I die.)
I thought the speckled dough was too pretty to hide entirely, so I dipped some cookies completely in chocolate, dipped others half-way, and left a few entirely plain. It's a beautiful cookie assortment that would make a great gift, or a fancy Valentine's Day present. (Too soon?) And you didn't hear this from me, but I think they would also make a great "screw the resolution, I want dessert!" treat. In case you know anyone currently in that situation. Ahem.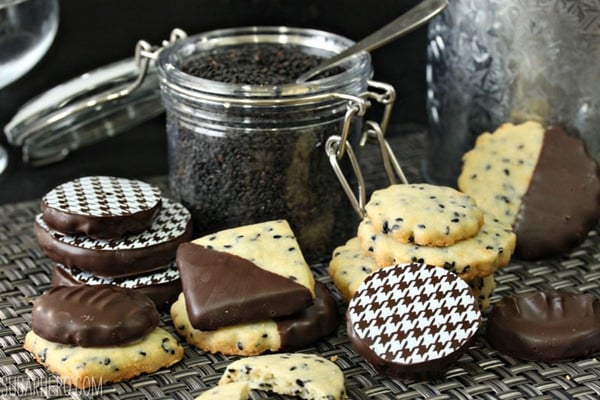 Chocolate transfer sheets can often be found at cake and candy supply stores, and in many places online. I bought the ones pictured here from Global Sugar Art.
Strawberry-Dusted Shortbread Stars
These Strawberry-Dusted Shortbread Stars are buttery shortbread cookies, dipped in white chocolate and dusted with tangy freeze-dried strawberry powder.
View Recipe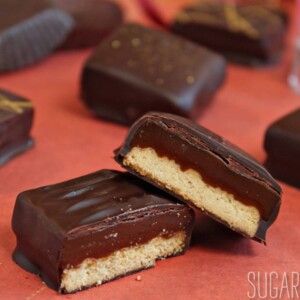 Caramel Shortbread Squares
These Caramel Shortbread Squares are the perfect 2-bite dessert. They have a crisp center covered in soft chewy caramel and the whole thing is coated in semi-sweet chocolate for superb richness!
View Recipe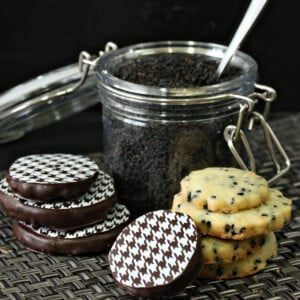 Black Sesame Shortbread Cookies
These Black Sesame Shortbread Cookies are not your average cookie. Black sesame seeds and orange zest give them an exotic flavor and striking appearance. Great on their own or dipped in chocolate!
Ingredients
12

oz

unsalted butter

at room temperature

4

oz

powdered sugar

(1 cup)

1

large orange

zested

1/2

tsp

ground cardamom

can substitute cinnamon

1/2

tsp

salt

15

oz

all-purpose flour

(3 1/2 cups)

1.13

oz

black sesame seeds

(1/4 cup)

1 1/2

lbs

chocolate candy coating melts

or tempered chocolate, optional

Chocolate transfer sheets

optional
Instructions
Combine the butter, powdered sugar, and orange zest in the large bowl of a stand mixer fitted with a paddle attachment. Mix them together on medium-low speed just until the sugar is incorporated and the butter is smooth. Add the cardamom, salt and flour, and mix on low speed until only a few flour streaks remain. Add the black sesame seeds and mix them in. Stop the mixer and finish stirring with a rubber spatula, scraping the bottom and sides of the bowl and making sure the seeds are well-distributed.

Scrape the cookie out onto a piece of cling wrap, form it into a disc, and wrap it tightly. Put the dough on a flat tray, then refrigerate it until firm, at least 30 minutes.

Once firm, preheat the oven to 350 F (176 C), and cover two baking sheets with parchment paper. Divide the dough in half and keep the half you're not working with well-wrapped in the refrigerator. Roll out the remaining half between two sheets of lightly floured parchment or waxed paper, until it is about 1/4-inch thick. Cut shapes out of the dough, or cut it into squares with a sharp knife. Arrange the cookies on the baking sheets. The cookies won't spread very much while baking, so you don't need to leave too much room between them. When you've cut out all the cookies you can, press the dough together, re-roll it, and return it to the refrigerator to chill while the first batch bakes.

Bake the cookies at 350 F for about 12 minutes, until they've lost the raw shine in the middle and the edges are very slightly colored. Remove the tray from the oven and let them cool for 5 minutes, then transfer the cookies to a wire rack to cool completely.

Roll out the second half of the dough just as you did the first, and continue to roll, cut, and bake the cookies until all are baked. Let them cool completely before dipping them in chocolate.

Melt the chocolate candy coating in the microwave, stirring after every 30 seconds to prevent overheating. If you want to use chocolate transfer sheets, cut your sheets into squares that are a little larger than the cookies. Dip a cookie into the chocolate using a fork or dipping tools, and let the excess drip back into the bowl. Set the cookie on a baking sheet covered with parchment or waxed paper, and while the chocolate is still wet, lay the transfer sheet on top, with the rough side down. Gently slide your finger across the top to press it down onto the entire surface of the cookie. Repeat with the remaining cookies. You can vary your cookies by dipping some completely and dipping others only halfway.

Once all of the cookies are dipped, refrigerate the tray to set the chocolate, for about 15 minutes.
Recipe Notes
This recipe yields 50-60 small (1-1 1/2″) cookies.
Measuring Tips
Our recipes are developed using weight measurements, and we highly recommend using a kitchen scale for baking whenever possible. However, if you prefer to use cups, volume measurements are provided as well. PLEASE NOTE: the adage "8 oz = 1 cup" is NOT true when speaking about weight, so don't be concerned if the measurements don't fit this formula.
Want to learn more about baking measurements and conversion?
Nutrition
Calories:
141
kcal
|
Carbohydrates:
15
g
|
Protein:
0
g
|
Fat:
8
g
|
Saturated Fat:
6
g
|
Cholesterol:
12
mg
|
Sodium:
23
mg
|
Potassium:
11
mg
|
Fiber:
0
g
|
Sugar:
9
g
|
Vitamin A:
140
IU
|
Calcium:
8
mg
|
Iron:
0.4
mg
Tried this recipe?
Snap a pic and hashtag it #SugarHero. We love to see your creations on our Instagram @elabau.
This post contains Amazon affiliate links. For more information, see my Affiliate and Advertising Policy.