This post may contain affiliate links. As an Amazon Associate I earn from qualifying purchases. Please see my disclosure policy for more information.
These Clemen-Thyme Chocolate Chunk Cookies are soft, tender chocolate chunk cookies with clementine zest and a bit of fresh thyme.
I will never get tired of a good chocolate chip cookie. In 50 years, when we're all making like George Jetson and eating super-advanced space food on the moon and enjoying fancy ingredients that haven't even been invented yet, I'll still be clinging to my old standby, the humble chocolate chip cookie. You can keep your astronaut ice cream, just leave me enough chocolate chips to get the job done.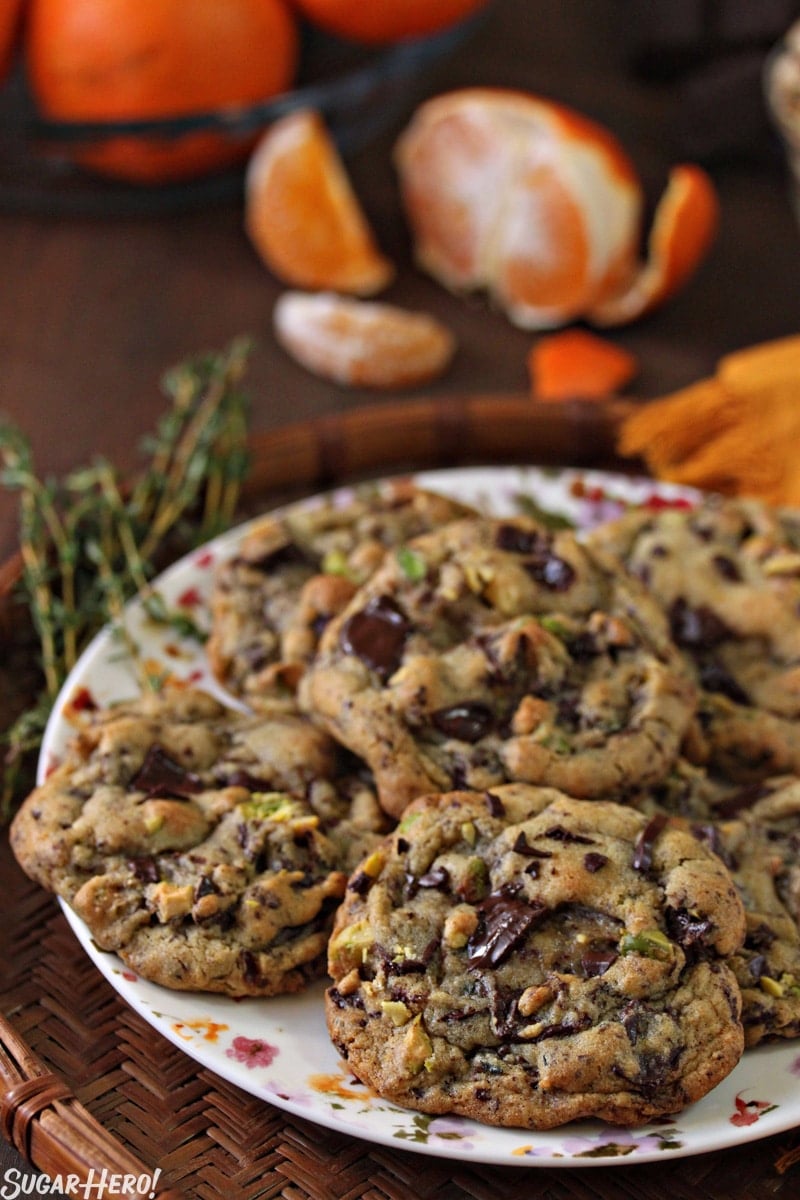 This chocolate chip loyalty doesn't mean I don't want to experiment a little bit, however. Chocolate chip cookies are great on their own, but sometimes a few tweaks can make them really outstanding. And I'm not talking about "toss in a handful of chopped walnuts"-style tweaks, either. I'm talking about adding lots of citrus zest, and a big pinch of herbs. Take that, gourmet space pellets!
The inspiration for this recipe came from a charming book I bought last month called At Home With Bungalow Heaven Cookies. Bungalow Heaven is a neighborhood in my town with a lot of historic Arts and Crafts-era houses, and some members of the neighborhood association got together and compiled favorite recipes from the residents. It's a lovely book full of fun and unique cookies, and I'm sure I'll be officially baking out of it (and sharing recipes from it!) soon.
The first cookie to catch my eye was a tangerine-thyme cookie, adapted from a recipe in the LA Times. I used my own cookie recipe as the base, but definitely took inspiration from the citrus-herb combination the Times recommends.
I wanted a cookie that was soft and tender, so I used both an egg yolk and cornstarch—two tricks to getting a cookie that stays soft in the middle. I added big chunks of semi-sweet chocolate, salted pistachios, finely chopped thyme leaves, and lots of freshly grated clementine zest. Because while tangerine + thyme has a nice ring to it, this former English major just couldn't resist the wordplay of clemen-thyme cookies. Groan if you must, but I grin just a bit every time I write it out. Cheeseball, party of one over here.
Aside from the pleasing wordplay, clementines and thyme are two ingredients that are meant to be together. Flavor soulmates, these two. The thyme isn't very noticeable on its own (I doubt anyone but the superiest of super tasters could identify it in the cookie) but it seems to enhance the floral quality of the clementine zest. The fruity, tangy zest comes through, loud and clear, and the cookies just have a really bright, fresh flavor.
These babies are soft, tender, loaded with pockets of melted chocolate, and are such a delicious, unexpected change from the standard chocolate chip cookie. I try not to rave too much about every dessert that I post, because that gets old quickly (and starts to sound dishonest) but we were seriously over the moon about these. I hope you give them a try!
Not sure you're ready to stick herbs in your cookies? (Maybe it's not the right "thyme," har har.) Here are two other chocolate chip cookie variations I think you'll love!
Raspberry Almond Chocolate Chunk Cookies
Pistachio Chocolate Chunk Cookies
Clemen-Thyme Chocolate Chunk Cookies
These Clemen-Thyme Chocolate Chunk Cookies is a traditional chocolate chip cookie taken to another gourmet level by adding just a few more ingredients!
Ingredients
7 1/2

oz

brown sugar,

1 cup

1 3/4

oz

granulated sugar,

1/4 cup

2

tbsp

packed clementine zest

,

can substitute other citrus zest

1

tbsp

thyme leaves

,

finely chopped

6

oz

unsalted butter

,

at room temperature

2

tsp

vanilla extract

1

egg

,

at room temperature

1

large egg yolk

,

at room temperature

10 2/3

oz

all-purpose flour,

2 1/2 cupa

2

tsp

cornstarch

1

tsp

baking soda

1/2

tsp

salt

9

oz

semi-sweet chocolate chunks

4 1/2

oz

pistachios,

1 cup coarsely chopped (I prefer lightly salted)
Instructions
Combine the sugars, clementine zest, and chopped thyme leaves in the bowl of a large stand mixer. Rub them together with your fingers until the sugar is moist and very fragrant. Add the butter, and mix with a paddle attachment for 30-60 seconds, until fluffy and well-combined.

Add the vanilla extract, egg, and egg yolk, and mix well. In a small bowl, whisk together the flour, corn starch, baking soda, and salt, then add the dry ingredients to the mixing bowl. Mix on low speed until combined, and the streaks of flour disappear. Stop the mixer and add the chocolate chunks and pistachios. Stir everything together with a rubber spatula, scraping the bottom and sides of the bowl well.

Wrap the dough in plastic wrap and chill for at least 2 hours, until firm. Ideally, refrigerate the dough overnight for the best taste and texture.

When you're ready to bake, preheat the oven to 350 F, and line baking sheets with parchment paper. Scoop the dough into large 2-inch cookies (about 2 ounces each) and place them several inches apart on the baking sheets.

Bake the cookies for 10-12 minutes, rotating halfway through. They should start to turn light golden brown around the edges and lose the raw shine in the middle, but shouldn't be colored on top—they will continue cooking after they are removed from the oven, so it's okay for them to look less done in the center. Let them cool for 10 minutes on the baking sheets, then transfer to a wire rack to cool completely.
MEASURING TIPS
Our recipes are developed using weight measurements, and we highly recommend using a kitchen scale for baking whenever possible. However, if you prefer to use cups, volume measurements are provided as well. PLEASE NOTE: the adage "8 oz = 1 cup" is NOT true when speaking about weight, so don't be concerned if the measurements don't fit this formula.
Click here to learn more about baking measurements and conversion.
Nutrition
Calories:
315
kcal
|
Carbohydrates:
37
g
|
Protein:
4
g
|
Fat:
16
g
|
Saturated Fat:
8
g
|
Cholesterol:
41
mg
|
Sodium:
211
mg
|
Potassium:
194
mg
|
Fiber:
2
g
|
Sugar:
20
g
|
Vitamin A:
320
IU
|
Vitamin C:
1.9
mg
|
Calcium:
36
mg
|
Iron:
2.2
mg
Share by Email
Share on Facebook
Share on Pinterest
This post contains Amazon affiliate links. For more information, see my Affiliate and Advertising Policy.