This post may contain affiliate links. As an Amazon Associate I earn from qualifying purchases. Please see my disclosure policy for more information.
These Caramel Shortbread Squares are the perfect 2-bite dessert. They have a crisp center covered in soft chewy caramel and the whole thing is coated in semi-sweet chocolate for superb richness!
I'm not much for storebought candy bars, but when I do have my choice of the prepackaged stuff, I usually go for a Twix. I like the shortbread/caramel/chocolate combination (and let's petition for a dark chocolate-only policy, thankyouverymuch) and I like how light and crispy the bar is, as opposed to some of its heftier cousins.
I've made my own Twix before, but the process can be tricky. The shortbread base often crumbles when you cut it, so even though they taste good, the bars often look a little lopsided and messy. Not very satisfying for a perfectionist like yours truly.
Fortunately for you and me that nitpicking devil on my shoulder, I recently had the best brainstorm ever. I realized that if I used prepackaged shortbread cookies, I could create Twix-like squares with minimal mess and effort. It's faster, easier, AND much neater? That's like an OCD hat trick right there.
Look at this genius right here
The secret is to pour the caramel into a pan, and when it's partially set, press square shortbread cookies on top. Once the caramel sets completely, you can cut the cookies apart, and you're left with beautiful, nearly even squares that, when dunked in chocolate, make the perfect 2- or 3-bite dessert.
I was planning on decorating all of the squares with a ripple effect, which is dead simple but looks moderately fancy. (New band name: Moderately Fancy. Yes or no?) However, once I saw how beautifully these dipped cookies were turning out, I knew they deserved a little something extra.
Some of the cookies got dusted with gold disco dust, and some got decorated with gold-patterned chocolate transfer sheets. (See here for a quick rundown on transfer sheets.) Both of these methods are really easy, but make your desserts look like a million bucks.
And how do they taste? As good as they look! The shortbread is crisp, the caramel is soft and chewy, and the semi-sweet chocolate coating adds richness. The cookie portion and the serving size make them not quite a candy, but the caramel and chocolate coating make them not quite a cookie. They're a gorgeous candy-cookie hybrid (cankie? coody? I'll work on it) that make a lovely holiday gift.
Champagne White Chocolate Truffles
This Champagne White Chocolate Truffle recipe will make you want to bust out the bubbly! Luscious white chocolate is combined with champagne to produce silky-smooth truffles that melt in your mouth. These beautiful homemade truffles are perfect for New Year's Eve, Valentine's Day, or any celebration.
Get the recipe!
Disco Truffles
Disco Truffles are brownie truffles, stuffed with chocolate truffles, and decorated with disco dust. Perfect for New Year's Eve or any party!
Get the recipe!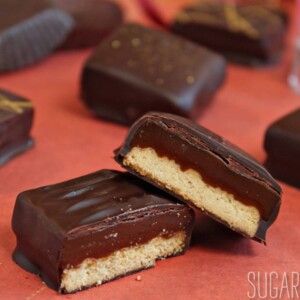 Caramel Shortbread Squares
These Caramel Shortbread Squares are the perfect 2-bite dessert. They have a crisp center covered in soft chewy caramel and the whole thing is coated in semi-sweet chocolate for superb richness!
Ingredients
3/4

cup

heavy cream

2

oz

unsalted butter

,

(4 tbsp), divided use

1/2

cup

light corn syrup

1

cup

granulated sugar

1/2

tsp

salt

1

tsp

vanilla extract

25

shortbread cookies

,

small square cookies like Lorna Doone brand

1

lb

semi-sweet chocolate

Special equipment:

chocolate thermometer

,

like this one

Candy thermometer that goes up to 400F

,

like this one
Instructions
Spray a 9×9 pan with a light coating of nonstick cooking spray, and press a layer of cling wrap into the pan, extending up the sides. (The spray will help the plastic wrap to stick.) Spritz the plastic wrap with a light layer of nonstick spray, then set aside for now.

Make the caramel first: in a small saucepan, combine the heavy cream and 1 ounce (2 tbsp) of the butter. Place the pan over medium heat and bring the mixture to a low boil. As soon as it boils remove the pan from the heat and cover it with a tight-fitting lid to keep it warm. Set it aside for now.

Combine the corn syrup and sugar in a medium saucepan and place the pan over medium-high heat. Stir until the sugar dissolves and the mixture comes to a boil. Cover the pan with a lid and let it boil for 4 minutes, so the condensation will wash the sugar crystals from the side of the pan.

Remove the lid and insert a candy thermometer. Continue to cook the sugar, without stirring, until it reaches 300° Fahrenheit (149°C) on the candy thermometer. Once at 300°F, carefully pour the warm cream into the hot sugar syrup and whisk them together. The mixture will bubble and splatter a great deal, and the temperature will drop.

Cook the caramel, stirring frequently, until it reaches 250°F. Once at 250, remove the pan from the heat, and stir in the salt, vanilla, and remaining 2 tablespoons of butter. Pour the caramel into the prepared pan and let it set at room temperature, until it is still warm and malleable, but no longer liquid. The caramel should be set enough to allow you to press cookies into the back of it, but it should not be hard or overly sticky.

Once the caramel is the right texture, press the square shortbread cookies right next to each other on top of the caramel. If you are using Lorna Doone brand, you will be able to get five rows of five cookies each in a 9×9 pan. Let the caramel set completely at room temperature or in the refrigerator.

Once set, use a large sharp knife to cut the squares apart, trimming an uneven edges if necessary. Don't cut them until you're ready to dip them. The caramel is fairly firm, but still might gradually soften and lose its neat shape if cut pieces sit at room temperature for hours.

To temper the chocolate, chop about three-quarters of the chocolate, or 12 oz, into small pieces. Leave the remaining quarter of chocolate in one whole chunk. Place the chopped chocolate in a microwave-safe bowl and microwave in 30-second increments until melted, stirring after every 30 seconds. Microwave until the chocolate reaches 115 F on the chocolate thermometer.

Once at 115, add the unchopped chocolate and stir it in. Continue to stir the chocolate frequently with a rubber spatula. As you stir, the unchopped chocolate will gradually melt and help temper the remaining chocolate. Stir occasionally until the chocolate temperature drops to 90F. At this point, start testing it for temper: smear a small amount of chocolate on a piece of parchment and let it sit for a few minutes at room temperature. If it starts to set around the edges and look glossy and hard, it's tempered! If it remains wet and shiny after five minutes, it's not in temper yet. Continue to stir the chocolate until it drops a few more degrees, then test it again.

Once the chocolate is in temper, use dipping tools or a fork to dip each caramel shortbread square into the chocolate. Let excess drip back into the bowl, then set the dipped candy on parchment paper. To make ripples, lightly touch the top of the square with the tines of a fork or dipping tool while it's still wet.
Recipe Notes
I used a homemade caramel recipe and tempered real chocolate for the coating. Both of these steps make the recipe more time-consuming, but I think it's worth it to have a final product that tastes great. If you're looking for something even easier, I've included a few notes down below the recipe for using store-bought caramels and chocolate candy coating, both of which will make the process of assembling these squares even faster.
This recipe calls for square shortbread cookies, like Lorna Doone brand. If you can't find this brand, any butter or shortbread cookie may be substituted—you may need to adjust the quantity, and/or cut them to fit the pan and to cut the cookies into small squares.
Quick & Easy variation: If you want to go the semi-homemade route, substitute 1 lb soft store-bought caramels for the homemade caramel in this recipe. Unwrap the caramels and place them in a microwave-safe bowl, along with 2-4 tbsp cream. (The cream softens the caramels, which are typically still a little hard for a cookie. The amount of cream you use will depend on the texture of your caramels and your preferred final outcome.) Microwave the caramels and cream and in 30-second increments, and stir until melted and smooth. Instead of tempering chocolate, use chocolate-flavored candy coating for a quick and easy dipping shortcut: just melt in the microwave and dip!
MEASURING TIPS
Our recipes are developed using weight measurements, and we highly recommend using a kitchen scale for baking whenever possible. However, if you prefer to use cups, volume measurements are provided as well. PLEASE NOTE: the adage "8 oz = 1 cup" is NOT true when speaking about weight, so don't be concerned if the measurements don't fit this formula.
Click here to learn more about baking measurements and conversion.
Nutrition
Calories:
246
kcal
|
Carbohydrates:
29
g
|
Protein:
1
g
|
Fat:
13
g
|
Saturated Fat:
7
g
|
Cholesterol:
17
mg
|
Sodium:
123
mg
|
Potassium:
118
mg
|
Fiber:
1
g
|
Sugar:
21
g
|
Vitamin A:
180
IU
|
Vitamin C:
0.1
mg
|
Calcium:
21
mg
|
Iron:
1.4
mg
Share by Email
Share on Facebook
Share on Pinterest