This post may contain affiliate links. As an Amazon Associate I earn from qualifying purchases. Please see my disclosure policy for more information.
These Chocolate Pistachio Sandwich Cookies are a pistachio lover's dream come true! Fudgy, soft chocolate cookies are paired with pistachio frosting to make gourmet Pistachio Oreos. Roll the edges in chopped pistachios for the perfect finishing touch!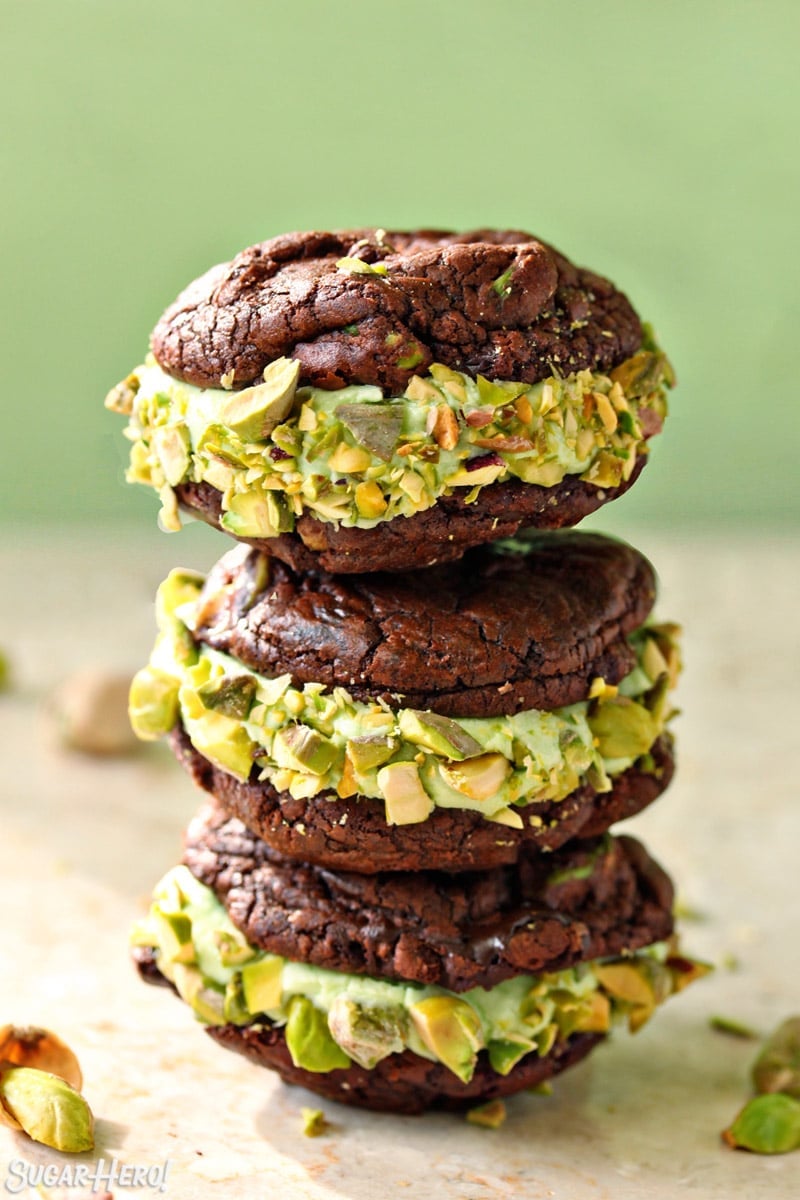 Chewy Chocolate Cookies with Pistachio Frosting
Pistachios may not be the trendiest or most popular dessert ingredient, but I love them. They have a distinctive taste that's a little sweet, so they go well in many desserts, and that green color makes them such a fun & lively addition to ice creams, cake batters, frosting, and more!
I've had the pleasure of making many pistachio desserts over the years, so if you're as crazy for pistachios as I am (or if you're just pistachio-curious) start with my pistachio chocolate chunk cookies, this fantastic pistachio cake with blackberry sauce, or decadent pistachio pie with lemon whipped cream.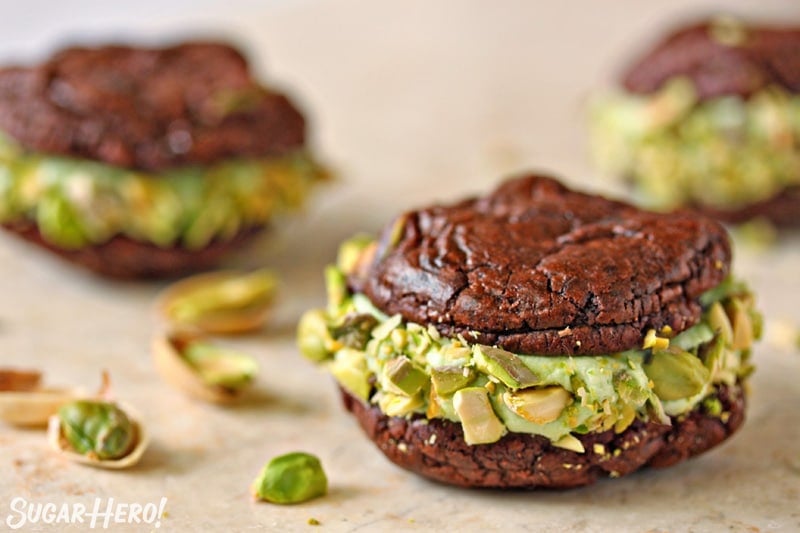 Why You'll Love These Cookies
These decadent sandwich cookies combine two fabulous elements:
These cookies are rich and fudgy, with big pockets of melted dark chocolate chunks. They need to be paired with something that's strong enough to balance our all that gooey chocolate, but won't overpower it or fight with the flavor. Cue the pistachio!
Pistachios actually appear in two ways in this cookie: as chunks in the cookies themselves, and as flavoring for the fluffy pistachio frosting. The buttercream is light and smooth, with a lovely pale green color and a vibrant pistachio taste. I could eat it on its own by the spoonful, so pairing it with delish chocolate cookies is just the icing on the cake. (Or the frosting on the cookie, if you will…) Read on to learn how to make these cookies!
🧾 What You'll Need
Ingredients
To make these chocolate pistachio cookies, you'll need some common pantry ingredients and a few less-common ones. (Links are affiliate links and I earn a small commission from qualifying purchases.) In addition to the usual baking suspects, here are a few tips when gathering ingredients:
Chocolate:

you'll want to use semi-sweet or bittersweet chocolate in this recipe, not milk chocolate. I like to use Pound Plus bars from Trader Joe's, because they're a great balance of quality chocolate and reasonable price, but you can use semi-sweet or dark chocolate chips if they're good quality. All of the chocolate flavor comes from melted chocolate, so if you use cheap waxy chips, you'll probably be disappointed in the cookies.

Pistachio Instant Pudding:

this is non-negotiable! Pistachio pudding is what gives the pistachio filling its distinctive flavor and light and fluffy texture. If you cannot find this pudding, there are suggestions for other flavors of cookies you can make in the Variations section down below.

Pistachios:

for the best flavor and texture, use roasted and salted pistachios. I'm partial to already-shelled nuts because I'm a bit (okay, a lot) lazy. If you buy unshelled nuts, make sure you measure the nuts after shelling them.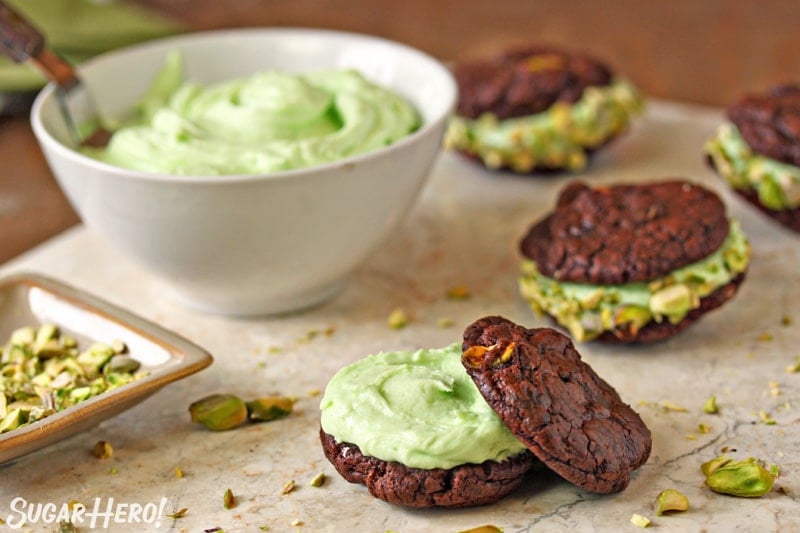 🥄 Equipment
Great news, sugar heroes — no special equipment required for these babies! All you need are some common cookie tools to make your life easier:
Cookie scoop:

I love this OXO scoop–it's lasted me for years, and makes perfect-sized cookies, every time! This is especially handy when making sandwich cookies, because you want every cookie to be the same size and shape.

Baking sheets:

Heavy-duty baking sheets will keep the bottoms of the cookies from burning and help cookies bake evenly.

Parchment paper:

I never bake directly on my baking sheets–it's all about the parchment, baby! Save time and cleanup by using silicone liners or parchment paper when baking cookies.

Mixer:

a stand mixer or a hand mixer will both work in this recipe.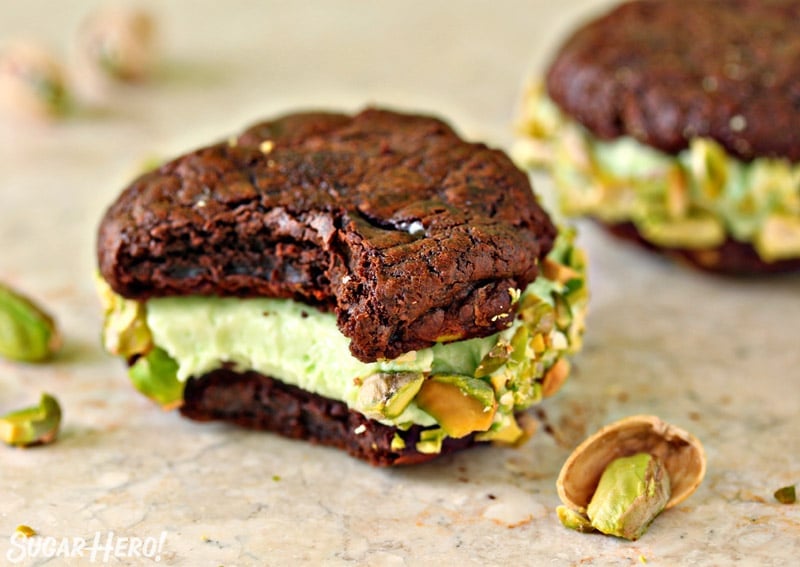 💭 Variations
Pistachios are obviously the heart of this recipe, so it pains me to say this…but if they're not your jam (or your nut!) you can definitely make other chocolate sandwich cookie flavors instead.
Try swapping out the pistachio instant pudding for another instant pudding flavor, like…
White chocolate
Coconut
Banana
Butterscotch
Cheesecake
Lemon
…or many more!
Switching the pudding flavor will give you a whole new filling, and then you can roll the sides of the cookies in other chopped nuts, toasted coconut, mini chocolate chips, or sprinkles.
💡 Tips and FAQs
Make-Ahead and Storage Instructions
These cookies taste their best within 3-4 days of making them–beyond that, they start to get stale. If you want to make them ahead of time, you can make the components separately and assemble later:
Make the dough in advance, and portion it out onto a baking sheet covered with waxed paper or parchment. Place in the freezer until the cookie dough balls are frozen.
Transfer the cookie dough balls into a gallon-size freezer-safe plastic bag, and freeze for up to 2 months.
When you're ready to bake the cookies, set them on baking sheets at room temperature for 15-20 minutes to thaw before baking.
The frosting can be made up to two weeks in advance and stored in the refrigerator. When you're ready to assemble, let it sit at room temperature until it is soft enough to spread.
💚 More Pistachio Desserts You'll Love:
Chocolate-Pistachio Sandwich Cookies
These Chocolate Pistachio Sandwich Cookies are a pistachio lover's dream come true! Chewy, soft chocolate cookies are paired with pistachio frosting to make gourmet Pistachio Oreos.
Ingredients
For the Pistachio Frosting:
CUSTOMIZE:
sandwich cookies
Instructions
To Make the Cookies:
In a small bowl, sift together the flour and baking powder and set aside for a moment. Cover two baking sheets with parchment paper.

Combine 10 oz (about 1 2/3 cup) of the chopped chocolate and the butter in a medium microwave-safe bowl. Microwave in 30-second increments until melted, stirring after every 30 seconds to prevent overheating. Stop heating when there are still a few bits of unmelted chocolate remaining, and continue to stir the chocolate until the residual heat melts the chocolate pieces. Set aside to cool for a few moments.

In a large mixing bowl, combine the eggs, sugar, vanilla, and salt. Beat with a whisk attachment on medium-high speed for 8-10 minutes until the mixture is pale yellow, fluffy, and voluminous.

Add the melted chocolate and flour mixtures, and mix on low until almost combined. Stop when just a few streaks of flour remain, and add the remaining chopped chocolate and the pistachios. Stir until everything is well-combined.

Set aside the dough at room temperature for at least 10-15 minutes, to give it a chance to firm up a little. If you refrigerate the dough at this point, it will become very hard, and will need to sit at room temperature to soften before using it.

Preheat the oven to 350 degrees F. Scoop the dough by tablespoons onto the prepared baking sheets. You should get about 24-28 cookies.

Bake the cookies for 10 minutes, until they're puffed and crackly on top, but still soft in the middle. Let them cool completely on the trays before removing them.
To Make the Frosting:
Sift the dry pudding mix into a large mixing bowl—some brands (like Jell-O) include little bits of nuts, so they need to be sifted out unless you want nuts in your frosting.

Add the milk to the pudding mix and whisk briefly, then let it sit for 5 minutes to absorb the milk and reduce the graininess of the sugar in the mix. Do not skip the sitting time!

After 5 minutes, add the butter, powdered sugar, vanilla, salt, and almond extract to the mixing bowl. Mix everything together with a paddle attachment on low speed, until the powdered sugar is absorbed.

Raise the speed the medium-high and beat until the frosting is light and fluffy. Adjust the texture by adding more powdered sugar if it is too runny, or more milk if it is too stiff.
To Assemble:
To assemble the cookies, spread a generous layer of frosting on the bottom of one cookie, and press the bottom of another cookie on top. Press down until the frosting comes all the way out to the edges.

Immediately roll the edges in some chopped pistachios, and repeat until all sandwich cookies are assembled.

Store in an airtight container at room temperature for up to 3 days. (They will last longer, but the cookies will start to get hard and stale.)
MEASURING TIPS
Our recipes are developed using weight measurements, and we highly recommend using a kitchen scale for baking whenever possible. However, if you prefer to use cups, volume measurements are provided as well. PLEASE NOTE: the adage "8 oz = 1 cup" is NOT true when speaking about weight, so don't be concerned if the measurements don't fit this formula.
Click here to learn more about baking measurements and conversion.
Nutrition
Calories:
394
kcal
|
Carbohydrates:
43
g
|
Protein:
5
g
|
Fat:
23
g
|
Saturated Fat:
12
g
|
Trans Fat:
1
g
|
Cholesterol:
42
mg
|
Sodium:
118
mg
|
Potassium:
316
mg
|
Fiber:
4
g
|
Sugar:
33
g
|
Vitamin A:
292
IU
|
Vitamin C:
1
mg
|
Calcium:
45
mg
|
Iron:
4
mg
Share by Text
Share by Email
Share on Facebook
Share on Pinterest