Bronuts are homemade maple bars unlike any doughnut you've ever had before. They are covered with a variety of sweet and savory dude-approved toppings like bacon, potato chips, and a sriracha glaze!
Bronuts: (n) pieces of fried dough (commonly called doughnuts) adorned with savory toppings that are commonly beloved by gentlemen in the 18-30 age bracket (commonly called bros). While Bronuts take their name from a specific demographic, their consumption is not limited to young males but is open to all ages and genders.
Common Usage: "Yo, bro, did you eat the last bronut? I was saving that to have after my cold pizza this morning, dude. Not cool, bro. NOT COOL."
With Father's Day coming up, I wanted to dust off my Big Book O' Culinary Cliches and make another treat packed with brolicious flavors that dads might enjoy, like bacon, potato chips, and Sriracha. And yes, I know #notallmen or whatever, but let's just surrender to the beauty of that solid bronuts wordplay and go with it.
A few years ago I made Dude Food Magic Bars for Father's Day. (Those are seven-layer cookie bars topped with bacon, chips, pretzels, and dulce de leche, and you need them in your life!) They've proven to be a reader favorite and I knew it was time to revisit the dude food genre and reinterpret another favorite: the humble doughnut.
I decided to use maple bars as my base because the main dude in my life loves maple bars. I am a staunch vanilla crueller loyalist, and I never understood why he would always go for a maple bar. Like, eat a pancake if you want maple flavor in the morning, am I right? But apparently it's differences like these that keep a marriage spicy, so I decided to humor him and make a batch of maple bars.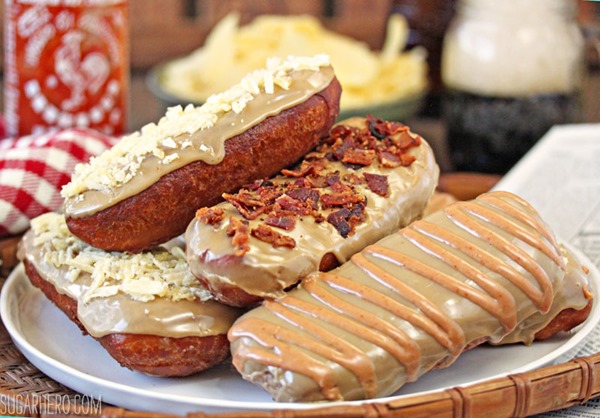 The bars are based on my new favorite doughnut recipe, the same one I used to make the Crème Brulee Doughnuts a few months ago. It's from the Flour Bakery cookbook and although it has a longer chill time that foils any attempt at instant gratification, it's so wonderfully fluffy, I forgive it for any fiddliness. The bars are crispy on the outside, perfectly light on the inside, and smothered in a crackly, shiny maple glaze.

I did 3 different variations: potato chips, crumbled crispy bacon, and a drizzle of Sriracha glaze. The potato chips add a wonderful salty crunch without a lot of flavor, so if you're more of a maple bar purist, they might be the way to ease into full bronut-itude. The bacon reminded me of breakfasts where I'd layer bacon between layers of pancakes or waffles, and cover the whole thing with syrup. (Wheeeee!)
And the Sriracha was the most fun! Even with just a teaspoon of Sriracha in the glaze, it packs a bold flavor. It's not only spicy, but savory (almost garlicky?) too, so if you're not a Sriracha fan you might want to skip this one. But if you have ever said, "I literally want to put Sriracha on everything," now's your chance to put your money where you mouth is.
Happy Father's Day to all the bros out there. *fist bump*
🤩More Bruh-Worthy Desserts
Grilled Doughnuts
Introducing Grilled Doughnuts – toasty, caramelized grilled doughnuts topped with ice cream and chocolate fudge sauce! Learn how delicious doughnuts can be!
View Recipe
Chocolate Blackout Doughnuts
These doughnuts are chocolate overload! Chocolate doughnuts, filled with chocolate pastry cream, topped with a chocolate glaze and chocolate sprinkles or chocolate doughnut crumbs.
View Recipe
Bronuts Maple Bars
Bronuts are homemade maple bars unlike any doughnut you've ever had before. They are covered with a variety of sweet and savory dude-approved toppings like bacon, potato chips, and a sriracha glaze!
Ingredients
For the Doughnuts:
.25

oz

active dry yeast

,

(1 package)

2/3

cup

milk

,

warm but not hot

16.88

oz

all-purpose flour,

(3 ¾ cups)

2.33

oz

granulated sugar,

(1/3 cup)

1 ½

tsp

salt

3

large eggs

,

at room temperature

3 ½

oz

unsalted butter

,

(7 tbsp), at room temperature

1

quart

canola oil

,

for frying
Toppings (Optional):
Potato chips

,

crushed

Bacon

,

crumbled

Pretzels

,

chopped
Instructions
To Make the Doughnuts:
Stir together the yeast and warm milk in the bowl of a large stand mixer and let it sit for 5-10 minutes, until the yeast has "bloomed" and become a creamy foam on top of the milk. If your yeast hasn't changed at all, it's dead and you should start with a new batch.

Add the flour, sugar, salt, and eggs to the milk in the mixer bowl, and mix on low speed with a dough hook for one minute, until the dough comes together to form a shaggy ball. Mix on low speed for an additional 2-3 minutes until it smooths out. After 2-3 minutes, continue mixing while you add the softened butter a tablespoon at a time. At first it might resist incorporating, but as you continue mixing the butter will gradually work its way into the dough. After the butter is added, mix for another 5 minutes until the dough is smooth and supple. It will be very soft

Wrap the dough tightly in plastic wrap, and refrigerate it for at least 6 hours, or overnight. The dough can be kept in the refrigerator for up to 15 hours. It will try to rise in the refrigerator, so it's important to wrap it well so it doesn't burst out of the plastic.

When you're ready to roll the doughnuts out, flour your work surface and sprinkle the top of the dough with a bit of flour. Cover two baking sheets with parchment and lightly flour the parchment as well. Roll the dough out until it is a rectangle about 8×12-inches long and 1/2-inch thick. Use a sharp knife to cut the dough into 14 rectangles, then transfer them to the baking sheets. Leave some room in between the doughnuts, since they will expand as they rise.

Cover the trays loosely with towels, then put it in a warm place to rise until doubled. Depending on the temperature and humidity of your kitchen, this could take anywhere from 1-2 hours.

Once the doughnuts are risen, pour the oil into a pot so that it's at least 2 inches deep. Insert a candy/deep-fry thermometer and heat the oil over medium heat until it's 350 F. Cover a baking sheet with several layers of paper towels.

Working in batches, carefully slide 2-3 doughnuts into the hot oil (depending on the size of your pot—don't crowd them!). Fry them for about 1-2 minutes per side, until they're puffed and golden brown on both sides. Use a frying spatula or slotted spoon to transfer the doughnuts to the paper towel-covered tray. Repeat with the remaining doughnuts, keeping an eye on the thermometer often. If the oil gets too hot, turn the heat down or remove it briefly from the stove, and if it gets too cool, pause your frying until it has a chance to heat up again.

Once all of the doughnuts are fried, let them cool completely before dipping them.
To Make the Maple Glaze:
In a large bowl, whisk together the powdered sugar, corn syrup, milk, and 1 tsp maple extract. Taste the glaze, and add additional maple flavor if desired. Dip the top half of the doughnuts into the glaze, and let extra drip back into the bowl. Place them back on a baking sheet, and while the glaze is still wet, sprinkle the tops with crushed chips, bacon, or pretzels.

To make the sriracha glaze, combine 3 tablespoons of the maple glaze with 1 tsp of Sriracha and stir together. Add additional powdered sugar, up to 1/4 cup, to make the glaze less runny. Pour it into a plastic bag and snip off the corner. Drizzle Sriracha glaze on top of the doughnuts.

Let the doughnuts sit for 30-60 minutes to set the glaze fully before serving or stacking them.
Recipe Notes
These doughnuts require an extended chilling time (at least 6 hours!) so you'll probably want to make the dough the night before you're ready to use it. Feel free to experiment and top these maple bars with whatever sweet and savory toppings you like best! The doughnut recipe is adapted from the Flour Bakery cookbook.
Measuring Tips
Our recipes are developed using weight measurements, and we highly recommend using a kitchen scale for baking whenever possible. However, if you prefer to use cups, volume measurements are provided as well. PLEASE NOTE: the adage "8 oz = 1 cup" is NOT true when speaking about weight, so don't be concerned if the measurements don't fit this formula.
Want to learn more about baking measurements and conversion?
Nutrition
Calories:
326
kcal
|
Carbohydrates:
59
g
|
Protein:
5
g
|
Fat:
7
g
|
Saturated Fat:
4
g
|
Cholesterol:
51
mg
|
Sodium:
283
mg
|
Potassium:
75
mg
|
Fiber:
1
g
|
Sugar:
33
g
|
Vitamin A:
255
IU
|
Vitamin C:
0.2
mg
|
Calcium:
30
mg
|
Iron:
1.8
mg
Tried this recipe?
Snap a pic and hashtag it #SugarHero. We love to see your creations on our Instagram @elabau.