These tasty Chocolate Mustache Pops are a lot of fun, easy to make and a great way to show appreciation to a dad or hero!
So, what's the consensus on the mustache fad? Are mustache accessories and jokes still funny? Totally over? Tired, but finishing one last lap around the pop culture track? And what about chocolate mustaches? Does the addition of chocolate change the answer at all?
I really, really hope you said that chocolate mustaches are still "in," because, hey. I made you some cute chocolate mustaches for Father's Day. Let's eat, drink, and be mustached.
I posted a recipe for Dude Food Bars earlier this week (if you missed them: bacon, pretzels, chips, caramel, and…go!) but I wanted to leave you with one more fast, easy, and cute Father's Day idea, in case you're doing some last-minute hustling.
Not sure what to get the dad or the husband? Want to show appreciation for the awesome men in your life? Mustaches are the answer! Whip up a few chocolate mustaches and make even the youngest gents happy…even if they're not quite sure what to do with them:
Yeah, you know I made them dress alike for their mustache pictures…love these goofballs
I've seen mustache pop molds at stores like Michael's and JoAnn's, and that's definitely one method of making chocolate mustache pops. But I really like making them freehand—it gives you more freedom to make the pops in exactly the size and shape you want, plus it's easier to top them with sprinkles this way! And who wouldn't want their chocolate mustaches to be covered with appetizing sprinkle stubble? Five o'clock shadow: it's what's for dessert.
I didn't totally freehand the mustaches, though. I drew a template with several designs first, then put it underneath my work surface and traced the shapes. It's easier, faster, and requires way less brain power. You can find all sorts of mustache inspiration by searching google images, or if you want to use the hand-drawn template I made, you can download the mustache pdf here.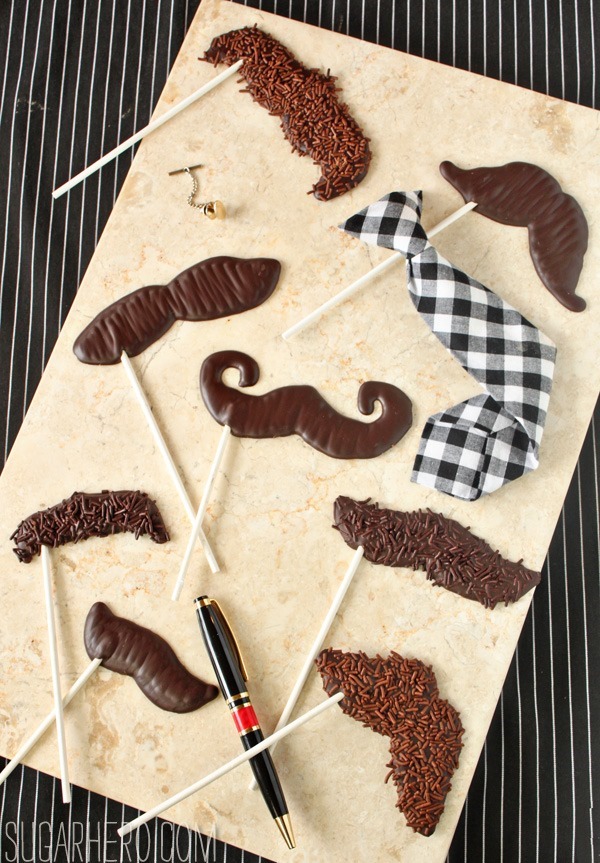 To make these mustaches, I used tempered dark chocolate, and decorated them with a mix of milk and dark sprinkles. (I actually used some sprinkles I found at Cost Plus called De Ruyter
, which the Dutch apparently eat on buttered bread for breakfast. I've obviously been doing breakfast wrong my entire life. Anyhow, they're made with real chocolate and they're delicious. Highly recommended.) Dutch sprinkles are definitely not required, and neither is tempered chocolate—you can use candy coating as a quick and convenient shortcut.
These chocolate mustache pops were fun to design and make, but even more fun to play with and pose with! Jason and I got into the spirit by hamming it up, while Asher mostly enjoyed trying to eat the chocolate as quickly as possible before I could get a good picture. (What can I say, he's my son through and through.) It was like a game of cat and mouse, if the cat is wielding a chocolate-smeared camera and the mouse is twenty-five pounds of wriggle and teeth.
I've been talking about these in the context of Father's Day, but they'd be equally good as party favors or shower treats. (In fact, chocolate mustaches were a favor at my own baby shower last year!) As the old saying goes, you can't really go wrong with chocolate in the shape of facial hair.*
*Not really a saying
Full instructions are below, but here's a quick visual tutorial so you can see how easy the whole process is. Happy mustache-ing!
🤎More Fun Dessert Recipes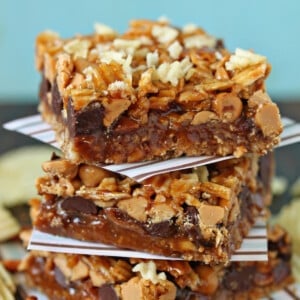 Dude Food Magic Bars
These awesome Dude Food Magic Bars are so EASY to make. Dump a bunch of delicious ingredients like bacon, chocolate chips, peanut butter chips, pretzels and potato chips in a pan and bake it … must I go on!?
View Recipe
Bronuts Maple Bars
Bronuts are homemade maple bars unlike any doughnut you've ever had before. They are covered with a variety of sweet and savory dude-approved toppings like bacon, potato chips, and a sriracha glaze!
View Recipe
Chocolate Mustache Pops
These tasty Chocolate Mustache Pops are a lot of fun, easy to make and a great way to show appreciation to a dad or hero!
Ingredients
1

lb

semi-sweet chocolate,

or chocolate candy coating melts

Chocolate thermometer

,

if tempering chocolate

Squeeze bottle

Mustache template

,

link to pdf–optional

Waxed paper

Chocolate sprinkles,

optional
Instructions
If you're using chocolate candy coating, melt it in the microwave in 30-second increments, stirring until it's completely melted and smooth. If you're tempering the chocolate, remove at least a quarter of the chocolate (about 4 oz) and set it aside—it doesn't have to be a precise amount. Chop the remaining 3/4 chocolate into small pieces, and place in a microwave-safe bowl.

Microwave the chopped chocolate in 30-second intervals, stirring after every 30 seconds. Once melted and smooth, insert the chocolate thermometer and make sure that it has reached a temperature of 115° Fahrenheit (46° C) on the thermometer. If it's not close to that, heat it in short bursts until it reaches the right temperature.

Add the reserved block of chocolate and stir it in. Continue to stir the chocolate frequently as the block of chocolate melts and the chocolate cools. When it reaches 90° F (32° C), test it to see if it's in temper. Smear a bit of chocolate onto a piece of parchment. If it starts to set within a few minutes, your chocolate is in temper. If it remains wet-looking and does not set, continue to stir the chocolate and let it cool a few more degrees before testing again. Once tempered, remove any excess unmelted chocolate from the bowl and set aside to use at a later time.

Fill the squeeze bottle with the prepared chocolate. If you're using a template, put it on your work surface and cover it with a sheet of waxed paper. Using the squeeze bottle, trace around a mustache, then fill it in entirely with chocolate.

Press a lollipop stick firmly into the side of the mustache, but not all the way on the outer tip, since it might be too fragile and breakable. Squeeze more chocolate on top of the stick and over the mustache so it is in a thick, even layer. If desired, scatter chocolate sprinkles on top while the chocolate is still wet.

Gently and carefully shift the waxed paper to the side so that the template is in a different position, and trace another mustache. Repeat with more chocolate, filling the squeeze bottle as necessary, until all of your mustaches are made. If you used melted candy coating or tempered chocolate, those should set nicely at room temperature and can be stored in an airtight container at room temperature. Pops made from plain melted chocolate should set in the refrigerator and be stored there until ready to serve.
Recipe Notes
I recommend using either chocolate candy coating (like Merckens brand, or Wilton candy melts) for this recipe, or tempering real chocolate for these pops. Both of these options will give you shiny, stable chocolate pops. I've included brief tempering instructions in the recipe below, but for an in-depth discussion, with pictures, see this post on how to temper chocolate. If you don't want to temper chocolate and want to simply use melted chocolate or chocolate chips instead, you run the risk of having chocolate that is streaked or too soft at room temperature (especially during the hot summer months). Nobody wants a droopy mustache pop! If you do decide to go the melted chocolate route, keep the pops in the refrigerator until you're ready to serve them.
Measuring Tips
Our recipes are developed using weight measurements, and we highly recommend using a kitchen scale for baking whenever possible. However, if you prefer to use cups, volume measurements are provided as well. PLEASE NOTE: the adage "8 oz = 1 cup" is NOT true when speaking about weight, so don't be concerned if the measurements don't fit this formula.
Want to learn more about baking measurements and conversion?
Nutrition
Calories:
76
kcal
|
Carbohydrates:
9
g
|
Protein:
0
g
|
Fat:
5
g
|
Saturated Fat:
3
g
|
Cholesterol:
0
mg
|
Sodium:
2
mg
|
Potassium:
43
mg
|
Fiber:
0
g
|
Sugar:
7
g
|
Calcium:
4
mg
|
Iron:
0.4
mg
Tried this recipe?
Snap a pic and hashtag it #SugarHero. We love to see your creations on our Instagram @elabau.