This post may contain affiliate links. As an Amazon Associate I earn from qualifying purchases. Please see my disclosure policy for more information.
These Golf Ball Truffles and Putting Green Brownies are perfect for the golf lover in your life! Rich, fudgy brownies are topped with frosting "grass" and a delicious white chocolate truffle that looks JUST like a golf ball!
With Father's Day coming up this weekend, I've got masculine stereotypes on the brain! Sorry, guys—do you get sick of being reduced to power tools, grilling, and bushy mustaches? If so, good news—I'm branching out and working with the "all dudes love golf" stereotype today. So I've gotcha covered!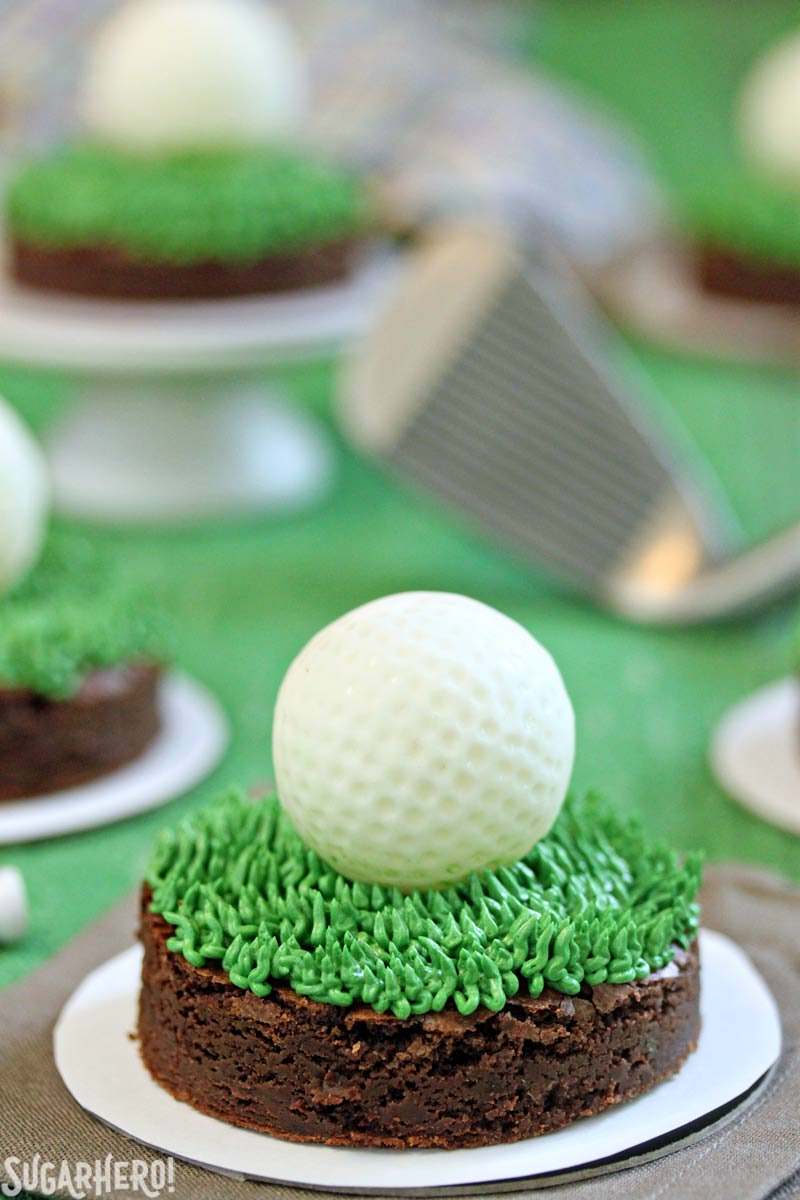 Truly, I know that not all fathers enjoy golf—I don't even think my own father has stepped foot onto a golf course that didn't have "miniature" in front of it—but the moment I saw these cute golf ball candy molds, I was powerless to resist the allure of a golf ball dessert. And even if your own particular father-person in your life isn't a golfer, we all probably know SOMEONE obsessed with the sport. These mini brownie desserts would look equally at home at a birthday party or golf viewing party! Time for you all to pick up what I'm putting down, is what I'm saying.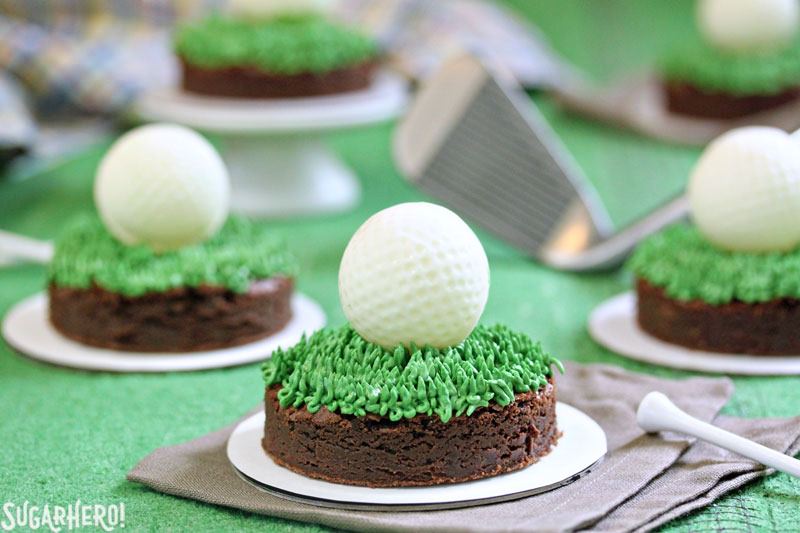 So let's break down the components of these babies. It starts with a rich, fudgy brownie, squat and dense and packed with dark chocolate flavor. The brownies are cut into rounds, and topped with green buttercream applied using a grass tip, so it looks like the well-groomed grass of a putting green.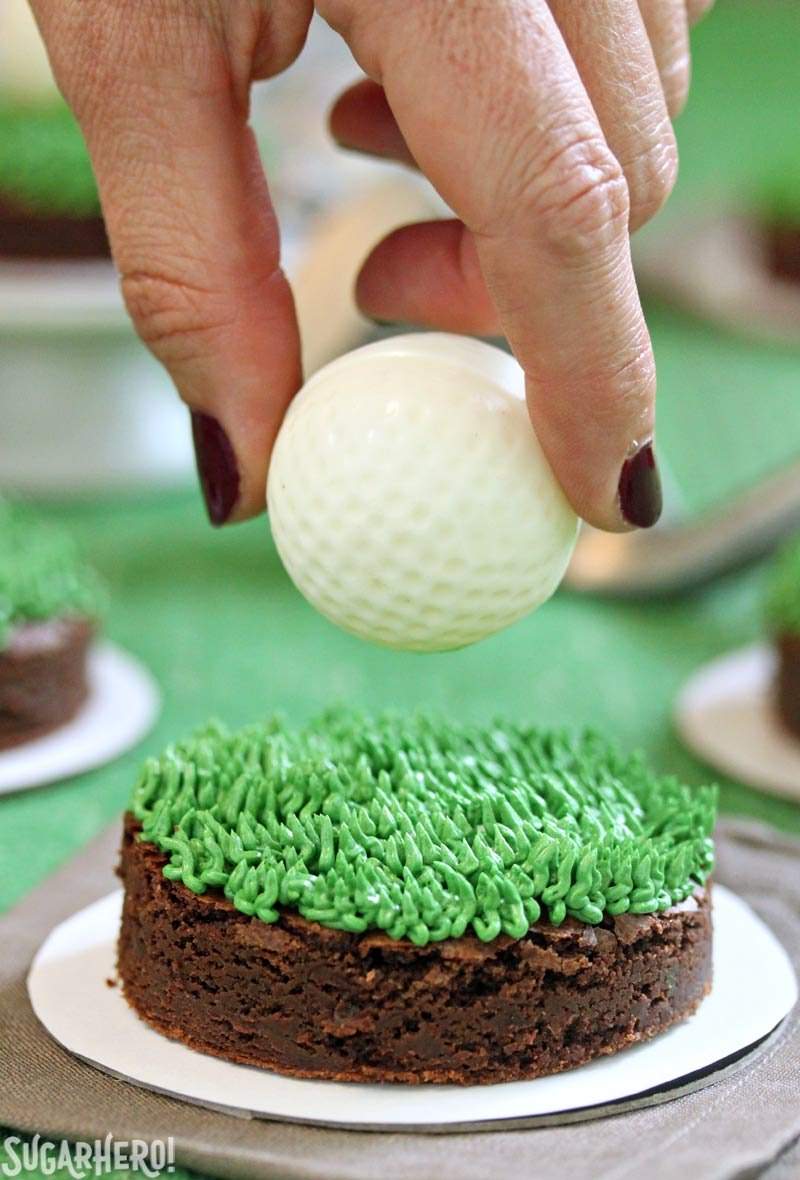 The pièce de résistance, however, is the perfectly spherical white chocolate truffle on top, that bears an uncanny resemblance to a real golf ball. It's made with a special half-spherical golf ball mold, and when you join those two halves together, you have a candy that could easily fool someone into thinking it's the real thing.
You can make hollow golf balls, or solid white chocolate golf balls, but since it's Father's Day, and since the fathers in my stereotype-filled world enjoy a boozy dessert, we're going to fill these with white chocolate-rum ganache, spiked with orange zest and cinnamon. They're amazingly complex and flavorful, and the citrus/cinnamon combination compliments the spicy rum and sweet white chocolate perfectly.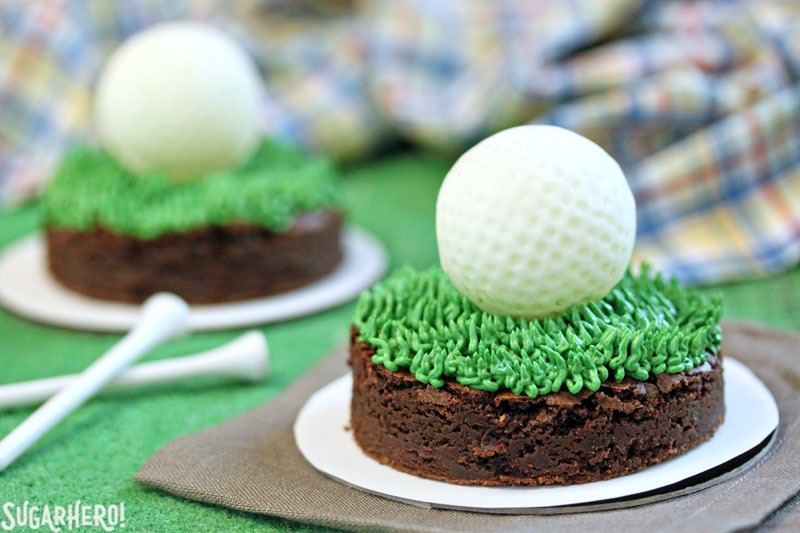 The final result is a perfect single-serving dessert that has a little bit of everything: dark chocolate brownies for the chocoholics, lush buttercream for the frostingphiles, white chocolate-rum truffles for the boozehounds, and a darling golf theme for everyone with eyeballs!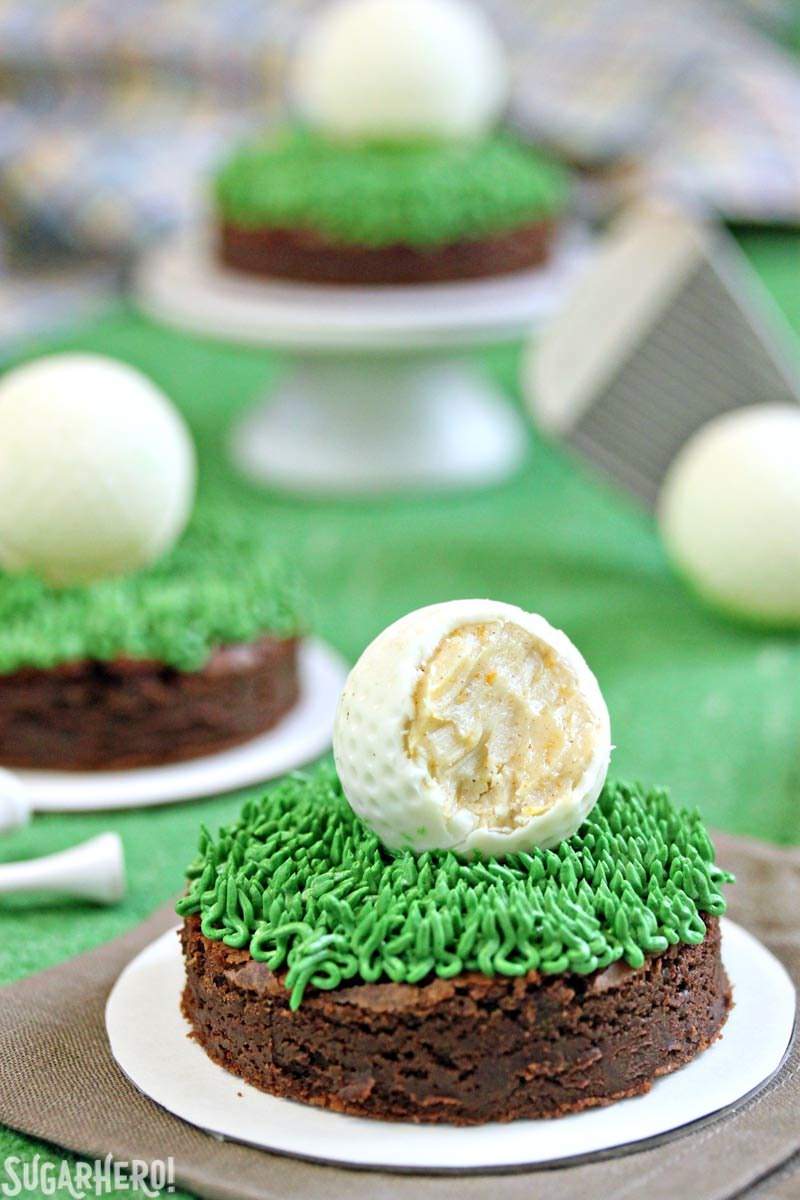 Make these for the golf lover in your life, you WON'T be sorry! Or just use the recipe and adapt it to a different candy mold or theme altogether—it's very flexible and definitely shouldn't be pigeonholed as a father's-only dessert. Enjoy!
Golf Ball Truffles and Putting Green Brownies
These Golf Ball Truffles and Putting Green Brownies are perfect for the golf lover in your life! Rich, fudgy brownies are topped with frosting "grass" and a delicious white chocolate truffle that looks JUST like a golf ball!
A few notes about this recipe: the truffles have several extended chilling times, so I recommend leaving yourself plenty of time to make them. The components can also be made ahead of time, over the course of several days, if you'd like to spread out the work. I recommend using white chocolate candy coating instead of regular white chocolate, to make the golf ball shells, because white chocolate tends to be softer at room temperature–but white chocolate
can
be substituted if that's what's available to you. Note that the mold I recommend makes 6 truffles at a time, while this recipe makes enough for 12–so you'll either need 2 molds, or to construct the truffles two times in a row.
Ingredients
For the Golf Ball Truffles:
12

oz

white chocolate chips,

(or chopped white chocolate)

6

TBSP

heavy cream

2

oz

unsalted butter

,

(4 TBSP), at room temperature

¼

cup

rum

,

(can substitute additional ¼ cup cream + 1 tsp vanilla if desired)

1

TBSP

orange zest

½

tsp

ground cinnamon

pinch of salt
For the Buttercream:
12

oz

powdered sugar

,

(3 cups), sifted after measuring

4

oz

unsalted butter

,

(1/2 cup, or 1 stick), at room temperature

2

tbsp

milk

,

(more if necessary)

1

tsp

vanilla extract

1/8

tsp

salt

green food coloring
Instructions
To Make the Golf Ball Truffles:
Make sure your golf ball candy molds are clean and completely dry.

Place the white chocolate candy coating in a microwave-safe bowl and microwave in 30-second increments, stirring after every 30 seconds to prevent overheating. Stir until the coating is melted and smooth. Use a spoon or candy scoop to fill each cavity in the mold with white coating, coming up to the top. Let the mold sit for 2-3 minutes, until the coating just starts get a little thicker.

Place a piece of parchment or waxed paper on your work surface, and turn the mold upside-down, letting the excess coating drip out onto the parchment. (You can re-use this extra coating for another project!) Once only a thin layer of white coating remains, set the mold down on the counter and drag a bench scraper, metal spatula, or knife across the top to remove any excess coating and give the golf balls smooth edges. Refrigerate the mold while you prepare the filling.

Combine the chopped white chocolate and cream in a microwave-safe bowl, and microwave together in 30-second increments until mostly melted. Whisk until smooth—at first it might seem too thick, but keep whisking and it will loosen up until it's the texture of a thick liquid. Add the room temperature butter, rum, orange zest, cinnamon, and salt, and whisk everything together until smooth.

Press a layer of cling wrap on top of the ganache and refrigerate for about an hour, until it has thickened slightly and is the texture of peanut butter. Fit a piping bag with a large round tip or coupler, and scrape the ganache into the piping bag. Pipe the ganache into each chilled golf ball cavity, until it comes almost to the top of the mold. Leave a small margin at the top. Refrigerate the molds again for about 45 minutes to make the filling firmer. Turn the mold upside down and flex it gently to remove the golf balls halves.

Re-melt some white coating and place it in a paper cone or plastic bag with a hole snipped in the corner. Pipe a circle of coating around the edge of one of the golf ball halves, and press a second half on top. Run your finger around the edge to remove any excess coating. Repeat until you've stuck all of the golf ball halves together.
To Make the Brownies:
Line an 18"x13" half-sheet baking pan with foil, and spray the foil with nonstick cooking spray. Preheat the oven to 350 F.

Combine the butter, semi-sweet chocolate, and unsweetened chocolate in a large microwave-safe bowl. Melt them together in 30-second increments, stirring after every 30 seconds to prevent overheating. Once melted and smooth, let it cool to room temperature.

Whisk in the eggs one at a time, then whisk in the instant espresso, vanilla, and granulated sugar. Continue to whisk until the texture smooths and thickens and the batter becomes glossy, like pudding. Finally, add the flour, baking powder, and salt, and stir in gently with a spatula until no streaks of flour remain.

Scrape the batter into the prepared pan and smooth it into an even layer. Bake the brownies for 15 minutes, then remove the pan from the oven and gently rap it on the counter to release any air bubbles. Return it to the oven and bake for an additional 10 minutes (25 minutes of baking total), or until a toothpick inserted into the center comes out with just a few moist crumbs attached.

Let the brownies cool completely to room temperature before assembling.
To Make the Buttercream:
Place all of the ingredients except the food coloring in the bowl of a large stand mixer fitted with a paddle attachment. Mix on low speed until the sugar is moistened. Scrape down the sides of the bowl, then beat again on medium speed until light and fluffy, 2-3 minutes. You can add more milk or sugar, if desired, to get the consistency you want. Add a few drops of green food coloring and mix it in, the add more if necessary until you get a grass green color.
To Assemble:
Take a circle cutter (3 – 3.5" size recommended) and cut out 12 rounds from the brownie pan. Transfer the buttercream to a piping bag fitted with a grass tip. Pipe green grass over the top of each brownie round. Top them with a golf ball truffle, and serve! For the best taste and texture, enjoy this dessert at room temperature.
MEASURING TIPS
Our recipes are developed using weight measurements, and we highly recommend using a kitchen scale for baking whenever possible. However, if you prefer to use cups, volume measurements are provided as well. PLEASE NOTE: the adage "8 oz = 1 cup" is NOT true when speaking about weight, so don't be concerned if the measurements don't fit this formula.
Click here to learn more about baking measurements and conversion.
Nutrition
Calories:
709
kcal
|
Carbohydrates:
73
g
|
Protein:
5
g
|
Fat:
44
g
|
Saturated Fat:
29
g
|
Cholesterol:
106
mg
|
Sodium:
152
mg
|
Potassium:
304
mg
|
Fiber:
2
g
|
Sugar:
61
g
|
Vitamin A:
780
IU
|
Vitamin C:
0.4
mg
|
Calcium:
87
mg
|
Iron:
3
mg
Share by Text
Share by Email
Share on Facebook
Share on Pinterest