These awesome Dude Food Magic Bars are so EASY to make. Dump a bunch of delicious ingredients like bacon, chocolate chips, peanut butter chips, pretzels and potato chips in a pan and bake it … must I go on!?
This coming Sunday is Father's Day, to which I say, psssh. In my house we're celebrating Father's Week. If you're not familiar with this made-up custom, Father's Week is a magical week when Jason gets a new gift every single day leading up to Father's Day. This sounds super fancy and over-the-top, until I tell you that for his first gift I gave him a loofah.* All you other fathers out there can stop being jealous now.
*In my defense, it was a nice loofah. And seriously, he wanted a new one one. Just ask him.
If you're a fella who's not lucky enough to have a new loofah—a nice loofah—or an entire week devoted to giving you presents, let me be the one to give you the greatest gift of all: Dude Food Magic Bars.
Traditional Magic Bars, aka Hello Dolly Bars, aka Seven Layer Bars, are already pretty dude food-y. They're sweet and gooey and can be made by dumping a bunch of ingredients in a pan and baking it, which I believe is the official Baking Methodology of dudes everywhere. I think Magic Bars are one of the few desserts Jason has ever attempted to make on his own. And maybe he accidentally used rancid nonstick cooking spray, and maybe it took three attempts before they were edible, but dang it—he succeeded. For my baking-challenged husband, that's a minor miracle.
Instead of the usual Magic Bar suspects (grahams, coconut, walnuts, etc) these bars are packed with the manliest of ingredients. The bottom crust is made with crushed pretzels, then they're layered with crispy bacon, dark chocolate, peanut butter chips, and crushed potato chips, then finally they're drenched in salted caramel sauce.
It's like eating a giant stereotype, and it is awesome.
Now before we go further, I have to say that obviously these are not just for fathers, and they're not just for menfolk either. I know plenty of women who would love to go to town on a gooey cookie bar packed with salty chips and pretzels, and to them, I say: welcome. Pull up a chair and grab a bib. These bars are equal opportunity deliciousness.
Assembling the bars couldn't be easier. Once the pretzel crust is packed into the pan, it's a simple matter of layering all of the ingredients on top of one another, pouring on the caramel sauce, and giving it a quick bake in the oven.
In case you're looking for a close-up of the caramel-soaked bars, I've got you covered:
After he tasted them, Jason suggested I top the finished bars with a pinch of crumbled potato chips. The other chips, the ones that are baked into the bars, become caramelized and lose their heavy crunch, so sprinkling the bars with fresh chips before serving is like the trashy equivalent of giving your dessert a pinch of fleur de sel—the salt and the crunch really make the flavors in the bars pop.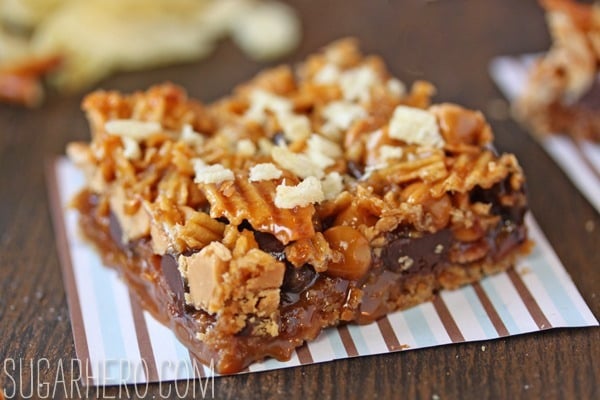 And of course, of course you can customize these with your favorite ingredients. Any sort of nuts would be a great addition. Maybe some chopped candy bars? Your favorite cookies? A dash of cayenne, for heat, or a splash of alcohol in the caramel? Bring it on. Father's Week isn't just about nice loofahs and Hallmark cards with jokes about duct tape, you know. It's also about cramming all of your favorite junk foods into one incredible bar.
The final bars are a riot of opposites: sweet and salty, gooey and crunchy, all kinds of complex flavors made from guilty pleasure ingredients. One thing they're not is photogenic, but hey: It's dude food. It doesn't have to look pretty, it just has to taste awesome. High five.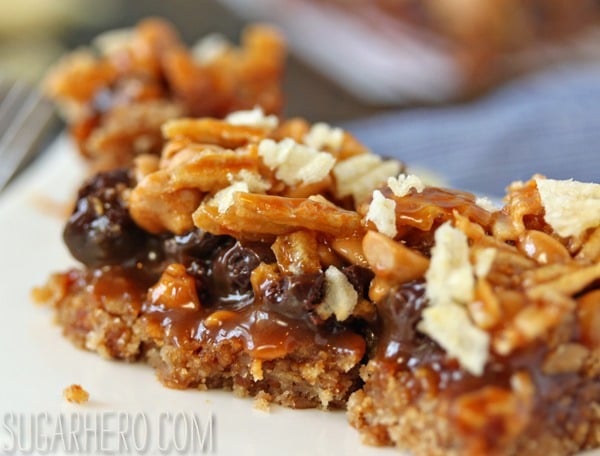 More Cookie Bars You'll Love