This post may contain affiliate links. As an Amazon Associate I earn from qualifying purchases. Please see my disclosure policy for more information.
This coming Sunday is Father's Day, to which I say, psssh. In my house we're celebrating Father's Week. If you're not familiar with this made-up custom, Father's Week is a magical week when Jason gets a new gift every single day leading up to Father's Day. This sounds super fancy and over-the-top, until I tell you that for his first gift I gave him a loofah.* All you other fathers out there can stop being jealous now.
*In my defense, it was a nice loofah. And seriously, he wanted a new one one. Just ask him.
If you're a fella who's not lucky enough to have a new loofah—a nice loofah—or an entire week devoted to giving you presents, let me be the one to give you the greatest gift of all: Dude Food Magic Bars.
Traditional Magic Bars, aka Hello Dolly Bars, aka Seven Layer Bars, are already pretty dude food-y. They're sweet and gooey and can be made by dumping a bunch of ingredients in a pan and baking it, which I believe is the official Baking Methodology of dudes everywhere. I think Magic Bars are one of the few desserts Jason has ever attempted to make on his own. And maybe he accidentally used rancid nonstick cooking spray, and maybe it took three attempts before they were edible, but dang it—he succeeded. For my baking-challenged husband, that's a minor miracle.
Instead of the usual Magic Bar suspects (grahams, coconut, walnuts, etc) these bars are packed with the manliest of ingredients. The bottom crust is made with crushed pretzels, then they're layered with crispy bacon, dark chocolate, peanut butter chips, and crushed potato chips, then finally they're drenched in salted caramel sauce.
It's like eating a giant stereotype, and it is awesome.
Now before we go further, I have to say that obviously these are not just for fathers, and they're not just for menfolk either. I know plenty of women who would love to go to town on a gooey cookie bar packed with salty chips and pretzels, and to them, I say: welcome. Pull up a chair and grab a bib. These bars are equal opportunity deliciousness.
Assembling the bars couldn't be easier. Once the pretzel crust is packed into the pan, it's a simple matter of layering all of the ingredients on top of one another, pouring on the caramel sauce, and giving it a quick bake in the oven.
In case you're looking for a close-up of the caramel-soaked bars, I've got you covered:
After he tasted them, Jason suggested I top the finished bars with a pinch of crumbled potato chips. The other chips, the ones that are baked into the bars, become caramelized and lose their heavy crunch, so sprinkling the bars with fresh chips before serving is like the trashy equivalent of giving your dessert a pinch of fleur de sel—the salt and the crunch really make the flavors in the bars pop.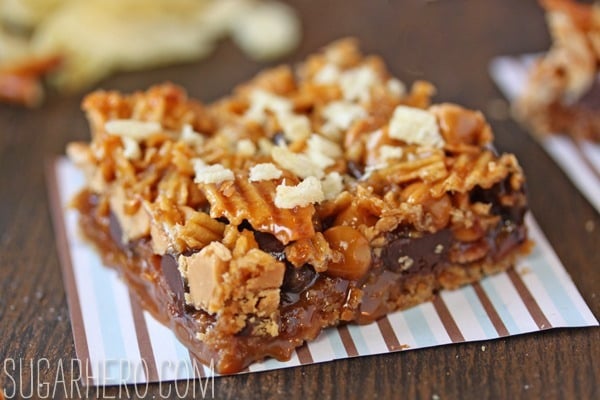 And of course, of course you can customize these with your favorite ingredients. Any sort of nuts would be a great addition. Maybe some chopped candy bars? Your favorite cookies? A dash of cayenne, for heat, or a splash of alcohol in the caramel? Bring it on. Father's Week isn't just about nice loofahs and Hallmark cards with jokes about duct tape, you know. It's also about cramming all of your favorite junk foods into one incredible bar.
The final bars are a riot of opposites: sweet and salty, gooey and crunchy, all kinds of complex flavors made from guilty pleasure ingredients. One thing they're not is photogenic, but hey: It's dude food. It doesn't have to look pretty, it just has to taste awesome. High five.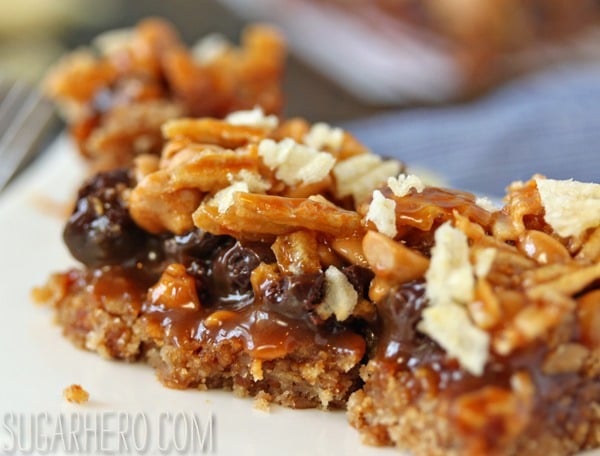 More Cookie Bars You'll Love
Dude Food Magic Bars
These Dude Food Magic Bars are pretty awesome because you can basically dump a bunch of ingredients in a pan and bake it! Bacon, chocolate chips, peanut butter chips, pretzels, potato chips…must I go on!?
Ingredients
12

strips

bacon

5

ounces

pretzels

,

about 4 cups

4

ounces

unsalted butter

,

melted

3

tbsp

granulated sugar

6

ounces

dark chocolate chips

,

1 cup

5.5

ounces

peanut butter chips,

1 cup

3.75

ounces

crushed ruffled potato chips

,

1 cup (rom about 2 cups uncrushed)

14

ounces

thick salted caramel sauce,

about 1 1/4 cup, (store-bought or homemade)
Instructions
Preheat the oven to 350* F. Line a 9×9-inch pan with foil and spray the foil with nonstick cooking spray.

Fry the bacon until it is crisp, turning often so it cooks evenly. Once crispy, remove the bacon from the pan and place it on a paper towel-lined plate to cool. Once cool, chop into small pieces.

Put the pretzels in a food processor and process them until they are fine crumbs. Combine the pretzel crumbs, melted butter, and sugar in a bowl and toss until the pretzels are moistening and the mixture has the texture of wet sand. Press it onto the bottom of the foil-lined pan in an even layer.

Sprinkle the chopped bacon on top of the pretzels in an even layer, then add the chocolate chips, peanut butter chips, and crushed potato chips. Pour the salted caramel sauce evenly over the entire pan.

Bake the bars at 350 for 20 minutes, until golden brown and bubbling on the sides. Let them cool on a wire rack until they're room temperature. To serve, lift the bars from the pan using the foil as handles, and cut into small squares. (They are easiest to cut when they are cold, but they taste best at room temperature.) If desired, sprinkle with a pinch of crushed potato chips just before serving.
Recipe Notes
If you're worried you might not like the flavor of bacon in a dessert, consider cutting the bacon amount by a third or even half. I'm not a bacon eater and I thought the flavor was pretty pronounced. On the other hand, Jason thought the bars were perfect, and he is a bacon appreciator but not a fanatic (he doesn't even like it on his hamburgers). Regarding the caramel, I used Trader Joe's salted caramel sauce for this recipe (if you use TJ's brand, note that it requires more than one jar), but you can make your own, use another high-quality brand, or substitute dulce de leche sauce instead. Just make sure that the sauce has a free-flowing texture, similar to sweetened condensed milk. Speaking of which, sweetened condensed milk is actually a great substitute if you can't find caramel sauce or dulce de leche.
MEASURING TIPS
Our recipes are developed using weight measurements, and we highly recommend using a kitchen scale for baking whenever possible. However, if you prefer to use cups, volume measurements are provided as well. PLEASE NOTE: the adage "8 oz = 1 cup" is NOT true when speaking about weight, so don't be concerned if the measurements don't fit this formula.
Click here to learn more about baking measurements and conversion.
Nutrition
Calories:
370
kcal
|
Carbohydrates:
40
g
|
Protein:
6
g
|
Fat:
21
g
|
Saturated Fat:
11
g
|
Cholesterol:
28
mg
|
Sodium:
421
mg
|
Potassium:
241
mg
|
Fiber:
1
g
|
Sugar:
10
g
|
Vitamin A:
205
IU
|
Vitamin C:
1.4
mg
|
Calcium:
51
mg
|
Iron:
1
mg
Share by Email
Share on Facebook
Share on Pinterest