This Deep Dish Pecan Pie is a gloriously gooey pie, packed with toasted pecans and chunks of chocolate. For serious pie lovers only!
🥧 Chocolate Pecan Pie
I know pecan pie is traditionally seen as a Thanksgiving dessert, but for my family, this Deep Dish Pecan Pie isn't seasonal–it's a year-round favorite. It's crunchy, gooey, nutty, and chocolatey, with a deep brown sugar flavor and a buttery, flakey crust. I'm not saying you have to make it for your next party or birthday, but I am saying that you won't be sorry if you do! In fact, my husband Jason loves it so much, he usually requests it for his birthday, in lieu of cake.

(I KNOW! I think he's crazy too. Team Cake all the way! But I love him, so I respect his clearly wrong opinion.)
[lwptoc depth="1″]
This pie recipe shares some similarities with other pecan pie recipes–it has a flaky, buttery crust and a deliciously gooey brown sugar filling.
But if I had to sum up the differences, I would say, simply: IT'S MORE. It has more pecans, more filling, and more flavor, from a hefty dose of cinnamon and lots of delicious chocolate chunks. It's the Big Daddy of pies, and if you're looking for a dessert to feed a big group, look no further!
If you want to make a standard-sized pie, I've included instructions for that, too, so keep reading! And if you're more of a teeny pie person, these Mini Pecan Pies are just what you need.
🧾 Ingredients
This recipe uses common pantry ingredients that are easy to find and keep on hand. A few notes about specific ingredients:
Pecans:

Pecan pieces or pecan halves will both work, but I think pecan halves win for visual appeal. There's nothing sadder than bland pecans in a pecan pie, so I highly recommend you toast your pecans. Before you make the filling, toast the pecans in a 350 F oven until dark brown and fragrant, about 10 minutes. This brings out their natural flavor and makes your pie much better.
Corn syrup: Light or dark corn syrup will both work. I prefer the deeper flavor of dark corn syrup, but because it can be harder to find, I wrote the recipe with light corn syrup, which is readily available in the baking aisle of most major supermarkets. If you're outside the US and looking for a corn syrup substitute, golden syrup or glucose syrup are both good choices.
Brown sugar: Dark or light brown sugar will both work. Again, I find dark brown sugar gives the pie a richer taste, but light brown sugar will still give you a great result.
Chocolate: Technically optional, if you don't like chocolate or don't have any on hand, but in my opinion, the chocolate makes this pie! I highly recommend using a good-quality dark chocolate bar–the contrast between the sweet pie and the bittersweet chocolate is amazing.
🥄 Equipment
We are serious about pies in our household, so this pie is massive. It's definitely meant to feed a crowd…or four very hungry LaBaus! Not only is it deep-dish, but it's baked in an 11″ pie tin, instead of the standard 9″ size. Here's what you'll need to make it:
11″ pie pan:

I like this sturdy metal 11″ pan, but you can also use a disposable 11″ pan if you'd like. Planning on making the 9″ version? Pick up a 9″ pie pan like this one!

Food processor:

The food processor is my preferred tool for making a beautifully light and flaky pie crust. If you don't have one, I recommend a simple handheld pastry blender to get similar results.
💡 Tips and FAQs
Par-Bake the Crust: this is personal preference, but I can't stand a soft, floppy pie crust underneath my pecan pie. So I first blind-bake the crust (by lining it with foil and then filling with beans and baking), and then I bake it a little longer once the beans are removed. It's not fully baked, but this gives the crust a "head start" and ensures a fully baked, firm bottom crust at the end.
Do the Outer Crust in 2 stages: I like to add a decorative leaf border to my pecan pie, but I always add the leaves AFTER par-baking the crust. This way, the border bakes alongside the filling and doesn't get burned to a crisp. You should still monitor the crust and cover it with foil if necessary to make sure it doesn't burn, but adding the decorations after par-baking goes a long way toward getting that perfect finish.
Add flavor whenever possible. Pecan pie has the tendency to be really sweet, so I'm always trying to balance the sugar with more flavoring. Use dark brown sugar instead of light if you can, and dark corn syrup instead of light. Add cinnamon, and do NOT skimp on the salt! And finally, a glug of bourbon or your liquor of choice is always welcome.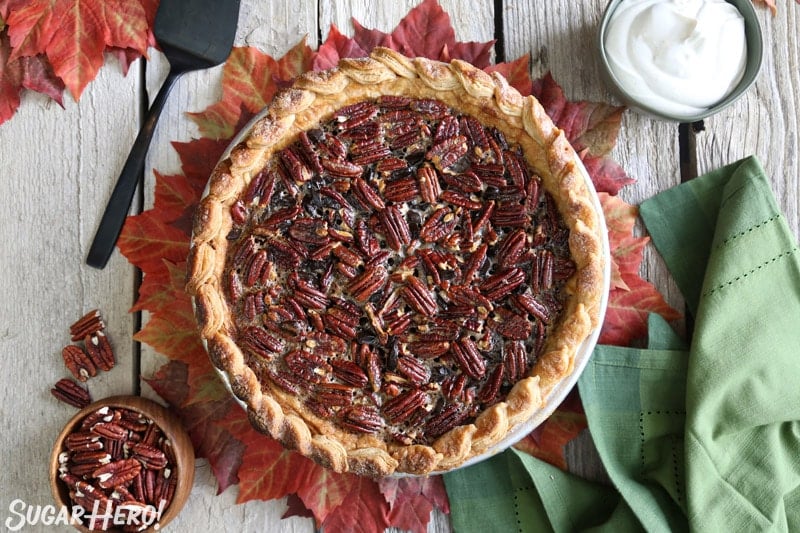 Freezing and Make-Ahead Options
Pecan pie freezes beautifully, and if you're anticipating a busy day of dinner prep, you should definitely consider making it ahead of time and keeping it in the freezer or refrigerator! Here's how:
After the pie is baked, let it come to room temperature completely.
Wrap it in several layers of plastic wrap–you don't want any moisture or odors sneaking their way in!
Refrigerate the pie for up to 4 days, or freeze it for up to a month. (It can last much longer, but taste and texture might suffer.)
To thaw, let it sit in the refrigerator overnight before removing the plastic wrap and reheating.
Place the pie in a 350 F oven for 10 minutes to warm it and crisp up the crust again before serving.
Making A Standard Size Pecan Pie
If you don't want a big 11″ pie, you can easily make this into a 9″ pie by just cutting all the ingredients in half. The baking time for the smaller pie will also be shorter, by about 15-20 minutes.
The other option is to use the quantities as listed, and make two 9″ pecan pies from this one recipe, adjusting the cooking time down to account for the shallower pies. If you make two pies, you can follow the instructions above to freeze one or both for later. Your future self will thank you!