This post may contain affiliate links. As an Amazon Associate I earn from qualifying purchases. Please see my disclosure policy for more information.
These Chocolate Blackout Doughnuts are chocolate overload! Chocolate doughnuts, filled with chocolate pastry cream, topped with a chocolate glaze and chocolate sprinkles or chocolate doughnut crumbs.
I hope you're not tired of looking at doughnuts after National Doughnut Day last Friday! Is that a thing? Doughnut fatigue? A twenty-first century illness that comes on after being exposed to hundreds of doughnut photos simultaneously posted on social media? Sounds dreadful.
Fortunately, it also sounds fictional, and I trust you're all strong enough to look at a few more doughnut pictures. (#sobrave) Especially when they're pictures of chocolate doughnuts, filled with chocolate pastry cream, and topped with chocolate glaze and chocolate crumbs or chocolate sprinkles. Sound like chocolate overload? You're so right. They're not called Chocolate Blackout Doughnuts for nothing!
These cake doughnuts contain two kinds of chocolate in the dough itself, with both melted chocolate and cocoa batter in the dough. They're actually not too sweet on their own, which makes them the perfect delivery vehicle for all the other chocolate components. This recipe is for fried doughnuts, which we all know are the far superior doughnut, but if you want to make baked chocolate doughnuts instead, check out my old post where I share a baked chocolate doughnut recipe.
The doughnuts are filled with a deep, dark chocolate pastry cream, which is one of my favorite cake and pastry fillings. It's intensely rich, with a nice firm texture that means it won't liquefy or melt into the doughnuts if it sits out for a few hours. If making your own pastry cream sounds too time-consuming, you can substitute ready-made chocolate pudding as a shortcut.
I couldn't decide if I wanted to cover my doughnuts with crumbs (which I think are the traditional topping for blackout doughnuts) or shiny chocolate jimmies, so I split the difference and did half and half. The verdict? I thought the sprinkled ones looked better—the crumb version looked a little bedraggled, and dare I say, chewed up?—but the crumbs added more of a genuine chocolate flavor. So go with whichever one you like best! Or skip the toppings entirely and just dunk them in the shiny chocolate glaze.
These are kind of intense for breakfast, and are definitely more of a dessert option than a first-thing-in the-morning meal. So have your avocado toast or smoothie for breakfast, get a big salad for lunch, and then after you've given yourself a big pat on the back for being healthy, reward yourself with a crazy chocolate doughnut. Balance!
🍩More Decadent Breakfast Recipes
Crème Brûlée Donuts
Breakfast meets dessert in these amazing crème brûlée donuts! These gourmet doughnuts feature a soft, tender homemade doughnut, a vanilla bean pastry cream filling, and a delicious crackly caramelized sugar topping.
Get the recipe!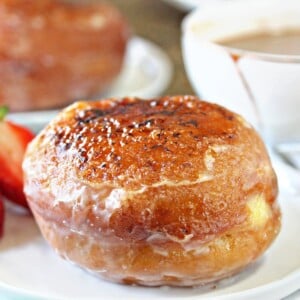 Bronuts Maple Bars
Bronuts are homemade maple bars unlike any doughnut you've ever had before. They are covered with a variety of sweet and savory dude-approved toppings like bacon, potato chips, and a sriracha glaze! 
Get the recipe!
Chocolate Blackout Doughnuts
These doughnuts are chocolate overload! Chocolate doughnuts, filled with chocolate pastry cream, topped with a chocolate glaze and chocolate sprinkles or chocolate doughnut crumbs.
Ingredients
For the Chocolate Pastry Cream:
For the Chocolate Doughnuts:
3

oz

unsalted butter

,

at room temperature

5.25

oz

granulated sugar,

(3/4 cup)

1

large egg

,

at room temperature

2

tsp

vanilla extract

4

oz

semi-sweet chocolate, (

⅔ cup

), finely chopped

17

oz

all-purpose flour,

(3 3/4 cups)

1.5

oz

unsweetened cocoa powder,

(1/2 cup)

1

TBSP

baking powder

1/2

tsp

baking soda

1/2

tsp

salt

1 1/4

cups

buttermilk

,

at room temperature

1

quart

grapeseed

,

or vegetable oil, for frying
Instructions
To Make the Chocolate Pastry Cream:
In a medium bowl, whisk together the yolks, cornstarch, and 1/4 cup of sugar. In a medium saucepan, combine the milk, remaining 1/4 cup sugar, and salt. Heat the milk over a medium burner until it just starts to boil. Start whisking the egg mixture, and while you're whisking, drizzle a little hot milk into the eggs. Continue to whisk and drizzle until you've added about half of the milk. Switch to whisking them milk, then pour the eggs into the milk mixture while whisking.

Return the pan to the burner and heat the cream, whisking constantly. Use a rubber spatula to periodically scrape the bottom of the pan so it doesn't scorch. Cook until the pastry cream thickens and starts a very gentle bubbling, then cook for about 2 minutes longer. Remove the pan from the heat and add the melted chocolate, whisking it until it's incorporated and the mixture is smooth. Finally, add the vanilla extract and butter and whisk them in.

Pour the cream through a wire mesh strainer into a bowl. It will be somewhat thick, so use a spatula to help work it through, straining out any clumps of egg that have developed. Press a layer of cling wrap directly on top of the pastry cream, and refrigerate until cold and firm, at least 2 hours.
To Make the Chocolate Doughnuts:
Melt the chocolate in the microwave, stirring after every 30 seconds. Set aside to cool to room temperature.

Combine the butter and sugar in the bowl of a large stand mixer fitted with a paddle attachment. Cream them together on medium speed until light and fluffy. Add the egg and vanilla and mix well. Add the melted chocolate and mix again.

In a separate bowl, sift together the flour, cocoa, baking powder, baking soda, and salt. Add half of the dry ingredients to the mixer bowl, and mix together on low speed. Add the buttermilk, and once that's incorporated, add the remaining dry ingredients, mixing just until the flour streaks disappear. Finish stirring by hand, scraping the bottom and sides of the bowl well with a spatula. The mixture should have the texture of soft, sticky biscuit dough.

Flour a piece of parchment and pat the dough out into a layer about 1/2-inch thick. Slide it onto a baking sheet or cutting board and refrigerate it until it firms up enough to cut, about 30 minutes. The dough can be made in advance and kept wrapped in plastic in the refrigerator overnight.

Pour the oil into a pot so that it's at least 1.5 inches deep. Insert a candy/deep-fry thermometer and heat the oil over medium heat until it's 360 F. Cover a baking sheet with several layers of paper towels. While you wait for the oil to heat, cut out the doughnuts. Use a 3-inch round cutter to cut circles out of the dough, then cut a hole in the center. After you cut out as many as you can, re-roll the dough and cut out more doughnuts. You should get about 18 3-inch doughnuts from this batch.

Once the oil is hot enough, carefully slide 2-3 doughnuts into the hot oil (depending on the size of your pot—don't crowd them!). Fry them for about 2 minutes, flipping halfway through the cooking time, until they're puffed, a little cracked, and darker brown on both sides. Use a frying spatula or slotted spoon to transfer the doughnuts to the paper towel-covered tray. Repeat with the remaining doughnuts, keeping an eye on the thermometer often. If the oil gets too hot, turn the heat down or remove it briefly from the stove, and if it gets too cool, pause your frying until it has a chance to heat up again. If you want to cover the tops of the doughnuts with doughnut crumbs, fry up the scraps of dough that are left after you've cooked all of the doughnuts.

Once all of the doughnuts are fried, let them cool completely before filling them. Crumble the fried dough scraps into a bowl and set aside for later.
To Make the Glaze and Assemble:
Fit a piping bag with a round tip with a 1/4-inch opening, and fill the bag with the chocolate pastry cream. Poke a hole in the top of a doughnut, and squeeze some cream into it. This won't distribute the cream all around the inside of the doughnut, so do this 3 or 4 more times, going around the top of the doughnut in evenly spaced intervals. Repeat until all of the doughnuts have a pastry cream filling.

To make the glaze, combine the butter, milk, corn syrup, and vanilla in a small saucepan, and bring it to a simmer. Remove the pan from the heat and add the chocolate. Whisk until the chocolate melts and the mixture is smooth. Next, add the sifted powdered sugar—it is very important that the sugar is well-sifted, otherwise you'll have lumps in your glaze!

Dip a doughnut into the glaze, and let excess drip back into the bowl. Press the top of the doughnut into the bowl of doughnut crumbs, or into a bowl of chocolate sprinkles. Turn it right side-up and set it aside then repeat until all of the doughnuts are dipped and decorated. Let them sit for about 15 minutes until the glaze firms up, then enjoy!
Recipe Notes
he pastry cream needs to be made at least several hours in advance so it has time to set up. If desired, the pastry cream can be omitted, or you can substitute prepared chocolate pudding instead.
MEASURING TIPS
Our recipes are developed using weight measurements, and we highly recommend using a kitchen scale for baking whenever possible. However, if you prefer to use cups, volume measurements are provided as well. PLEASE NOTE: the adage "8 oz = 1 cup" is NOT true when speaking about weight, so don't be concerned if the measurements don't fit this formula.
Click here to learn more about baking measurements and conversion.
Nutrition
Calories:
352
kcal
|
Carbohydrates:
50
g
|
Protein:
5
g
|
Fat:
14
g
|
Saturated Fat:
8
g
|
Cholesterol:
53
mg
|
Sodium:
133
mg
|
Potassium:
260
mg
|
Fiber:
2
g
|
Sugar:
25
g
|
Vitamin A:
310
IU
|
Calcium:
87
mg
|
Iron:
2.6
mg
Share by Email
Share on Facebook
Share on Pinterest