This post may contain affiliate links. As an Amazon Associate I earn from qualifying purchases. Please see my disclosure policy for more information.
What a week, what a week! Not to be THAT PERSON who talks like they're the busiest in the room—because no one likes that person—but it is fair to say that life has been a little gnarly lately. (Sidenote: Is gnarly back? Can we make it come back? Sometimes no other word will do!) After wrapping up a few projects, I am so excited to sleep a little more, eat nutritious adult-type meals, and most importantly, share this recipe for a Chocolate Tart with Candied Kumquats with you!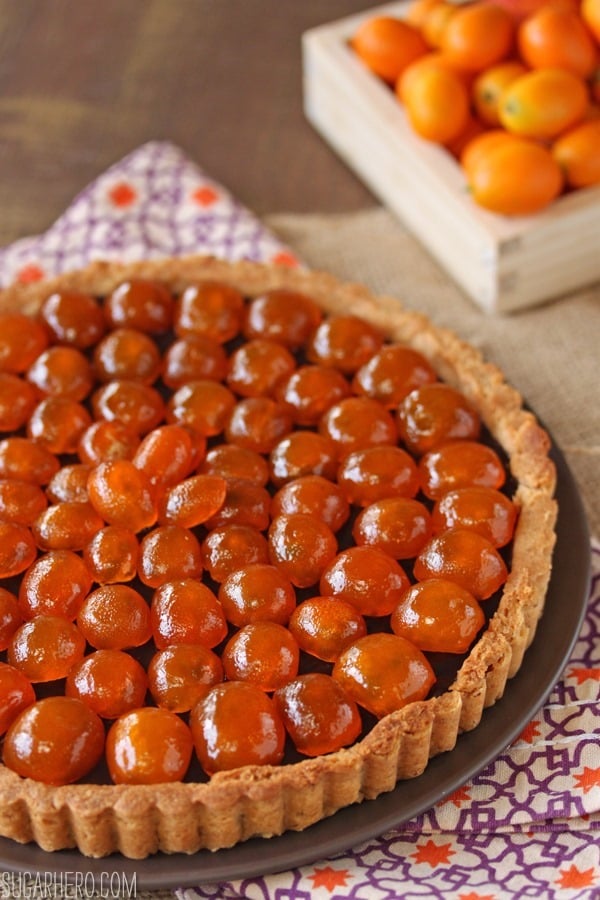 I always want to like fresh kumquats more than I actually do. If you're not familiar with them, kumquats are wee little citrus fruits that look like miniature oranges. The inside is quite bitter, but unlike most citrus fruits, the peel is sweet. In a perfect world, bitter innards + sweet peel = delightfully delicious fruits you can pop like breath mints. In my world, the kumquats are usually still reaaaallly tart and I can only eat a few before I have to give up and admit that I'm too much of a wussy to hang with the sour citrus.
So, naturally, when faced with a pound of fresh California-grown kumquats, I candy the heck out of them and pair them with chocolate and a sweet hazelnut crust. THAT is a kumquat I can get behind!
Oh, and I also amuse myself by crafting Pac-Man-esque still lifes with my tart. Normal? Normal.
Candied fruit has a whiff of the old fashioned, but I promise there's nothing dated about pairing juicy, sweet-tart kumquats with rich chocolate ganache and a crisp, buttery hazelnut shell. Keeping the kumquats in half, rather than slicing them, means that they retain their plump shape and burst open in your mouth, only instead of getting bitter acid* like you would with a fresh kumquat, you're getting sweet juice with just a hint of sourness.
*It is possible I exaggerate. Maybe I am still holding a grudge from The Mouth-Puckering Kumquat Batch of February 2013. Who can say for sure?
This is an elegant little dessert that's perfect for serving in thin slices after dinner, topped with softly whipped cream, a kumquat slice, and a scattering of hazelnuts. Kumquats are nearing the end of their season, so if you see them in stores, snatch them up and give this tart a try!
And if you're now inspired to make All The Kumquat Things, here's one of my favorite recipes from years past: Raspberry Kumquat Sugar Cookie Cake. A cake that tastes like a sugar cookie, filled with homemade raspberry jam and (yep) candied kumquats? Heck yes!
Chocolate Tart with Candied Kumquats
This chocolate tart has a sweet, buttery hazelnut crust and a topping of juicy, sweet-tart candied kumquats!
Ingredients
For the Candied Kumquats:
1

lb

kumquats

2 1/2

cups

sugar

2 1/2

cups

water
For the Hazelnut Tart Crust:
1/3

cup

toasted hazelnuts

1 1/4

cups

all-purpose flour

1/2

cup

powdered sugar

1/4

tsp

salt

5

oz

cold unsalted butter

1

large egg yolk
For the Chocolate Filling:
Instructions
To Make the Candied Kumquats:!
Slice the kumquats in half, and remove any visible seeds. Combine the sugar and water in a medium saucepan, and place it over medium heat. Stir occasionally while the sugar dissolves, and bring the sugar syrup to a boil.

Once boiling, add the halved kumquats and turn down the heat to medium-low. Simmer the kumquats, stirring occasionally, until they are translucent, about 30-40 minutes. Use a slotted spoon to remove them from the sugar syrup and place them on a wire rack to cool to room temperature and drain of excess liquid. If you want to make these in advance, store the kumquats in the sugar syrup in the refrigerator for up to two weeks, and drain them well once you're ready to use them.
To Make the Hazelnut Tart Crust:!
Place the toasted hazelnuts in the bowl of a food processor and process them until they're finely ground. Add the flour, sugar, and salt to the hazelnut powder in the bowl, and pulse briefly until everything is well-blended. Add the cold cubed butter and pulse until it is in small pea-sized pieces. Add the egg yolk and pulse in long 5-second bursts until the dough starts clumping together.

Turn the dough out of the food processor and knead it lightly several times to incorporate any extra flour. At this point, the dough can be wrapped and refrigerated for several days. If you're ready to use it now, spray a 9-inch tart shell with a removable bottom with nonstick cooking spray.

Press the dough in an even layer into the bottom and sides of the pan. Freeze the shell for 30 minutes, and while it's in the freezer, preheat the oven to 375 degrees F. Spray the top of the tart dough with nonstick spray, then press a sheet of foil onto the shell, shiny side down, and fill the foil with dry beans, rice, or pie weights.

Bake the tart shell for 20 minutes, until the sides start to take on a little color and the center no longer looks raw, then carefully remove the foil and weights. Bake for an additional 12-14 minutes, until the shell is golden brown. You might want to cover the sides with foil to prevent them from getting too dark. Let the shell cool completely before filling it.
To Make the Chocolate Filling and Assemble the Tart:!
Place the finely chopped semi-sweet chocolate in a medium bowl. Pour the cream into a small saucepan and place it over medium heat. Bring the cream to a simmer, with bubbles appearing all along the sides of the pan, but don't allow it to boil. Pour the hot cream over the chopped chocolate and let it sit for one minute to soften the chocolate.

After a minute, whisk the cream and chocolate together until the mixture is shiny and smooth. Add the softened butter, the vanilla extract, and the salt, and whisk them together.

Pour the chocolate into the tart pan. Refrigerate the tart briefly to firm up the chocolate until it's semi-set – about minutes should do it. You want the chocolate to be firm enough to support the kumquats, but not completely set, so that the kumquats will stick to the chocolate. Arrange the candied kumquats on top of the chocolate in concentric rings. Refrigerate the tart to set the chocolate completely, for about 1 hour. For the best taste and texture, bring the tart to room temperature before serving.
Recipe Notes
Other nuts can be substituted for the hazelnuts: pecans, almonds, and pistachios all work well. If you want to omit the nuts entirely, replace them with 1/4 cup of all-purpose flour.
MEASURING TIPS
Our recipes are developed using weight measurements, and we highly recommend using a kitchen scale for baking whenever possible. However, if you prefer to use cups, volume measurements are provided as well. PLEASE NOTE: the adage "8 oz = 1 cup" is NOT true when speaking about weight, so don't be concerned if the measurements don't fit this formula.
Click here to learn more about baking measurements and conversion.
Nutrition
Calories:
615
kcal
|
Carbohydrates:
78
g
|
Protein:
5
g
|
Fat:
32
g
|
Saturated Fat:
18
g
|
Cholesterol:
75
mg
|
Sodium:
68
mg
|
Potassium:
282
mg
|
Fiber:
5
g
|
Sugar:
60
g
|
Vitamin A:
790
IU
|
Vitamin C:
16.9
mg
|
Calcium:
66
mg
|
Iron:
2.9
mg
Share by Email
Share on Facebook
Share on Pinterest