These Persimmon Almond Rosette Tarts are mouth-wateringly delicious; they have a crunchy, buttery tart dough with fragipane (a quick almond cream) that bakes up soft and fluffy and topped with sliver thin persimmons.
Pity the poor persimmon. Continuously overlooked in the produce aisle, overshadowed by flashier, more familiar, more accessible fruits. Misunderstood, underutilized, and all too often ignored. Persimmons, like Rodney Dangerfield, just can't get no respect. Isn't it time to change all that?
I'll be the first to admit that I haven't always been on the persimmon love train. My first experience was with Hachiya persimmons, which are a little unusual in that they have to be fully soft and ripe before you eat them. Make the mistake of biting into a Hachiya persimmon when it's still a bit firm, and you'll be left with a dry, bitter, astringent taste in your mouth and a bit of a grudge against the entire persimmon family. Not like I'm speaking from experience, or anything…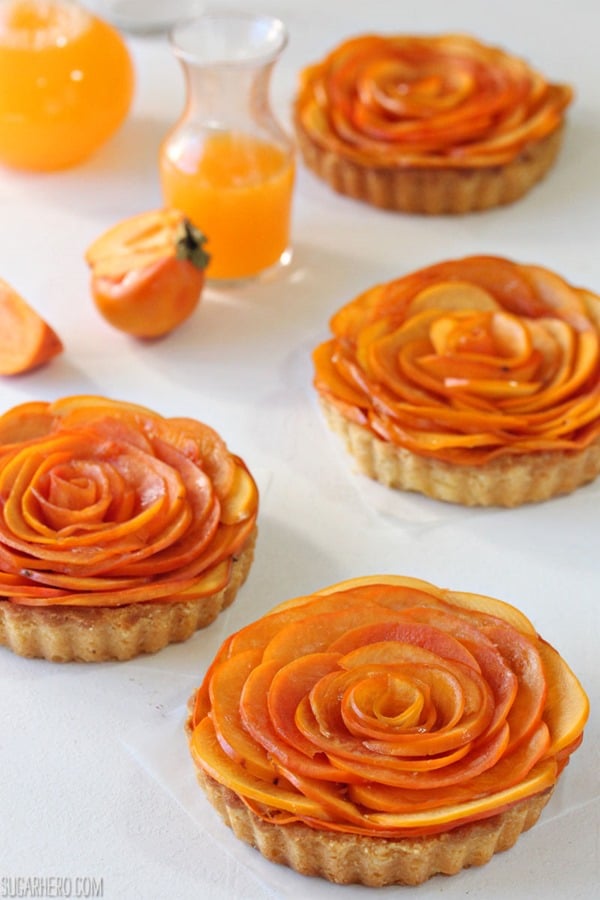 However, once you get the hang of eating Hachiya persimmons, they're lovely. And the persimmon fun doesn't stop there! Other types of persimmons, like the Fuyu variety used in this recipe, aren't nearly so finicky—they can be enjoyed at varying stages of ripeness, so they're perfect for slicing and dicing and arranging into a gorgeous rosette tart.
We were recently gifted with a box of persimmons from a friend, and after trying and failing to get my family to eat them raw (boys!), I decided to bake with them instead. I've seen persimmon breads and cookies before, but I really wanted something that would show off the gorgeous, burnt-orange color of the persimmons that seems so perfect for this fall season. Thus, these persimmon almond rosette tarts were born!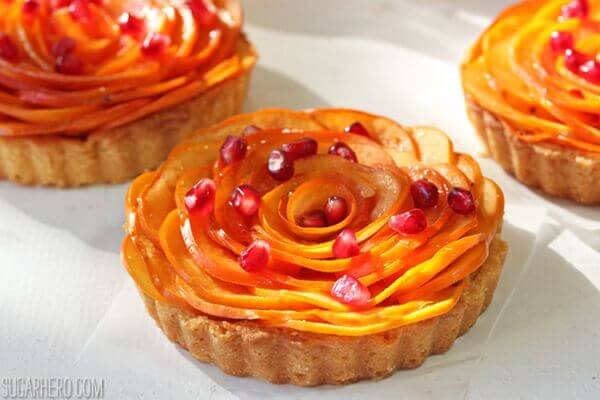 They start with a crunchy, buttery tart dough made with ground almonds. Then, they're filled with fragipane, a quick almond cream that bakes up soft and fluffy. The frangipane is partially baked, then the paper-thin persimmon slices are layered on top in concentric circles to form a beautiful blooming rosette. Finally, the tarts are baked once more, just to fully cook the almond layer and to soften the persimmons a bit.
I originally finished the tarts with a simple drizzle of honey, but halfway through photographing (and eating!) them, I thought they needed something more—so I added a scattering of pomegranate arils on top. It's definitely optional, but I think they add to the beauty, and the little tart bursts of juice you get when you bite into them are the perfect touch.
Sorry, Hachiya, but I think my heart belongs to Fuyu persimmons now, because I am utterly smitten with this tart. The crunchy crust, fluffy almond filling, slightly soft and sweet fruit, and touch of honey are so nicely balanced. It's a beautiful, delicious autumn dessert that's a nice change from the usual pumpkin-palooza, and I think it would be a great nontraditional Thanksgiving choice as well.
❤️ MORE MINI TARTS YOU'LL LOVE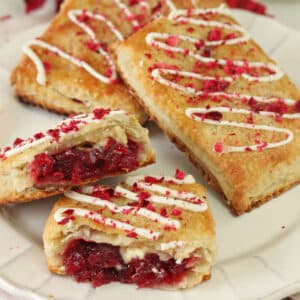 Cranberry White Chocolate Sweetie Pies
These Cranberry White Chocolate Sweetie Pies are throw back to the good ol' days when my dad made little hand pies called "sweetie pies". Flaky, buttery crust enfolds sweet-tart cranberries topped with white chocolate!
View Recipe
Fresh Peach Tart
If you love fresh, ripe peaches, then this Fresh Peach Tart is for you! The peaches aren't cooked in the oven, so they keep their wonderful, just-picked tasted and texture. Juicy peaches + buttery tart dough = peach perfection!
View Recipe
Persimmon Almond Rosette Tarts
These Persimmon Almond Rosette Tarts are mouth-wateringly delicious; they have a crunchy, buttery tart dough with fragipane (a quick almond cream) that bakes up soft and fluffy and topped with sliver thin persimmons.
Ingredients
For the Tart Dough:
5.33

oz

all-purpose flour,

(1 1/4 cups)

1

oz

almonds,

(1/4 cup),

finely ground

2

oz

powdered sugar

,

(1/2 cup)

1/4

tsp

salt

5

oz

unsalted butter

,

cold

1

large egg yolk
For the Filling:
2.5

oz

unsalted butter

2.5

oz

powdered sugar

,

(2/3 cup)

1

large egg

2.5

oz

finely ground almonds

,

(2/3 cup)

1

tbsp

all-purpose flour

Pinch of salt

1/4

tsp

almond extract

10

Fuyu persimmons

1/4

cup

honey

Pomegranate arils

,

optional
Instructions
To Make the Tart Dough:
Place the finely ground almonds, flour, sugar, and salt in the bowl of a food processor, and pulse briefly until everything is well-blended. Add the cold cubed butter and pulse until it is in small pea-sized pieces. Add the egg yolk and pulse in long 5-second bursts until the dough starts clumping together.

Turn the dough out of the food processor and knead it lightly several times to incorporate any extra flour. At this point, the dough can be wrapped and refrigerated for several days. If you're ready to use it now, spray five 6-inch tart shells with removable bottoms, and spray them with nonstick cooking spray.

Press the dough in an even layer into the bottom and sides of the pans. Freeze the shells for 30 minutes, and while they are in the freezer, preheat the oven to 375 degrees F. Spray the tops of the tart dough with nonstick spray, then press a sheet of foil onto each shell, shiny side down, and fill the foils with dry beans, rice, or pie weights.

Bake the tart shells for 15 minutes, until the sides start to take on a little color and the center no longer looks raw, then carefully remove the foil and weights. Allow to cool before adding the filling.
To Assemble the Tarts:
Combine the butter and powdered sugar in the bowl of a food processor and process until smooth. Add the egg, almonds, flour, salt, and almond extract, and blend in long pulses until well-combined.

Scoop two big spoonfuls of the almond mixture into the bottom of each par-baked tart shell, and spread it into an even layer. Bake the tarts at 375 F for 12-15 minutes, until it is just starting to set. It shouldn't take on any color, and should still be quite soft.

Slice the tops off of the persimmons. Use a very sharp chef's knife or a mandolin to slice the persimmons into paper-thin slices. Arrange them in a rosette shape in the tart shells by starting at the outside edge and placing the slices in concentric circles, pressing down slightly to embed them into the almond layer. Overlap the persimmon pieces slightly as you go around, continuing until the entire top of the tart is filled. Repeat with remaining tarts.

Lower the oven temperature to 350 F, and bake the tarts for a final 10-15 minutes, until the almond filling is puffed and set, and the persimmon slices have softened but are not leathery or hard. Drizzle each tart with a spoonful of honey to serve, and if desired, top with a few pomegranate arils.

These tarts are best the day they are made—the moisture from the persimmons will make them soggy eventually. The tart dough and the almond filling can both be made in advance and kept for several days in the refrigerator until you're ready to assemble the tarts.
Measuring Tips
Our recipes are developed using weight measurements, and we highly recommend using a kitchen scale for baking whenever possible. However, if you prefer to use cups, volume measurements are provided as well. PLEASE NOTE: the adage "8 oz = 1 cup" is NOT true when speaking about weight, so don't be concerned if the measurements don't fit this formula.
Want to learn more about baking measurements and conversion?
Nutrition
Serving:
5
g
|
Calories:
943
kcal
|
Carbohydrates:
130
g
|
Protein:
11
g
|
Fat:
47
g
|
Saturated Fat:
23
g
|
Cholesterol:
163
mg
|
Sodium:
140
mg
|
Potassium:
594
mg
|
Fiber:
15
g
|
Sugar:
81
g
|
Vitamin A:
6630
IU
|
Vitamin C:
25.2
mg
|
Calcium:
93
mg
|
Iron:
3
mg
Tried this recipe?
Snap a pic and hashtag it #SugarHero. We love to see your creations on our Instagram @elabau.