This post may contain affiliate links. As an Amazon Associate I earn from qualifying purchases. Please see my disclosure policy for more information.
This Pear Pistachio Tart with Rosemary Crust starts with a buttery, flaky sweet crust with just a hint of rosemary, followed by fresh herbs that a little floral flavor without over-doing it.
Operation Aaaahhhh Get These Pears Out Of My House! continues. (The name is a work in progress.) My first assault against the giant box of pears involved Pear Cupcakes with Honey Buttercream, and while it was a moderate success, many, many pears remained. Today's solution? A pear pistachio tart.
When you look at the list of components, this tart seems like a handful (or a mouthful?), but everything works together beautifully. It starts with a buttery, flaky sweet crust with just a hint of rosemary. The fresh herb adds a little floral flava without taking the tart into savory territory.
Next to join the party is pistachio pastry cream—and no skimping on the pistachios, please! We need their color and crunchy and amazing nutty flavor. Finally, a few of the many (many, many) pears were poached with lemon and vanilla, and arranged on top of the pastry cream.
Here's the deal. I want to be doing some fall baking—seeing as it's officially fall and everything—but here in LA, we actually have another 5-6 weeks of "fake fall." While the rest of the country wears slouchy boots and Pinterest-worthy fuzzy scarves, and frolics in leaf piles whilst drinking hot cocoa (or whatever you wholesome Hallmark people do), we are sweating through our annual end-of-summer heat wave. The calendar says it's autumn, but the thermometer says, "Burn in hell, suckas, here's another scorching day!" And then runs off laughing maniacally.
So this tart is a great compromise. The poached pears and the earthy rosemary help bring it into fall territory, but the chilled pastry cream makes this one creamy, cool dessert that's refreshing enough for a hot summer's fake fall day.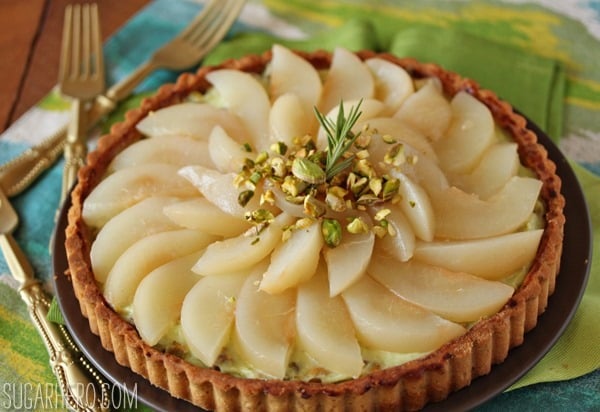 If you're a rosemary skeptic, you can leave it out of the crust, but if you're at all adventurous, I hope you'll give it a try. It's subtle but it really does bring all of the other flavors—the nutty pistachios, the vanilla and lemon in the poached pears—together. I brought this tart to a pool party, where it competed mightily with frosted sugar cookie and brownies, and even the young ones enjoyed it.
Four pears down, only a few dozen more to go!
To be continued…
💛More Tart Recipes