This post may contain affiliate links. As an Amazon Associate I earn from qualifying purchases. Please see my disclosure policy for more information.
These "Moldy" Matcha Chocolate Tarts are inspired by my husband Jason and his impeccable taste.
On a trip a few years ago, we stopped by the Vosges chocolate boutique in Las Vegas and bought an assortment of truffles. They were expensive, and we are cheap people, so we decided to savor them and dole them out slowly, rather than scarfing them like we do with most chocolates. Well, we got home, put our precious truffles in a "safe" place, and promptly forgot about them.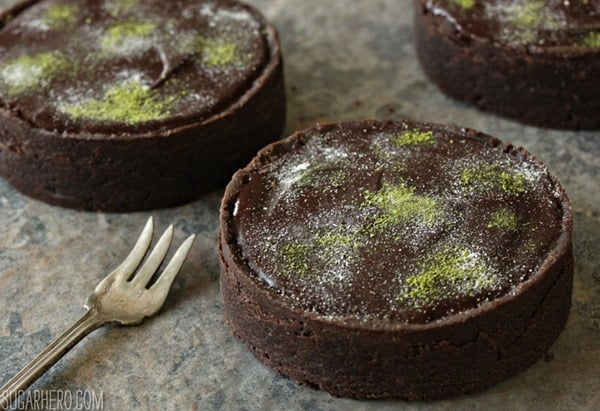 A month later, we found the poor neglected truffles—which had been stored at room temperature the entire time, by the way—and Jason, brave Jason, dove right in, chomping down on a delicious hazelnut praline truffle. I asked him how it was, he said, "Pretty good!" and offered me a taste.
As I picked it up, I noticed a green streak on the inside. Breaking it apart, I saw the resplendent mold garden that had been blossoming between the ganache and the chocolate shell. Aaaah! I couldn't believe he ate half the truffle and didn't notice the mold! I asked how he could possibly ignore the taste, and he said he thought it was just an unusual ingredient, because Vosges does a lot of crazy flavor combinations. (Mold + chocolate is the next big seller, you heard it here first.) And now you know why I can never trust this man when he says he likes something I make. He enjoys the taste of mold, for heaven's sake.
If you're wondering, this is what a month-old truffle without preservatives looks like:
As if that wasn't a great enough story, a year or so after that, I got an email from someone asking to use the above picture on the cover of his CD. (I'd posted about this incident on my old blog.) His CD was going to be called "Fuzzy Chocolate Logic" and apparently my poor truffle was the best match Google images could give him. I don't think anything ever came of it, but I was tickled to think that Jason's totally gross mold-eating experience might be immortalized on a CD cover.
So! Now that I've ruined everyone's appetites forever, let's talk about dessert!
It's Halloween time, which means that gross-out food is totally appropriate. And despite what Jason might tell you, moldy food is not actually appetizing…so the only time we can enjoy something that looks so nasty is right now!
I got the idea for these "moldy" tarts when I made Matcha Green Tea Truffles a few months ago. As I was sprinkling the green tea powder on top of the finished candies, it struck me that the green color, while totally beautiful, was also more than a little mold-like, and that it would be fun and easy to use this same powder to make a Halloween recipe. Add a chocolate shell, a few layers of green tea and chocolate ganache, and voila! Moldy tarts are born.
There's not much to the decorating. All you need is a large paintbrush with soft bristles, your trusty matcha powder, and some powered sugar. I used non-melting powdered sugar, which has the great advantage of not dissolving when it comes into contact with condensation. (It's available at many cake supply stores, and also on Amazon.) You can use regular powdered sugar, but you'll want to decorate the tarts right before serving them, because regular sugar does melt into the ganache quite quickly.
Whatever you choose, just dot it on in a random pattern, covering most but not all of the surface, and you're done! The less planned and intentional, the better. Mold doesn't care about planning! Mold is reckless like that.
The tarts themselves are wonderfully smooth and creamy, with a fragrant white chocolate-matcha layer covered by a rich semi-sweet chocolate ganache. The chocolate tart dough is crisp and barely sweetened, so the tarts themselves never get cloying. I also love the peek-a-boo aspect of the bright green layer hiding underneath all the chocolate. There you are, about to take a bite of a moldy chocolate tart like any other normal person, and BOO! A bright green center jumps out at you. If that's not Halloweeny, I don't know what is.
If you're reading this after Halloween, or if you're just not sold on eating food that looks like mold, no worries! You can sprinkle matcha evenly over the top, brush it on with a few bold brush strokes, or place a doily on the tarts and sift the powder on top to create a beautiful lacy design. It doesn't have to look moldy, so don't let that stop you if you didn't go to the Jason LaBau School of Eating Anything And Everything.
Matcha Chocolate Tarts
These Matcha Chocolate Tarts are wonderfully smooth and creamy, with a fragrant white chocolate-matcha layer covered by a rich semi-sweet chocolate ganache. I also love the peek-a-boo aspect of the bright green layer hiding underneath all the chocolate!
Ingredients
For the Chocolate Tart Dough:
For the Tart Filling:
1

tbsp

matcha green tea powder

6

tbsp

heavy cream

,

(+ 1/2 cup), divided use

10

oz

white chocolate,

finely chopped

2

tbsp

corn syrup

,

divided use

10

oz

semi-sweet chocolate,

finely chopped

matcha green tea powder

,

for decorating

powdered sugar

,

I recommend non-melting powdered sugar, for decorating
Instructions
To Make the Chocolate Tart Dough:
Combine the flour, cocoa powder, sugar, and salt in the bowl of a food processor, and pulse briefly until everything is well-blended. Add the cold cubed butter and pulse until it is in small pea-sized pieces. Add the egg yolk and pulse in 5-second bursts until the dough starts clumping together.

Turn it out of the food processor and knead it lightly several times to incorporate any extra flour and cocoa powder. At this point, the dough can be wrapped and refrigerated for several days. If you're ready to use it now, spray five 3.5-inch removable bottom tart pans with nonstick cooking spray. Press the dough into the bottom and sides of the pans in a thin, even layer.

Freeze the shells for 30 minutes, and while they're in the freezer, preheat the oven to 375 degrees F. Spray the tops of the tart dough with nonstick spray, then press a sheet of foil into the shells and fill the foil with dry beans, rice, or pie weights. Bake the shells for 10-12 minutes, then carefully remove the foil and weights. Bake for an additional 6-8 minutes to fully bake the shells, until puffed, dry, and fragrant. Let the shells cool completely before filling them.
To Make the Tart Filling:
Sift the matcha powder into a small bowl. Add 3 tbsp of cream to the matcha and whisk together until it forms a smooth, thick paste without lumps.

Place the chopped white chocolate in a medium bowl and microwave it in 30-second increments, stirring after every 30 seconds, until the white chocolate is melted and smooth. Heat the remaining 3 tbsp cream and 1 tbsp corn syrup in a small saucepan or in the microwave, and when hot, add the hot cream and matcha-cream to the melted chocolate and whisk everything together, until it is smooth and shiny. Divide the matcha white chocolate between the five tart shells, pouring it until it fills the shells halfway. If you have a little extra, set it aside to roll into truffles or eat later.

Refrigerate the shells until the matcha layer is set, for about an hour. Prepare the chocolate layer: place the chopped semi-sweet chocolate in a medium bowl. Pour the remaining 1/2 cup of cream and 1 tbsp corn syrup into a small saucepan and heat until it comes to a simmer, but do not let it boil completely.

Pour the hot cream over the chopped chocolate and let it sit for one minute to melt the chocolate. Whisk everything together until the chocolate is smooth and shiny. Pour the chocolate on top of each tart until it comes to the very top, and smooth the top of the tart with a spatula or knife.

Refrigerate the tarts again to set the chocolate ganache, for about 1 hour. To decorate them with a "moldy" design, use a clean, food-safe paintbrush with soft bristles. Speckle the top with powdered sugar (see note below) and then dot matcha powder on top of it. If you're not going for a moldy look, you can brush or sprinkle matcha powder on top or cover the tarts with a doily and sift matcha on top for a beautiful lacy design. The powder will slowly be absorbed into the tart, so it's best to decorate them shortly before serving. For the best taste and texture, allow these tarts to sit at room temperature for about 20 minutes before serving.
Recipe Notes
I recommend non-melting powdered sugar to make these "moldy" tarts. It's a special sugar that doesn't melt when it comes into contact with condensation. It can be purchased from Amazon or found in many cake supply stores. If you don't have it, you can use regular powdered sugar and decorate the tarts immediately before serving them.
MEASURING TIPS
Our recipes are developed using weight measurements, and we highly recommend using a kitchen scale for baking whenever possible. However, if you prefer to use cups, volume measurements are provided as well. PLEASE NOTE: the adage "8 oz = 1 cup" is NOT true when speaking about weight, so don't be concerned if the measurements don't fit this formula.
Click here to learn more about baking measurements and conversion.
Nutrition
Serving:
5
g
|
Calories:
1045
kcal
|
Carbohydrates:
101
g
|
Protein:
13
g
|
Fat:
66
g
|
Saturated Fat:
40
g
|
Cholesterol:
127
mg
|
Sodium:
191
mg
|
Potassium:
594
mg
|
Fiber:
6
g
|
Sugar:
66
g
|
Vitamin A:
1080
IU
|
Vitamin C:
0.2
mg
|
Calcium:
180
mg
|
Iron:
6.4
mg
Share by Email
Share on Facebook
Share on Pinterest
This post contains Amazon affiliate links. For more information, see my Affiliate and Advertising Policy.