This Cinnamon Swirl Pumpkin Pound Cake recipe is a moist, tender pumpkin bundt cake with a cinnamon swirl throughout the middle. Top it with a brown sugar glaze for maximum fall flavor!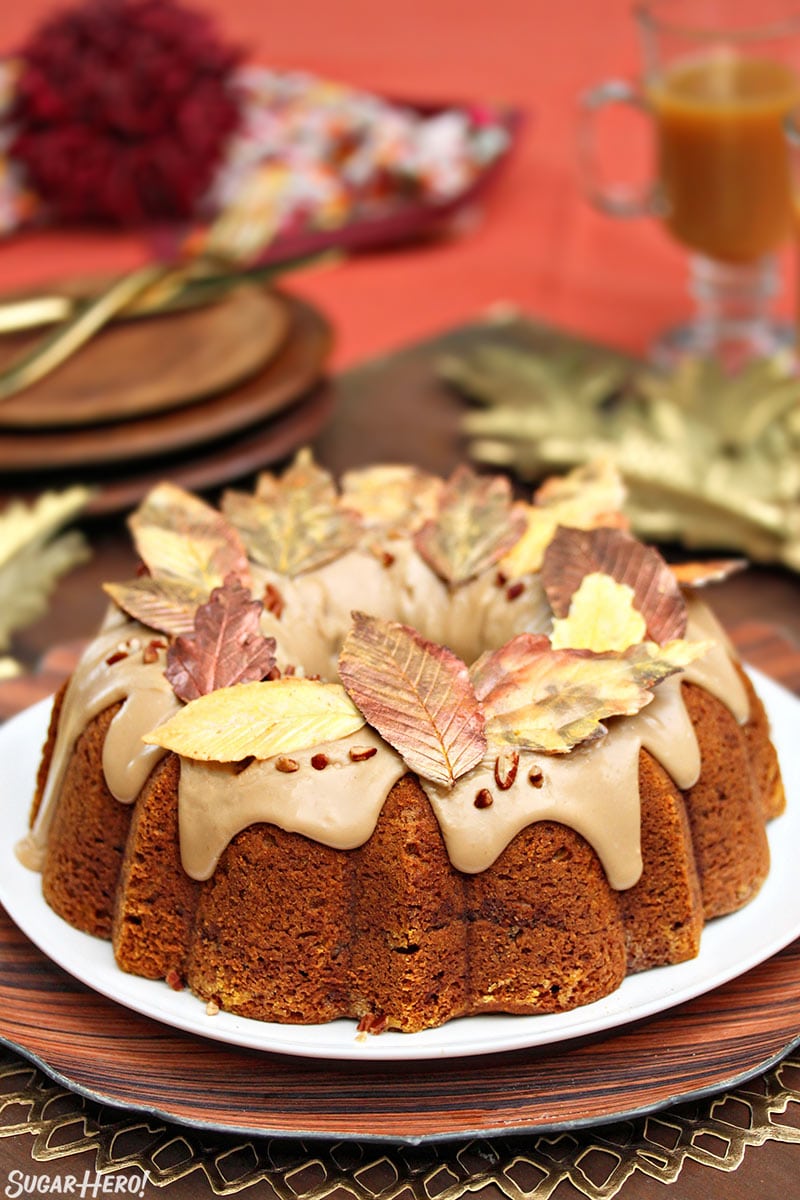 Moist Pumpkin Bundt Cake
Very important question: Is it possible to have too many recipes for pumpkin cake? I vote a wholehearted NO. (I am also willing to study this subject further…it will take a lot of cake eating, but I will do it for the greater good of society.)
Here on SugarHero, we already have some well-loved pumpkin cake recipes, like this phenomenally popular Patterned Pumpkin Roll, Pumpkin Chocolate Chip Cake, Pumpkin Layer Cake, and Pumpkin Bundt Cakes. However, just like every snowflake is unique, no two pumpkin cakes are alike, and I promise, you need this Pumpkin Pound Cake in your life (along with all the others!)
This cake is a little different from traditional pumpkin cakes. Rather than a soft, melt-in-your-mouth texture, it's more closely related to pound cake, with a damp, dense crumb that holds together well, and is perfectly suited for baking in a bundt pan.
To spice things up further (see what I did there?), this cake has a thick cinnamon swirl running through it, and a brown sugar frosting that just might be my FAVORITE FROSTING EVER. I know I say that about once a month (ummmm it's possible I eat entirely too much frosting….) but I might really mean it this time. It's fudgy and thick, and forms the most irresistible crackling crust that is so dreamy on top of the soft cake. Need a simpler topping for this cake? It would also taste amazing drizzled with my new Cinnamon Syrup!
Whether you're looking for an unconventional Thanksgiving dessert recipe, pumpkin dessert recipe or just a fun fall baking project, you're gonna love this cake. So grab your bundt pan and let's gooooo!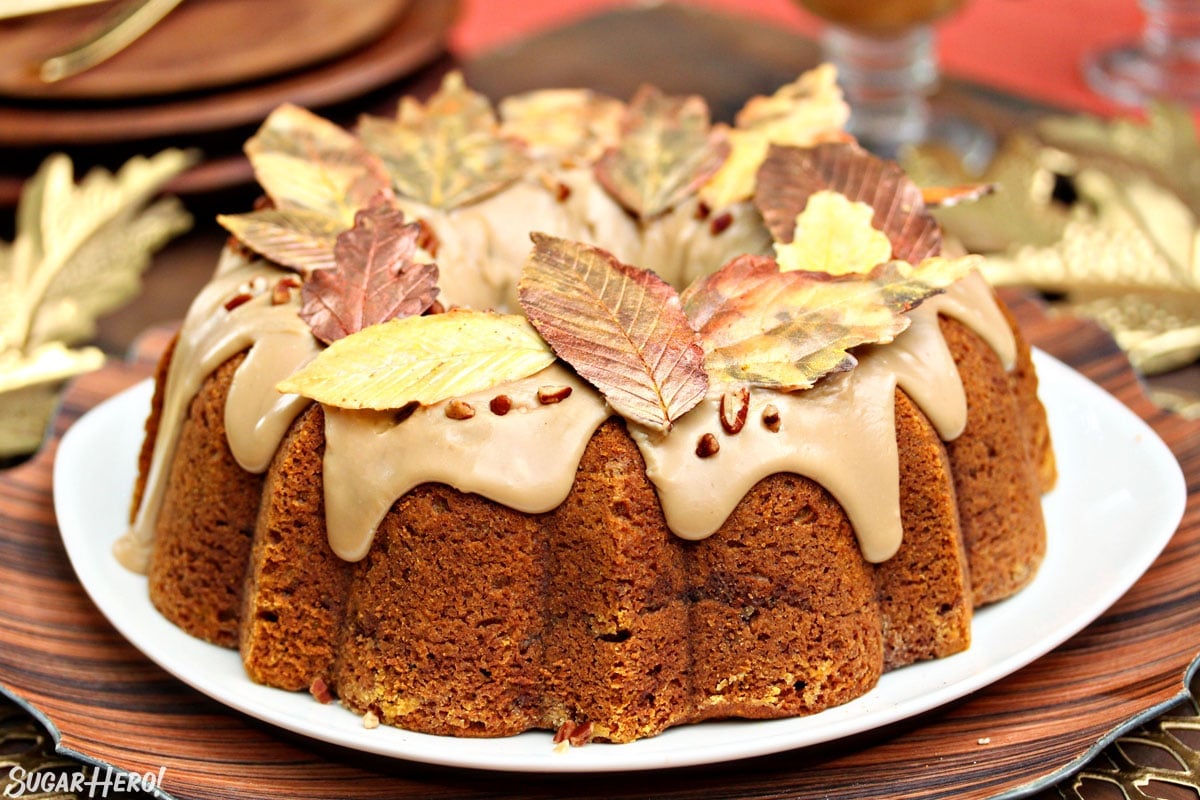 🧾 What You'll Need
Ingredients
Here are a few tips and things to keep in mind as you gather your ingredients. As always, I recommend following the recipe as written for best results. (Links are affiliate links and I earn a small commission from qualifying purchases.)
Pumpkin puree:

It's a cruel trick that pumpkin puree and pumpkin pie filling are both sold in cans right next to each other. For this recipe, you'll want to buy pumpkin puree (sometimes sold as pure pumpkin), not the pie filling. The pie filling has a lot of added sugar and other ingredients, and it won't work in this recipe. Here's the pumpkin puree I use and recommend.
Buttermilk:In addition to its signature tangy flavor, buttermilk adds some fat to the cake, which gives it extra moisture and richness. No buttermilk? Try substituting full-fat plain Greek yogurt or sour cream instead.
Unsalted butter: Butter in cake batters help to give the cake a moist, rich flavor. You can use salted if that's what you have, and reduce the amount of added salt to taste.
Brown sugar: Brown sugar plays an important role in both the cake and the glaze, and I don't recommend substituting granulated sugar. If you struggle with brown sugar that dries out and becomes hard, I recommend storing it in a plastic container with a piece of bread. The bread magically softens the brown sugar and keeps it nice and workable!

Spices:

This recipe uses different fall spices like cinnamon, ginger, nutmeg, and allspice. If you prefer, you can swap in 2 TBSP of pumpkin pie spice instead of using the individual spices.

Nuts:

Pecans are my nut of choice in this recipe, but walnuts also work very well. Not a nut fan? You can leave them out and it's still delicious!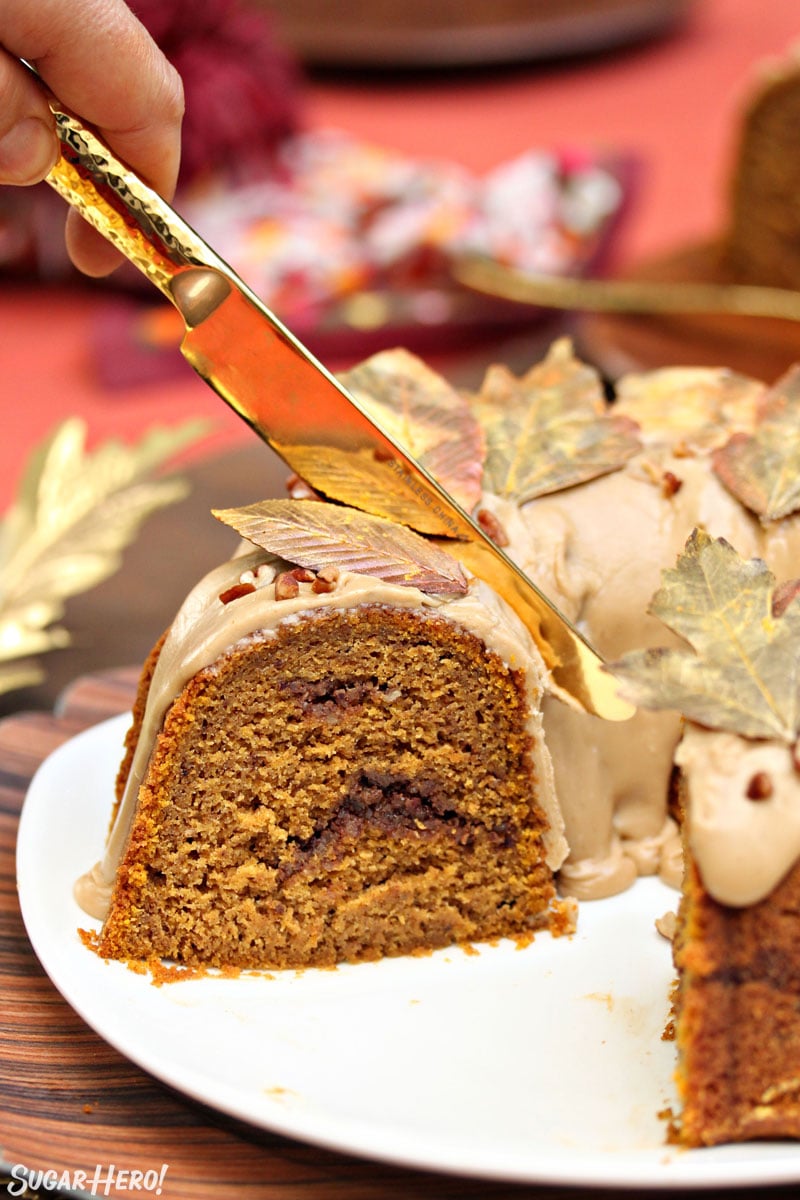 Equipment
Bundt pan:

OBVIOUSLY you'll need a bundt pan to make a bundt cake! If you're going to buy your first bundt pan, I highly recommend this Nordic Ware pan. It's cast aluminum, meaning it's solid and heavy duty, and it can handle volumes anywhere between 10-15 cups of batter. It's super versatile and the perfect pan for a bundt newbie.
Mixer: When it comes to stand mixers, KitchenAids are hard to beat. They last a long time and you can get all sorts of fun attachments. No stand mixer? A hand mixer like this is a great alternative.
Wire cooling rack:This wire rack is a lifesaver if you bake cookies, cakes, or other tasty treats. For bundts, it's especially important to cool the cake in the pan for awhile before removing it and letting it cool on a wire rack.
🍂 Edible Leaf Decorations
Because this cake is full of cozy fall flavors, I wanted the decorations to reinforce the autumn theme, so I topped it with shimmering chocolate leaves in a ring around the top. They might look fancy, thanks to their glittering metallic appearance, but they take all of 10 minutes to make, and they add such a spectacular touch to cakes and cupcakes. I have a tutorial over on About.com Candy if you want to make some chocolate leaf magic yourself.
If you're not up for making chocolate leaves, you can buy these beautiful edible rice paper leaves on Amazon, and they're equally gorgeous. Or just forgo leaves entirely and top the cake with some chopped nuts, chocolate feathers, or fall sprinkles.
💡 Tips for Bundt Success
If you don't follow any of my other advice or tips, please listen when I tell you to grease the heck out of your bundt pan. The biggest issue people have with bundt cakes is the cake sticking to the pan and breaking apart. It's SO aggravating to take the time to make a homemade cake, and then have half of the cake stay stuck in the pan!
Keep your bundt from sticking
The best way you can prevent your bundt cake from sticking? Use this easy homemade recipe for pan release! This edible "cake goop" creates a nice nonstick layer between the cake and the pan, which means it will release easily once baked through. It takes less than 5 minutes to make, it's made with 3 ingredients you probably already have, and you can keep a jar in your pantry so you're always ready to bake! Seriously, give this cake goop a try and tell me it's not life-changing!
If you don't go the pan release route, then you should absolutely sprinkle a light layer of flour inside your bundt pan after you spray it with nonstick cooking spray.
If you want to get more use out of your bundt pan, try our Orange Bundt Cake, Roasted Banana Bundt Cake, or reader favorite Strawberry Swirl Bundt Cake! For other great ideas, check out all of our bundt cake recipes. And if decadent cake is your thing, check out all these great cake recipes too!
🎂 Cake Storage Instructions
If you make the cake ahead of time, don't glaze it until shortly before you are ready to serve it (within a few hours is best). Without the glaze on top, you can wrap it tightly in plastic wrap, or store in an airtight container for up to 5 days in the refrigerator.
You can also freeze an unglazed cake for up to 2 months in the freezer. When you want to serve it, allow it to come up to room temperature and glaze it before serving.
If the cake is already glazed, store leftovers in an airtight container at room temperature for 3 days, or up to 5 days in the refrigerator. Note that the glaze might weep or liquify over time.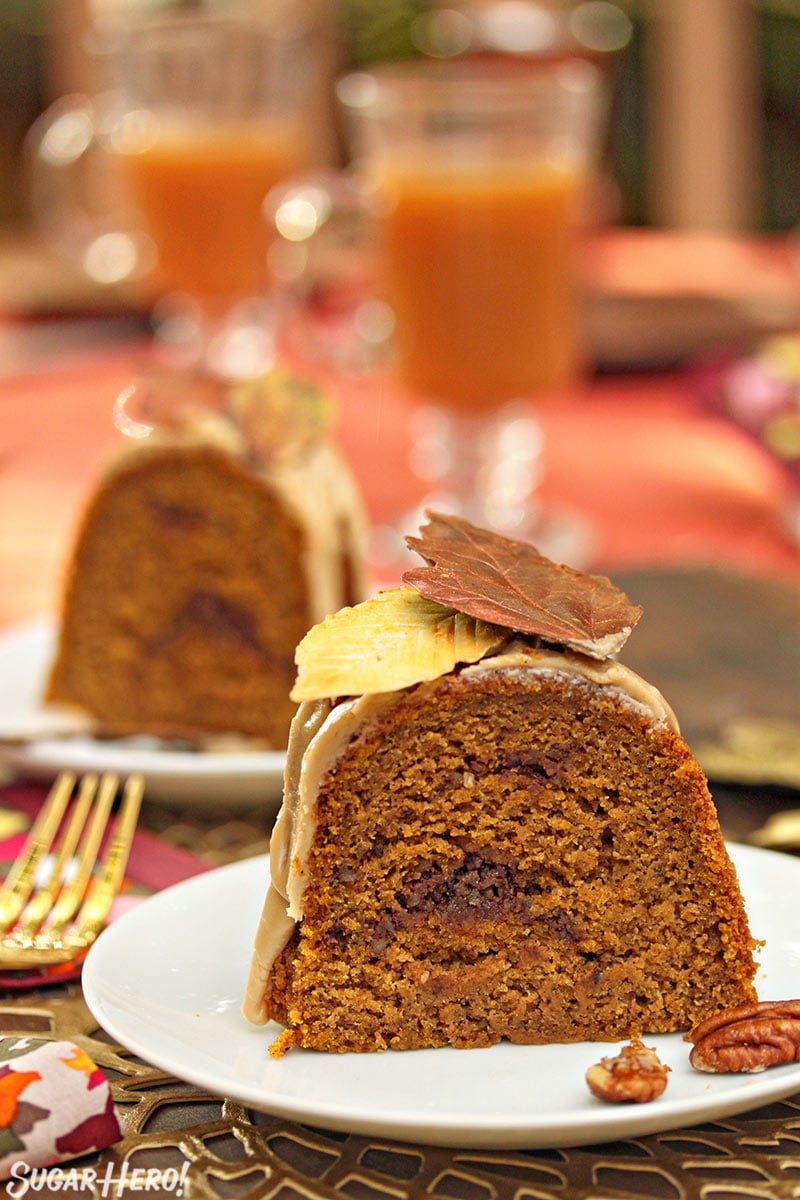 🎃 More Great Pumpkin Desserts
Don't miss the step-by-step tutorial showing how to make Pumpkin Pound Cake – check out the web story here!
Cinnamon Swirl Pumpkin Bundt Cake
This Cinnamon Swirl Pumpkin Bundt Cake recipe is a moist, tender pumpkin bundt cake with a cinnamon swirl. Top it with a brown sugar glaze for maximum fall flavor!
Ingredients
For the Pumpkin Pound Cake:
For the Brown Sugar Frosting:
2.5

oz

unsalted butter

(5 tbsp)

3.5

oz

brown sugar

(1/2 cup)

, packed

1.5

oz

heavy cream

(3 tbsp)

6

oz

powdered sugar

(1 1/2 cups)

1

tsp

vanilla extract

pinch of salt
Instructions
To Make the Pumpkin Pound Cake:
Preheat the oven to 350 F. Generously grease a bundt pan and dust it with flour, then tap out the excess flour.

Combine the ingredients for the cinnamon swirl in a food processor and process them until they're in fine crumbs. Set aside for now.

Whisk together the pumpkin, buttermilk, and vanilla in a small bowl, and in a separate bowl, sift together the flour, baking powder, baking soda, salt, and spices.

Combine the butter and both sugars in the bowl of a large mixer fitted with a paddle attachment. Beat on medium-medium high speed until light and fluffy, for about 3-5 minutes. Add the eggs one at a time, beating well after each addition. Turn the mixer speed to low and add a third of the flour, then when that's almost mixed in, add half of the pumpkin mixture. Continue to alternate adding wets and drys, ending with the dry ingredients. When just a few streaks of flour remain, turn the mixer off and finish mixing by hand, scraping down the bottom and sides with a rubber spatula.

Spoon about a third of the batter into the bundt pan and smooth it out. Add half of the cinnamon swirl mix, then top with more batter. Add the rest of the cinnamon mix, and finish by spreading the rest of the batter on top. Bake the cake for about 45 minutes, until a toothpick inserted into the center comes out clean.

Cool the cake on a rack for 15 minutes, then invert it out of the pan and cool completely before frosting.
To Make the Brown Sugar Frosting:
Melt the butter in a small saucepan over medium heat. Stir in the brown sugar and cook, stirring, until the sugar melts. It might look separated, but that's okay. Stir in the cream, and it should all come together. Bring the mixture to a boil, then pour it into a mixing bowl fitted with a paddle attachment to cool for 10 minutes.

After 10 minutes, add the powdered sugar, vanilla, and salt. Beat well on medium speed for 30-45 seconds, until there are no lumps of sugar and the frosting is satiny and smooth. If the mixture appears too thin, add more confectioners' sugar, if it's too thick, add a spoonful of hot water. Be aware that it sets up QUICKLY, so as soon as you're finished mixing it, pour it over the cake while it's still warm. Know that it's hard to go back and correct mistakes because it starts setting and crusting soon after being poured, so one option is to put it in a large Ziploc bag and cut off a corner. Pipe the frosting over the top so it drips down where you want it to. Add any toppings or decorations before the frosting crusts over.
Measuring Tips
Our recipes are developed using weight measurements, and we highly recommend using a kitchen scale for baking whenever possible. However, if you prefer to use cups, volume measurements are provided as well. PLEASE NOTE: the adage "8 oz = 1 cup" is NOT true when speaking about weight, so don't be concerned if the measurements don't fit this formula.
Want to learn more about baking measurements and conversion?
Nutrition
Calories:
491
kcal
|
Carbohydrates:
69
g
|
Protein:
5
g
|
Fat:
22
g
|
Saturated Fat:
12
g
|
Cholesterol:
89
mg
|
Sodium:
142
mg
|
Potassium:
256
mg
|
Fiber:
2
g
|
Sugar:
46
g
|
Vitamin A:
6145
IU
|
Vitamin C:
1.5
mg
|
Calcium:
99
mg
|
Iron:
2.2
mg
Tried this recipe?
Snap a pic and hashtag it #SugarHero. We love to see your creations on our Instagram @elabau.
About Elizabeth LaBau
I'm Elizabeth, but you can call me SugarHero! I'm a former pastry chef turned blogger, cookbook author, and baking instructor, and I consider myself sugar's #1 fan. Learn more from u003ca href=u0022https://www.sugarhero.com/about/u0022 class=u0022ek-linku0022u003emy About pageu003c/au003e, or connect with me on social media: