These Cranberry White Chocolate Sweetie Pies are throw back to the good ol' days when my dad made little hand pies called "sweetie pies". Flaky, buttery crust enfolds sweet-tart cranberries topped with white chocolate!
My dad was the pie master in my family growing up. For a large man, he sure had the delicate touch with pie dough, and his crusts were always a buttery, flaky delight. After pressing the dough into the pans, he would roll the scraps of dough into "sweetie pies," our name for little hand pies filled with a cinnamon-sugar mixture. We'd bake these sweetie pies in the toaster oven while the larger pies baked, so we could have some sweet little nibbles to tide us over until the real dessert was ready. (What can I say? Apparently I come from a whole family of sugar heroes.)
I hadn't thought of those sweetie pies in years, but when I was left with extra pie dough after my Mile High Apple Pie adventures, I knew I needed to follow my dad's example and make some mini munchin' pies. I know the proper term is "hand pies," or maybe "Pop Tart knock-offs," but I'm calling these sweetie pies in tribute to the many, many scraps of cinnamon sugared pie dough I ate as a child.
I used leftover dough for mine, but I wrote the recipe to work with one batch of dough, or you can use pre-rolled crusts from the freezer section. They're filled with a homemade cranberry-orange filling, and plenty of melty white chocolate. The mix of tart cranberries and sweet white chocolate was the perfect thing to get us in the Thanksgiving spirit!
I would never tell you to forgo traditional pumpkin pie this year, but if you're in the mood to shake up your T-Day dessert table, then you can't do much better than mini cranberry pies. You can even make them with leftover cranberry sauce (strained if it's a bit thin) so these could be a solution to the pressing issue of what to do with all that sauce after the big day. Why would you put leftover sauce on a lame sandwich when you could enjoy it between two buttery slabs of pie dough instead? Look at me, solving problems you didn't even know you had.
I topped my pies with a drizzle of white chocolate and a pinch of freeze-dried cranberries. I know what you're thinking: I need to cool it with the freeze-dried fruit, because I have a problem. You are so right, and I'm sorry. It's just that I had them for another upcoming project (um, sorry in advance for that one, too) and it just seemed to natural to give these pies a pop of bright color on top. But I wouldn't recommend buying them just for this recipe—the pies are wonderful plain or with just a bit of white chocolate on top.
Happy Monday, sweetie pies!
Chocolate Raspberry Almond Truffle Tart
This Chocolate Raspberry Almond Truffle Tart has a crispy chocolate shortbread crust, with a dense, gooey chocolate truffle filling packed with almond flavor, fresh raspberries, and melty pockets of white chocolate chunks.
View Recipe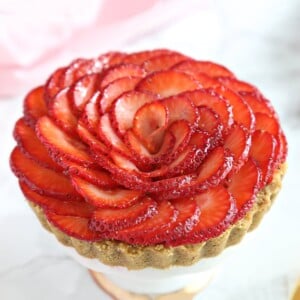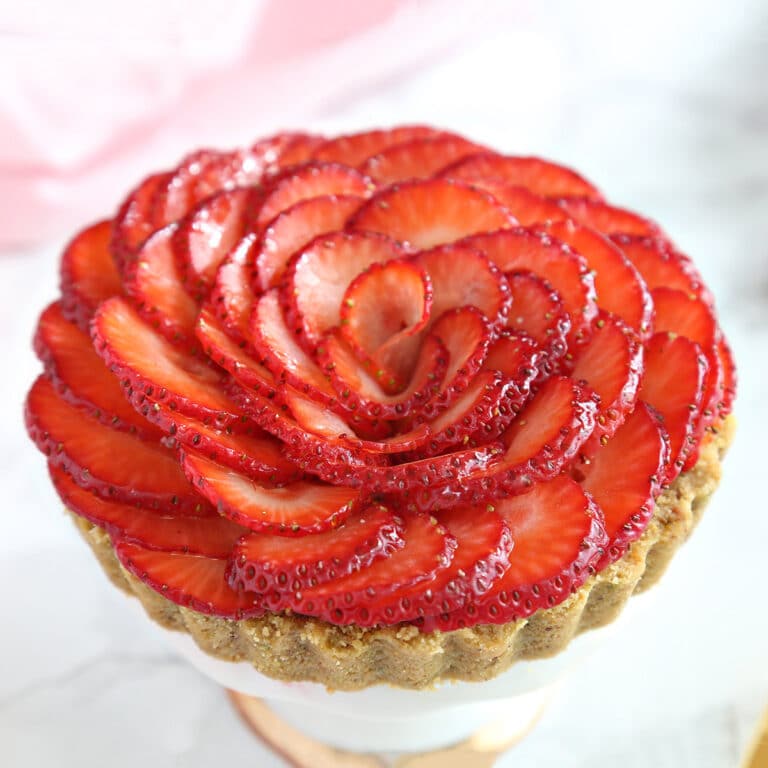 Strawberry Rose Tarts
These mini Strawberry Rose Tarts are beautiful and romantic! A crunchy pistachio shortbread crust is filled with delicious strawberry-rose cream, and topped with sliced strawberries in the shape of a rose. They're fruity, floral, and completely dreamy.
View Recipe
Cranberry White Chocolate Sweetie Pies
These Cranberry White Chocolate Sweetie Pies are throw back to the good ol' days when my dad made little hand pies called "sweetie pies". Flaky, buttery crust enfolds sweet-tart cranberries topped with white chocolate!
Ingredients
For the Pie Crust:
6.5

oz

all-purpose flour

1½ cups

1

oz

granulated sugar

2 tbsp

½

tsp

salt

5

oz

unsalted butter

cold, cubed and frozen for at least 30 minutes

1.25

oz

shortening

cold, cubed and frozen for at least 30 minutes

¼

cup

very cold water
For the Filling:
6

oz

cranberries

fresh or frozen

1/2

cup

granulated sugar

1/4

cup

orange juice

or water

1/2

cup

white chocolate chunks
Instructions
To Make the Pie Crust:
Combine the flour, sugar, and salt in the bowl of a large food processor and pulse a few times to combine.

Add the cold cubed butter and shortening, and pulse in short bursts until they're cut into the dry ingredients and the mixture has the texture of coarse crumbs. Add half of the cold water and pulse in 5-second bursts, adding the rest a little more at a time just until the dough starts to come together. You may not need to use all of the water—stop when the dough starts to come together, and don't overwork it!

Turn the dough out onto a lightly floured board and knead it just enough to incorporate any dry patches of flour. Wrap the dough well in plastic wrap, and refrigerate it for an hour to chill. The dough can be made several days in advance and kept in the refrigerator until ready to use.
To Make the Filling:
Combine the cranberries, 1/2 cup sugar, and orange juice or water in a saucepan over medium heat. Cook the berries, stirring occasionally, until they all "pop" and you have a thick, bubbling mixture. Continue to cook until most of the liquid has evaporated and you have a thick, jammy texture.

Transfer the cranberry mixture to a bowl, press a layer of plastic wrap on top, and refrigerate until it is no longer warm. The cranberry filling can be made up to a week in advance and kept in an airtight container in the refrigerator until ready to use.
To Assemble:
Preheat the oven to 375 F. Flour your work surface and rolling pin. Roll the dough out into a rectangle, about 12×16-inches. Use a pizza wheel or sharp knife to cut the dough into 16 rectangles, about 3×4-inches each. (These are approximate sizes, and you can vary the measurements to get a different number of pies, if you desire.)

Crack the egg into a cup and whisk it with a spoonful of cold water to make an egg wash. Brush the egg wash around the edges of 8 of the rectangles. Fill these 8 rectangles with 2 tablespoons of cranberry filling, and a tablespoon of chopped white chocolate.

Top each of the filled rectangles with another rectangle of pie dough, and press along the edges to seal the dough together. Crimp the edges with a fork, or use a fluted pastry wheel to cut a decorative pattern into the edges. Use a sharp paring knife to cut two air vents into the top of each pie. Transfer the pies to a parchment-covered baking sheet, and brush the tops with the egg wash. Sprinkle the tops with granulated sugar.

Bake the pies for 15-17 minutes, rotating halfway through, until they are puffed and golden brown on top. Cool on the baking sheet for 10 minutes, then transfer to a wire rack to cool completely.

If you want to decorate them, melt the 1/4 cup white chocolate in a small microwave-safe bowl and microwave it in 30-second increments, stirring frequently to prevent overheating. Transfer it to a plastic bag and snip off the corner. Drizzle white chocolate over the top of each pie. Crush a few freeze-dried cranberries, and while the chocolate is still wet, scatter a pinch of berries over the top of each pie. Refrigerate for 10 minutes to set the white chocolate, then serve.
Measuring Tips
Our recipes are developed using weight measurements, and we highly recommend using a kitchen scale for baking whenever possible. However, if you prefer to use cups, volume measurements are provided as well. PLEASE NOTE: the adage "8 oz = 1 cup" is NOT true when speaking about weight, so don't be concerned if the measurements don't fit this formula.
Want to learn more about baking measurements and conversion?
Nutrition
Calories:
393
kcal
|
Carbohydrates:
43
g
|
Protein:
4
g
|
Fat:
23
g
|
Saturated Fat:
12
g
|
Cholesterol:
60
mg
|
Sodium:
166
mg
|
Potassium:
97
mg
|
Fiber:
1
g
|
Sugar:
24
g
|
Vitamin A:
500
IU
|
Vitamin C:
6.7
mg
|
Calcium:
35
mg
|
Iron:
1.2
mg
Tried this recipe?
Snap a pic and hashtag it #SugarHero. We love to see your creations on our Instagram @elabau.