This post may contain affiliate links. As an Amazon Associate I earn from qualifying purchases. Please see my disclosure policy for more information.
This Coconut Macaroon Tart is the perfect spring dessert! It has a naturally gluten-free coconut crust and is loaded with sweet-tart passion fruit pastry cream and fresh fruit. It's wonderful for brunches, parties, or Easter!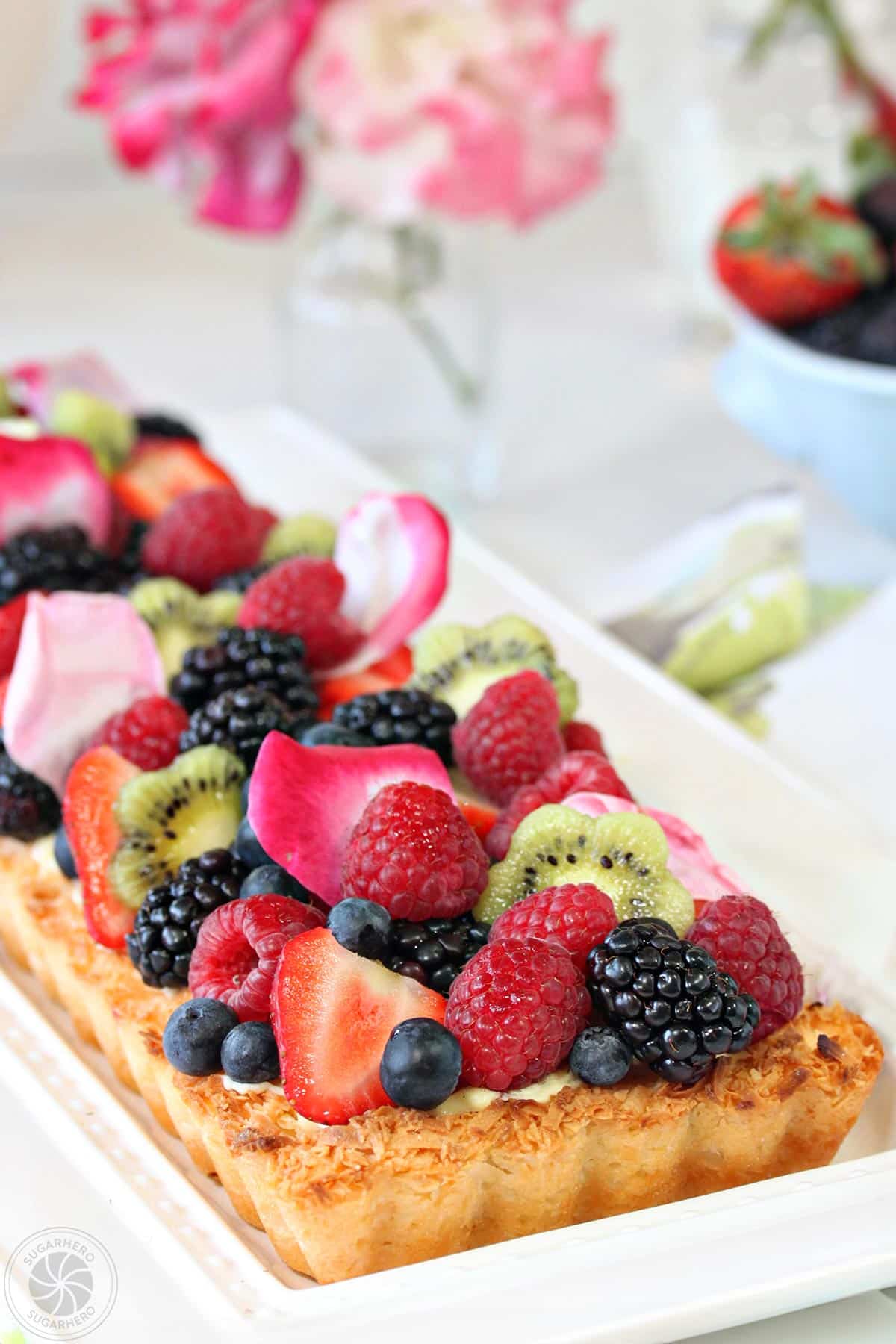 Raindrops on roses and whiskers on kittens. Bright copper kettles and warm woolen mittens. Coconut tarts filled with passion fruit creeaaam– these are a few of my faaaavorite things!
Real talk: I like raindrops just fine, am neutral on roses, am allergic to cats, lust after copper kettles, and I've never owned a woolen mitten in my life. The only absolutely true part of my (very cheesy) rhyme up there is that this tart? This Coconut Macaroon Tart with Passion Fruit Cream? Is most definitely one of my favorite things right now.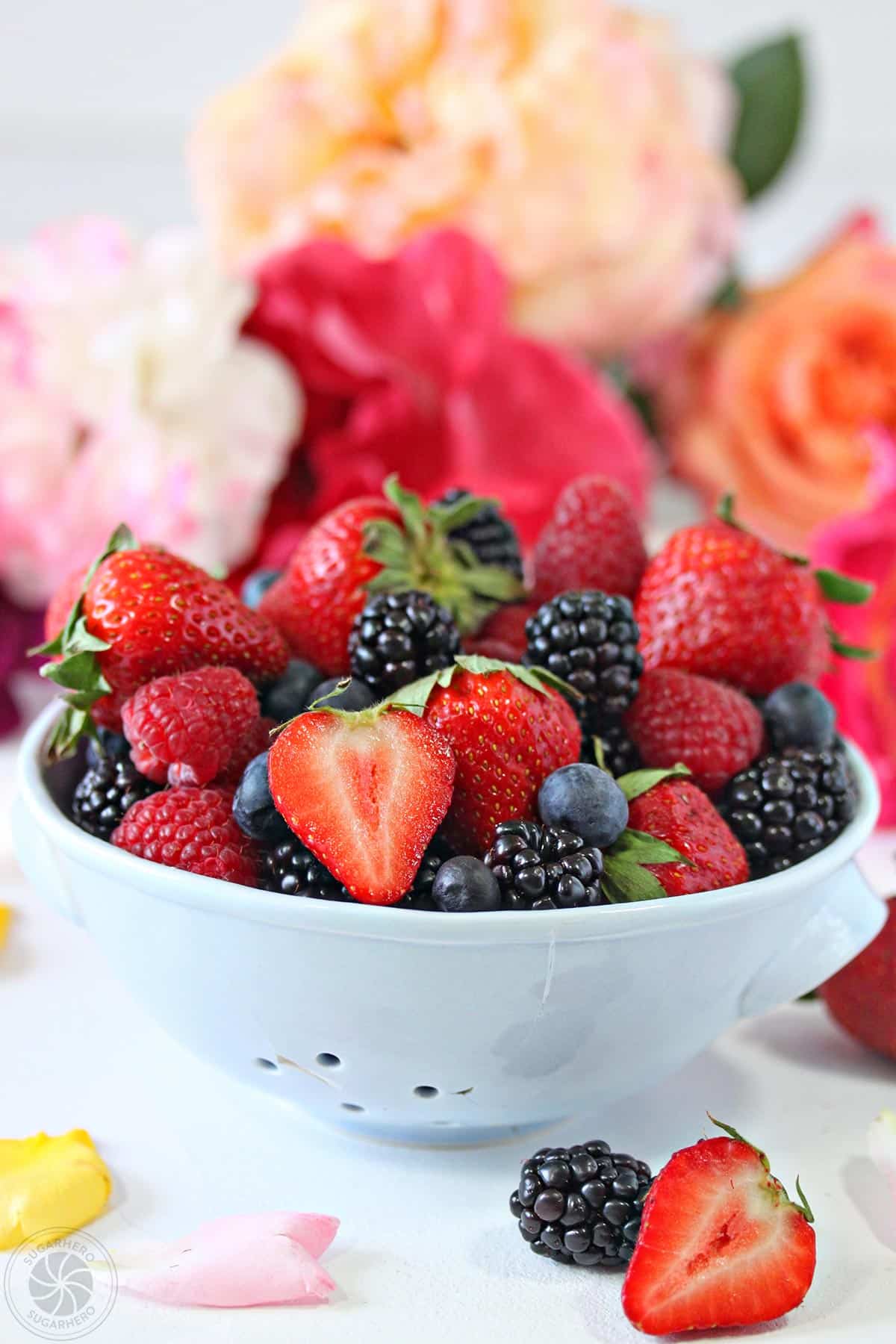 I know Spring talk is so last month, but when I found these drop-dead gorgeous roses, I could not resist making a tart to celebrate Spring, full of fresh, bright flavors, and topped with piles of fresh berries, kiwi, and rose petals.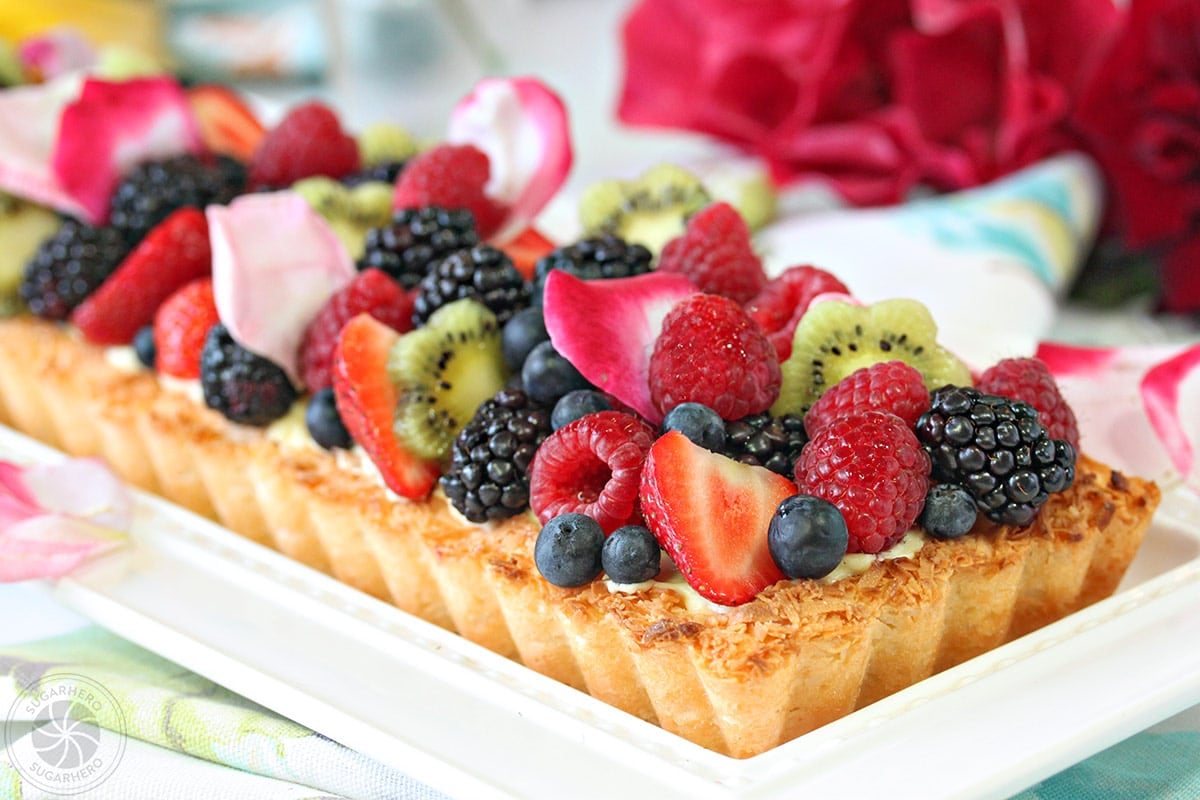 Oh, and what's that you say? There's a little something called Passover concluding this weekend? Never fear, my grain-avoiding friends, this is a perfect Passover dessert! The tart's crust is made from coconut, egg whites, and granulated sugar—the same ingredients that go into a coconut macaroon! If you're thinking it basically tastes like a giant cookie crust, you're so right.
It's crunchy on the outside, chewy on the inside, and blissfully flour-free. This also makes it a good dessert choice for anyone gluten- or grain-free, although I can't help you if you're trying to go sugar-free. (Honestly, you might be in the wrong place for that goal.)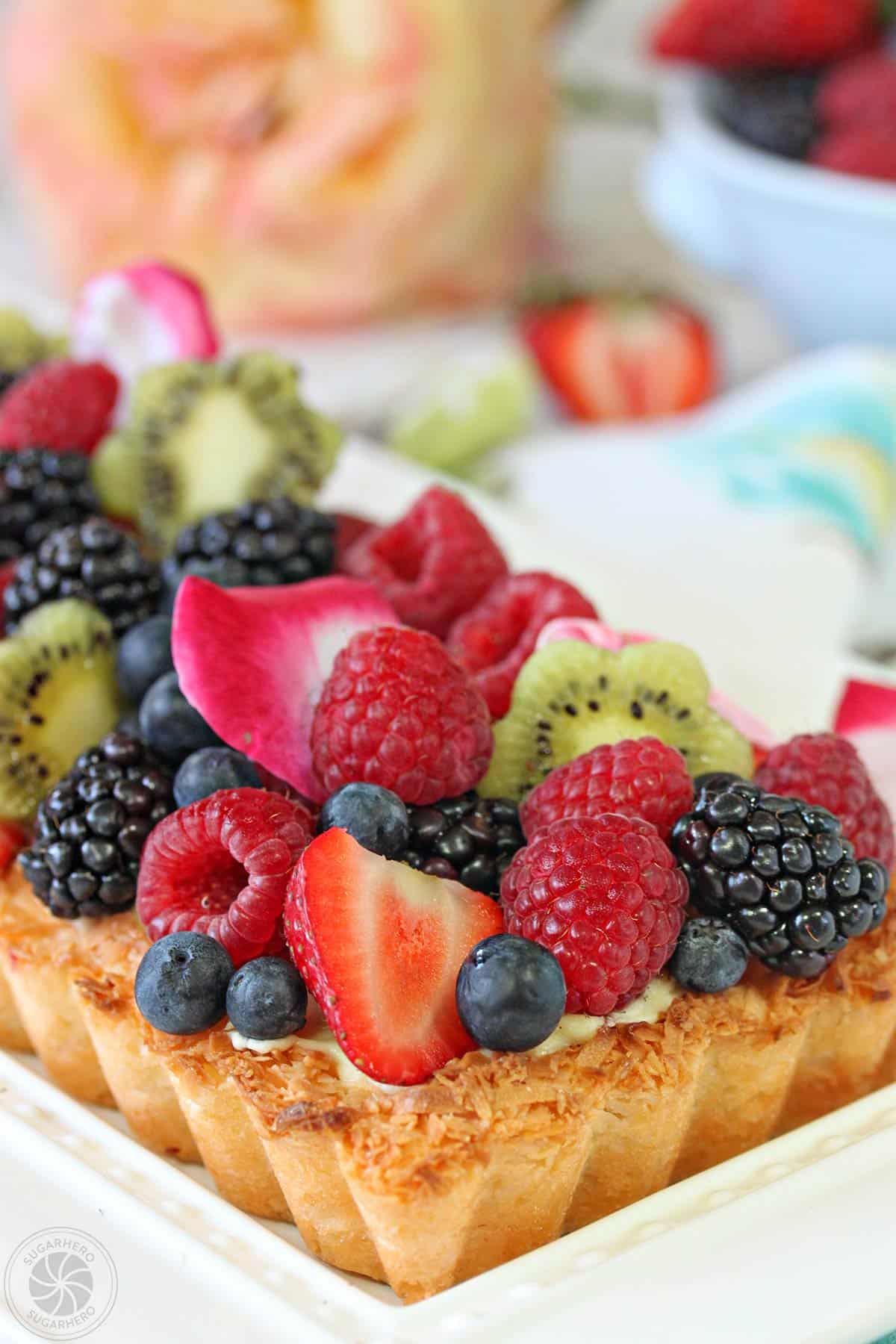 That crispy, chewy coconut shell is filled with passion fruit cream, which is a shorthand way of saying "passion fruit-white chocolate ganache mixed with heavy whipped cream." It's intensely fruity, a little bit tart, a little bit sweet, and wonderfully light and fluffy. The passion fruit-white chocolate ganache is good on its own, but it's a little heavy for a springtime tart filling. Mixing it with some whipped cream, however, makes it a fantastically light partner for some fresh berries.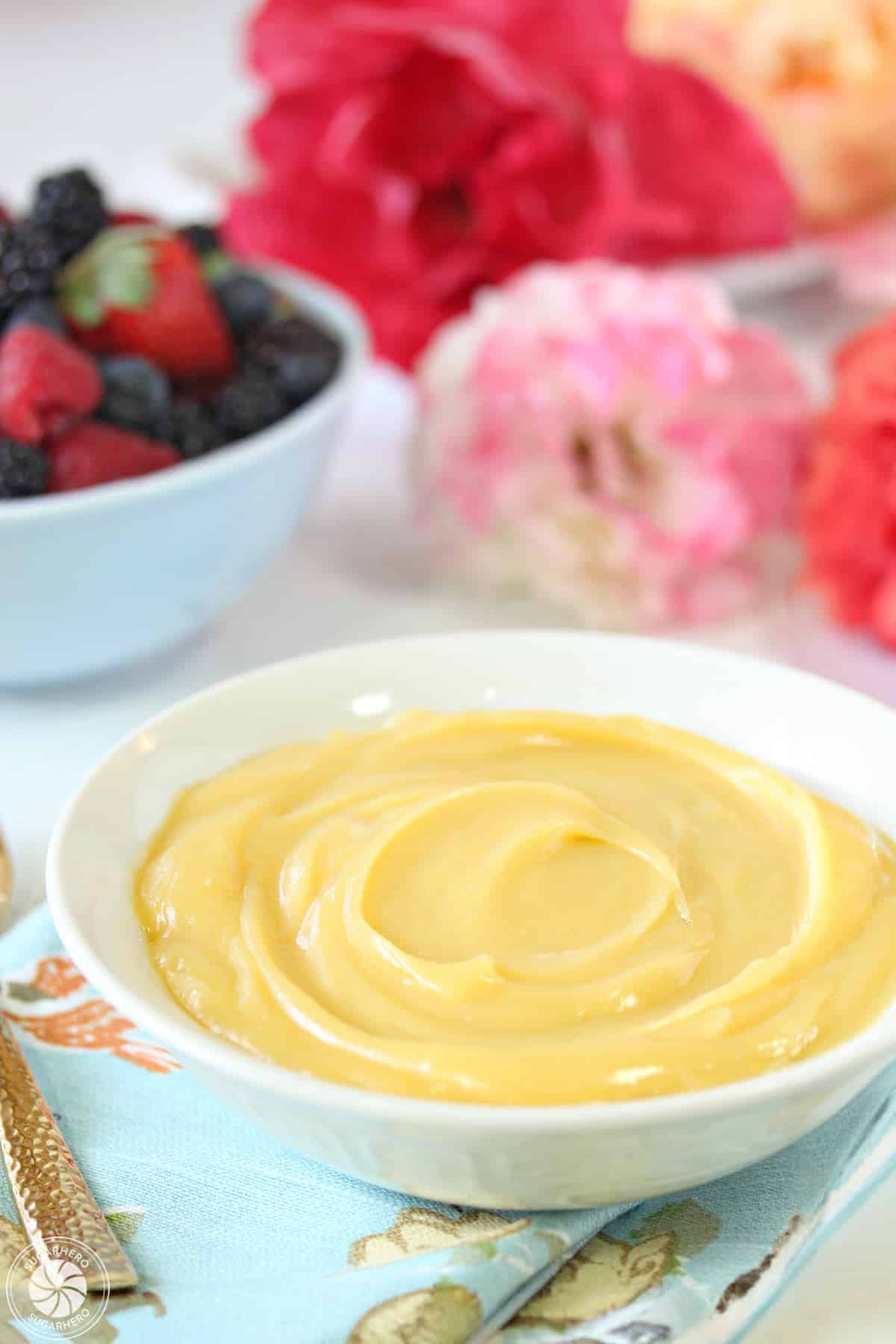 Speaking of berries, I piled 'em on like there's no tomorrow. Picture me skipping around the table, tossing berries on top of the tart and pointing to bare spots like Oprah: "You get a berry! You get a berry! You AAAAAALLLLL get berries!" (I know Ms. O has, like, five different private chefs, but I want so badly to believe that that is how she makes her morning bowl of oatmeal. That would be amazing.)
I also tossed on some kiwi slices, cut into flower shapes with a cookie cutter because I'm darling like that, and some rose petals for the final flourish. If you use unsprayed roses then they're entirely edible, but you can also treat them as more of a decorative element and take them off before serving, if flower petals aren't your bag.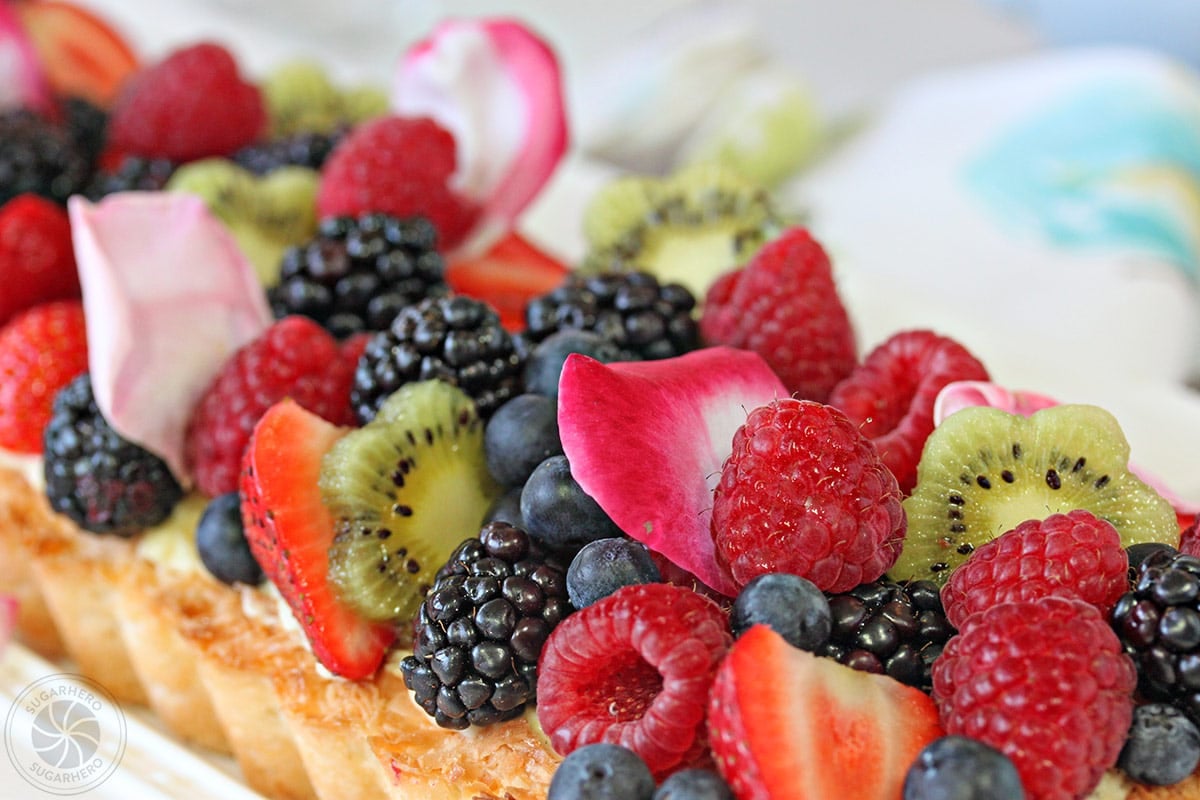 I admit that I originally conceived of this as a Passover dessert, but there is no reason this shouldn't be on your menu year-round. If you are a monster who doesn't like the passion fruit filling, a plain chocolate ganache would work just fine, or even regular whipped cream! Fill it with fruit salad, or scoops of ice cream. I won't tell if you go the pudding route, but I won't exactly endorse it, either. Point being, this is a seriously flexible, seriously good recipe.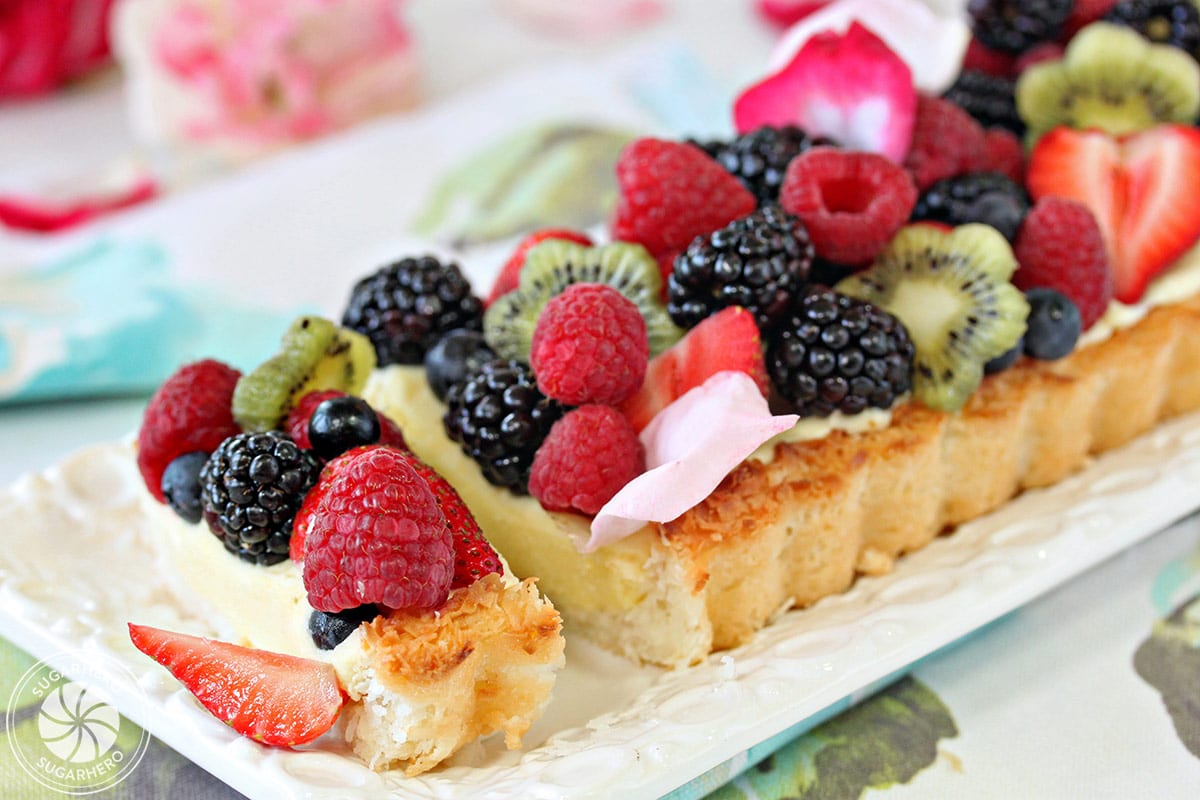 Although this is one of those desserts that's at its peak the day that it's made, we ate it in slices over the course of 3-4 days, and it held up very well. The crust just gets a bit more chewy, and of course the berries start looking a bit more bedraggled. But if you wanted to turn this into a make-ahead dessert, the crust + cream filling could be done several days ahead of time, and then it's a quick matter of tossing on the berry topping before serving.
Happy Passover! Happy Spring! Happy Friday! Happy I-eat-gluten-but-I'll-still-nom-a-gluten-free-tart day! Whatever you're celebrating, I hope you have a good one.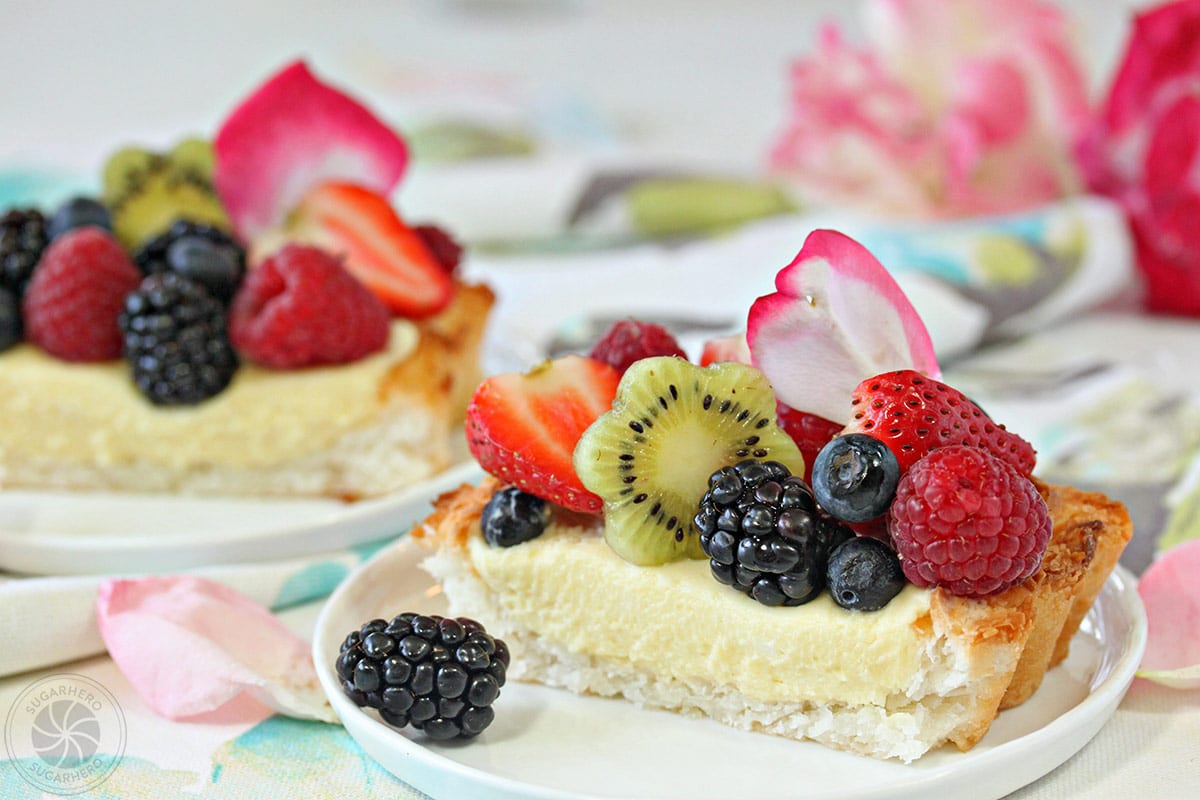 If you're looking for a rectangular tart pan to make this recipe, I used this affordable one from Fat Daddio. You could also make this in a 9- or 10-inch round tart pan with a removable bottom, and just keep an eye on it while baking, as the baking time might need to be adjusted.
Strawberry Rose Tarts
These mini Strawberry Rose Tarts are beautiful and romantic! A crunchy pistachio shortbread crust is filled with delicious strawberry-rose cream, and topped with sliced strawberries in the shape of a rose. They're fruity, floral, and completely dreamy.
Get the recipe!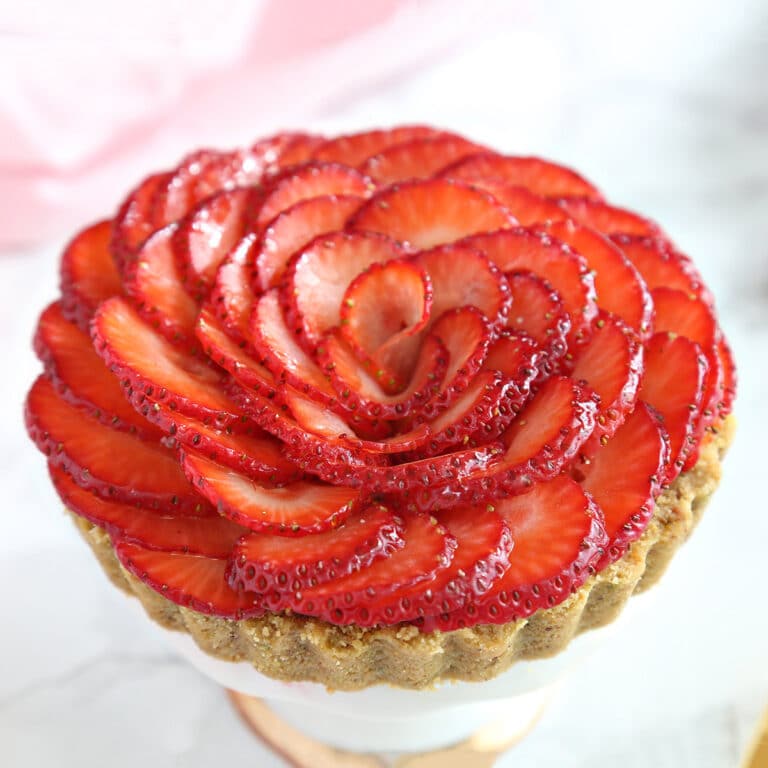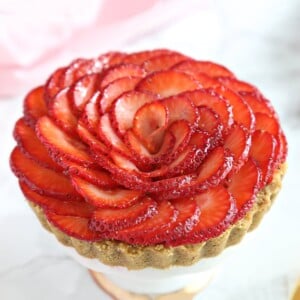 Trendy Cream Tarts
These Cream Tarts are all the rage! Also known as cream biscuits or cream cakes, they're a beautiful and unique twist on traditional cakes. You can cut them into letters, numbers, or shapes, and decorate them with fruits, flowers, and all your favorite candies.
Get the recipe!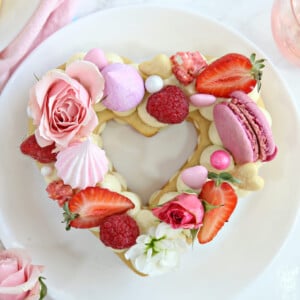 Coconut Macaroon Tart With Passion Fruit Cream
This tart has a crispy coconut shell and a creamy, tropical passion fruit filling. Top it with your favorite fresh fruit for a lovely spring dessert!
Ingredients
For the Coconut Macaroon Crust:
For the Passion Fruit Cream Filling:
9

oz

white chocolate,

(1 1/2 cups)

, finely chopped or good-quality white chocolate chips

3

oz

passion fruit puree

,

(1/3 cup)

, I use Goya brand

1 1/2

TBSP

light corn syrup

2

oz

unsalted butter

,

at room temperature

4

oz

heavy cream

,

(1/2 cup)
To Assemble:
4

cups

fresh berries

,

assorted

kiwi

,

sliced, optional

rose petals

,

organic, unsprayed, optional
Instructions
To Make the Coconut Macaroon Crust:
Take a rectangular 13.75 x 4.25 tart shell with a removable bottom and spray it with nonstick cooking spray. Preheat the oven to 350 F.

Combine the shredded coconut, egg whites, and granulated sugar in a medium bowl, and stir until everything is well-mixed and the coconut is moist. Scatter the coconut mixture along the bottom and sides of the pan, and press it firmly into the bottom and sides to make a sturdy layer.

Place the tart pan on a baking sheet and bake it in the 350 F oven for 25-30 minutes. After about 10-15 minutes, as the top starts to get dark, cover the tart loosely with foil so the top doesn't burn. The center of the tart will remain white while it cooks, so you won't be able to judge its doneness by its color. Rather, look for a dark golden color along the top of the tart, and when you pull back the sides away from the pan a little bit, they should look golden as well.

When it's done, remove it from the oven and let it cool completely in the shell. Once cool, gently push the bottom of the shell up out of the sides, and transfer the shell to your serving tray.
To Make the Passion Fruit Cream Filling:
Place the chopped white chocolate in a medium bowl. Combine the passion fruit puree and corn syrup in a small saucepan, place it over medium heat, and bring it to a simmer.

Pour the hot passion fruit puree over the chopped chocolate, cover it with a lid, and let it sit for 2 minutes to soften the chocolate. Gently whisk the chocolate and passion fruit together until the chocolate is melted and the mixture is smooth. Add the room temperature butter and whisk it in until everything is silky smooth. Press a layer of cling wrap directly on top of the ganache, and let the mixture cool completely to room temperature before proceeding. This can be made several days in advance and kept at room temperature until needed. If you need to cool it down faster, refrigerate it and check it after 30-45 minutes to make sure that it doesn't get too cold and stiff.

When the passion fruit ganache is entirely cooled, whip the heavy cream until it holds medium peaks. Fold the cream into the ganache in 2-3 batches, stirring gently just until the streaks disappear. Spoon the passion fruit cream into the baked and cooled tart shell and spread it into an even layer. Refrigerate the tart shell for 15 minutes, just to chill the cream a bit and give it a firmer base to set all the fruit on.

To assemble, top the tart with a generous layer of fresh fruit, sliced kiwi, and rose petals. Serve immediately, or chill and serve within a day for the best taste and texture. The tart will keep for several days, but the shell will get chewier over time, and the berries are typically best within a day or two of putting them on the tart.
MEASURING TIPS
Our recipes are developed using weight measurements, and we highly recommend using a kitchen scale for baking whenever possible. However, if you prefer to use cups, volume measurements are provided as well. PLEASE NOTE: the adage "8 oz = 1 cup" is NOT true when speaking about weight, so don't be concerned if the measurements don't fit this formula.
Click here to learn more about baking measurements and conversion.
Nutrition
Serving:
10
g
|
Calories:
430
kcal
|
Carbohydrates:
32
g
|
Protein:
5
g
|
Fat:
33
g
|
Saturated Fat:
25
g
|
Polyunsaturated Fat:
1
g
|
Monounsaturated Fat:
5
g
|
Trans Fat:
0.2
g
|
Cholesterol:
30
mg
|
Sodium:
53
mg
|
Potassium:
253
mg
|
Fiber:
4
g
|
Sugar:
28
g
|
Vitamin A:
408
IU
|
Vitamin C:
4
mg
|
Calcium:
68
mg
|
Iron:
1
mg
Share by Email
Share on Facebook
Share on Pinterest