These Disco Truffles are simple but eye-catching and add a bit of glitz to a New Year's party or other celebration! They start with a brownie truffle, stuffed with a smaller chocolate truffle, and decorated with sparkly disco dust.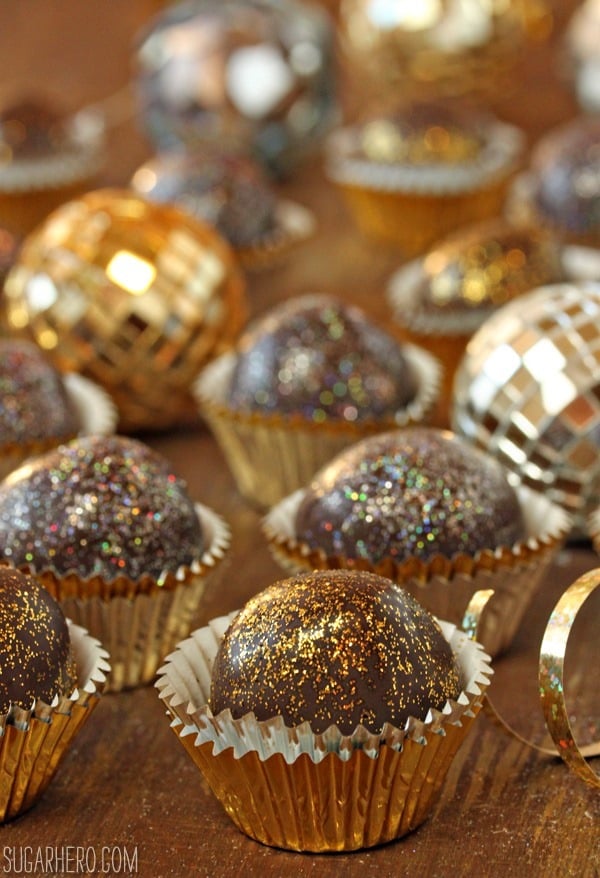 It's almost New Year's Eve, y'all! Time to do what Prince says and party like it's 1999. So switch out those smart phones for brick-sized cell phones, blast the Ricky Martin tunes, and let's all invest in some dot-coms or something. Yesss!
It's a little funny that I'm sharing a New Year's Eve party recipe, because I am so not the NYE partying type. My "biggest" NYE experience was probably the time I spent New Year's in Trafalgar Square in London. Picture huge crowds pressing in on each other, everyone drunk and boisterous and yelling, DJs playing music, people dancing and singing, and every single person taking turns blowing their smoke in my face. [True story. I think there was a sign-up sheet being passed around.]
Despite my secondhand emphysema, it wasn't all bad. I went with a group of friends and we ended up having a fun time, but it did reinforce my anti-social tendencies, and since then I've kept my New Year's Eve activities a lot more low-key.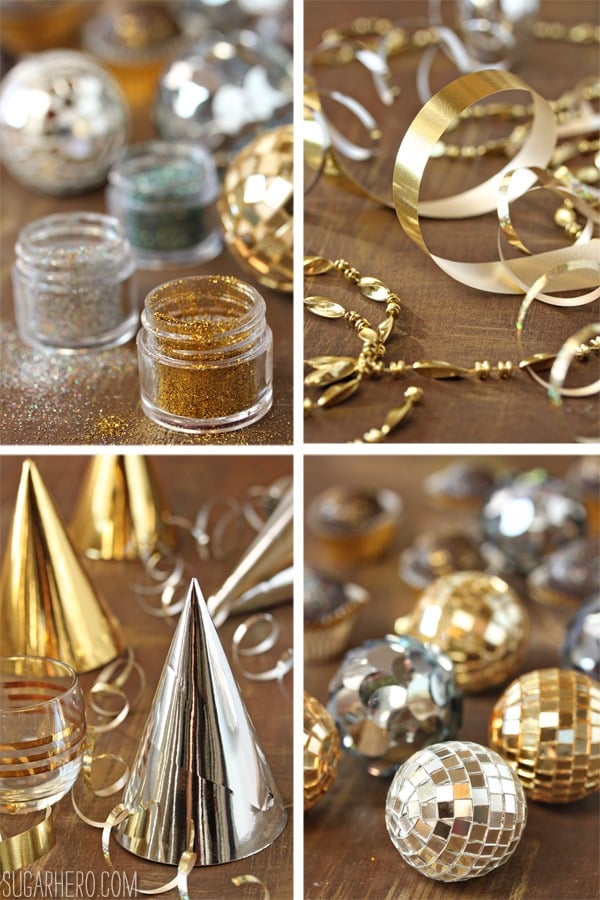 So with that being said, you should totally make these Disco Truffles for the blow-out, raging party you'll be hosting this year! Or for your quiet, intimate gathering of classy people drinking wine and discussing foreign films! Or for you and your cats and your knitting! I don't judge.
If you're looking for more chocolate decadence, check out my celebratory Champagne White Chocolate Truffles, fresh Rosemary Raspberry Truffles, or my creamy Caramelized White Chocolate Truffles.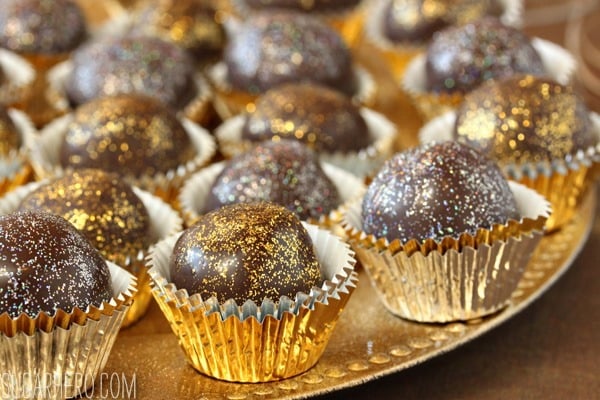 So let's talk Disco Truffles. These gorgeous truffles have all the glitz and glamour of disco, without the flared pants and John Travolta dance moves. And lest you think I'm weirdly obsessed with an outdated musical genre, they actually get their name from the "disco dust" that decorates the chocolate shell (more on disco dust, and where to find it, down below).
They're simple but eye-catching, and the silver and gold add the perfect amount of holiday sparkle to any party!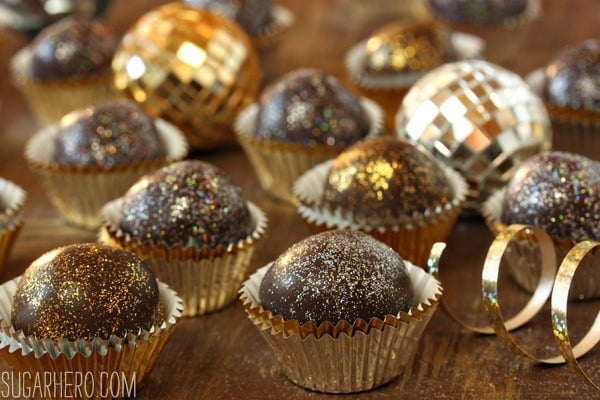 Since the disco dust decoration is the New Years-ish part of the recipe, the filling can actually be anything you'd like! Make regular truffles, cake truffles, or do what I did…combine the two! For my Disco Truffles, I made brownie truffles and stuffed them with small chocolate truffles. The whole thing is dipped in chocolate coating, so they're extra chocolatey and very rich, which seems really appropriate for a glitzy party food. I like the surprise of the chocolate truffle inside the brownie layer, but you can always simplify things and use just one element of the filling instead.
This is my favorite kind of recipe—one that looks amazing, tastes legit, but is actually pretty easy to throw together. (It's nice when the showstopping factor can be purchased in a small jar!) Of course these would also be great for any birthday party or other special occasion, so keep these in mind even if your NYE plans don't require any extra sparkle this year.
Happy 2014, friends! I'm sending you all virtual disco truffles and air kisses. See you on the other side!
Recipe Notes: Disco Dust can be found at many cake or candy supply stores, or on many online retailers, like Amazon. (Buy gold disco dust
or silver disco dust
here.) Note that disco dust is non-toxic but is not always labeled as edible. My personal feeling is that so little is consumed, a small amount doesn't hurt, but if you are concerned, read labels carefully and look for brands that are clearly labeled food-safe or edible.
Champagne White Chocolate Truffles
This Champagne White Chocolate Truffle recipe will make you want to bust out the bubbly! Luscious white chocolate is combined with champagne to produce silky-smooth truffles that melt in your mouth. These beautiful homemade truffles are perfect for New Year's Eve, Valentine's Day, or any celebration.
View Recipe
Resolution Breaker Tollhouse Pie
This Resolution Breaker Tollhouse Pie is made from a batter that's fairly thick- midway between a cookie dough and liquidy pecan pie filling. It baked up puffy and golden brown, and smelled heavenly all during the baking…also don't forget the creme fraiche ice cream!
View Recipe
Disco Truffles
Disco Truffles are brownie truffles, stuffed with chocolate truffles, and decorated with disco dust. Perfect for New Year's Eve or any party!
Ingredients
7

oz

semi-sweet chocolate,

finely chopped

2/3

cup

heavy cream

2

tsp

light corn syrup

1

tbsp

unsalted butter

19 x 13 pan brownies

,

baked and cooled, (cakey brownies are recommended–from a mix is fine)

1/4-1/2

cup

chocolate frosting

,

prepared

gold disco dust

,

for decoration, optional

silver disco dust

,

for decoration, optional
Instructions
Place the chopped semi-sweet chocolate in a medium bowl. Pour the cream into a small saucepan and add the light corn syrup and a pinch of salt. Place the pan over medium-high heat and bring it to a simmer, heating it until bubbles appear along the sides of the pan, but don't bring it to a boil.

Pour the hot cream over the chopped chocolate and let it sit for one minute to soften the chocolate. Gently whisk together the chocolate and cream until melted, shiny, and smooth. Add the butter and whisk it in until combined.

Press a layer of cling wrap on top of the chocolate ganache. Refrigerate the bowl for 1-2 hours, checking the texture every 30 minutes, until it's firm enough to roll but not rock-hard. Roll the truffles into 32 small balls, about 1/2-inch to 3/4-inch wide. If they get sticky, dust your palms with cocoa powder and roll the balls between your palms to make them round. Place the truffles on a baking sheet lined with parchment or waxed paper. Refrigerate the tray of truffles.

Crumble the brownies into a large bowl. Add 1/4 cup of chocolate frosting, and stir them together. Depending on how moist your brownies are, you may need to add additional frosting to get the brownie mixture to be a soft, moist consistency. When you squeeze it between your hands, it should easily hold a ball shape, but not be too wet or greasy.

Scoop a spoonful of brownie mixture and press it around a chocolate truffle. Roll it between your palms, and place it back on the baking sheet. Repeat until all of the truffles are covered with a brownie layer. Refrigerate the tray the brownie truffles are firm.

Melt the chocolate candy coating in a microwave-safe bowl in 30-second intervals, stirring after every 30 seconds until melted and smooth. Use dipping tools or forks to dip a truffle into the chocolate, then remove it from the bowl and let excess drip back into the bowl. Place the truffle on the prepared baking sheet, and while the chocolate is still wet, sprinkle the top with a pinch of disco dust. Repeat until all of the truffles have been dipped and decorated.

Store Disco Truffles in an airtight container in the refrigerator for up to a week. For the best taste and texture, bring them to room temperature before serving.
Measuring Tips
Our recipes are developed using weight measurements, and we highly recommend using a kitchen scale for baking whenever possible. However, if you prefer to use cups, volume measurements are provided as well. PLEASE NOTE: the adage "8 oz = 1 cup" is NOT true when speaking about weight, so don't be concerned if the measurements don't fit this formula.
Want to learn more about baking measurements and conversion?
Nutrition
Serving:
32
g
|
Calories:
206
kcal
|
Carbohydrates:
22
g
|
Protein:
0
g
|
Fat:
11
g
|
Saturated Fat:
9
g
|
Cholesterol:
8
mg
|
Sodium:
13
mg
|
Potassium:
42
mg
|
Fiber:
0
g
|
Sugar:
21
g
|
Vitamin A:
85
IU
|
Vitamin C:
0
mg
|
Calcium:
7
mg
|
Iron:
0.4
mg
Tried this recipe?
Snap a pic and hashtag it #SugarHero. We love to see your creations on our Instagram @elabau.
This post contains Amazon affiliate links. For more information, see my Affiliate and Advertising Policy.