These elegant Caramelized White Chocolate Truffles are filled with smooth, rich, intensely flavored, and perfectly caramelized white chocolate and cream. The flavor is out of this world.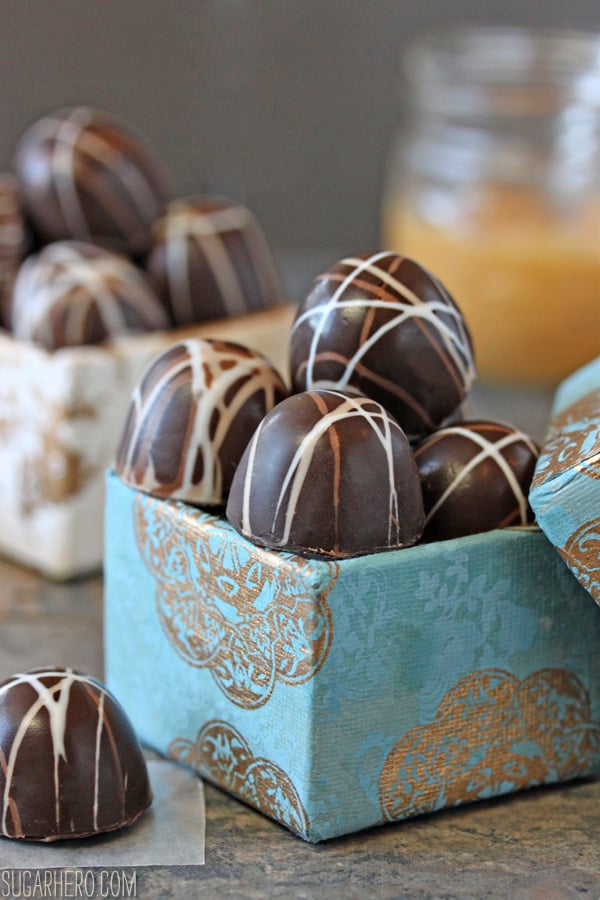 This is a game changer.
In the past, I've always tolerated white chocolate as "that other chocolate which is not nearly as good as the dark stuff, but which pairs nicely with raspberries and can be used to make mousses when you want other flavors to shine, and which is legitimately delicious in macadamia nut cookies." Okay, so that's kind of a long description, but you get the idea. I was only lukewarm on the white stuff.
But now, now that I know you can roast it in the oven and make the most amazing caramelized white chocolate, with a deep, nutty flavor with hints of brown sugar and butter? White chocolate and I are going to be verrrrry good friends.
In fact, I made these delicious Champagne White Chocolate Truffles you have to try! Check out these fun Disco Truffles and Rosemary and Raspberry Truffles for some other delightful flavors.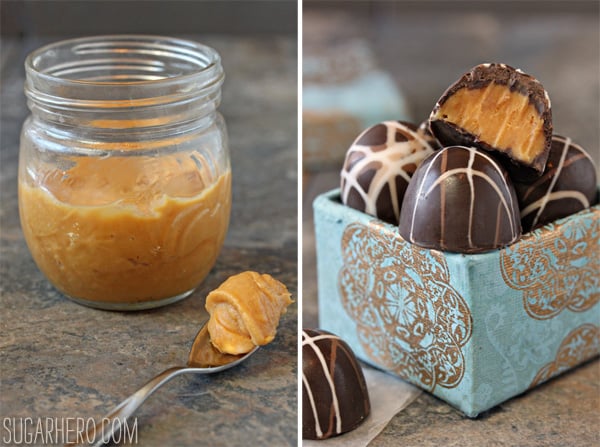 Yes, if you can believe it, that dark caramel spread pictured up there is made from caramelized white chocolate and a little bit of cream. It's smooth, rich, intensely flavored, and perfect as a filling for these elegant chocolate truffles.
I first learned about caramelizing white chocolate from David Lebovitz (of course) way back in 2009. Maybe my anti-white chocolate bias was too strong to really appreciate the implications back then, because it's taken me years to finally try it for myself. Now that I've tried it, I'm kicking myself for waiting that long, because it is not at all a hard process, and it is SO good.
The wonderful thing about caramelizing white chocolate, as opposed to making actual caramel from sugar, is that there is very little effort required. Your oven does all the work for you! That's basically every cook's dream, right? The promise of the Jetsons has finally been delivered. You can sit fanning yourself with palm fronds, reading great literature, stopping only to stir the chocolate every so often, while your oven slaves away caramelizing all those milk solids, and at the end of the process you've transformed fairly bland white chocolate into a deeply golden caramel wonderland.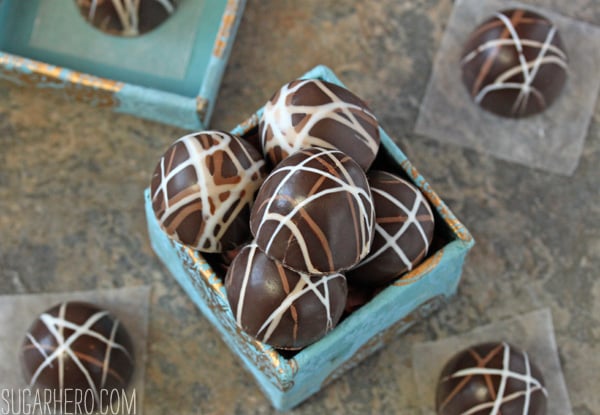 So what can you do with caramelized white chocolate? Eat it, duh. Spread it on some toast, shut the door for some privacy, and go to town. Or experiment with using it in place of melted white chocolate in baking recipes. Add a spoonful to a mug of hot cocoa or coffee along with a pinch of salt for a crazy good salted caramel experience. Or hey, mix it with some cream and make an intensely rich filling for caramelized white chocolate truffles!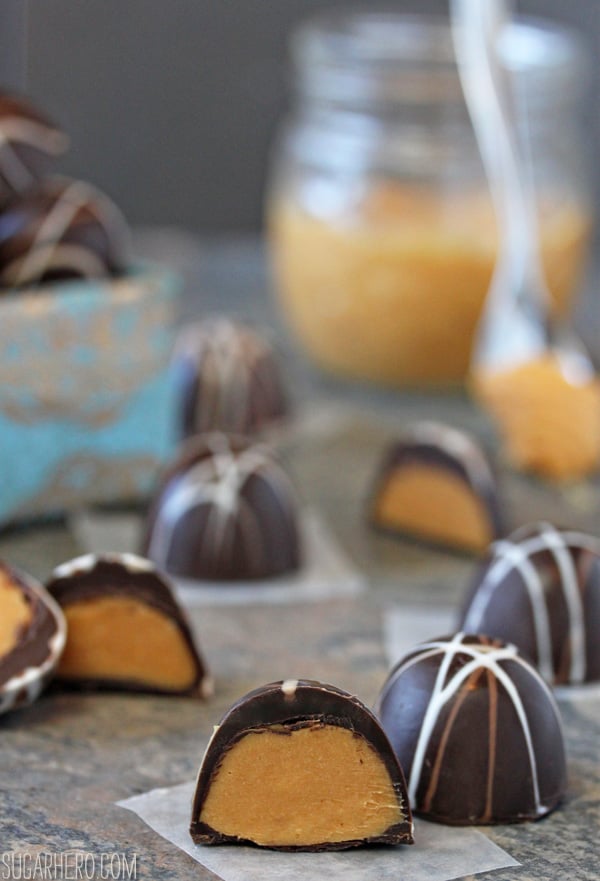 These truffles are made using a mold, which is ideal when you want a filling that's a little too soft to stand up to being rolled and dipped. I use a basic plastic truffle mold, but there are also nice silicone options out there if you're a truffle-making machine. A few stripes of contrasting candy coating on the outside is a really easy way to add a bit of elegance to the truffles–just drizzle them inside the molds before you add the chocolate, and you'll have a seamless decoration that looks like it was painted on.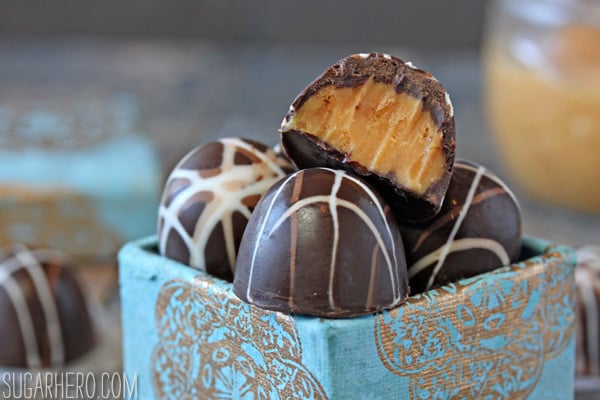 These truffles were a wonderful introduction to caramelized white chocolate, but I'm sure there are many more ways to incorporate this amazing ingredient. What do you think–how would you want to eat caramelized white chocolate?
💖More Truffle Recipes
Marbled Easter Egg Truffles
Marbled Easter Egg Truffles are a delicious homemade Easter candy! White truffles are coated with a beautiful marbled pastel swirl of colors to make these gorgeous treats.
View Recipe
Champagne White Chocolate Truffles
This Champagne White Chocolate Truffle recipe will make you want to bust out the bubbly! Luscious white chocolate is combined with champagne to produce silky-smooth truffles that melt in your mouth. These beautiful homemade truffles are perfect for New Year's Eve, Valentine's Day, or any celebration.
View Recipe
Caramelized White Chocolate Truffles
You've never had white chocolate like this before! These elegant Caramelized White Chocolate Truffles are filled with smooth, rich, intensely flavored, and perfectly caramelized white chocolate and cream. The flavor is out of this world.
Ingredients
12

oz

white chocolate,

good-quality, finely chopped (do not use white chips or any white chocolate that does not have cocoa butter listed as an ingredient)

1

tbsp

vegetable oil

Big pinch of salt

1/2

cup

heavy cream

1 1/2

lbs

chocolate candy coating melts,

tempered chocolate can be substituted, see Note below

A few ounces of white or light chocolate candy coating for decoration

,

optional

Round truffle molds
Instructions
Preheat the oven to 250 F. Place the chopped chocolate into a glass dish in a shallow layer, and pour the vegetable oil on top. Place the chocolate in the oven for 10 minutes, then stir it with a rubber spatula. Continue to bake the chocolate, stirring after every 10 minutes, until the chocolate is a beautiful dark gold color and smells caramelized. The total baking time should be about 70-90 minutes—the exact time will depend on the chocolate, your oven, and the dish you're using, so use your eyes and nose as a guide.

During the baking process, the chocolate will at times look grainy and unappetizing, but as you continue to bake and stir it, it should loosen up. Different brands of chocolate behave different, and it is possible you may need to add a touch more oil to get a smooth consistency toward the end of the process.

Remove the chocolate from the heat. Scrape it into a bowl and add a nice pinch of salt, stirring it in and adding more to taste if necessary. At this point it can be covered and saved for the next step in a day or two, or you can proceed to make the ganache immediately. If you are keeping it, the caramelized white chocolate will eventually solidify at room temperature, so you will end to microwave it gently to get it liquid again before proceeding.

Pour the heavy cream into a small saucepan and place it over medium heat. Heat the cream until it starts to simmer and small bubbles appear all along the sides of the pan. Pour the hot cream over the caramelized white chocolate and whisk them together until shiny and smooth. Let the filling cool to room temperature while you prepare the candy molds.

If you want to add striped decorations to your truffles, microwave the white or light chocolate candy coating until melted. Transfer it to a paper cone, piping bag with a small round tip, or plastic bag with a small hole cut in the tip. Pipe a few lines across each cavity of the mold, and repeat with as many colors as you'd like to use.

Place the chocolate candy coating in a microwave-safe bowl and microwave it until melted and smooth, stirring after every 30 seconds to prevent overheating. Spoon the chocolate coating into the cavities of the chocolate mold. Tap the mold gently against the countertop to remove any air bubbles. Let the chocolate sit at room temperature for several minutes, so that the chocolate thickens and just starts to set around the edges. Then, turn the mold upside-down over the chocolate bowl or a piece of parchment paper and let the excess chocolate coating drip out of the mold. Use a large chef's knife, a bench scraper, or the side of an offset spatula to scrape the top of the mold clean and remove any excess chocolate. Refrigerate the tray to set the coating completely, for about 10 minutes.

Carefully spoon the caramelized white chocolate ganache into the cavities, making sure to leave room at the top for another layer of chocolate. Make sure that the temperature of the caramelized white chocolate ganache has cooled down until it is barely warm, so that it doesn't melt through the coating.

Refrigerate the mold to set the filling, for about 10 minutes. Once set, spoon more chocolate candy coating on top of the filling to seal in the ganache. Scrape across the top of the mold again to remove excess chocolate from the top and sides of the candies. Refrigerate the molds once more to set the chocolate completely.

When you are ready to unmold the truffles, gently bend the mold to loosen the chocolates. Turn the mold out onto a sheet of parchment and flex it so that the chocolates drop out of the cavities. These Truffles can be kept at room temperature for 3-4 days, or in the refrigerator for up to 2 weeks. For the best taste and texture, serve them at room temperature.
Measuring Tips
Our recipes are developed using weight measurements, and we highly recommend using a kitchen scale for baking whenever possible. However, if you prefer to use cups, volume measurements are provided as well. PLEASE NOTE: the adage "8 oz = 1 cup" is NOT true when speaking about weight, so don't be concerned if the measurements don't fit this formula.
Want to learn more about baking measurements and conversion?
Nutrition
Calories:
173
kcal
|
Carbohydrates:
19
g
|
Protein:
0
g
|
Fat:
10
g
|
Saturated Fat:
8
g
|
Cholesterol:
6
mg
|
Sodium:
15
mg
|
Potassium:
29
mg
|
Fiber:
0
g
|
Sugar:
19
g
|
Vitamin A:
50
IU
|
Vitamin C:
0.1
mg
|
Calcium:
21
mg
|
Iron:
0
mg
Tried this recipe?
Snap a pic and hashtag it #SugarHero. We love to see your creations on our Instagram @elabau.
This post contains Amazon affiliate links. For more information, see my Affiliate and Advertising Policy.