Marbled Easter Egg Truffles are a delicious homemade Easter egg candy! White chocolate truffles are coated with a marbled swirl of pastel colors to make these gorgeous, egg-shaped treats.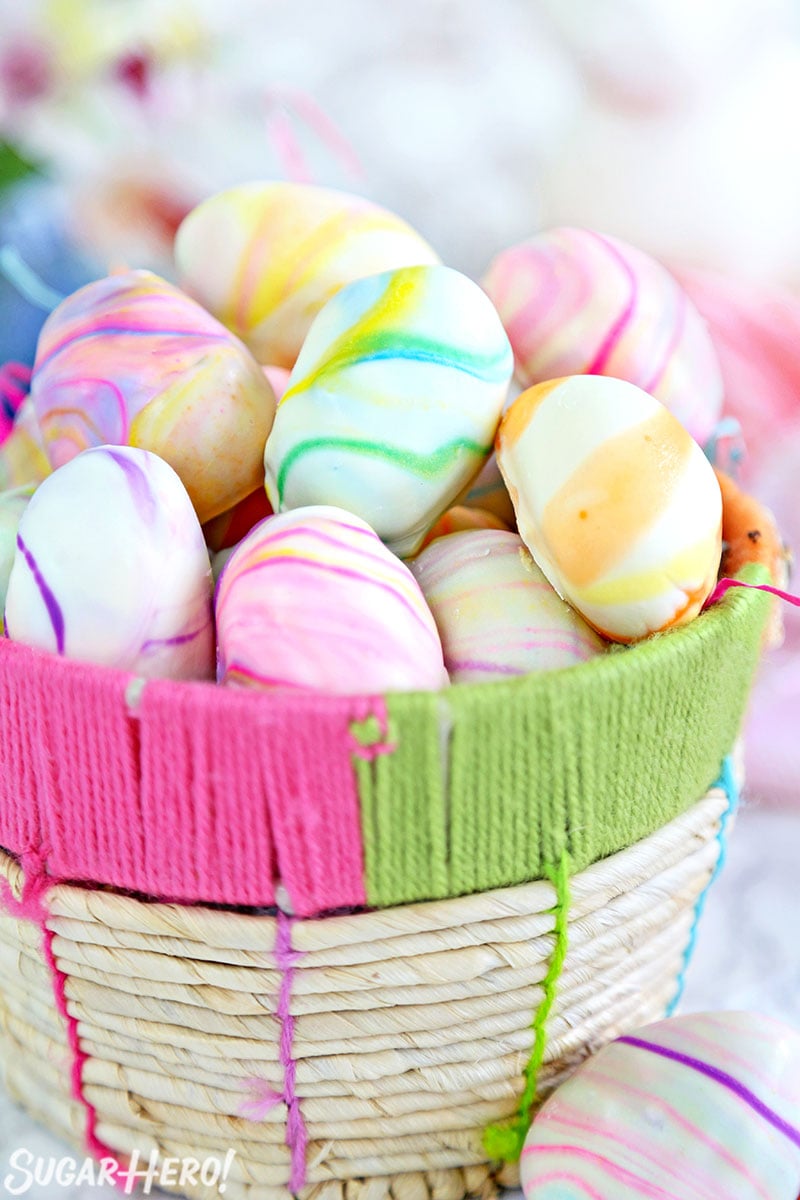 🍬 Homemade Easter Candy is the Best!
As a candyholic, it's probably no surprise I'm obsessed with making my own homemade candy. Especially when it comes to Easter candy, I much prefer to go the DIY route and make my own Easter goodies. Homemade candy is superior in every way–fresher ingredients, fewer sketchy additives, and the ability to be customized in an infinite number of ways. Don't believe me? Give my popular Peanut Butter Easter Eggs a try, and tell me they don't kick the pants off their store-bought competition!
These white chocolate Easter Egg Truffles are the perfect example of homemade Easter candy done right. They start with a base of creamy white chocolate ganache–and no, it's not caramelized this time around. We want a pure white base so that the decorations can pop against a blank canvas! The white chocolate filling is firm enough to roll and dip easily, but still smooth and supple when you eat it.
If you're looking for more gorgeous Easter recipes, checkout these delicious No-Bake Mini Cheesecakes, adorable Easter Basket and Spring Chick cupcakes, or my ultra-fudgy Easter Brownies.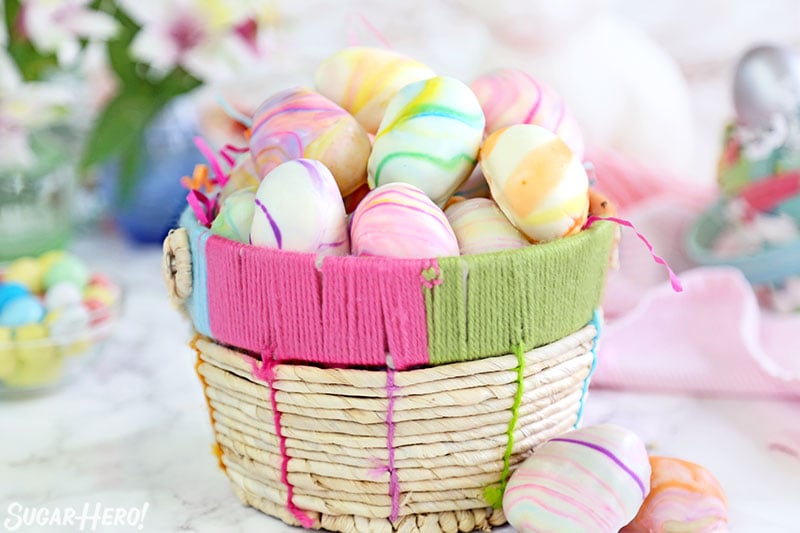 Table of Contents
🧾 What You'll Need
Ingredients
(Links are affiliate links and I earn a small commission from qualifying purchases.)
White chocolate:

Not all white chocolate is created equal! The quality of the chocolate you use drastically impacts how your truffles will turn out. I recommend using high-quality white chocolate bars (like Lindt bars) or callets (like Callebaut) for the best results. Using "white chips" that are not real white chocolate might produce disappointing results. See the What is White Chocolate? explainer section below for more information and white chocolate recommendations.
Vanilla: When I'm trying to keep these simple and classic, I'll use vanilla bean paste or vanilla extract, but when I want to jazz them up a little, I'll add a bit of lavender, lemon, or orange extract along with the vanilla. Anything light and springy will work wonderfully with the white chocolate.
Heavy cream: Heavy cream or whipping cream will both work. I prefer heavy cream because of the higher fat content. More fat=more delicious!
Butter: A bit of butter makes the truffle texture even smoother, creamier, and richer.

White candy coating:

This is what I use to coat the truffles. You could use more white chocolate, but a) that's expensive, and b) it would need to be tempered in order to be stable at room temperature. I like the convenience of using easy-to-find white candy coating instead. Plus, using colored candy coating makes it easy to create the pastel swirls!

Colored candy coating:

You can pick a few colors, or use all the colors of the rainbow! I recommend at least 2-3 to give you a nice multi-colored swirl every time.
Equipment
You don't need any specialty tools to make these white chocolate truffles, but you might find the rolling and dipping process easier with a few candy gadgets. (Links are affiliate links and I earn a small commission from qualifying purchases.)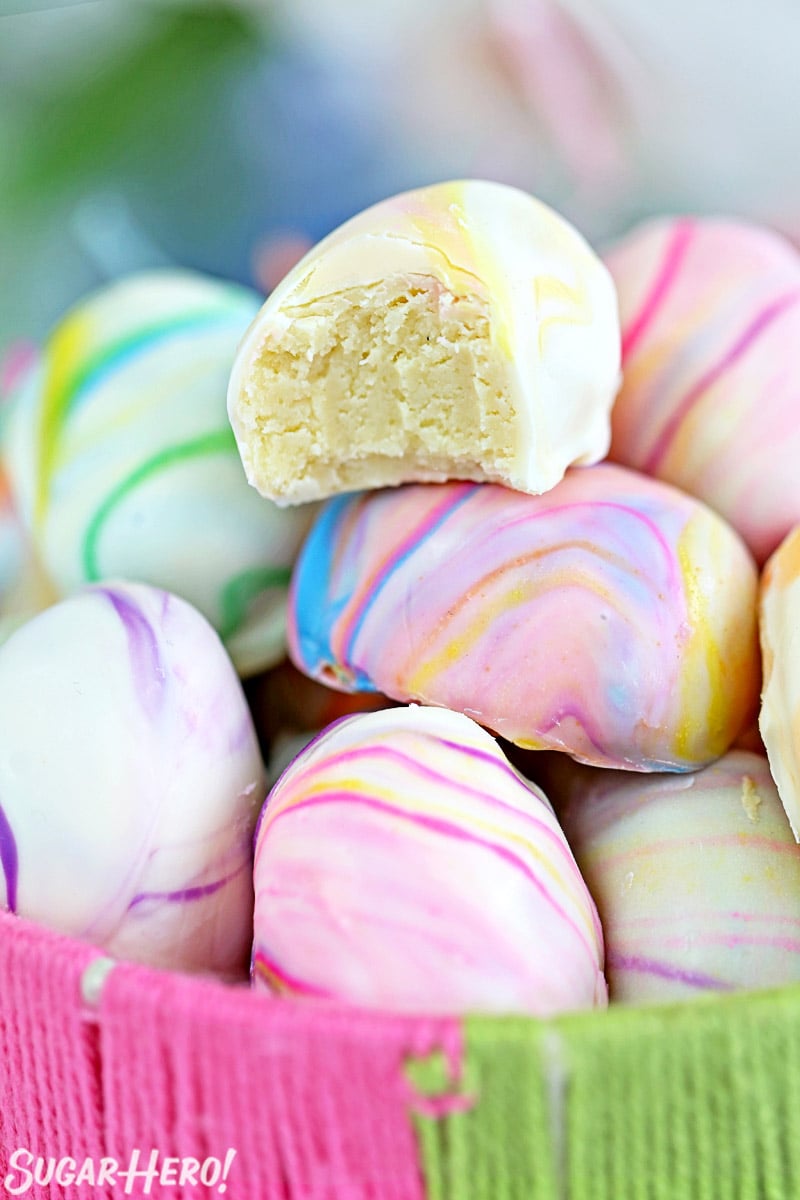 💡 White Chocolate Truffles FAQs
Peanut Butter Easter Eggs
This homemade Peanut Butter Easter Eggs recipe has a sweet, salty, slightly crumbly peanut butter filling, a coating of creamy chocolate on the outside, and sweet pastel decorations for that perfect Easter touch.
View Recipe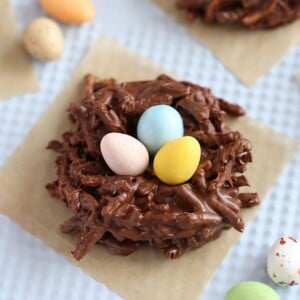 Chocolate Easter Bird's Nest Cookies
Chocolate Nests are a quick and easy Easter treat. These 4-ingredient no-bake cookies are made with chocolate, peanut butter, and chow mein noodles, then topped with chocolate mini eggs.
View Recipe
Marbled Easter Egg Truffles
Marbled Easter Egg Truffles are a delicious homemade Easter candy! White truffles are coated with a beautiful marbled pastel swirl of colors to make these gorgeous treats.
Ingredients
12

oz

white chocolate

melted

1/4

cup

heavy cream

2

tbsp

unsalted butter

1

tsp

vanilla extract

or other flavor of your choice

Powdered sugar

1 1/2

lbs

white candy coating melts

2

oz

each of different-color candy coating melts
Instructions
Place the melted white chocolate in the bowl of a food processor.

In a small saucepan combine the cream and butter; place the pan over medium heat. Bring the mixture to a simmer, stirring occasionally, but don't allow it to boil.

With the food processor running, carefully pour the hot cream mixture through the feed tube into the white chocolate. Process the mixture until smooth, stopping to scrape the sides of the bowl if necessary. If the oil starts to separate from the white chocolate, continue to process until it becomes smooth again and has the thick texture of cake batter. Add the vanilla extract and process briefly to mix it in.

Scrape the white chocolate mixture into a bowl and chill in the refrigerator for 2 to 3 hours, or until very firm.

Dust your hands with powdered sugar. Form the white chocolate into balls, then roll one end of each ball between your palms and pinch it gently to make an egg shape. Place the eggs on a baking sheet covered with parchment paper or waxed paper. Refrigerate the eggs while you prepare the candy coating.

Melt the white candy coating in the microwave in 30-second increments, stirring after every 30 seconds to prevent overheating. Divide the white coating between 3 bowls–you will work with 1 bowl at a time, so keep 2 in reserve and just work with 1 initially.

Place each color of candy coating disks in separate small bowls. Melt each color of candy coating.

Use a spoon to drizzle several different colors of candy coating on top of the first bowl of melted white coating. The colors will mix together as you dip the truffles, so try to choose colors that blend well and won't immediately produce a muddy color. Don't worry about swirling them together — the dipping process will handle that!

Submerge a truffle completely in the coating. Use a fork or dipping tools to fish it out of the coating. As you bring it out of the bowl, swirl it around a little to make sure that the top is coated with a variety of colors. Place the truffle back on the baking sheet, and repeat with the next truffle.

After dipping several truffles, the candy coating colors in the bowl will become indistinct, so at this point, drizzle more colored candy coating on top of the white coating to get vibrant swirls. Repeat until the coating in the bowl is too low for dipping or until the white coating is no longer white. Scrape the coating out of the bowl (it can be saved and used for another purpose) and use your reserved bowls of white coating just like you did the first. Repeat this process, using different colors, until all of your truffles are dipped.

Refrigerate the tray to set the coating, about 15 minutes. For the best taste and texture, serve these truffles at room temperature.
Video
Measuring Tips
Our recipes are developed using weight measurements, and we highly recommend using a kitchen scale for baking whenever possible. However, if you prefer to use cups, volume measurements are provided as well. PLEASE NOTE: the adage "8 oz = 1 cup" is NOT true when speaking about weight, so don't be concerned if the measurements don't fit this formula.
Want to learn more about baking measurements and conversion?
Nutrition
Calories:
100
kcal
|
Carbohydrates:
16
g
|
Fat:
9
g
|
Saturated Fat:
7
g
|
Cholesterol:
8
mg
|
Sodium:
26
mg
|
Potassium:
42
mg
|
Sugar:
16
g
|
Vitamin A:
70
IU
|
Vitamin C:
0.1
mg
|
Calcium:
30
mg
|
Iron:
0
mg
Tried this recipe?
Snap a pic and hashtag it #SugarHero. We love to see your creations on our Instagram @elabau.