This post may contain affiliate links. As an Amazon Associate I earn from qualifying purchases. Please see my disclosure policy for more information.
These Grapefruit Curd Tarts have a grapefruit curd poured into mini tarts and are topped with fresh mint whipped cream and a scattering of edible flower petals…the interplay between the flavors is amazing!
I am such a sucker for a good deal. While shopping recently, I noticed that the store was selling 6 grapefruit for $1. Instantly my grapefruit alert levels skyrocketed from Complete Apathy to I Need Six Grapefruit IMMEDIATELY. I tossed them in my cart with Michael Jordan aplomb and gave myself giant pats on the back for being such a clever shopper.
Cut to several weeks later, when six grapefruit are still staring at me accusingly from my overstuffed refrigerator. Suddenly I'm not the World's Smartest Shopper, I'm the World's Biggest Sucker, and I need to get rid of those grapefruit stat.
I ate a few of them plain, but I also saved a few to use in a dessert. I haven't baked with grapefruit since making Grapefruit Meringue Pie earlier this year, and it was definitely time to work some sugar magic on my tart little friends.
I ended up making a grapefruit curd and pouring it into mini tarts, topped with fresh mint whipped cream and a scattering of edible flower petals. (You may be wondering about the economics of buying cheap fruit and then combining them with lots of expensive butter and sugar and cream…shush, shush my pet…none of that logic here…) The important thing is that I got a screaming deal on grapefruit, and put it to excellent use in these tarts. Giant back pats all around.
The best part about these tarts, for me, was the interplay between the tart grapefruit, buttery crust, and refreshing mint whipped cream. I wish I could take credit for thinking up the grapefruit + mint combination, but the truth is, I totally stole this idea from my new favorite book: The Flavor Bible
.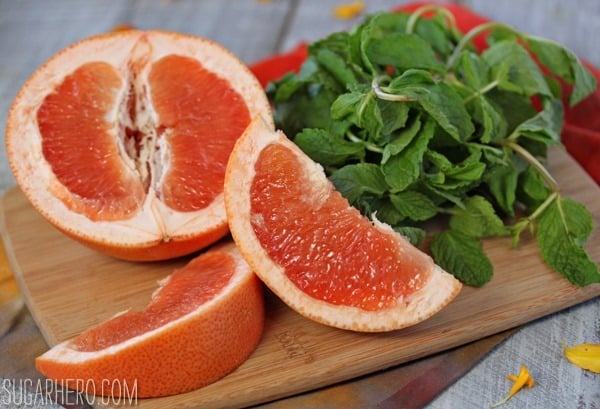 I bought The Flavor Bible
a few months ago, and it's quickly becoming my go-to resource when I'm dreaming up new recipes. It's basically a huge listing of foods, and the flavors that pair best with them. The authors interviewed dozens of chefs and compiled their feedback into lists of complimentary flavors. For instance, in the listing for grapefruit, some of the suggested pairings are Champagne, ginger, honey, lemon and lime, fresh mint, and pomegranate. (There are dozens more suggestions, but you get the idea.) Some of the pairings are obvious, like lemon and lime with grapefruit, or cinnamon with apples, but some of them are combinations I'd never considered before. Ginger-grapefruit scone? I'm coming for you next.
They also include snippets from interviews with the chefs, where they provide mini-recipes for working with these flavor combinations. Of course it's all subjective, and I'm not sold on every combination listed, but overall The Flavor Bible
has been a great resource and a way to spark my imagination. I linked to the physical book, but I bought the Kindle version and just open it up on my computer when I want to consult with it—it's cheaper, and unlike most cookbooks, I don't think it loses anything in the formatting or presentation when viewed electronically. (I should note that those are Amazon affiliate links, but I'm not being paid or perked in any way to promote this book—I'm sure the authors have no idea I exist. I just really, really love it and thought you guys might find it useful too!)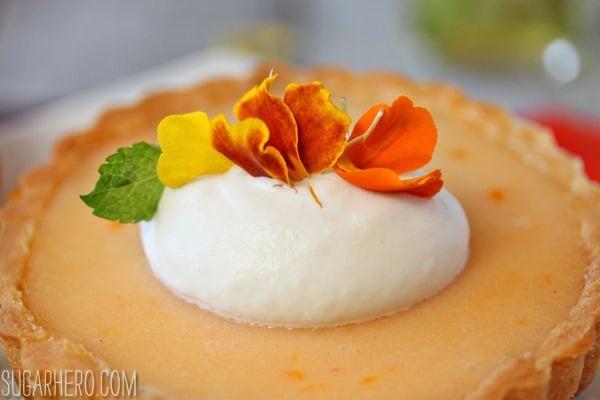 My other favorite thing about these tarts was the scattering of edible flower petals on top. It's amazing how just a few bright petals immediately elevate the tarts from "business as usual" to "hot dog, that's one beautiful tart!"
I buy my edible flowers at Whole Foods—they're sold next to the prepackaged herbs in the produce department. I imagine some farmer's markets might carry them too, but mine does not. It only takes a few petals to make these tarts pop, and so I usually end up adding the rest of the flowers to our salads throughout the week, and we pretend that we are Very Fancy People Indeed.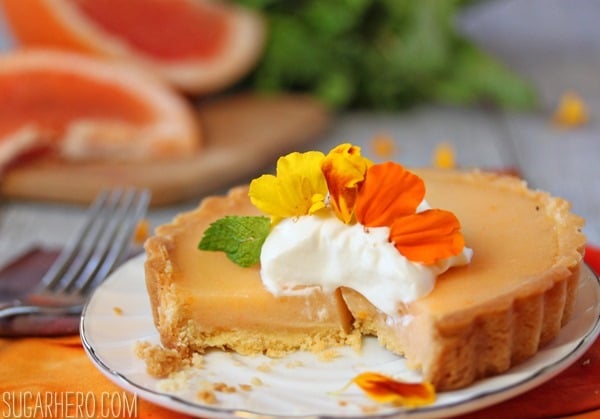 So there you have it—discount grapefruit, obsessive cookbook reading, and flower munching, all combined into one handy dessert. Just business as usual in the SugarHero kitchen.
Grapefruit Curd Tarts
These Grapefruit Curd Tarts have a grapefruit curd poured into mini tarts and are topped with fresh mint whipped cream and a scattering of edible flower petals…the interplay between the flavors is amazing!
Ingredients
For the Tart Shells:
1 1/2

cups

all-purpose flour

1/2

cup

powdered sugar

1/4

tsp

salt

5

oz

cold unsalted butter

1

large egg yolk
For the Grapefruit Curd:
1 1/2

tsps

unflavored powdered gelatin

3

tbsp

cold water

4

oz

unsalted butter

,

at room temperature

1 1/3

cup

granulated sugar

3

large eggs

3

large egg yolks

1

cup

fresh grapefruit juice

2

tsp

fresh grapefruit zest

1

TBSP

fresh lemon juice

, can increase to

1 1/2

TBSP if desired

pinch of salt
For the Fresh Mint Whipped Cream:
1

cup

heavy cream

1/2

cup

fresh mint leaves

,

lightly packed

1/4

cup

powdered sugar
Instructions
To Make the Tart Shells:
Combine the flour, sugar, and salt in the bowl of a food processor, and pulse briefly until everything is well-blended. Add the cold cubed butter and pulse until it is in small pea-sized pieces. Add the egg yolk and pulse in long 5-second bursts until the dough starts clumping together.

Turn the dough out of the food processor and knead it lightly several times to incorporate any extra flour. At this point, the dough can be wrapped and refrigerated for several days. If you're ready to use it now, spray five 6-inch tart pan with removable bottoms with nonstick cooking spray.

Press the dough into the bottoms and sides of the pans in an even layer. Freeze the shells for 30 minutes, and while they're in the freezer, preheat the oven to 375 degrees F. Spray the tops of the tart dough with nonstick spray, then press a sheet of foil onto the shells, shiny side down, and fill the foil with dry beans, rice, or pie weights.

Bake the shells for 15 minutes, until the sides start to take on a little color and the center no longer looks raw, then carefully remove the foil and weights. Bake for an additional 10 minutes, until the shells are golden brown. You might want to cover the sides with foil to prevent them from getting too dark. Let the shells cool completely before filling them
To Make the Grapefruit Curd:
Whisk together the gelatin and cold water in a small bowl, and set aside to let the gelatin absorb the water.

Fill the bottom of a double boiler (or a regular saucepan) with about an inch of water and bring it to a simmer on the stovetop. In a large mixing bowl, cream together the butter and the sugar with a handheld or stand mixer until the mixture is light and fluffy. Slowly add the eggs and yolks, and beat for 1 minute more. Add the grapefruit juice and mix—at this point the mixture will look curdled.

Pour the liquid into the top of a double boiler or a bowl that fits snugly over your saucepan. (I actually like to use the metal mixing bowl that goes on my stand mixer so I'm not dirtying too many dishes.) Cook the mixture over the simmering water, whisking frequently, until it thickens enough to coat the back of a spoon. If you want to use a candy thermometer, cook the curd until it reaches 175 degrees F.

Once the curd thickens, remove the pan from the heat and pour it through a fine mesh strainer into a large bowl to remove any bits of cooked egg. Microwave the small bowl of gelatin for 10 seconds, until it is liquid. Add the grapefruit zest, 1 tbsp fresh lemon juice, and liquefied gelatin to the bowl of grapefruit curd, and whisk well. Give it a taste, and add more lemon juice if desired, to get it as tart as you like.

Pour the curd into the baked and cooled tart shells, and transfer them to the refrigerator. Chill until the curd is set. Once set, top with fresh mint whipped cream and edible flower petals, if desired.
To Make the Fresh Mint Whipped Cream:
Combine the heavy cream and fresh mint leaves in a small saucepan over low heat. Heat until the cream is warm, but don't allow it to come to a boil. Once warm, remove from the heat, cover, and let it sit and infuse the cream with mint flavor for 20 minutes. After 20 minutes, remove the mint and chill the cream in the refrigerator until cold.

Beat the cold cream with the powdered sugar until it holds medium peaks. Dollop the cream on top of the tarts.
Recipe Notes
I always like to add a little gelatin to my curds when I use them for tarts. I think this gives them a little more stability and makes them easier to cut and eat, especially if they're going to sit at room temperature a bit before serving. The small amount of gelatin in this recipe will make the curd more stable but won't make it jiggly or gummy. If you're not a gelatin fan or don't have any available, it can be omitted, and you will just need to keep the tarts refrigerated until you're ready to serve them.
MEASURING TIPS
Our recipes are developed using weight measurements, and we highly recommend using a kitchen scale for baking whenever possible. However, if you prefer to use cups, volume measurements are provided as well. PLEASE NOTE: the adage "8 oz = 1 cup" is NOT true when speaking about weight, so don't be concerned if the measurements don't fit this formula.
Click here to learn more about baking measurements and conversion.
Nutrition
Calories:
1054
kcal
|
Carbohydrates:
107
g
|
Protein:
12
g
|
Fat:
65
g
|
Saturated Fat:
39
g
|
Cholesterol:
429
mg
|
Sodium:
189
mg
|
Potassium:
200
mg
|
Fiber:
1
g
|
Sugar:
76
g
|
Vitamin A:
2325
IU
|
Vitamin C:
16.3
mg
|
Calcium:
86
mg
|
Iron:
2.8
mg
Share by Email
Share on Facebook
Share on Pinterest