These Pistachio-Rose Tarts begin with a buttery crust that has a delightful pistachio mousse spooned on top of tart raspberry jam. They are embellished with fresh raspberries and elegant rose whipped cream!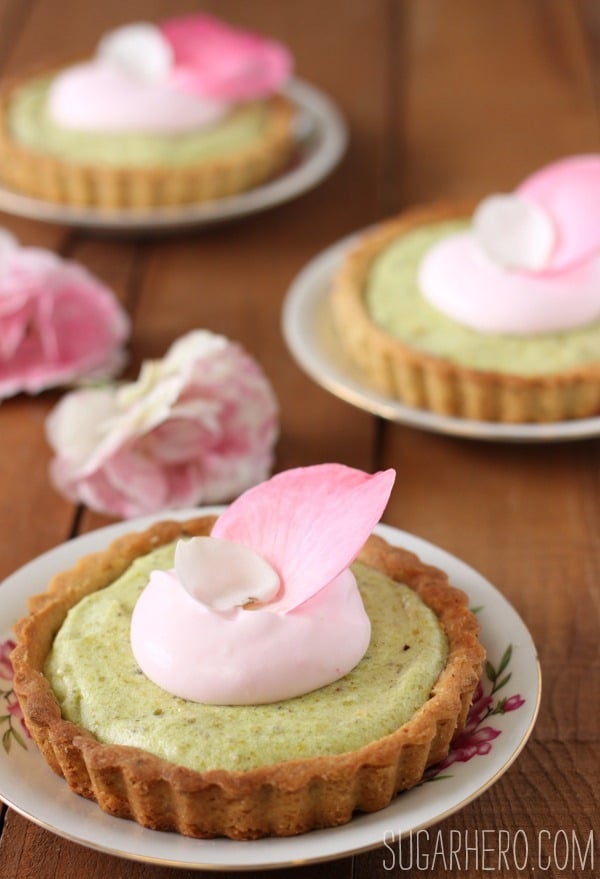 Pistachio is a flavor I've come to appreciate only recently, now that I'm an adult.
When I was younger, I knew pistachio as simply "that ice cream flavor that looks like mint chip but– annoyingly, emphatically– is NOT mint chip." (Seriously, why do they do that? It's cruel.)
However, now that my tastebuds are all grown up, I really love the sweet, mild nuttiness of pistachio, and the artist in me loves the delicate pale green color it can bring to springtime desserts.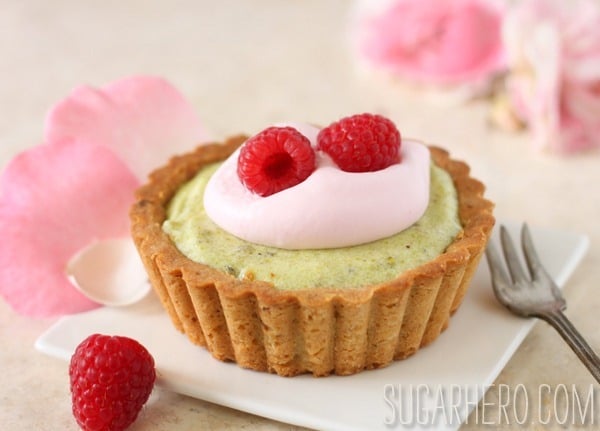 Jason brought home an 8-pack of raspberry pints recently (bless that boy) and after we scarfed two of them down, Cookie Monster-style, I quickly claimed two more in the name of dessert. I have learned the hard way that unclaimed berries do not last long in the wilds of our refrigerator.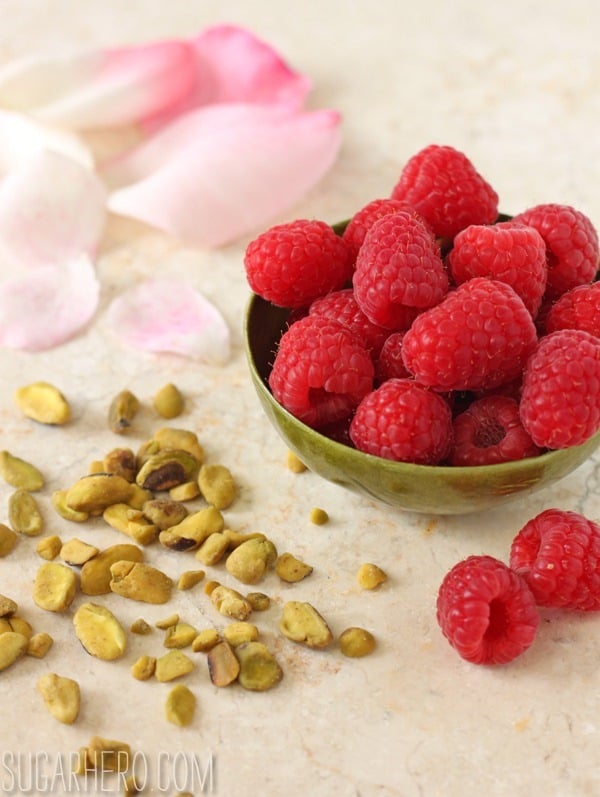 It didn't take me long to decide what to make with my berries. When I looked at the raspberries, a weird neural pathway in brain fired—ping!—and said "Pistachios!" As soon as the thought appeared, there was another one—ping!—that said "Roses!" Shortly thereafter, there was a final ping, and this one said simply, "Genius!" Have I mentioned my brain's a bit of a braggart?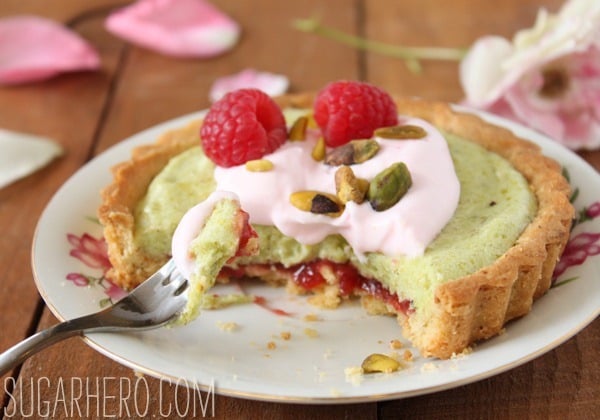 After all of those mental gymnastics, though, raspberries are just a supporting player in these tarts. The real star are the pistachios, which appear in both the buttery, crispy tart crust and in the soft mousse filling the tarts. The mousse is spooned on top of tart raspberry jam, and then fresh raspberries are used as a garnish atop the rose whipped cream—oh, did I forget to mention the rose whipped cream? My apologies, because: NOM NOM NOM.
Rose is yet another flavor I hated when I was younger that I'm kind of obsessed with now. Back then it was the culinary equivalent of eating soap, and now I just can't get enough. It's the perfect flavor to go with softly whipped, lightly sweetened cream. I guess between the pistachio and the rose, these are tarts for mature tastes, or as I like to think of them, adult tarts.
Hm. On second thought, maybe I won't call them that.
At any rate, these little desserts are light and fresh and taste like springtime on a plate…and folks of all ages can appreciate that!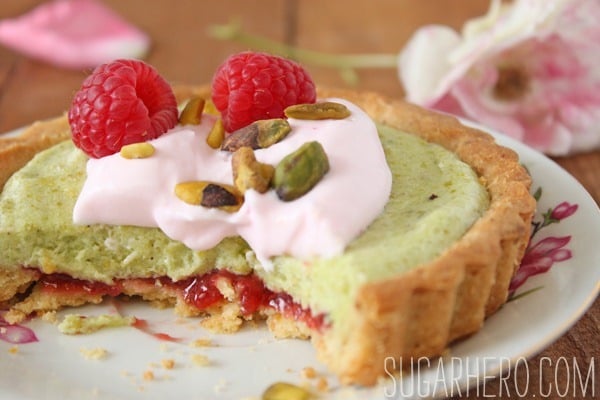 💗More Pistachio Desserts You'll Love:
Pistachio-Rose Tarts
These Pistachio-Rose Tarts begin with a buttery crust that has a delightful pistachio mousse spooned on top of tart raspberry jam. They are embellished with fresh raspberries and elegant rose whipped cream!
Ingredients
Instructions
To make the Pistachio Tart Dough:
Put the flour, ground nuts, powdered sugar and salt in the bowl of a food processor and pulse a couple of times to combine.

Add the butter and pulse until the butter is cut in coarsely.

Add the egg yolk and process in long pulses – about 10 seconds each – until the dough just starts forming clumps. Just before your reaches this clumpy stage, the sound of the machine working the dough will change.

Turn the dough out onto a lightly floured surface and knead it a few times to incorporate any flour left in the bottom of the bowl. Divide it into five pieces.

To fill and bake the tart shells, spray the 6-inch shells with nonstick cooking spray. Press the dough into the shells in an even layer. Freeze the tarts for half an hour while you preheat the oven to 375 degrees F.

Once the tart shells are frozen, press foil or parchment onto the dough and fill them with beans or rice. Bake off the shells until they are light brown, about 12-15 minutes, rotating halfway throughout. Carefully remove the parchment or foil and beans.

Return the shells to the oven and bake for another 7-8 minutes, until golden brown on bottom and cooked throughout. Let them cool completely at room temperature before filling them.

Spread a thin layer of raspberry jam in the bottom of each tart shell before you make the pistachio mousse.
To make the Pistachio Mousse:
Melt the white chocolate in a small bowl in the microwave, and set it aside for now.

Grind the pistachios in a food processor until they are in small pieces. Add the powdered sugar and continue to grind them—the sugar will help prevent the nuts from clumping and will give you a finer texture. Process the nuts until they are a very fine powder, but stop before they start to turn into nut butter.

Place 1 inch of water in the bottom saucepan of a double boiler, and bring it to a simmer. Combine the eggs and the sugar in the top half of a double boiler, and whisk them together. (Alternately, you can use a regular saucepan with a tight-fitting metal or glass bowl on top.) Put the eggs and sugar over the double boiler and continue to whisk them constantly as the mixture heats up. Whisk and heat the eggs until they are thick and creamy, with a texture almost like pudding.

Once thickened, remove the eggs from the heat. Stir in the melted white chocolate and the almond extract, then stir in the ground pistachios. Refrigerate the mixture to cool off while you whip the cream.

In a mixing bowl, whip the cream with a whisk attachment until it forms firm peaks. Fold the cream into the cooled pistachio mixture. Divide the mousse evenly between the five tart shells, and spread it into an even layer on top. Refrigerate the shells to set the mousse, for at least 6 hours or overnight.
To Make the Rose Whipped Cream:
For best results, chill the mixing bowl and whisk attachment for 15 minutes before you begin. Begin to beat the heavy cream in a mixing bowl with a whisk. Gradually add the powdered sugar and the rose water. Beat until stiff peaks form. Taste the whipped cream and add a little more rose water if you'd like a stronger flavor. You can also add a touch of pink food coloring to give it a rose color, if desired.
To finish the tarts:
Top each tart with a generous spoonful of rose whipped cream, and garnish them with fresh raspberries, chopped pistachios, and/or pesticide-free rose petals.
Measuring Tips
Our recipes are developed using weight measurements, and we highly recommend using a kitchen scale for baking whenever possible. However, if you prefer to use cups, volume measurements are provided as well. PLEASE NOTE: the adage "8 oz = 1 cup" is NOT true when speaking about weight, so don't be concerned if the measurements don't fit this formula.
Want to learn more about baking measurements and conversion?
Nutrition
Serving:
5
g
|
Calories:
899
kcal
|
Carbohydrates:
87
g
|
Protein:
11
g
|
Fat:
57
g
|
Saturated Fat:
30
g
|
Cholesterol:
243
mg
|
Sodium:
370
mg
|
Potassium:
340
mg
|
Fiber:
3
g
|
Sugar:
51
g
|
Vitamin A:
1735
IU
|
Vitamin C:
4.2
mg
|
Calcium:
112
mg
|
Iron:
2.7
mg
Tried this recipe?
Snap a pic and hashtag it #SugarHero. We love to see your creations on our Instagram @elabau.