This post may contain affiliate links. Please see my disclosure policy for more information.
These Baileys Chocolate Caramel Tarts are outrageously good! With their buttery tart shells, Baileys salted caramel filling, and glossy chocolate topping, these mini tarts are delicious, gorgeous, and great for St. Patrick's Day–or any time of year!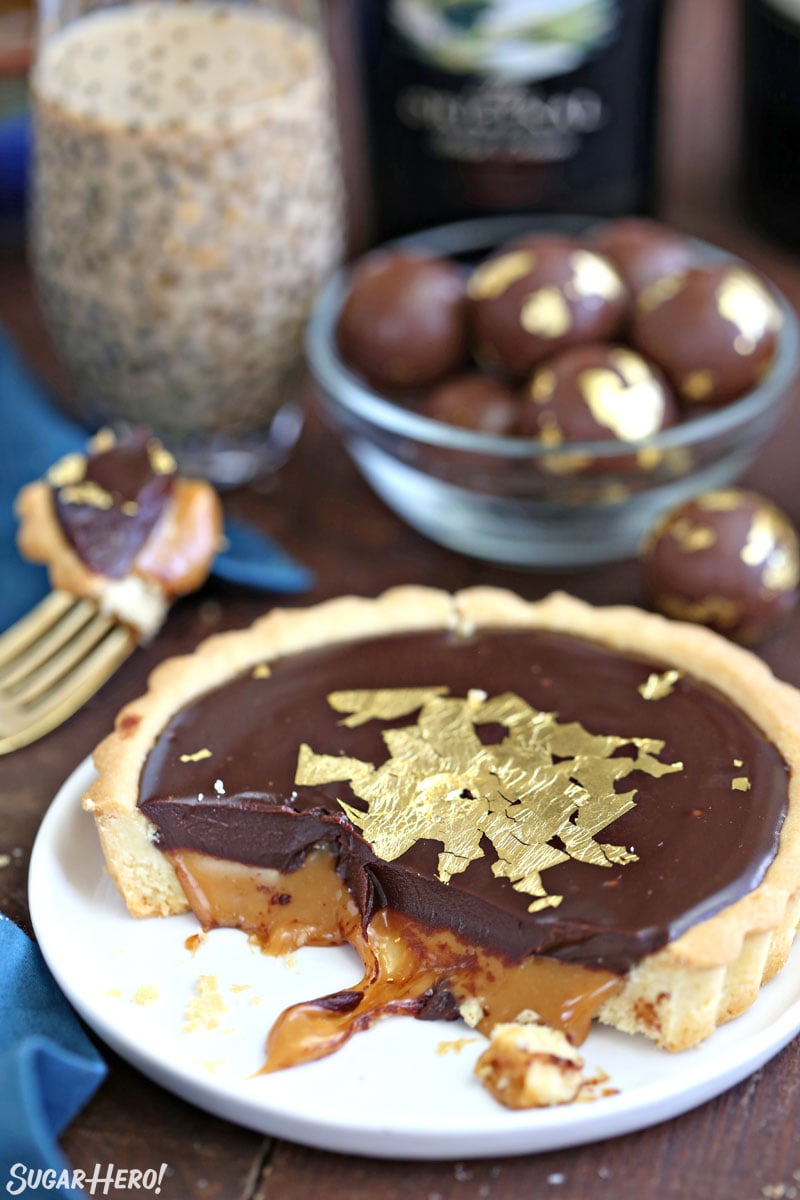 Chocolate Tart with Baileys Caramel
I love every recipe I share here with you, but I am especially excited to share these gorgeous mini tarts today. They're made with Baileys Irish Cream, so you can call off the hunt for the perfect St. Patrick's Day dessert now.
But there's no law that says we can only enjoy Baileys one holiday a year (thank goodness!), so I'm sharing these with you in the hopes that they become your new favorite go-to when you need a sorta fancy, but also really easy, tart recipe.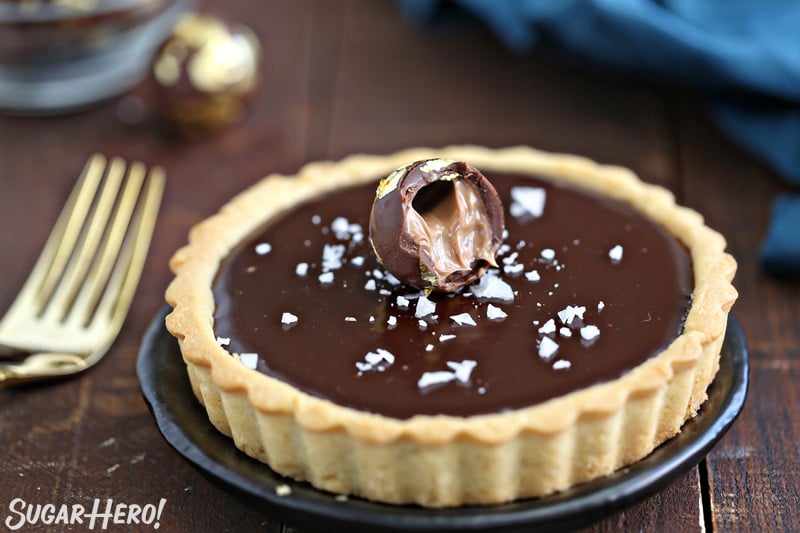 Here's what's going on under that glossy chocolate glaze. We have:
a buttery tart shell
rich, creamy caramel
a silky-smooth chocolate ganache
a hefty sprinkle of flaked sea salt
Gold leaf (if you're fancy!) or store-bought chocolate truffles, or both!
Let's break these tarts down. They start with my tried-and-true tart dough. It's the BEST because it's super crisp and buttery, easy to make in the food processor, and requires no fiddly rolling and chilling before pressing it into the pan.
Basically, it's the little black dress of tart doughs, and I love any excuse to make up a batch!
This tart dough is wonderful with these chocolate/caramel flavors, but it also works beautifully with fruit, like in these Persimmon Almond Rosette Tarts, and this Candied Kumquat Tart.
If you want a chocolate tart dough variation, check out these Dulce de Leche Swirled Tarts, or these Matcha Chocolate Tarts.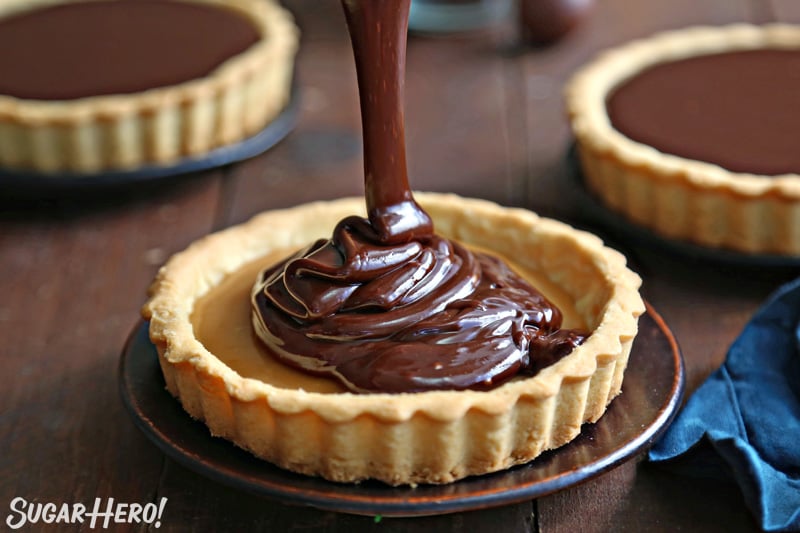 Easy Baileys Salted Caramel
The first layer of filling is a salted caramel made with Baileys Irish Cream liqueur. Caramel may seem intimidating, but for these tarts, we're taking the cheater's route and using store-bought caramels. I know. But I was thinking of you!
The tart already has 3 components, so I wanted to simplify the recipe a bit. Plus, the addition of Baileys makes the caramel really flavorful, and more than makes up for the usual mediocre taste of wimpy store-bought caramels.
(I was right, by the way. The caramel is legit, lick-it-off-the-spoon-then-dive-for-the-bowl delicious!)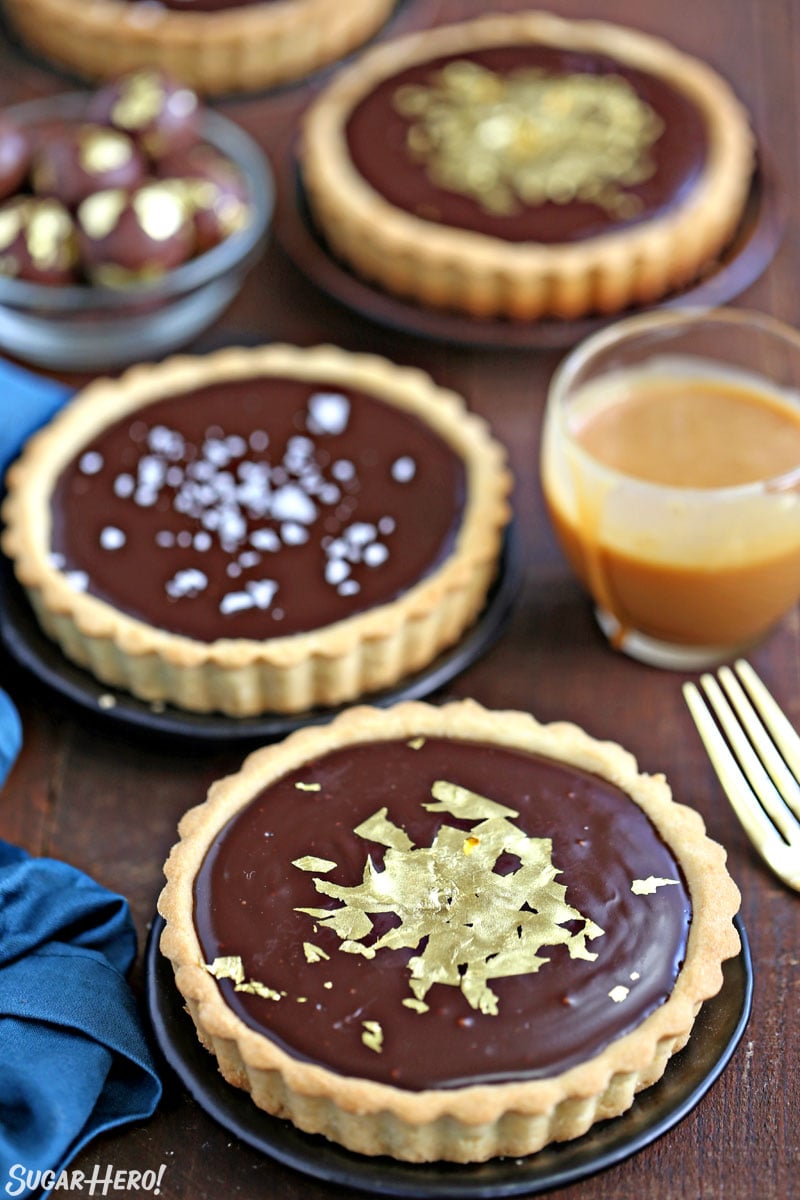 Finish the Tarts with A Baileys Chocolate Ganache
The top layer is a silky-smooth chocolate ganache made with equal parts Baileys and cream. The Baileys flavor is a little more subtle in this layer, just a light note in the background of the dark chocolate ganache.
I love all the textures in these tarts. The shells are crisp and buttery, the caramel is soft but not runny, and the chocolate has a similarly luscious, in-between texture: substantial enough to hold its shape when you cut into it, but soft enough so that it starts melting as soon as it hits your mouth.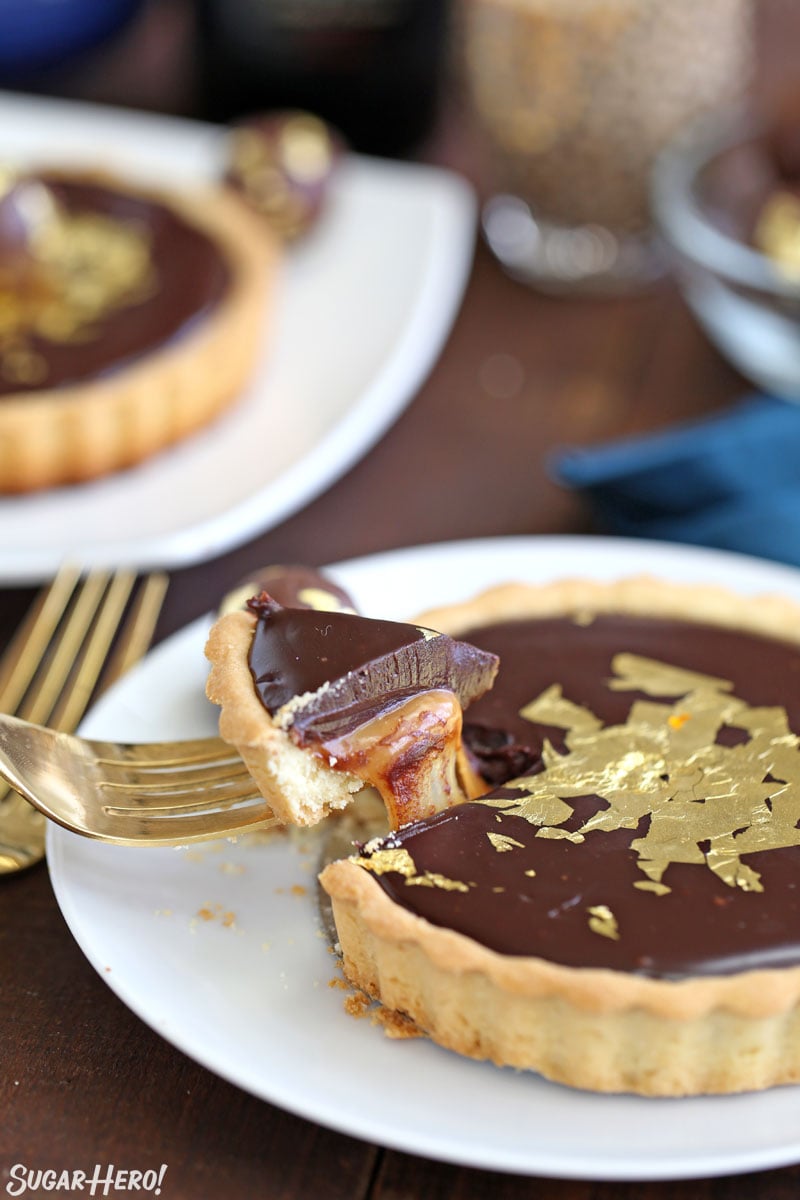 Now if you're thinking to yourself, "Self, this seems like a lot of Baileys. I am not a boozehound. Is this recipe for me?"
Let me answer you:
A) of course you're not a boozehound! Don't be ridiculous. And also,
B) this recipe is ABSOLUTELY for you. I didn't find the final flavor to be overwhelmingly alcoholic, at all, but if you're not into it, you can swap heavy cream for some (or all!) of the Irish Cream, and it will work out just as well.
This recipe comes together easily, so you'll have a little time to finish these tarts and really make them pop. You have a lot of finishing options!
Sea salt–add a small (or large!) pinch of flaked sea salt to really make the chocolate and caramel sing
Gold leaf — if these are for a special occasion! It's edible, easy to apply, and did I mention the BLING?
Round chocolate truffles – I used caramel Lindt truffles and they were gorgeous and so fast and simple!
A drizzle of caramel sauce. Caramel on your caramel? Yes please!
Listen–I will be the first to tell you the gold leaf is NOT necessary, so don't be intimidated by these pictures.
However, it IS a really fun touch for a dessert inspired by St. Patrick's Day! If you have some, try adding a few flecks to the top of your chocolate tart and bask in the beauty.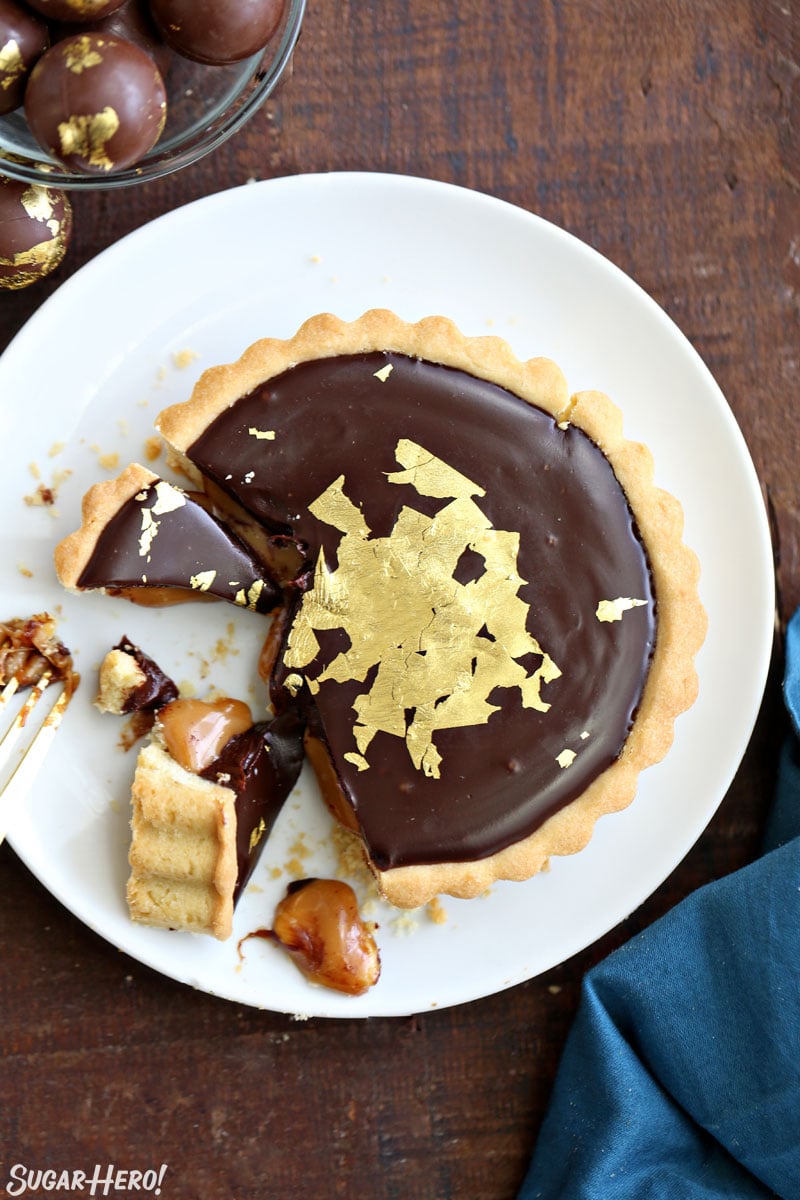 Baileys Chocolate Caramel Tarts
These Baileys Chocolate Caramel Tarts are outrageously good! With their crispy and buttery tart shell, Baileys Irish Cream salted caramel filling, and glossy chocolate topping, they are delicious and absolutely gorgeous.

This recipe yields 7 mini tarts, but they're very decadent and many people would find half of a tart to be a satisfying dessert. So depending on your audience, this can either feed up to 14 people or 7 very happy people!
Instructions
To Make the Tart Dough:
Place the flour, sugar, and salt in the bowl of a food processor, and pulse briefly until everything is well-blended.

Add the cold cubed butter and pulse until it is in small pea-sized pieces.

Add the egg yolks and pulse in long 5-second bursts until the dough starts clumping together.

Turn the dough out of the food processor and knead it lightly several times to incorporate any extra flour. At this point, the dough can be wrapped and refrigerated for several days. If you're ready to use it now, spray seven 4-inch tart shells (with removable bottoms) with nonstick cooking spray.

Press the dough in an even layer into the bottom and sides of each pan. Place the shells on a baking sheet and freeze them for 30 minutes. While they're in the freezer, preheat the oven to 375 degrees F.

Spray the tops of the tart dough with nonstick spray, then press a square of foil onto the shells, shiny side down, and fill the foil with dry beans, rice, or pie weights.

Bake the tart shells for 15-18 minutes, until the sides start to take on a little color and the centers no longer looks raw, then carefully remove the foil and weights. Bake for an additional 7 minutes, until the shells turn golden brown. Let them cool completely before filling.
To Make the Baileys Salted Caramel:
Unwrap the caramels and place them in a large microwave-safe bowl. Add the Baileys and salt. Microwave the caramels in 30-second increments, stirring after every 30 seconds, until melted and smooth.

At first they will resist melting, but after 1-2 minutes they will soften and melt together. Switch to a whisk once they start to melt, and whisk the caramel until smooth and free of lumps. Let it cool to room temperature before filling the shells.
To Make the Baileys Chocolate Ganache and Assemble:
Before you make the ganache, start assembling the tarts. Remove the cooled shells from the tart pans and place them on plates.

Divide the caramel between the shells—each shell should get about 2-2.5 oz of caramel, coming about halfway up to the top of the shell. Use a small spatula to smooth the caramel into an even layer. Once every shell is filled with caramel, make the ganache:

Place the chopped chocolate in a medium bowl. Pour the heavy cream, Baileys, corn syrup, and salt into a saucepan and place the pan over medium heat. Bring the cream mixture to a simmer, and once small bubbles appear all along the sides of the pan, pour it over the chopped chocolate in the bowl.

Let the hot cream soften the chocolate for one minute, then gently whisk them together, until all of the chocolate is melted and your ganache is smooth and shiny. Add the room temperature butter and whisk it into the ganache until incorporated.

Pour the ganache on top of the caramel in the tart shells, filling each one up to the top. Gently tap the tarts against the counter to smooth out the chocolate and remove any air bubbles.

If you're making these in advance and have time, you can let them set at room temperature—this will keep the ganache shiny and will give your chocolate a lusciously soft texture. If you need to speed the process up, refrigerate the tarts until the chocolate is set—this is faster, but the tops of the tarts often get dull during the process of refrigeration and coming back to room temperature.

Once the chocolate is set, decorate the tops however you'd like—add a sprinkling of large flaked sea salt, a drizzle of caramel, a touch of gold leaf, a chocolate truffle—or all of the above! For the best taste and texture, you DEFINITELY want to enjoy these tarts at room temperature.
MEASURING TIPS
Our recipes are developed using weight measurements, and we highly recommend using a kitchen scale for baking whenever possible. However, if you prefer to use cups, volume measurements are provided as well. PLEASE NOTE: the adage "8 oz = 1 cup" is NOT true when speaking about weight, so don't be concerned if the measurements don't fit this formula.
Click here to learn more about baking measurements and conversion.
Nutrition
Calories:
820
kcal
|
Carbohydrates:
115
g
|
Protein:
11
g
|
Fat:
58
g
|
Saturated Fat:
33
g
|
Cholesterol:
160
mg
|
Sodium:
451
mg
|
Potassium:
466
mg
|
Fiber:
4
g
|
Sugar:
69
g
|
Vitamin A:
1230
IU
|
Vitamin C:
0.3
mg
|
Calcium:
142
mg
|
Iron:
5.2
mg
Share on Facebook
Share on Pinterest
Share on Twitter
Share by Email