This post may contain affiliate links. As an Amazon Associate I earn from qualifying purchases. Please see my disclosure policy for more information.
These Baileys Chocolate Caramel Tarts are outrageously good! With their buttery tart shells, Baileys salted caramel filling, and glossy chocolate topping, these mini tarts are delicious, gorgeous, and great for St. Patrick's Day–or any time of year!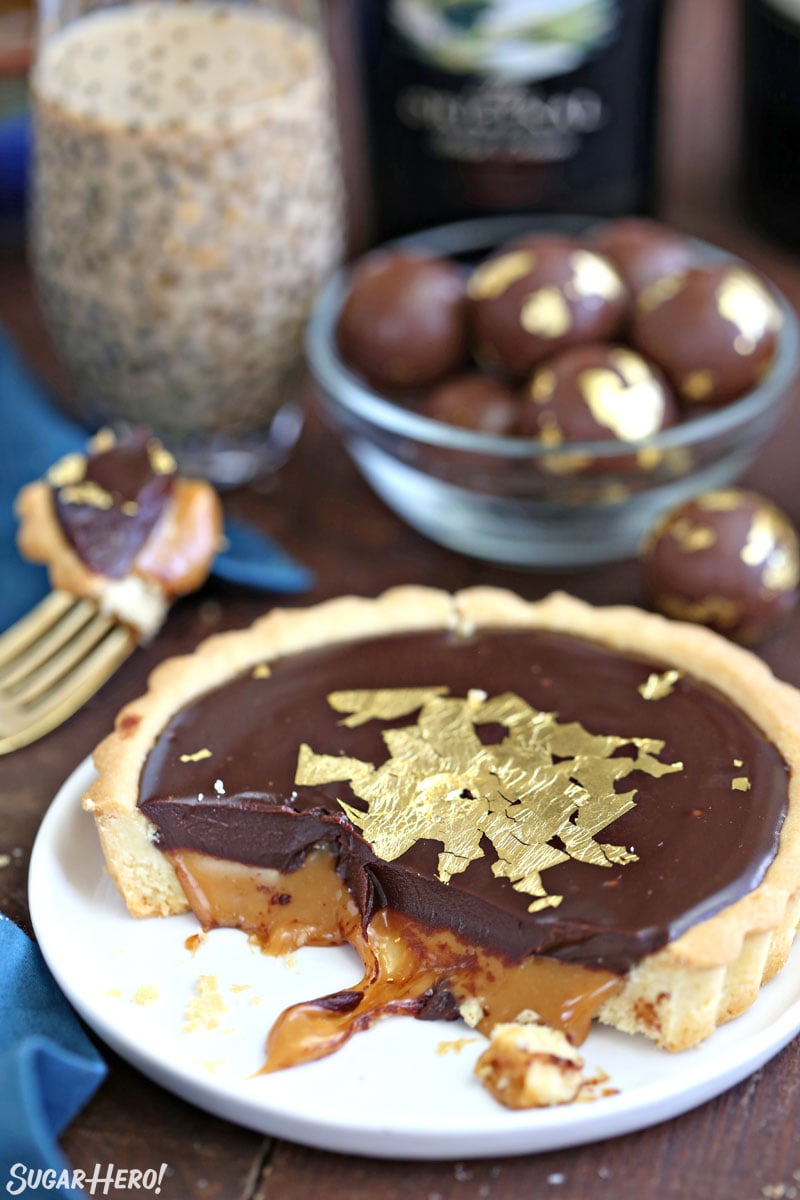 🥧 Easy Chocolate Tarts with Baileys Caramel Filling
I love every recipe I share here with you, but I am especially excited to share these gorgeous mini tarts today. They're made with Baileys Irish Cream, so you can call off the hunt for the perfect St. Patrick's Day dessert now.
But there's no law that says we can only enjoy Baileys one holiday a year (thank goodness!), so I'm sharing these with you in the hopes that they become your new favorite go-to whenever you need a sorta fancy, but also really easy, tart recipe.
For those who don't want to use alcohol, never fear! I also have some substitutions down below, so you won't be left out of the chocolate caramel love fest.
If you love the sound of these tarts, don't miss my Grapefruit Tarts, Strawberry Rose Tarts, or Chocolate Raspberry Tarts.
🧾 What You'll Need
🍫 Ingredients
As you might guess from the name, Baileys Irish Cream plays a starring role in these tarts: it shows up in both the soft caramel filling and the chocolate topping. The flavor is present but not overwhelming–you'll get the familiar taste of Baileys, but you won't get a buzz from eating one of these! Don't have any on hand? See the Variations section below for some Baileys swaps.
Here's what else you'll need to make this recipe. (Links are affiliate links and I earn a small commission from qualifying purchases.)
Chocolate

: you'll want to use semi-sweet or bittersweet chocolate in this recipe, not milk chocolate. My absolute favorite chocolate bars to use are Pound Plus bars from Trader Joe's, because they're a great balance of quality chocolate and reasonable price. (I recommend buying them from the store if possible, since they're much more expensive purchased online.) Other high-quality chocolate bars, like Lindt, also work well.

Soft caramels

: these store-bought caramels are the secret to a super-fast caramel filling, and I'm not ashamed to say it! You can also use a big loaf of caramel for candy making, like Peter's caramel. Make sure the caramels you use are fresh–if they are very old and hard, that will affect the final texture and flavor of the filling.
Heavy cream: whipping cream or heavy cream can both be used in this recipe. Do not use half-and-half or milk, you need the fat from the cream to get the best texture in the chocolate ganache.
Decorations: These tarts are perfect with a little sprinkle of sea salt on top, but if you're feeling ✨fancy,✨ you can add a little gold leaf or a beautiful Lindt truffle.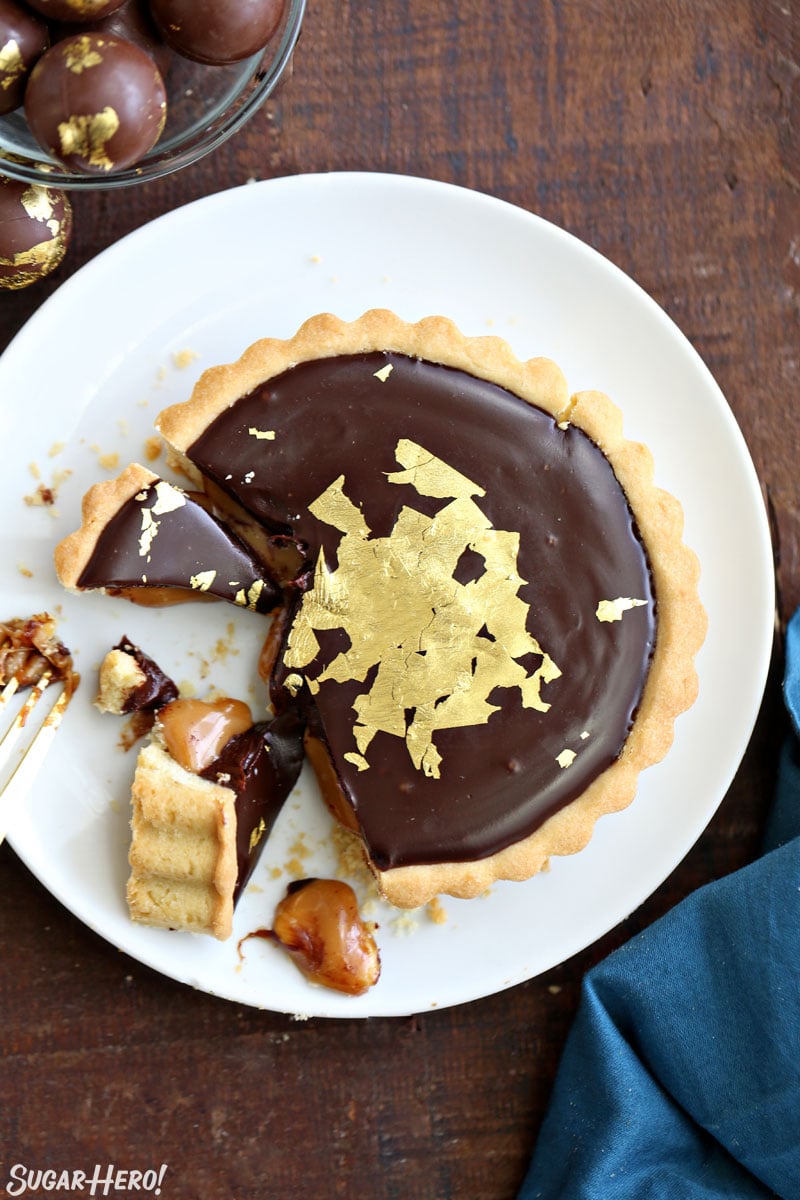 🥄 Equipment
You don't need much in the way of specialty equipment, but the one thing you absolutely can't make mini tarts without? Mini tart shells! I love this set of 6 pans–they bake evenly and they're the perfect size to make substantial, but still single-serving, mini tarts.
For the best results, I recommend making the tart shells in a food processor. It gives the tart dough the perfect flaky, crisp texture! This tart would also taste amazing with a chocolate cookie crust! 😉
Are you still looking for a way out of making the crispy tart? Try making this luscious dessert in a Chocolate Bowl! Just be sure the caramel and ganache are not warm to the touch before pouring them into the chocolate bowls.
📋 Tart Components
Here's what's going on under that glossy chocolate glaze. We have:
a buttery tart shell
rich, creamy caramel
a silky-smooth chocolate ganache
a hefty sprinkle of flaked sea salt
optional but awesome decorations like store-bought chocolate truffles or gold leaf
Crispy Tart Shells
Let's break these tarts down. They start with my tried-and-true tart dough. It's the BEST because it's super crisp and buttery, easy to make in the food processor, and requires no fiddly rolling and chilling before pressing it into the pan.
Basically, it's the little black dress of tart doughs, and I love any excuse to make up a batch!
This tart dough is wonderful with these chocolate/caramel flavors, but it also works beautifully with fruit, like in these Persimmon Almond Rosette Tarts, and this Candied Kumquat Tart.
If you want a chocolate tart dough variation, check out these Dulce de Leche Swirled Tarts, or these Matcha Chocolate Tarts.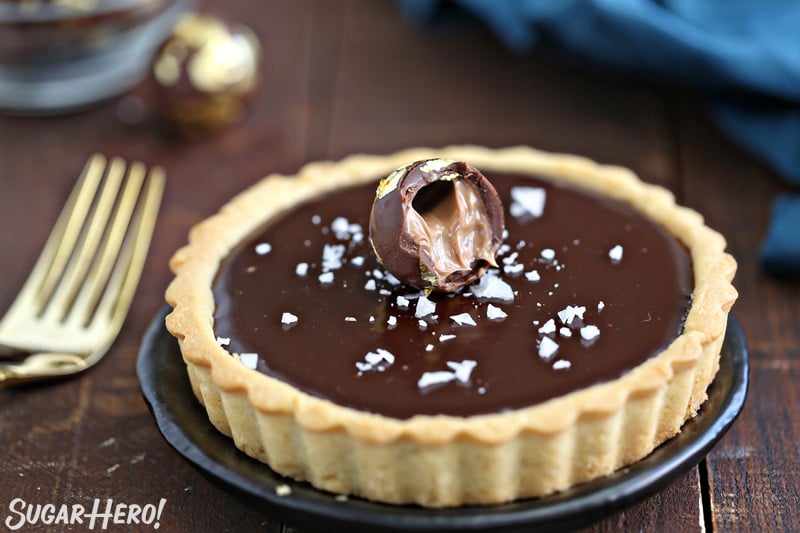 Creamy Baileys Caramel
The caramel filling is made by melting together soft store-bought caramels, Baileys Irish Cream liqueur, and a pinch of salt. You will be amazed at how the somewhat stiff and waxy caramels transform into a luscious caramel that melts in your mouth!
The trick to make this caramel is to take your time. At first, when you heat everything together, it won't melt smoothly and you'll likely have a lumpy mess. Don't lose faith! Keep heating, slow and steady, stirring frequently, and the mixture will eventually smooth out and become a beautiful creamy caramel.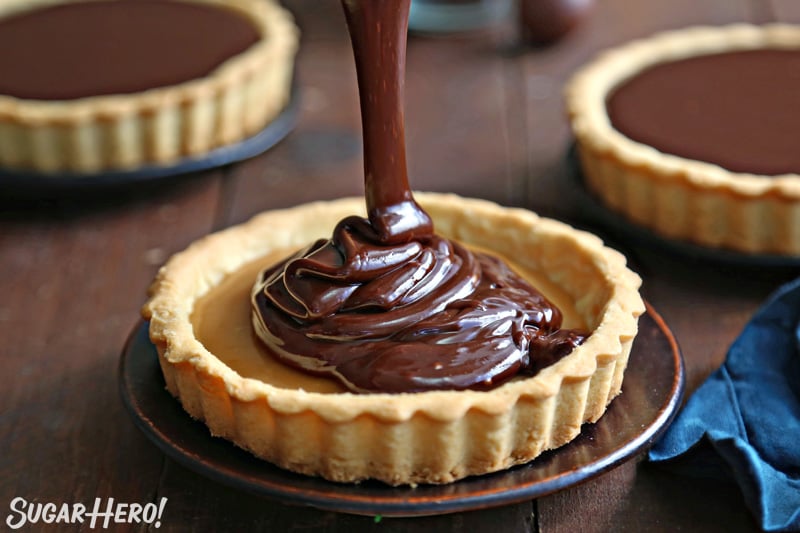 Glossy Chocolate Ganache
I don't know about you, but I could look at that picture of shiny chocolate pooling in the tart shell forever! No doubt, the chocolate ganache topping is the perfect finishing touch to these tarts.
My best tip for getting a smooth, shiny chocolate finish is to use a high quality chocolate (no chips please!) and to let the tarts set at room temperature overnight. Letting them set at room temperature preserves the glossy finish and gives the chocolate a wonderful smooth, soft-but-set texture.
If you do need to refrigerate the tarts, make sure you bring them to room temperature before serving.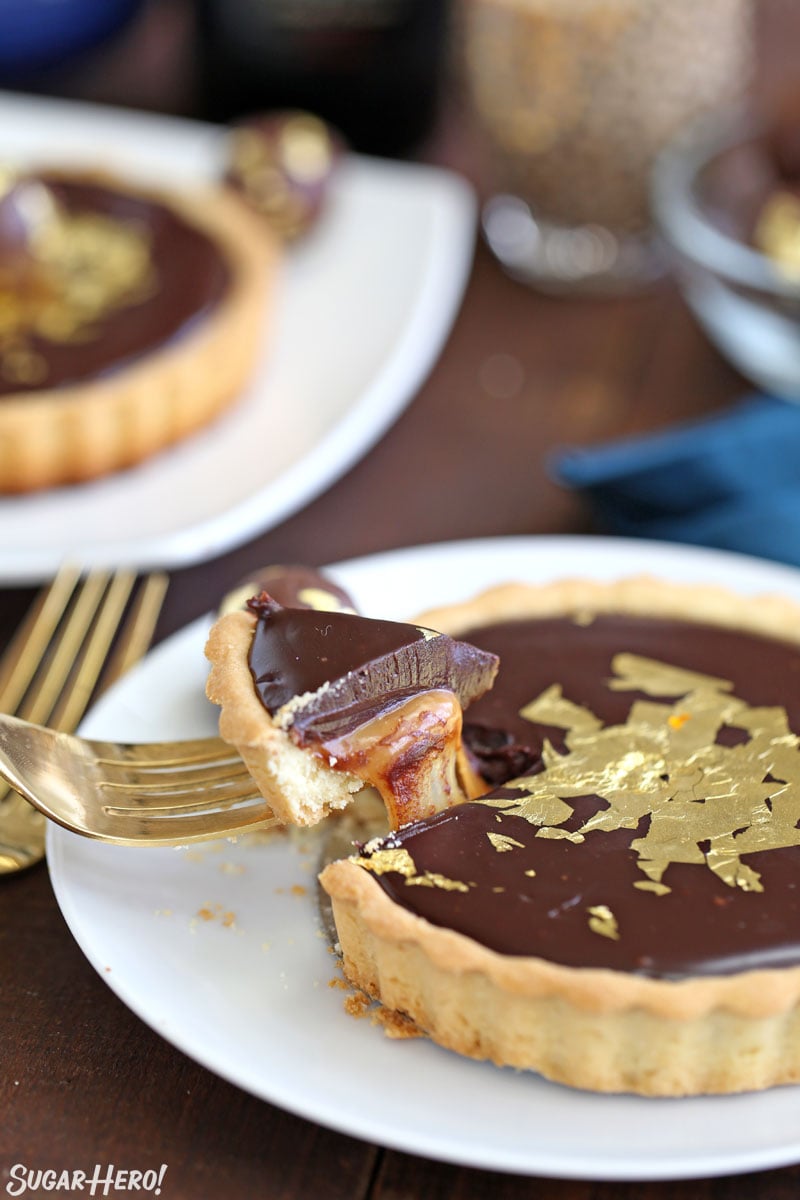 💭 Variations
No Baileys? No problem!
If you have another cream liqueur that you like, you can swap it for the Baileys without any problems.
If you want to avoid alcohol altogether, substitute an equal amount of heavy cream for the Baileys in both the caramel and chocolate recipes. You might want to add additional flavorings, like vanilla extract or vanilla bean paste, to make up for the lack of Baileys flavor.
💡 Tips and FAQs
Make-Ahead and Storage Instructions
The tart dough can be made up to a week in advance. You have 2 choices for making it in advance:
make the dough, form it into a disc, and wrap it well in plastic wrap. When ready to use, let it sit and soften for ~15 minutes, then press it into the shells as directed.
press the dough into the tart shells, then wrap each shell individually in plastic wrap. Store them in the refrigerator or freezer, and bake when ready according to recipe directions.
The caramel and chocolate are both best made shortly before assembly.
These tarts can be stored in the refrigerator and enjoyed up to a week after they're made. For the best taste and texture, bring to room temperature before serving.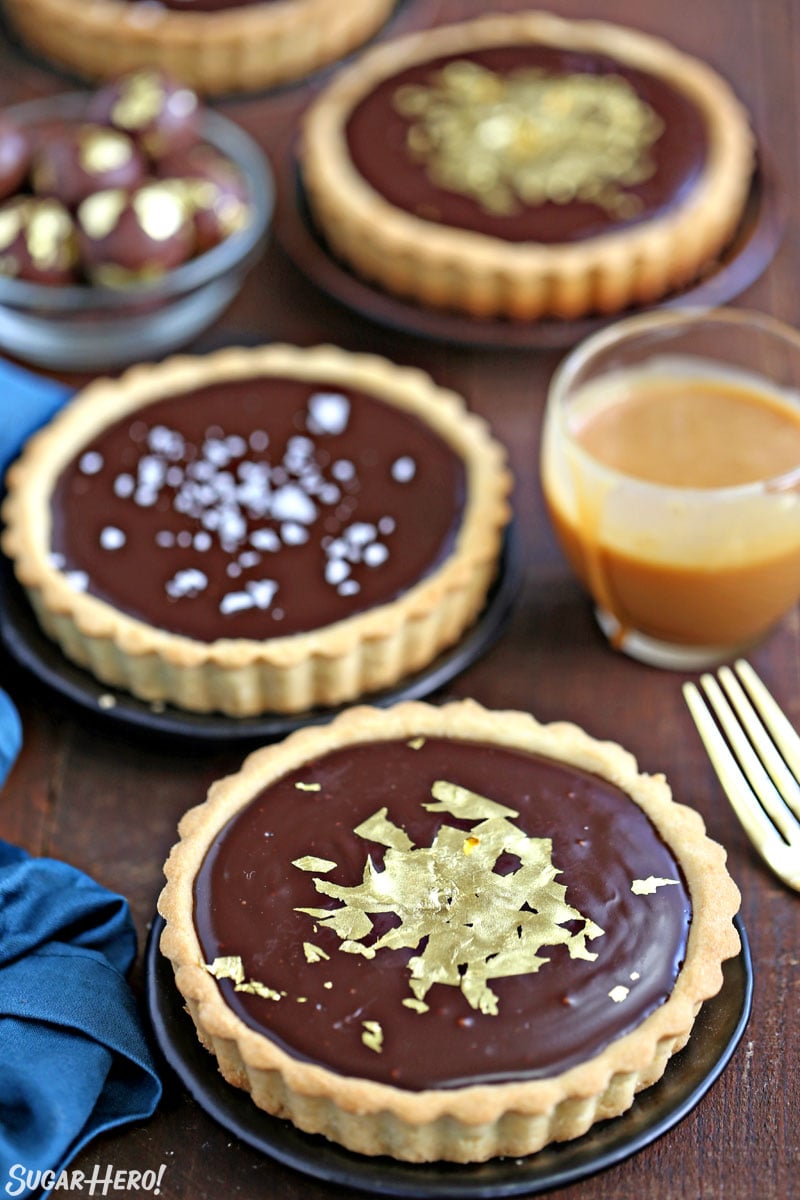 ❤️ More Mini Tarts You'll Love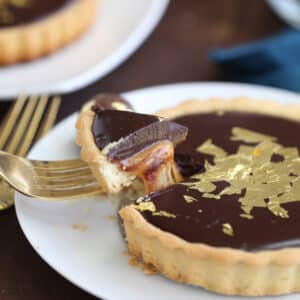 Baileys Chocolate Caramel Tarts
These Baileys Chocolate Caramel Tarts are outrageously good! With their crispy and buttery tart shell, Baileys Irish Cream salted caramel filling, and glossy chocolate topping, they are delicious and absolutely gorgeous.
Ingredients
For the Tart Dough:
10

oz

all-purpose flour,

(2 ¼ cups)

3

oz

powdered sugar

,

(3/4 cup)

¼

tsp

salt

6

oz

unsalted butter

,

cold and cubed

2

large egg yolks
For the Baileys Salted Caramel:
14

oz

soft caramels,

(I used Kraft Caramels)

1/3

cup

Baileys Irish Cream liqueur

½

tsp

salt
For the Baileys Chocolate Ganache:
Instructions
To Make the Tart Dough:
Place the flour, sugar, and salt in the bowl of a food processor, and pulse briefly until everything is well-blended.

Add the cold cubed butter and pulse until it is in small pea-sized pieces.

Add the egg yolks and pulse in long 5-second bursts until the dough starts clumping together.

Turn the dough out of the food processor and knead it lightly several times to incorporate any extra flour. At this point, the dough can be wrapped and refrigerated for several days. If you're ready to use it now, spray seven 4-inch tart shells (with removable bottoms) with nonstick cooking spray.

Press the dough in an even layer into the bottom and sides of each pan. Place the shells on a baking sheet and freeze them for 30 minutes. While they're in the freezer, preheat the oven to 375 degrees F.

Spray the tops of the tart dough with nonstick spray, then press a square of foil onto the shells, shiny side down, and fill the foil with dry beans, rice, or pie weights.

Bake the tart shells for 15-18 minutes, until the sides start to take on a little color and the centers no longer looks raw, then carefully remove the foil and weights. Bake for an additional 7 minutes, until the shells turn golden brown. Let them cool completely before filling.
To Make the Baileys Salted Caramel:
Unwrap the caramels and place them in a large microwave-safe bowl. Add the Baileys and salt. Microwave the caramels in 30-second increments, stirring after every 30 seconds, until melted and smooth.

At first they will resist melting, but after 1-2 minutes they will soften and melt together. Switch to a whisk once they start to melt, and whisk the caramel until smooth and free of lumps. Let it cool to room temperature before filling the shells.
To Make the Baileys Chocolate Ganache and Assemble:
Before you make the ganache, start assembling the tarts. Remove the cooled shells from the tart pans and place them on plates.

Divide the caramel between the shells—each shell should get about 2-2.5 oz of caramel, coming about halfway up to the top of the shell. Use a small spatula to smooth the caramel into an even layer. Once every shell is filled with caramel, make the ganache:

Place the chopped chocolate in a medium bowl. Pour the heavy cream, Baileys, corn syrup, and salt into a saucepan and place the pan over medium heat. Bring the cream mixture to a simmer, and once small bubbles appear all along the sides of the pan, pour it over the chopped chocolate in the bowl.

Let the hot cream soften the chocolate for one minute, then gently whisk them together, until all of the chocolate is melted and your ganache is smooth and shiny. Add the room temperature butter and whisk it into the ganache until incorporated.

Pour the ganache on top of the caramel in the tart shells, filling each one up to the top. Gently tap the tarts against the counter to smooth out the chocolate and remove any air bubbles.

If you're making these in advance and have time, you can let them set at room temperature—this will keep the ganache shiny and will give your chocolate a lusciously soft texture. If you need to speed the process up, refrigerate the tarts until the chocolate is set—this is faster, but the tops of the tarts often get dull during the process of refrigeration and coming back to room temperature.

Once the chocolate is set, decorate the tops however you'd like—add a sprinkling of large flaked sea salt, a drizzle of caramel, a touch of gold leaf, a chocolate truffle—or all of the above! For the best taste and texture, you DEFINITELY want to enjoy these tarts at room temperature.
Recipe Notes
This recipe yields 7 mini tarts, but they're very decadent and many people would find half of a tart to be a satisfying dessert. So depending on your audience, this can either feed up to 14 people or 7 very happy people!
MEASURING TIPS
Our recipes are developed using weight measurements, and we highly recommend using a kitchen scale for baking whenever possible. However, if you prefer to use cups, volume measurements are provided as well. PLEASE NOTE: the adage "8 oz = 1 cup" is NOT true when speaking about weight, so don't be concerned if the measurements don't fit this formula.
Click here to learn more about baking measurements and conversion.
Nutrition
Calories:
820
kcal
|
Carbohydrates:
115
g
|
Protein:
11
g
|
Fat:
58
g
|
Saturated Fat:
33
g
|
Cholesterol:
160
mg
|
Sodium:
451
mg
|
Potassium:
466
mg
|
Fiber:
4
g
|
Sugar:
69
g
|
Vitamin A:
1230
IU
|
Vitamin C:
0.3
mg
|
Calcium:
142
mg
|
Iron:
5.2
mg
Share by Email
Share on Facebook
Share on Pinterest
About Elizabeth LaBau
I'm Elizabeth, but you can call me SugarHero! I'm a former pastry chef turned blogger, cookbook author, and baking instructor, and I consider myself sugar's #1 fan. Learn more from u003ca href=u0022https://www.sugarhero.com/about/u0022 class=u0022ek-linku0022u003emy About pageu003c/au003e, or connect with me on social media: