These Homemade Tim Tams are an Australian specialty consisting of two chocolate cookies, sandwiched around chocolate-malt frosting, dipped in chocolate. Sounds pretty good doesn't it?
Today is a verrrrrry exciting day, because I get to share a recipe from my new favorite dessert cookbook, The Sugar Hit! If you're not already familiar with The Sugar Hit blog, head over there immediately—I'll wait. *files nails* *eats a cookie*
Now that your eyeballs have exploded from all of the delicious desserts Sarah posts on the regular, you can understand why I was so anxious to get my hands on her cookbook, which just came out a few weeks ago. It's just like Sarah's blog—fun, colorful, cheeky, loaded with personality, full of whimsical desserts with big ideas and even bigger flavors.
So when Sarah offered me the opportunity to share a recipe from her book on SugarHero, she hadn't even finished her sentence before I type-shouted, "YES YES A THOUSAND TIMES YES." (Emailed conversations make it so much harder to enthusiastically interrupt people these days, am I right?) It was hard to decide what to make, and for a while I was leaning toward the dulce de leche crepes (om nom nom nom) but in the end, these ultra-chocolatey Homemade Tim Tams won out.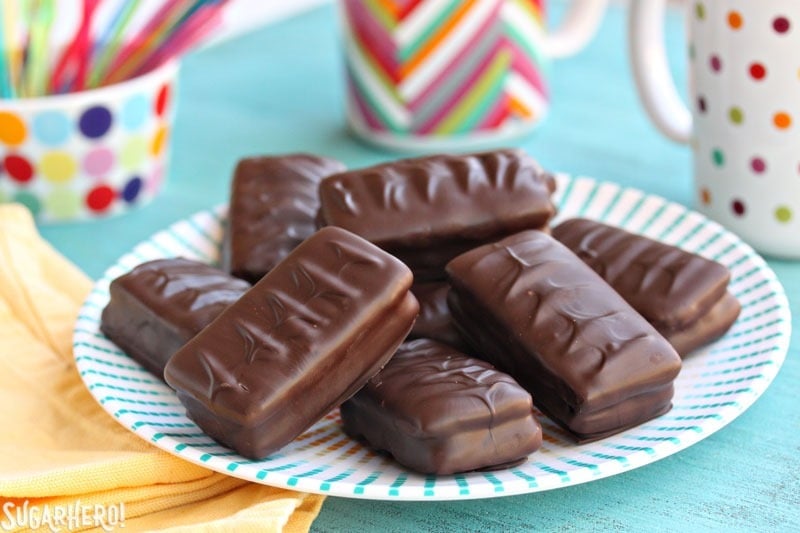 Sarah's Australian, so she has access to all sorts of fun junk food this poor American doesn't have. Tim Tams are an Australian national treasure specialty, consisting of two chocolate cookies, sandwiched around chocolate-malt frosting, dipped in chocolate. If you're thinking it sounds like chocolate overload—and thus, totally up my alley—you are absolutely right.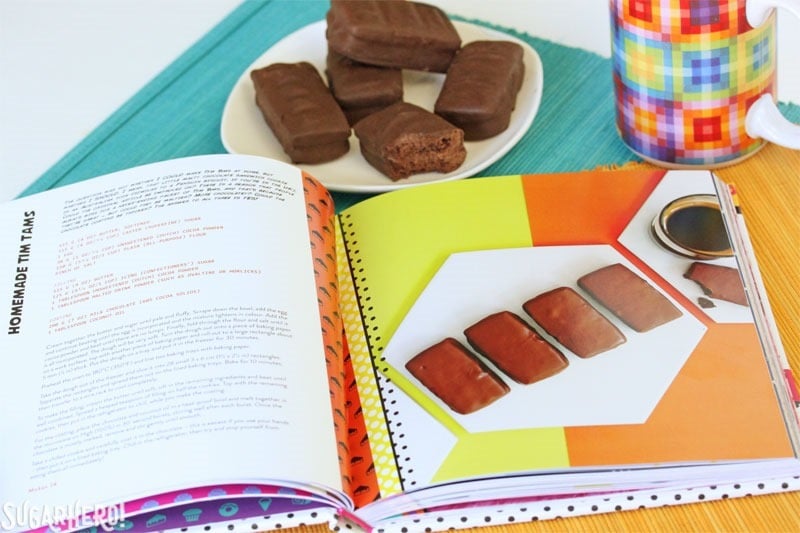 I've never had a Tim Tam, and despite making a special trip to Cost Plus World Market last week, I haven't been able to track one down yet. So I can't do a direct comparison. But these cookies are so gosh-darn-dagnabit-rootin-tootin good (pardon my language), I can't believe there's any mass marketed treat that can even come close. No way do commercial Tim Tams have the deep chocolate flavor, rich frosting filling, and crispy-creamy textural interplay that these homemade cookie sandwiches do. It's just not possible. So even without tasting the original, I have no qualms about calling these The Best Tim Tams Ever.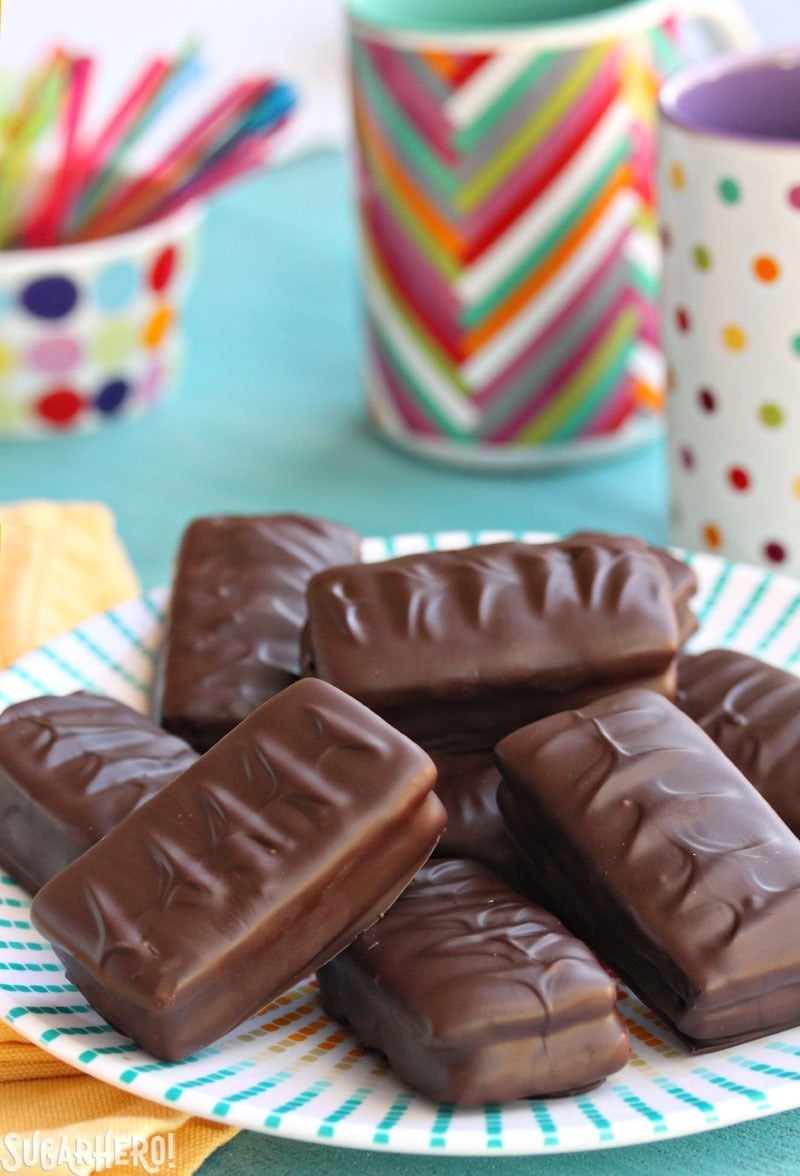 The problem with these cookies, if there is one, is that they're kind of petite. Just a few inches long. Small enough so that you think you're not really having a whole dessert serving if you have one. And, you know how if you give a mouse a cookie, he'll always ask for a glass of milk? Well, if you give this girl a Tim Tam, she'll always ask for a second…and then a third. Because I'm powerless in the face of triple chocolate sandwich cookies, and I'm blaming it all on The Sugar Hit.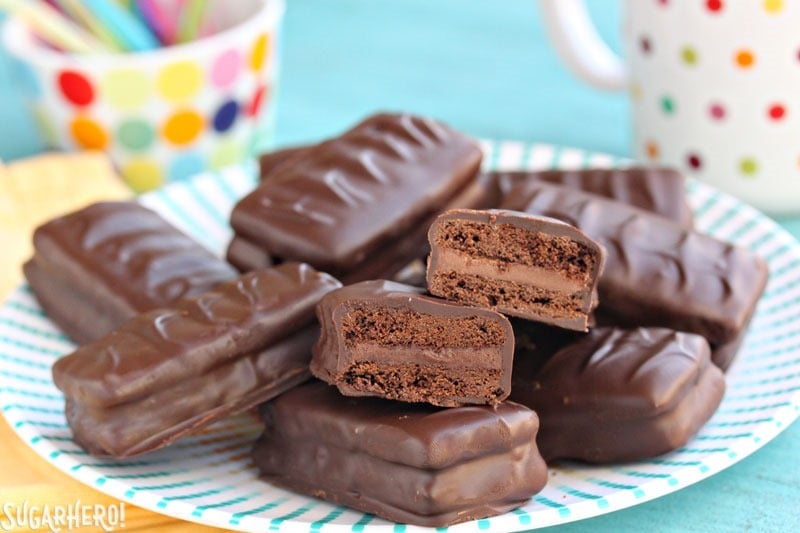 So, the recipe is down below if you want to tempt your own sweet teeth, and please go check out Sarah's blog and her book if you want more great desserts. She is all about being fearless and having fun in the kitchen, and her blog's bold colors and punchy graphic style really convey this. (I busted out my loudest, most colorfully patterned cups and plates as a little shout-out to her style.)
Speaking of punchy style, SugarHero is about to get a MAJOR facelift! Like, within a week! Hang on to your measuring cups, ladies and gents, because this will be a huge change. It should be a pretty seamless transition to the new design, but please bear with me if there are any hiccups or downtime along the way. This has been a LONG time coming and I am so excited for you all to see the new and greatly improved site. Sooooooon!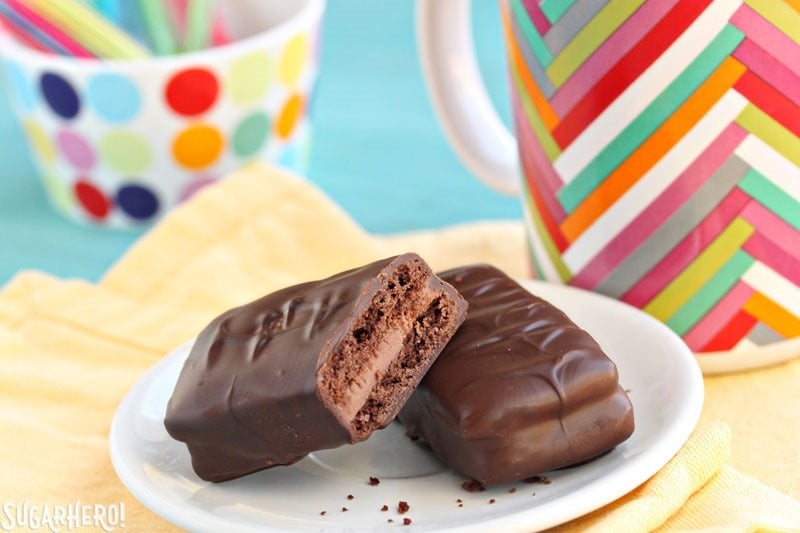 Where Can I Find Tim Tams?
In the United States, I have found Tim Tams at my local Target stores and at Cost Plus World Market.
What Is A Tim Tam Slam?
A Tim Tam slam is when you bite off two corners of the cookie, place it in a drink, and slurp the drink through the cookie!
💙More Delicious Dessert Recipes
Chocolate Covered Strawberries
Chocolate-Covered Strawberries are so delicious, and so simple to make! Here are 5 easy decorating tricks to make the most gorgeous chocolate-dipped strawberries ever! You'll learn how to make basic chocolate-covered strawberries, as well as decorating them with chocolate curls, gold buttons, zig-zags, marbled chocolate, and tuxedo berries.
View Recipe
Chocolate-Dipped Pretzel Cupcakes
These delicious Chocolate-Dipped Pretzel Cupcakes have a moist chocolate cake, sweet-and-salty pretzel frosting, and a gooey scoop of salted caramel in the center!
View Recipe
Homemade Tim Tams
These Homemade Tim Tams are an Australian specialty consisting of two chocolate cookies, sandwiched around chocolate-malt frosting, dipped in chocolate. Sounds pretty good doesn't it?
Instructions
To Make the Cookies:
Combine the butter and sugar in the bowl of a large stand mixer fitted with a paddle attachment, and cream until pale and fluffy. Scrape down the bowl, and add the egg and continue beating until the egg is incorporate and the mixture lightens in color. Add the cocoa powder and beat until there are no lumps. Finally, fold through the flour and salt until it is all incorporated. The dough will be very soft.

Scrape the dough out onto a piece of parchment paper. Add a second sheet of paper on top, and roll out the dough between the two sheets until it is a rectangle about 1/4-inch thick. Place the dough on a tray and freeze it for 30 minutes, or refrigerate it for 1-2 hours, until firm.

Preheat the oven to 350 F (180 C). Line two baking trays with parchment paper.

Cut the chilled dough into 28 small 1 1/4 in x 2 1/2 in rectangles. Place them in evenly spaced intervals on the baking sheets and bake for 10 minutes. Let the cookies cool completely at room temperature.
To Make the Filling:
Cream the butter until soft, then sift in the remaining ingredients and beat until light and fluffy. Spread a heaping teaspoon of filling on half of the cookies, or transfer the frosting to a piping bag and pipe an even layer of filling on half of the cookies. Top with the remaining cookies, then put in the refrigerator to chill while you make the coating.
To Assemble:
For the coating, place the chocolate and coconut oil in a heat-proof bowl and melt them together in the microwave in 30-second bursts, stirring after every 30 seconds to prevent overheating. Once the chocolate is mostly melted, remove and stir gently until smooth.

Using a fork or dipping tools, dip a chilled cookie in the melted chocolate and place it back on the baking sheet. If you want to create a wavy pattern on top of the cookies, lightly press the tines of the fork or dipping tool to the top while the chocolate is still wet. Repeat until all of the cookies are dipped. Chill in the refrigerator, then devour!
Measuring Tips
Our recipes are developed using weight measurements, and we highly recommend using a kitchen scale for baking whenever possible. However, if you prefer to use cups, volume measurements are provided as well. PLEASE NOTE: the adage "8 oz = 1 cup" is NOT true when speaking about weight, so don't be concerned if the measurements don't fit this formula.
Want to learn more about baking measurements and conversion?
Nutrition
Calories:
361
kcal
|
Carbohydrates:
35
g
|
Protein:
3
g
|
Fat:
23
g
|
Saturated Fat:
14
g
|
Cholesterol:
47
mg
|
Sodium:
13
mg
|
Potassium:
204
mg
|
Fiber:
3
g
|
Sugar:
21
g
|
Vitamin A:
435
IU
|
Vitamin C:
0
mg
|
Calcium:
30
mg
|
Iron:
3.3
mg
Tried this recipe?
Snap a pic and hashtag it #SugarHero. We love to see your creations on our Instagram @elabau.