This Chocolate-Dipped Pound Cake starts with homemade cream cheese pound cake, swirled with ribbons of semi-sweet chocolate that is soaked in orange scented syrup! You'll be popping these into your mouth left and right!
Remember how I went on and on (and on) about tempering chocolate a few days ago? I hope that put you in a chocolate-dipped mood, because have I got something good for you.
Please meet my new favorite treat, Chocolate-Dipped Pound Cake. Is it a cake? Is it a candy? It's kind of both, and kind of neither, and entirely, 100% awesome.
This recipe starts with homemade cream cheese pound cake, swirled with ribbons of semi-sweet chocolate before baking. After the cake is baked, you pour on an insane amount of orange-scented syrup. You'll think it's too much syrup, and you'll give my recipe the side-eye while you're pouring. Have faith. After a good long soak, the cake will make like a sponge and absorb all of the syrup, leaving it with an extra-moist texture and a fabulous punch of orange flavor in every bite.
[Not a fan of chocolate and orange together? No worries! Substitute your favorite liqueur for the orange juice concentrate. I think amaretto, framboise, or frangelico would all be amazing. Or you could keep things simple and just use all water, to give the cake a moist texture without any additional flavoring. Marbled pound cake doesn't need much accessorizing, anyhow.]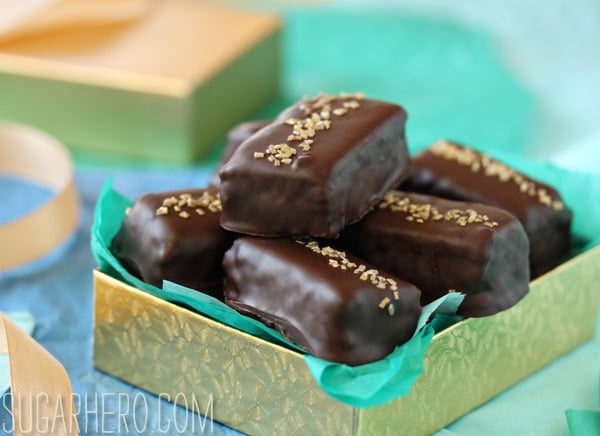 The crowing touch is the final dip in tempered semi-sweet chocolate. The combination of tender, citrus-scented cake in a crisp, dark chocolate shell is amazing. Without the chocolate shell you've made a decent sheet cake, but once the pieces are dipped they become a fabulous, elegant two-bite dessert.
They reminded me a bit of cake pops, but—dare I say it?—I liked them much better. They retain the fine texture of cake, without any of the gumminess some cake pops have. Plus, using real chocolate instead of candy coating is always a win in my book.
It is not an exaggeration to say that I could not stop eating these. I found, through dedicated experimentation, that they make a great breakfast, a delicious lunch, and a lovely post-workout snack. None of these options are nutritionally recommended, but I dare you to have a big container of these on your kitchen counter and resist sneaking bites whenever possible. I finally had to give them away because they were way too addicting—and now I'm craving them all over again.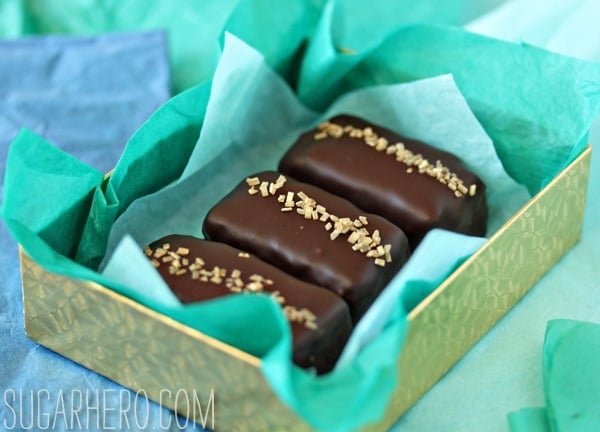 I have to give snaps to Swamp Hollow Designs, where I first saw this idea. I used a very different recipe and methodology, but I was definitely inspired by her idea of dipping soaked pound cake in chocolate!
💙More Chocolate-Dipped Desserts You'll Love
Petit Fours
These Petit Fours have a little bit of extra fancy flare with its disco dust and edible gold leaf. They glimmered and sparkled and added just the right amount of glitz to our dessert table.
View Recipe
Raspberry Nanaimo Pops
Raspberry Nanaimo Pops are bite-sized versions of nanaimo bars. They have crust made from chocolate, nuts, graham crackers, and coconut, and a sweet-tart raspberry cream filling. Dipped in chocolate and sprinkled with raspberry powder, they're a fun twist on the original!
View Recipe
Chocolate-Dipped Pound Cake
This Chocolate-Dipped Pound Cake starts with homemade cream cheese pound cake, swirled with ribbons of semi-sweet chocolate that is soaked in orange scented syrup! You'll be popping these into your mouth left and right!
Ingredients
To Dip:
3

lbs

semi-sweet chocolate

Chocolate thermometer

,

for tempering

Sprinkles

,

chopped nuts, or other toppings
Instructions
Preheat the oven to 350 degrees Fahrenheit. Line a half sheet pan (18×13 inches), or similarly sized rimmed baking sheet, with aluminum foil so that the foil hangs over the sides. Spray the foil with nonstick cooking spray.

In the bowl of a large stand mixer combine the softened butter, cream cheese, and sugar. Mix on medium speed until light and fluffy, about 3-4 minutes. Add the eggs one at a time, mixing well after each addition. Add the vanilla and mix it in. The batter might appear a little broken at this point—that's okay.

In a small bowl, whisk together the flour, baking powder, and salt. Add the dry ingredients to the wet ingredient and mix just until they're combined. Finish stirring everything together with a spatula, scraping down the bottom and sides of the bowl.

Pour the batter into the prepared pan and smooth it into an even layer. Drizzle the melted chocolate over the top and use a butter knife to swirl it in—try to swirl it down to the bottom of the pan, not just along the top layer.

Bake the cake for about 20 minutes, until golden and a toothpick inserted into the center comes out with just a few moist crumbs attached. Let cool on a wire rack while you prepare the soaking syrup.
To make the syrup:
Combine the sugar, orange juice concentrate, water, and corn syrup in a small saucepan over medium heat. Stir until the sugar dissolves, then heat the syrup, stirring occasionally, until it just comes to a boil. Remove the syrup from the heat and pour the hot sugar syrup all over the cake. It will pool up on top and around the sides and will seem like too much syrup. It's okay! Let it sit and soak at room temperature for 24 hours, and the cake will absorb all the syrup and will become wonderfully moist and flavorful.
To dip the bars:
Once the cake has absorbed the syrup you can dip them in chocolate! Melt 4 ounces of the chocolate in a small bowl in the microwave. Spread it in a very thin layer over the top of the cake, and refrigerate the cake until the chocolate is set. Once set, place a large cutting board on top of the pan of cake, then flip it upside down so the cake is now resting on the cutting board. Remove the pan and pull the foil away from the cake. You should now have your cake on the cutting board, chocolate side down. This chocolate layer will act as a "foot" for the pieces of cake and will make it easier and less messy to dip them.

Cut the cake into small bars about 1 inch wide and 2 inches across. I couldn't stop eating the cake while I was cutting it, and I got about 72 bars out of this recipe—you might get more if you have more willpower!

Temper the remaining chocolate according to these directions. Alternately, you can use chocolate candy coating, or you can simply melt the chocolate—but if you melt it, be aware that you should always keep the pieces in the refrigerator so the chocolate doesn't get too soft. Place a piece of cake, chocolate side down, on dipping tools or a fork, and dip it completely into the melted chocolate. Remove it from the chocolate and let the excess drip back into the bowl, then set it on a piece of parchment to set completely. If desired, sprinkle the top with chopped nuts or sprinkles while the chocolate is still wet.

Chocolate-Dipped Pound Cake can be stored in an airtight container for up to a week.
Recipe Notes
This recipe has a 24 hour wait if you want to include the soaking syrup step, so be sure to plan your time accordingly! If you're in a rush you can omit the soaking and you'll still have some pretty tasty chocolate-dipped pound cake. You can also use store-bought pound cake instead of homemade. If you do this, I recommend slicing it into 1-inch thick slices and layering it in a rimmed baking sheet before pouring the soaking syrup on as directed. Finally, if you don't want to temper the chocolate, you can use chocolate-flavored candy coating. You can also use plain melted chocolate if you plan on keeping these treats in the refrigerator until serving. If you need a tempering refresher, I have an illustrated chocolate tempering tutorial to help you out!
Measuring Tips
Our recipes are developed using weight measurements, and we highly recommend using a kitchen scale for baking whenever possible. However, if you prefer to use cups, volume measurements are provided as well. PLEASE NOTE: the adage "8 oz = 1 cup" is NOT true when speaking about weight, so don't be concerned if the measurements don't fit this formula.
Want to learn more about baking measurements and conversion?
Nutrition
Calories:
205
kcal
|
Carbohydrates:
22
g
|
Protein:
2
g
|
Fat:
11
g
|
Saturated Fat:
6
g
|
Cholesterol:
22
mg
|
Sodium:
55
mg
|
Potassium:
153
mg
|
Fiber:
1
g
|
Sugar:
16
g
|
Vitamin A:
155
IU
|
Vitamin C:
2.7
mg
|
Calcium:
24
mg
|
Iron:
1.5
mg
Tried this recipe?
Snap a pic and hashtag it #SugarHero. We love to see your creations on our Instagram @elabau.