These delicious Chocolate-Dipped Pretzel Cupcakes have a moist chocolate cake, sweet-and-salty pretzel frosting, and a gooey scoop of salted caramel in the center!
I don't know why I don't have more cupcake recipes on this site—I love eating cupcakes! I think the problem is that I got a bit of a hipster attitude towards them after the Sprinkles crazy about a decade ago.
"Oh, you like cupcakes? Yeah, I used to like them…before they were cool." *sniffs disdainfully, adjusts ironically large-framed glasses*
For a time, it seems like cupcakes were EVERYWHERE, so I set my sights on celebrating other desserts, and now here I am, 4+ years into blogging, with only a handful of published cupcake recipes to show for it.
THIS. ENDS. NOW.
These over-the-top cupcakes start with a moist chocolate cake recipe, which is—real talk—the same recipe I use every time I make chocolate cupcakes. Innovation is for losers who don't have a foolproof, extremely delicious chocolate cupcake recipe already. It ain't broke, and I'm not fixing it.
Then, they're topped with an amazing sweet-and-salty pretzel frosting, with crushed pretzels mixed right into the buttercream! I got the idea for this buttercream from Dea of The Baking Robot, who posted about pretzel frosting literally two and a half years ago. I saw them on Instagram, thought it sounded amazing, made a note to try it…and then twiddled my thumbs for two years. Nice work, dummy.
I don't know what took me so long, because adding crushed pretzels to frosting is REALLY good. Typical American buttercream (the type made with butter + powdered sugar) is almost always too sweet for me, so adding a bunch of savory, salty powder to the mix is a no-brainer. It made for a nicely stiff frosting that was easy to pipe, and it really helped cut the sweetness and made a great pairing for the dark chocolate cupcakes.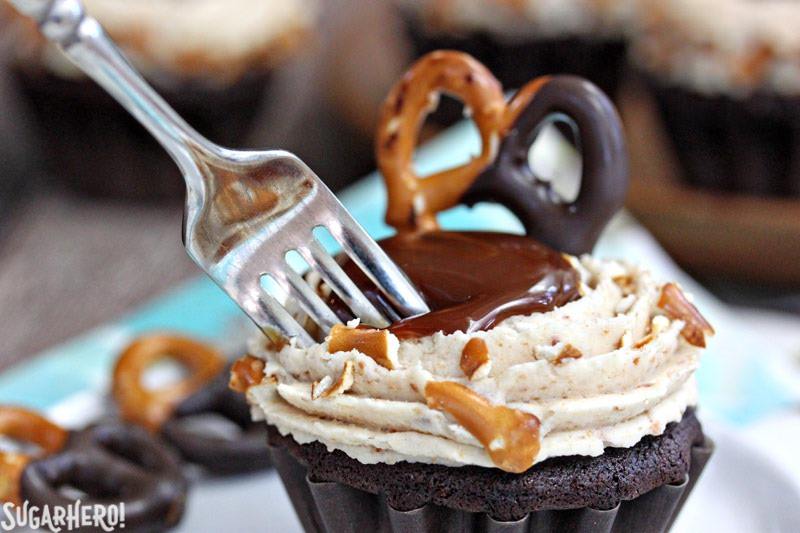 The sides of the cupcake were rolled in more chopped pretzels, for some added texture + sex appeal, then my favorite part: a big ole scoop of salted caramel! I piped the frosting in a circle around the outer edge of the cupcake, to make a barrier. A dam. A caramel wading pool, if you will. Then the center of the cupcake is filled with gooey salted caramel, to ensure that you have a river of caramel running down your chin the moment you take a bite of the cupcake. (If you want a classier experience, feel free to limit the caramel to just a drizzle, or use it as a filling inside the cupcake instead.)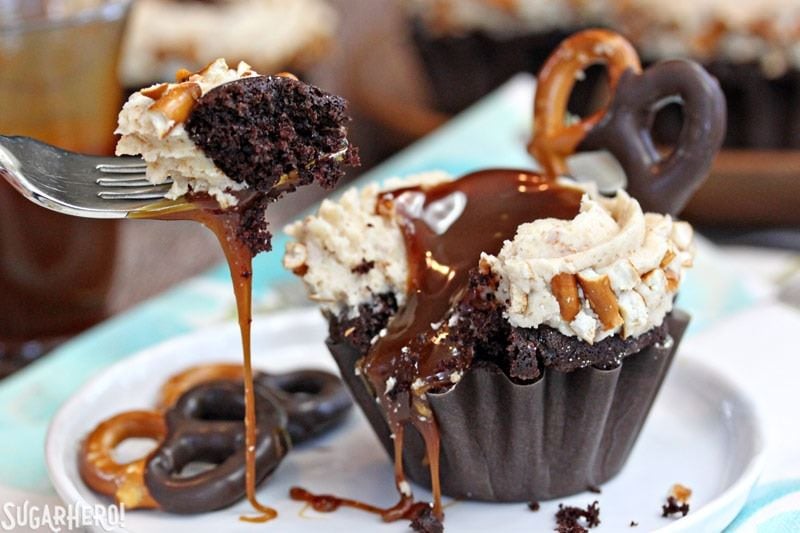 Finally, each cupcake is topped with a jaunty chocolate-dipped pretzel hat. I dipped my own pretzels, but you can easily use store-bought, or just use regular pretzels sans chocolate.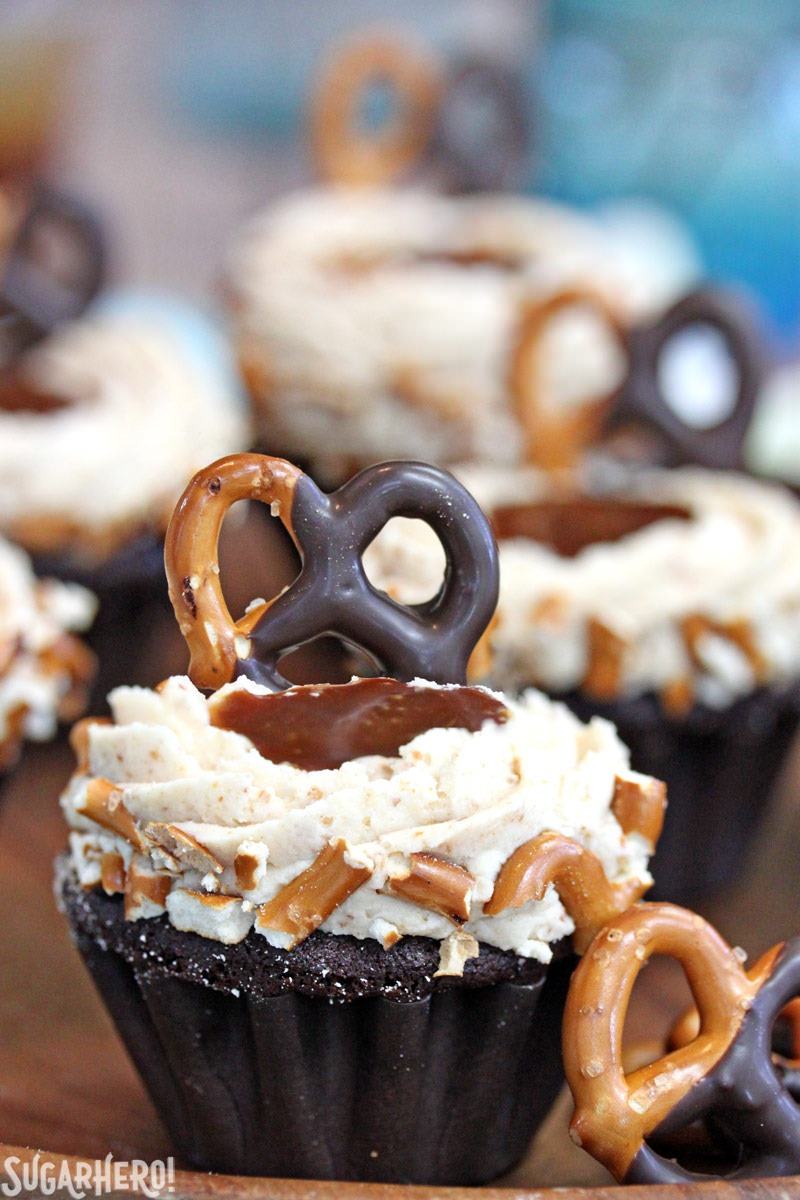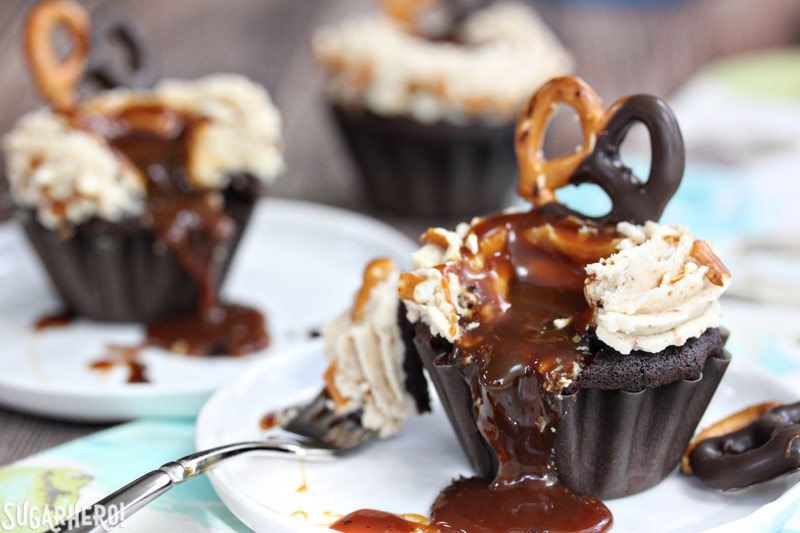 These turned out really delicious, and they're so good, they'll make even jaded hipster types reconsider their anti-cupcake stance!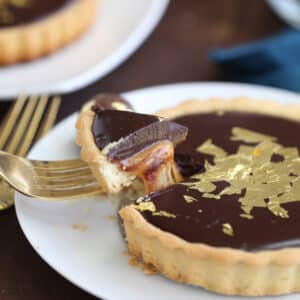 Baileys Chocolate Caramel Tarts
These Baileys Chocolate Caramel Tarts are outrageously good! With their crispy and buttery tart shell, Baileys Irish Cream salted caramel filling, and glossy chocolate topping, they are delicious and absolutely gorgeous.
View Recipe
Salted Caramel Bars
Salted Caramel Bars have a buttery shortbread base and a topping of rich, chewy caramel. A crunchy dusting of flaked sea salt on top is the perfect finishing touch!
View Recipe
Chocolate-Dipped Pretzel Cupcakes
These delicious Chocolate-Dipped Pretzel Cupcakes have a moist chocolate cake, sweet-and-salty pretzel frosting, and a gooey scoop of salted caramel in the center!
Ingredients
For the Pretzel Frosting:
4

oz

small pretzel twists

(about

3 cups

)

1

lb

unsalted butter

at room temperature

1

tsp

vanilla extract

1/8

tsp

salt

20

oz

powdered sugar

(5 cups)

2

TBSP

milk
To Finish:
2

cups

small pretzel twists

2

cups

thick salted caramel sauce (about

20 oz

, the thick kind in a jar)

24

chocolate-covered pretzel twists
Instructions
To Make the Cupcakes:
Preheat the oven to 350 F. Line cupcake pans with 24 paper wrappers.

Add the butter and both sugars to the bowl of a large stand mixer fitted with a paddle attachment. Beat them together on medium-high speed, until light and fluffy, about 5 minutes. Add the eggs one at a time, beating well after each addition. Add the vanilla extract and mix it in.

In a separate bowl, whisk together the buttermilk, sour cream, and water (or coffee, if using). In a different bowl, sift together the flour, cocoa powder, baking soda, and salt. With the mixer running on low, add a quarter of the sifted flour mixture. When the flour streaks have almost all disappeared, add a third of the liquid to the mixing bowl. When that's incorporated, continue to add the drys and wets in an alternating pattern, ending with the dry ingredients.

When the dry ingredients are nearly incorporated, stop the mixer. Scrape down the bottom and sides of the bowl with a rubber spatula, and finish mixing the cake by hand. Scoop the batter into the cupcake pans. Bake for 20-22 minutes, until the tops spring back when lightly pressed. Cool completely before decorating.
To Make the Pretzel Frosting:
Place the pretzel twists in the bowl of a food processor and pulverize them until they are fine crumbs.

Place the butter in the bowl of a stand mixer fitted with a paddle attachment and beat on medium spee for 2-3 minutes, until light and fluffy. Add the vanilla, salt, and powdered sugar, and beat for 1-2 minutes until you have a light, creamy frosting. Add the pretzel crumbs and mix well. At this point, check the texture. If you want it to be a little thinner, add the milk and mix it in. If you're happy with the texture, the milk can be omitted.
To Assemble:
Coarsely crush or chop the pretzel twists so they're in small, irregular pieces. Put some pretzel frosting in a piping bag fitted with a large open star tip.

Pipe a ring of frosting around the outer edge of a baked and cooled cupcake. Roll the side of the cupcake in the coarsely crushed pretzels, so the crumbs adhere to the sides. Use a teaspoon or small cookie scoop to scoop up a spoonful of caramel sauce and place it in the middle of the frosting ring. Finally, add a chocolate-covered pretzel to the top of the cupcake. Repeat until all of the cupcakes are assembled.

These cupcakes are best the day they are assembled. The cakes and frosting can be made several days ahead of time and kept in the refrigerator, but the fully assembled cakes have the best taste and texture on the day they are made.
Measuring Tips
Our recipes are developed using weight measurements, and we highly recommend using a kitchen scale for baking whenever possible. However, if you prefer to use cups, volume measurements are provided as well. PLEASE NOTE: the adage "8 oz = 1 cup" is NOT true when speaking about weight, so don't be concerned if the measurements don't fit this formula.
Want to learn more about baking measurements and conversion?
Nutrition
Calories:
632
kcal
|
Carbohydrates:
92
g
|
Protein:
6
g
|
Fat:
28
g
|
Saturated Fat:
17
g
|
Cholesterol:
87
mg
|
Sodium:
707
mg
|
Potassium:
183
mg
|
Fiber:
2
g
|
Sugar:
43
g
|
Vitamin A:
875
IU
|
Vitamin C:
0.1
mg
|
Calcium:
61
mg
|
Iron:
2.8
mg
Tried this recipe?
Snap a pic and hashtag it #SugarHero. We love to see your creations on our Instagram @elabau.