This post may contain affiliate links. As an Amazon Associate I earn from qualifying purchases. Please see my disclosure policy for more information.
Isn't spring the best? I know I say that about summer and fall too (winter, not so much) but right now, when all the trees on my street are exploding with white and pink blossoms, and there is sunshine that stretches past dinner time, and there are legit, verifiable TULIPS about to bloom in my front yard like a miracle (because we sure didn't plant any tulip bulbs), it's hard to imagine life getting any better than this.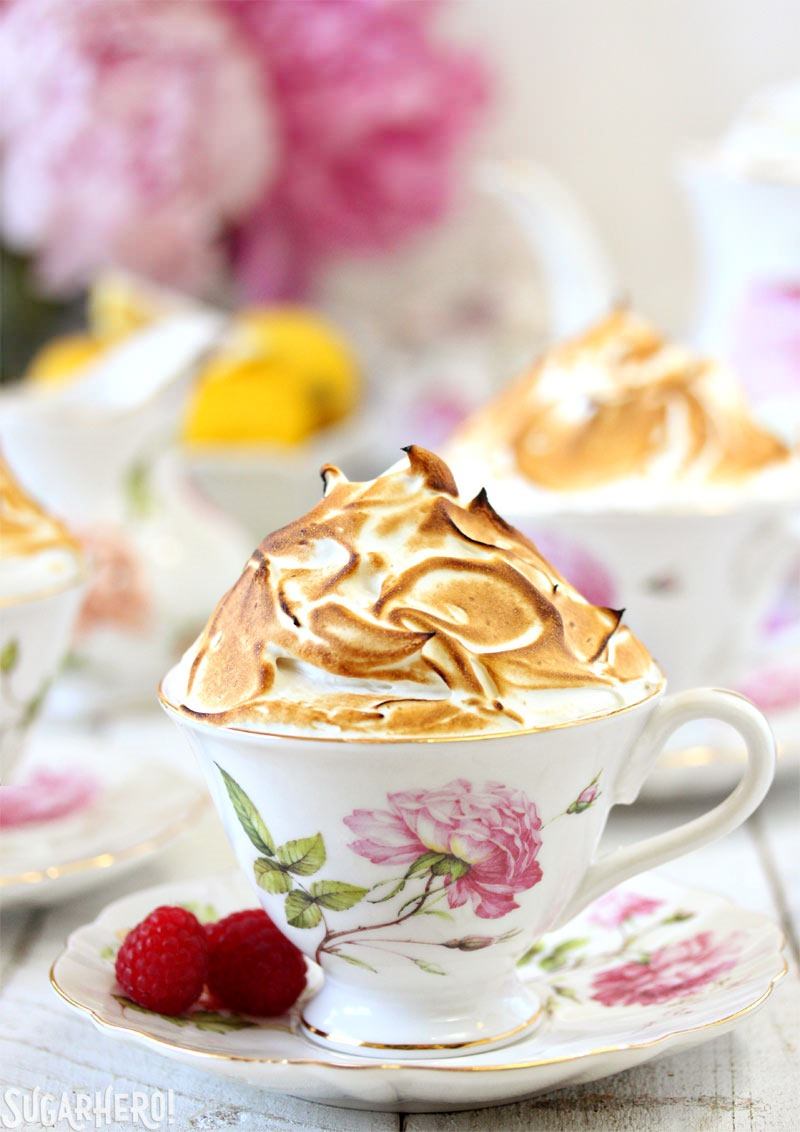 So because I am uncharacteristically cheerful, and because I'm experiencing a real change-of-seasons for the first time, and because it seems like a crime to stare at all these budding blossoms and no celebrate, I present to you: spring in a teacup! Or, more accurately, "lemon cake filled with raspberry sauce and topped with lemon curd and toasted meringue" in a teacup. But we can call it "spring" for short.
So yes, these sweet little teacups are holding big flavors and big layers. It starts with a light and fluffy cake batter, flavored with both fresh lemon zest and lemon extract, for a double dose of tart citrus love. I baked the cakes right in the teacups, and I'm sure I don't have to tell you this, but if you try it please make sure you're using oven-safe cups. Now is not the time to use Great Aunt Ruth's expensive heirloom china she bequeathed to you, may she rest in peace. I am not  a fancy person and my whole house is basically filled with oven-safe, dishwasher-safe, cheap-o dishes, so hurrah! More cakes baked in teacups for me, please!
After the cakelets are baked, they're filled with a big spoonful of homemade raspberry sauce. You can use fresh or frozen berries, or sub in store-bought jam if you want to save a few steps. Just make sure you get the zing of the raspberry flavor in there, tucked into the center of the lemon cakes.
The next step is to add even more lemon flavor, so a generous layer of lemon curd is spread on top of the cakes. Your mileage may vary depending on the size of your cups, but I managed to fit a good 3-4 spoonfuls of curd on top of each cake, so it really was a citrus lover's dream come true. And the curd on top keeps them from drying out, so they stay wonderfully fresh and moist, when most other cupcakes dry out if you look at them funny.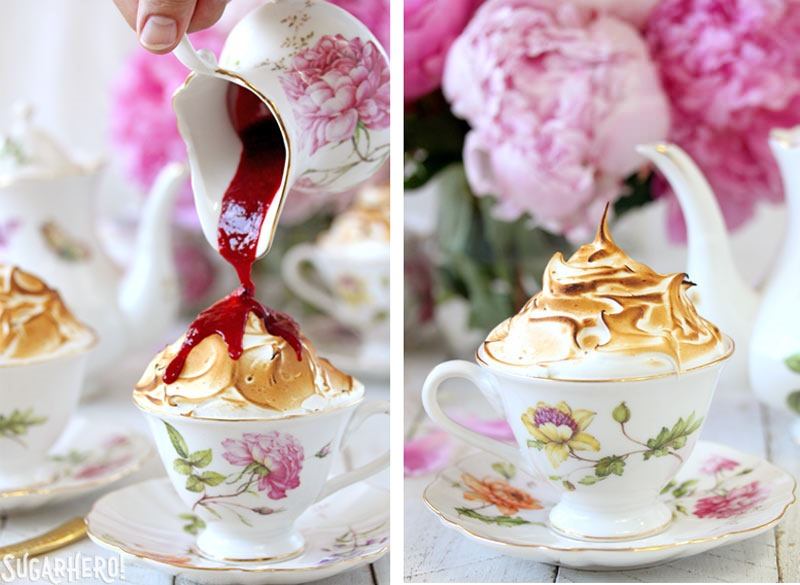 Finally—FINALLY—they're topped with big, generous, sweeping, swirling clouds of meringue. Meringue haters to the left, because I'm gonna put my foot down and say this is non-negotiable. The most gorgeous thing about these cakes is the contrast between the dark, swirling meringue on top and the dainty teacups on the bottom. Don't bother making them unless you're going to go all the way! Toast the meringue, get it nice and dark, and then if you're like me, pour on a bunch more raspberry sauce because yum.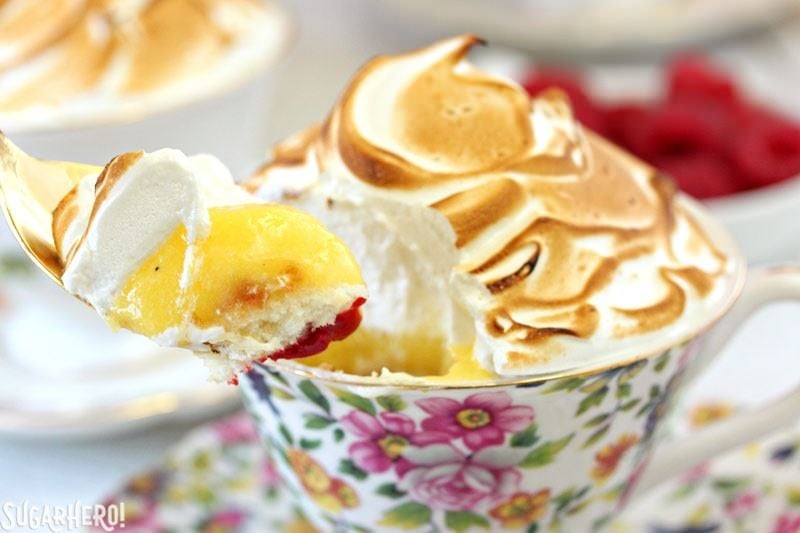 These would be perfect for Mother's Day, a baby or bridal shower, or an elegant birthday party! And if the teacups don't do anything for you, you can use ramekins or even bake them in cupcake tins. Happy spring!
🍋 More Lemon Desserts
Lemon Meringue Teacup Cakes
These delicious lemon cakes are baked right in teacups, for an elegant, memorable dessert that's perfect for special occasions. Be sure that you use oven-safe teacups or ramekins, or follow the suggestions for using cupcake tins instead. The cups I used held about 8 oz of water, filled right to the brim. Your individual time/yield may vary depending on the cups used. This recipe can be easily halved to make less, and you can simplify things by using store-bought lemon curd and raspberry jam, if desired.
Ingredients
For the Lemon Curd:
6

oz

unsalted butter

,

at room temperature

14

oz

granulated sugar,

(2 cups)

2

eggs

8

large egg yolks

1 1/3

cup

lemon juice

,

freshly squeezed
For the Lemon Cupcakes:
9

oz

cake flour,

(2 1/4 cups), sifted after measuring

1

tbsp

baking powder

1/2

tsp

salt

4

egg whites

,

at room temperature

10

fl oz

buttermilk

,

(1 1/4 cups), at room temperature

10.5

oz

granulated sugar,

(1 1/2 cups)

2

tbsp

fresh lemon zest

4

oz

unsalted butter

,

at room temperature

2

tsp

lemon extract

1

tsp

vanilla extract
Instructions
To Make the Lemon Curd:
In a large mixing bowl, cream together the butter and the sugar with a handheld or stand mixer fitted with a whisk attachment until the mixture is light and fluffy. Slowly add the egg and yolks, and beat for 1 minute more. Add the lemon juice and mix—at this point the mixture will look curdled.

Pour the liquid into the top of a double boiler or a bowl that fits snugly over your saucepan. (I actually like to use the metal mixing bowl that goes on my stand mixer so I'm not dirtying too many dishes.) Cook the mixture over the simmering water, whisking frequently, until it thickens enough to coat the back of a spoon. If you want to use a candy thermometer, cook the curd until it reaches 170-175 degrees F.

Once the curd thickens, remove the pan from the heat and pour the curd through a fine mesh strainer into a bowl to remove any bits of cooked egg. Press a layer of cling wrap directly on top of the curd, and refrigerate it until it is chilled and thick.
To Make the Raspberry Sauce:
Place the raspberries in a saucepan over medium heat until they give off juice and start to break down. Roughly mash them with a fork or potato masher until they're mostly liquid, then add the sugar. If you want seedless jam, pour the puree into a blender, blend well, then strain through a fine mesh strainer. Taste the jam, and add more sugar if needed. Cook the jam for a few more minutes over medium heat until it is bubbly and thick. Cool before using.
To Make the Lemon Teacup Cakes:
Preheat the oven to 350 F. Set your oven-safe teacups or ramekins on a baking sheet. If you are using 6-8 oz cups, you should get about 14-16 teacup cakes from this recipe. Please make sure that the cups you are using are oven-safe, and don't use priceless family heirlooms! Alternately, to make cupcakes,

line 20 cupcake tins with paper liners.

In a small bowl, whisk together the cake flour, baking powder, and salt, and set aside for now. In a separate bowl, whisk together the egg whites and buttermilk.

In the bowl of a large stand mixer, combine the sugar and lemon zest. Rub them together with your fingers until the sugar is moist and fragrant, and has the texture of wet sand. Add the butter, and cream the butter and sugar together with the paddle attachment until light and fluffy, about 3-5 minutes. Add the lemon and vanilla extracts, and mix them into the batter.

With the mixer running on low, add a third of the flour mixture, then when just a few streaks of flour remain, add half of the buttermilk mixture. When it's incorporated, add half the remaining flour, then when that's mixed in, add the rest of the milk, and finish with the last of the flour. Stop the mixer and finish mixing by hand, scraping the bottom and sides well.

Divide the batter between the teacups, filling them about half full. Bake for 18-20 minutes. Baking time will vary depending on the size and thickness of your cups, so it's better to watch them carefully and rely on signs of doneness, rather than a baking time. The cakes are done when the tops spring back lightly when pressed with a finger, and a toothpick inserted into the center comes out clean. Allow them to cool completely before assembling.
To Make the Meringue and Assemble:
Using a paring knife, cut an inch-wide hole in the top of each cupcake, and remove a cone-shaped segment from the top. Fill the hole with a spoonful of raspberry sauce. Cut off the bottom part of each cone and discard (or eat!). Pop the top of the cupcake back on. Add a layer of lemon curd on top of each cupcake, going almost to the top of the teacup—I used about 3-4 tablespoons per cup. (If you're making regular cupcakes, fill the cupcake hole with a mix of raspberry jam and lemon curd, then put the top back on.) At this point, the cupcakes can be finished with meringue, or they can be refrigerated for several hours, or up to several days. If refrigerating them for more than a few hours, cover each cup with a layer of plastic wrap.

Make the meringue right before you're ready to use it. Combine the egg whites and the granulated sugar in the bowl of a large stand mixer, and whisk them together. Choose a small saucepan that lets you fit the base of the stand mixer snugly into the top of the saucepan—this is your makeshift hot water bath. (Alternately, you can use a different bowl or an actual bain marie and then transfer the mixture to a mixing bowl once it's heated.) Add an inch of water to the bottom of the saucepan, and bring the water to a simmer.

Place the mixing bowl on top of the saucepan, making sure that the bottom isn't in contact with the water, and heat the egg white mixture. Whisk frequently so that the egg whites don't cook. Continue to heat the whites until they are hot to the touch, and when you rub a bit between your fingers, you don't feel any grittiness from the sugar. Once the whites are hot, transfer the mixing bowl to your mixer and fit it with a whisk attachment.

Beat the whites on medium-high speed until they are no longer warm, and they are shiny, white, voluminous, and hold stiff peaks when you remove the whisk. (About 8-10 minutes.) Add the vanilla extract and salt and whisk until well-incorporated.

Top each cupcake with a big, tall scoop of meringue, and smooth it to the edges, so that the lemon curd is entirely covered. Use the back of a spoon to shape the meringue and add swoops or swirls, if desired. Use a kitchen torch to toast the meringue to an even golden brown color. If you don't have a torch, you can place the cups on a baking sheet and put them under a broiler briefly to toast, for about 1 minute. Watch them the whole time so that they don't burn. These cupcakes are best enjoyed soon after they are made, so that the meringue is light and fluffy and crispy on the outside. However, they can be kept for several days in the refrigerator, and you will just have a chewier, stickier meringue layer.
MEASURING TIPS
Our recipes are developed using weight measurements, and we highly recommend using a kitchen scale for baking whenever possible. However, if you prefer to use cups, volume measurements are provided as well. PLEASE NOTE: the adage "8 oz = 1 cup" is NOT true when speaking about weight, so don't be concerned if the measurements don't fit this formula.
Click here to learn more about baking measurements and conversion.
Nutrition
Serving:
16
g
|
Calories:
591
kcal
|
Carbohydrates:
98
g
|
Protein:
6
g
|
Fat:
20
g
|
Saturated Fat:
11
g
|
Cholesterol:
178
mg
|
Sodium:
187
mg
|
Potassium:
203
mg
|
Fiber:
1
g
|
Sugar:
82
g
|
Vitamin A:
695
IU
|
Vitamin C:
13.2
mg
|
Calcium:
69
mg
|
Iron:
0.8
mg
Share by Email
Share on Facebook
Share on Pinterest