This Blueberry Crumble Pie has a beautiful blend of flavors and textures. The thick blueberry filling is flavored with lemon and a hint of cinnamon, then topped with a brown butter almond crumble.
Ever since I started working for myself, national holidays haven't been quite as exciting as they used to be. When I was a blazer-and-heels wearing office worker? You would see Memorial Day and other holidays circled on my calendar with three neon highlighters in different shades of desperation. Now that I'm a member of the fuzzy slipper work-from-home club? Most holidays are just another word for "everyone's going to be all up in my grill at the grocery store during daytime hours."
This Memorial Day, though, I'm a little less grinchy and a little more excited. Jason actually has the day off of work, and Asher will be home from day care, so I'm pinky-swearing that I'll put my computer away and we'll spend some quality time together as a family. We'll be grilling with friends, and swimming—or refusing to swim and pouting on the edge of the pool, depending on toddler whims.
We'll also be enjoying blueberries by the bushel, because I have an untreated blueberry addiction and am not seeking help. They've finally come down in price in my area, so I've been buying pints and pints of them. We've mostly been eating them raw, but they've also made their way into smoothies, pancakes, and now, this beast of a pie. It's the perfect dessert for weekend barbecues, potlucks, or—yes, I'm going there—even brunches. Pie for brunch? Let's make that a thing. Still looking for more? Check out this stunning Blueberry Layer Cake and this delicious, homemade Blueberry Sauce.
I'll always prefer pies made with fresh berries, but this one can easily be made with frozen, if you don't have good fresh ones available to you. It's flavored with lemon and a hint of cinnamon, and topped with a brown butter almond crumble. All of the flavors and textures mean that it's a forgiving pie if you're making it with less-than-optimal fresh berries, or frozen ones. Give me your poor, your tired, your frozen berries yearning to be made into pie, and I will give you a recipe for the best dang Blueberry Crumble Pie you'll ever taste.
I love that this pie is a combination of two of my favorite blueberry desserts—pie and fruit crumble. This crumble was last seen on my Rhubarb Streusel Tart, and ever since I made that tart I've been wanting to incorporate the crumble into other dishes. The topping is rich with the nutty flavor of browned butter, and has plenty of almonds and brown sugar too.
The filling in this pie is a mix of cooked blueberries and raw ones—half of the berries are simmered with lemon juice and zest until they're thick and jammy, and the other half are added raw, right before baking. This, along with the tapioca, helps give you a thicker, more intensely flavored filling that sets well, doesn't produce a pool of liquid whenever you try to cut into it, but still has whole berries that pop in your mouth.
It's taken me a few years of intense pie-making casual experimenting, but I can finally conceded that all of those folks who insist on tapioca as a thickener in fruit pies are right. Sometimes I'll use a mix of tapioca and corn starch, and sometimes, as in this pie, just straight tapioca. Flour has never worked well for me, and all-cornstarch pies tend to set inconsistently or just taste too starchy. If you're worried about the little balls of tapioca showing up in the final product, you can whir them around in your food processor before adding them to the fruit, to break them down into smaller pieces. I promise you'll never notice they're in there, and your pie will set beautifully! There is also a product called Clear Jel that I haven't tried yet, but that is used specifically to thicken fruit pies without any funky taste or texture issues.
Finally, I topped my pie with a crème fraiche honey whipped cream, flavored with just a pinch of cinnamon. It was tangy and floral and ever so slightly spiced, and the perfect compliment to the juicy filling and crunchy topping! Of course, I wouldn't judge you for choosing ice cream instead. (But serving a plain slice of pie? I would definitely judge you for THAT!)
More Fresh Berry Desserts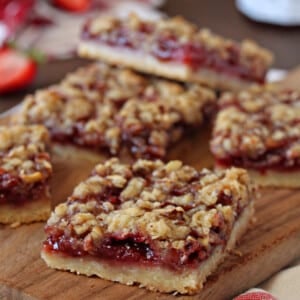 Strawberry Basil Crumb Bars
Strawberry Basil Crumb Bars are light and refreshing fruit bars with a twist! They have a shortbread base, a crumble topping, lots of strawberry filling, and just a hint of fresh basil to mix it up.
View Recipe
Rhubarb Streusel Tart
This Rhubarb Streusel Tart has a simple crust and sweet-tart rhubarb filling. It's topped with a show-stopping streusel made with rich browned butter and crunchy sliced almonds!
View Recipe
Blueberry Crumble Pie
This Blueberry Crumble Pie has a beautiful blend of flavors and textures. The thick blueberry filling is flavored with lemon and a hint of cinnamon, then topped with a brown butter almond crumble.
Ingredients
Instructions
To make the crust, combine the flour, sugar, and salt in the bowl of a large food processor and pulse a few times to combine.

Add the cold cubed butter and shortening, and pulse in short bursts until it's cut into the dry ingredients and the mixture has the texture of coarse crumbs. Add half of the ice water and pulse in 5-second bursts, adding the rest a little more at a time just until the dough starts to come together. You may not need to use all of the water—stop when the dough starts to come together, and don't overwork it!

Turn the dough out onto a lightly floured board and knead it just enough to incorporate any dry patches of flour. Shape the dough into a disc, wrap it well in plastic wrap, and refrigerate it for an hour to chill. The crust dough can be made several days in advance and kept in the refrigerator until ready to use.

While you wait for the dough to chill, make the streusel topping and blueberry filling. To make the streusel, place the butter in a medium saucepan over medium heat and cook it, stirring frequently, until it turns golden brown and has a nutty fragrance. Watch it carefully during this process and be sure to scrape the bottom of the pan with a spatula during the cooking, so that it does not burn.

Once the butter is browned, remove the pan from the heat and stir in the sugar, almonds, cinnamon, and flour. Stir until all of the ingredients are incorporated and the mixture is moist. Spread it out on a plate or baking sheet and refrigerate the streusel to chill it quickly, for about 30 minutes.

Make the filling by combining 3 cups of blueberries, 1/2 cup sugar, the zest of 2 lemons, and 3 tbsp fresh lemon juice in a medium saucepan over medium-low heat. Stir while the mixture comes to a simmer and the sugar melts, then simmer it for about 20 minutes. The blueberries will pop and reduce their liquid, and you want the liquid to reduce by about half, until it has a much thicker jammy texture.

Remove from the heat and cool to room temperature. Stir in the remaining 4 cups of blueberries, 1/4 cup tapioca, 1 tbsp lemon juice, cinnamon, and salt. Taste the mixture, and add up to 1/4 cup sugar, depending on the sweetness of your berries and your preference.

Preheat the oven to 400 F. Flour your work surface and rolling pin, and roll the dough out into a circle. Transfer it to your 9" deep dish pie pan and trim any overhang from the sides. Scoop the room temperature blueberry filling into the pan, leaving any extra liquid in the bowl. Scatter the crumble all over the blueberries.

Place the pie on a baking sheet lined with parchment or foil. Bake at 400 F for 20 minutes, then turn the temperature down to 350 F and bake for an additional 40-50 minutes. Cover the pie loosely with foil if it seems like the crumble is getting overly brown. The pie is done when the blueberry filling bubbles thickly up out of the crumble in several places. Cool on a wire rack.

To make the crème fraiche honey whipped cream, combine all ingredients in a mixing bowl, and beat with a whisk attachment on medium-high speed until soft peaks form.

This pie is wonderful served warm, at room temperature, or cool. You will get the neatest slices if you chill it before cutting. Top with a dollop of whipped cream and a few extra blueberries for garnish.
Measuring Tips
Our recipes are developed using weight measurements, and we highly recommend using a kitchen scale for baking whenever possible. However, if you prefer to use cups, volume measurements are provided as well. PLEASE NOTE: the adage "8 oz = 1 cup" is NOT true when speaking about weight, so don't be concerned if the measurements don't fit this formula.
Want to learn more about baking measurements and conversion?
Nutrition
Serving:
10
g
|
Calories:
872
kcal
|
Carbohydrates:
103
g
|
Protein:
8
g
|
Fat:
50
g
|
Saturated Fat:
26
g
|
Cholesterol:
116
mg
|
Sodium:
325
mg
|
Potassium:
299
mg
|
Fiber:
6
g
|
Sugar:
62
g
|
Vitamin A:
1395
IU
|
Vitamin C:
15.8
mg
|
Calcium:
115
mg
|
Iron:
2.6
mg
Tried this recipe?
Snap a pic and hashtag it #SugarHero. We love to see your creations on our Instagram @elabau.