This Grapefruit Meringue Pie has a crunchy buttery crust and a lovely grapefruit flavor with a subtle citrus bite. It's covered in a thick layer of meringue that is balanced nicely by the grapefruit filling.
Tomorrow is March 14, aka 3-14, aka Pi Day—the one day a year when math nerds and food nerds unite. I don't have particularly strong feelings about pi the number, but I definitely have strong feelings about pie the food. (And those feelings are generally expressed in the form of: "Get in mah pie-hole!")
My recipe for this year's Pi Day was inspired by my friend Ben. I'm sure other food bloggers have this experience, but I regularly have friends suggest recipes for my blog, usually with the ulterior motive of wanting to eat the results themselves. I'd be more cynical about it, but the truth is I'm happy—sometimes desperate!—to give away most of what I make for SugarHero. Our household of two adults and one sugar-restricted baby could never eat all the treats I make, although if you had seen us attack the plate of brownies I made recently, you would call me a liar. But the point is: we try to be good and share the wealth.
About a month ago, Ben suggested that I make an orange meringue pie. I wasn't completely sold on the idea. To me, the beauty of a lemon meringue pie is the interplay between the ultra-tart lemon layer and the sweet meringue on top. Oranges are much sweeter than lemons, and I worried the pie as a whole would be way too sweet and one-dimensional. As a compromise, I suggested grapefruit meringue instead. I love grapefruit but haven't cooked with them hardly at all this season, so I was happy to have an excuse to use them before the berrypalooza of the spring and summer months.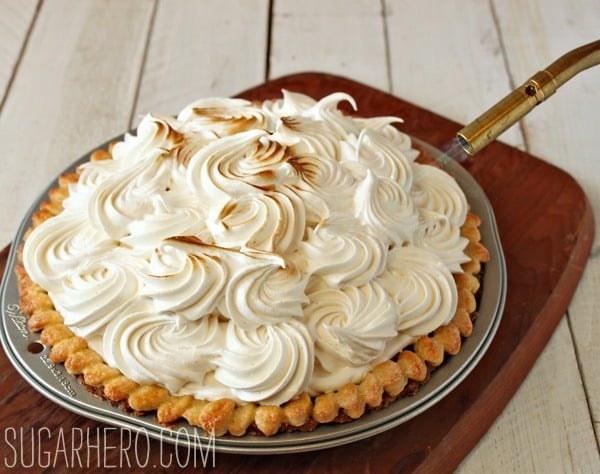 Plus, we all know I'm a total sucker whenever the butane torch is involved. If I can light something on fire and pretend it's for "work," I consider that an A+ day. Little Sparky & I had fun torching the top of the meringue until it was puffed and dark brown, nearly black along the edges. I can't hang with wussy light brown meringue—for me to be happy, it needs to have a strong toasted marshmallow flavor.
And how was Ben's brainstorm? Really, really good! I will admit that it probably won't replace lemon meringue for me, unless they come out with a new breed of ultra-sour grapefruit or something. (Scary GMO scientists, please get on that stat.) It had a lovely grapefruit flavor, and the fruit did a nice job of balancing the meringue, but it was missing the powerful "bite" that the lemon variety has. If you're a lover of grapefruit, though, or if you sometimes find lemon meringue too tart, then this is the perfect pie for you. Happy Pi Day Eve, friends!
🧡More Citrus Desserts You'll Love!
Toasted Coconut Lime Meringue Tart
This Toasted Coconut Lime Meringue Tart is a light, fresh tart with a tangy lime filling and toasted meringue on top.
View Recipe
Lemon Meringue Teacup Cakes
These delicious lemon cakes are baked right in teacups, for an elegant, memorable dessert that's perfect for special occasions.
View Recipe
Grapefruit Meringue Pie
This Grapefruit Meringue Pie has a crunchy buttery crust and a lovely grapefruit flavor with a subtle citrus bite. It's covered in a thick layer of meringue that is balanced nicely by the grapefruit filling.
Ingredients
1

9"

pie crust

fully baked and cooled
For the grapefruit filling:
1

cup

granulated sugar

2/3

cup

cold water

1/2

cup

cornstarch

3/4

cup

fresh grapefruit juice

from

1

large or

2

medium grapefruit

3

TBSP

fresh grapefruit zest

from

1

large grapefruit, approximately

4

large egg yolks

1

pinch of salt

1 1/4

cups

boiling water
Instructions
To make the grapefruit filling:
Combine all of the ingredients except for the boiling water in a medium saucepan, and whisk until the corn starch fully dissolves. Add the boiling water and whisk everything together, then place the pan over medium-high heat.

Stir constantly with a rubber spatula, scraping down the bottom of the pan so that it doesn't scorch. Bring the mixture to a slow boil, always stirring, until it thickens. You'll notice that it goes from runny to thick in an instant. As soon as it thickens, remove the pan from the heat, whisk it to smooth out any lumps, and pour it into the baked and cooled pie shell. Spread it into an even layer. Press a layer of cling wrap on top, and let it cool to room temperature before refrigerating it to cool completely.
To make the meringue layer:
Combine the water, sugar, and corn syrup in a small saucepan over medium-high heat. Stir until the sugar dissolves, then brush down the sides of the pan with a wet pastry brush to prevent sugar crystals from forming. Once the sugar syrup comes to a boil, insert a candy thermometer and cook the syrup, without stirring, until it reaches 240 degrees Fahrenheit (115 C) on the thermometer.

While the sugar syrup is cooking, prepare the egg whites. Once the syrup reaches about 225 F, pour the room temperature egg whites into the clean bowl of a large stand mixer. Begin whipping them with the whisk attachment on medium speed. The goal is to have the white reach firm peaks at the same time the sugar syrup reaches 240 F. If the whites are ready first, stop the mixer—do not overbeat them!

When the sugar syrup is at 240, remove the pan from the heat. With the mixer running, carefully pour the hot syrup into the egg whites in a slow, steady stream. (If your saucepan does not have a spout, it might help to first transfer it to a large measuring cup with a spout before doing this step.) Turn the mixer to medium-high and beat until the whites are glossy, voluminous, and hold firm peaks. Add the vanilla extract and beat to combine.

Spread or pipe the meringue onto the cooled pie filling. You can eat it as-is, or use a kitchen torch to toast the top of the meringue. Serve immediately, and store leftovers in the refrigerator for up to 3 days. Although it will keep, this pie is best on the day that it's made.
Recipe Notes
I tried something new (to me) with the meringue layer this time—instead of making a plain meringue with egg whites and sugar, I made an Italian meringue by boiling sugar and water, then adding it to the egg whites. It's less traditional, but I was trying to prevent the common problem of the meringue "weeping" into the pie, and Italian meringue is more sturdy. I really liked this change! It doesn't have quite the same airy texture (it's a bit more like a marshmallow texture) but it held up much better. For once I didn't feel like I had to rush my meringue pie to the table before it deflated or wept. One more thing: the filling has quite a bit of corn starch, which helps it slice beautifully and remain stable once sliced. If you like your pies to have a softer, more fluid filling, and don't mind a little slip-sliding around the plate, consider reducing the corn starch to 1/3 cup.
Measuring Tips
Our recipes are developed using weight measurements, and we highly recommend using a kitchen scale for baking whenever possible. However, if you prefer to use cups, volume measurements are provided as well. PLEASE NOTE: the adage "8 oz = 1 cup" is NOT true when speaking about weight, so don't be concerned if the measurements don't fit this formula.
Want to learn more about baking measurements and conversion?
Nutrition
Calories:
9427
kcal
|
Carbohydrates:
1292
g
|
Protein:
119
g
|
Fat:
418
g
|
Saturated Fat:
131
g
|
Cholesterol:
781
mg
|
Sodium:
6533
mg
|
Potassium:
2044
mg
|
Fiber:
38
g
|
Sugar:
487
g
|
Vitamin A:
1040
IU
|
Vitamin C:
47.6
mg
|
Calcium:
398
mg
|
Iron:
42.8
mg
Tried this recipe?
Snap a pic and hashtag it #SugarHero. We love to see your creations on our Instagram @elabau.