These Lavender Lemon Bars are a sweet twist on traditional lemon bars! Homemade lavender sugar is used in the crust and filling to add a light lavender flavor. They're tangy, sweet, and refreshing!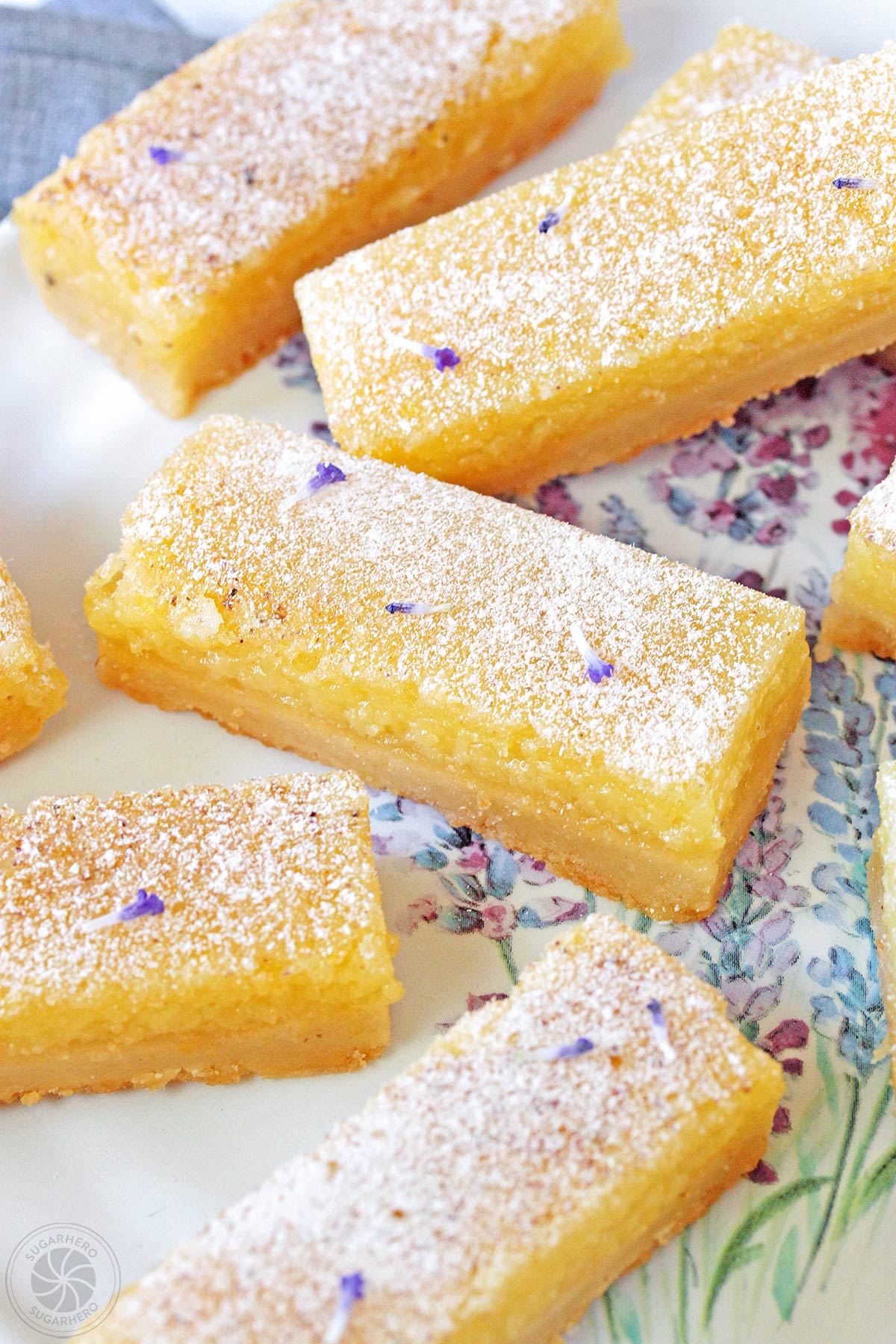 I'm a simple girl with simple needs. I like my slippers fuzzy, and my gossip magazines trashy. I like my water cold and my chocolate hot, unless we're talking about showers and ice cream, in which case, you should reverse that. And often, I like my desserts with a whiff of the flower garden about them. That's right, I'm here to shove floral flavors into your lemon bars, and I'm not sorry about it.
I know that not everyone will be automatically excited about adding lavender to such a classic, timeless recipe. Why mess with perfection? But if you'll give me a moment to persuade you, I think I can convince you to give it a try.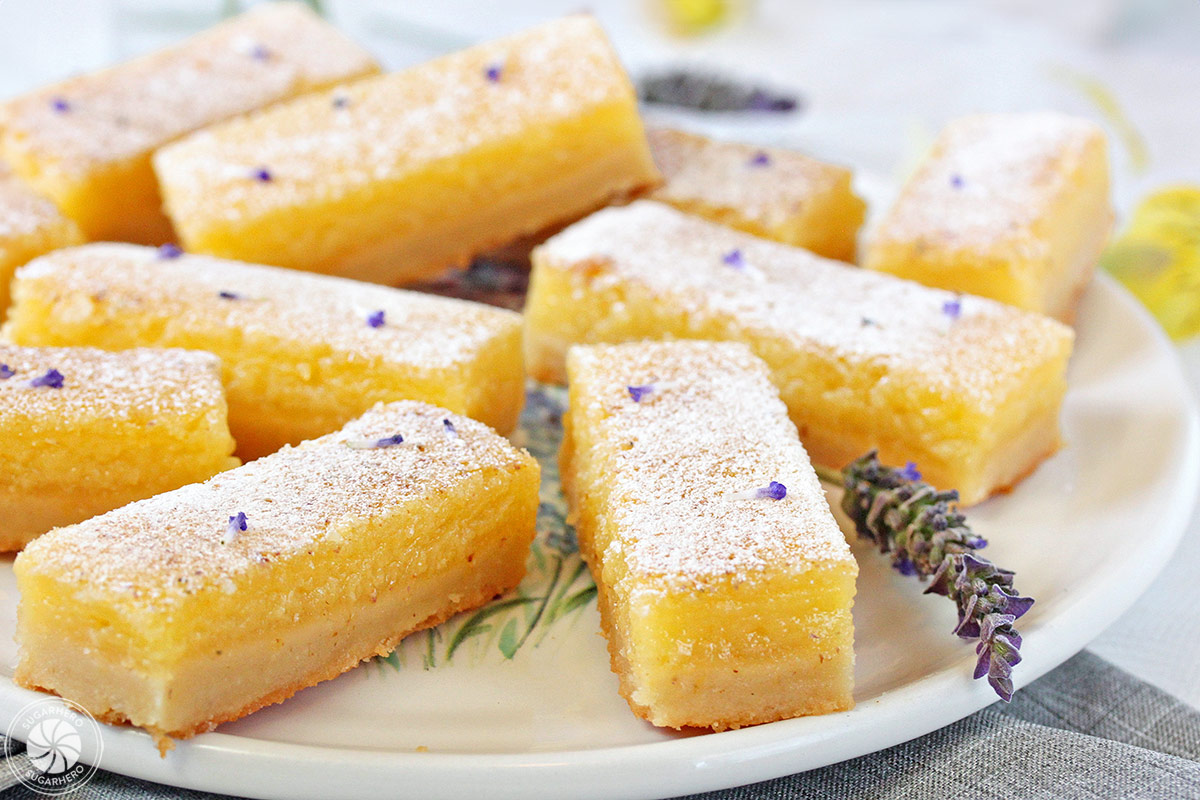 How Do I Make Lavender Lemon Bars?
In this Lavender Lemon Bars recipe, lavender sugar is used in both the shortbread crust and the lemon filling, to give the tangy bars a very light floral flavor. "Lavender sugar" may sound fancy, but it's literally something you whiz up in the food processor right before you make the lemon bars. It's made with dried lavender and granulated sugar, for a total cost of 50 cents and a time commitment of 20 seconds (those are estimates but you get the idea.)
Lavender sugar is such a lovely ingredient. It's very aromatic, with a woodsy, vanilla fragrance and a mildly herbal taste. I made some for Christmas gifts a few years ago, packaged in purple jars. (Pinterest wannabe, party of one.) It's a great pantry item because it keeps for ages and is a wonderful addition to hot drinks, lemonade, or cookie recipes. So while this recipe calls for just the amount of lavender sugar you'll need, you can always make more and keep it in your cupboard to add to coffee, cakes, or anything else that could use some flower flava!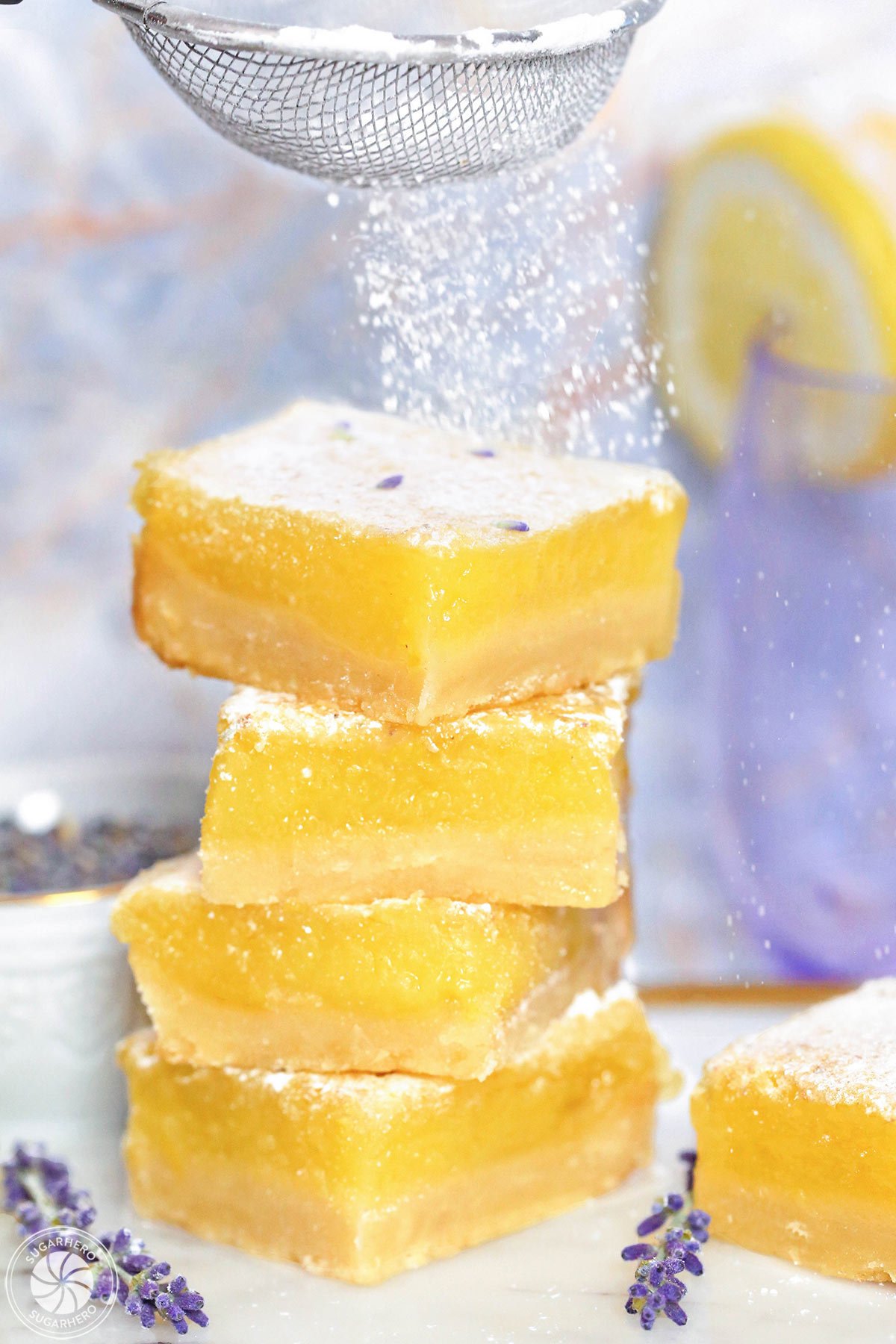 Make sure that you're using dried lavender intended for culinary use. It can often be found near the spices in the baking aisle of large supermarkets. I've had good luck finding cheap lavender at Cost Plus World Market, if you have one of those nearby. Or, of course, dried culinary lavender is also available online.
After you've made your lavender sugar, this recipe comes together like any other lemon bar. A simple shortbread crust, and an easy filling of eggs, lemon juice, sugar, and a bit of flour to hold everything together.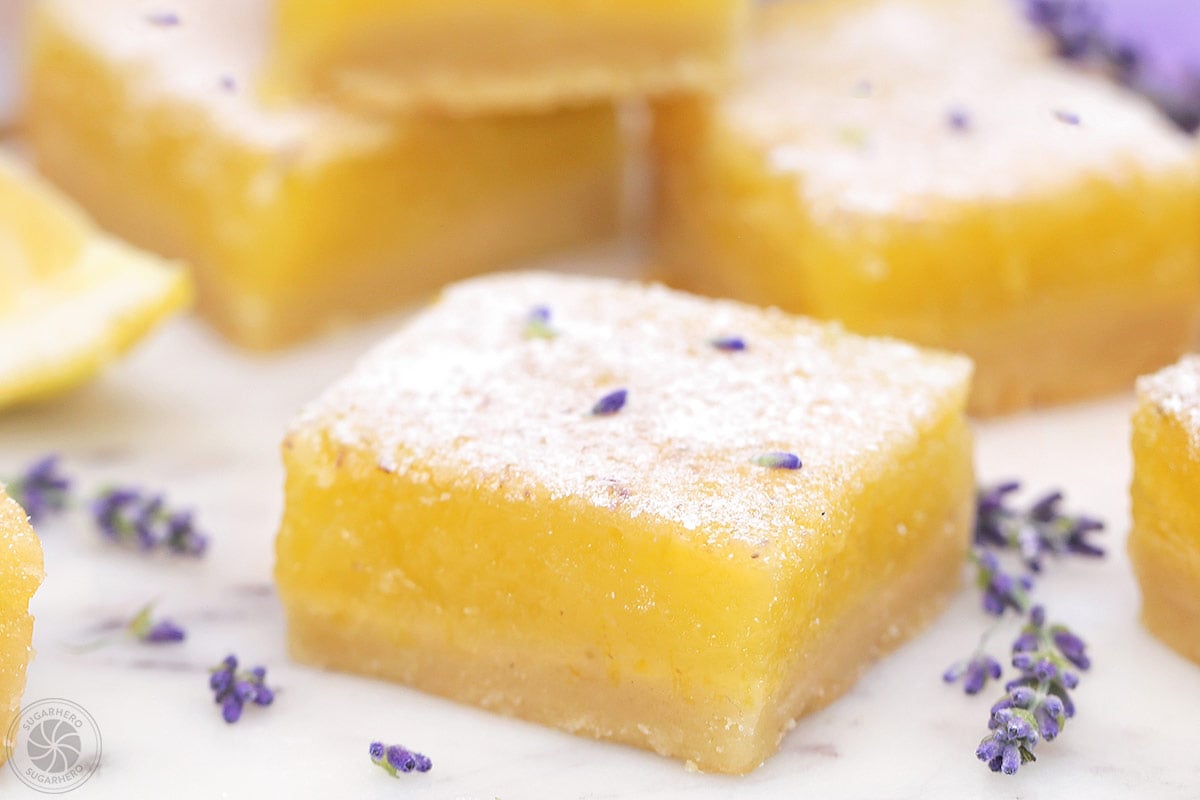 The cookies are noticeably different from your typical lemon bar, but I suspect most people probably wouldn't be able to guess that lavender is the secret ingredient. If anything, I thought that they had a strong vanilla taste, even though there was just a bit of vanilla in the crust and none in the filling! The lavender gives them a light, fresh quality that perfectly matches the bright lemon flavor.
They're a good way to say hello to spring, but since dried lavender is available all year long, don't let that stop you from enjoying these any time!
🍋 More Lemon Desserts
🌺More Lavender Desserts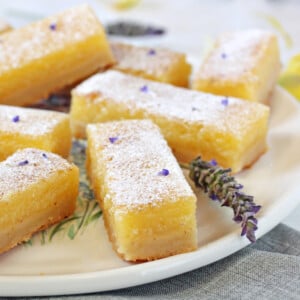 Lavender Lemon Bars
These Lavender Lemon Bars are a sweet twist on traditional lemon bars! Homemade lavender sugar is used in the crust and filling, to add a light lavender flavor. They're tangy, sweet, and refreshing!
Ingredients
For the Filling:
8

large eggs

1 1/4

cups

fresh lemon juice

19.25

oz

lavender sugar

(

2 3/4

cups)

Zest of 2 lemons

2.25

oz

all-purpose flour (

1/2

cup)

Powdered sugar

for serving
Instructions
To Make the Lavender Sugar:
Place the dried lavender in the bowl of a food processor and blend it for 10-15 seconds to chop it into small pieces. Add 1 cup of granulated sugar to the processor and blend well, for 15-20 seconds, until the lavender is finely ground and mixed into the sugar. Add the remaining sugar to the processor and pulse briefly until it's well-mixed.
To Make the Crust:
Preheat the oven to 350 degrees Fahrenheit. Line a 9×13 pan with foil so that it extends up the sides, and spray the foil with nonstick cooking spray.

In a bowl, whisk together the melted butter, lavender sugar, vanilla, and salt. Once mixed, add the flour and stir with a spatula until it is combined and no streaks of flour remain. Scrape the dough into the pan and press it into an even layer. It might seem a little greasy—this is normal.

Bake the crust for 25-30 minutes at 350 F, until it's golden brown on top. While the crust is baking, prepare the filling so it's ready to go as soon as the crust is done.
To Make the Filling:
In a large bowl, whisk together the eggs, lemon juice, lavender sugar, and lemon zest. Sift the flour on top of the egg mixture, and whisk it in as well.

When the crust is done baking, slide the rack part-way out of the oven. Pour the filling over the hot crust and slide it back into the oven. Reduce the temperature to 325 F and bake for 25-30 minutes. It's done when the center barely jiggles when you tap the pan.

Once done, remove the pan from the oven and let it cool until it reaches room temperature. For the cleanest cuts, refrigerate the bars and cut them when completely cold. To cut, remove the bars from the pan using the foil as handles. Use a large sharp chef's knife and wipe it off often between cuts.

Sprinkle the top with powdered sugar before serving, and add a few lavender buds on top if desired. Store Lavender Lemon Bars in an airtight container in the refrigerator for up to a week.
Recipe Notes
Dried lavender can often be found near the spices in the baking aisle of the market. I like to top my bars with non-melting powdered sugar, which, as the name suggests, won't melt into the bars due to condensation. You can buy non-melting sugar at King Arthur Flour. This crust recipe is from Alice Medrich's Pure Dessert.
Measuring Tips
Our recipes are developed using weight measurements, and we highly recommend using a kitchen scale for baking whenever possible. However, if you prefer to use cups, volume measurements are provided as well. PLEASE NOTE: the adage "8 oz = 1 cup" is NOT true when speaking about weight, so don't be concerned if the measurements don't fit this formula.
Want to learn more about baking measurements and conversion?
Nutrition
Calories:
293
kcal
|
Carbohydrates:
45
g
|
Protein:
4
g
|
Fat:
11
g
|
Saturated Fat:
6
g
|
Cholesterol:
89
mg
|
Sodium:
85
mg
|
Potassium:
59
mg
|
Sugar:
32
g
|
Vitamin A:
380
IU
|
Vitamin C:
5.9
mg
|
Calcium:
15
mg
|
Iron:
1.1
mg
Tried this recipe?
Snap a pic and hashtag it #SugarHero. We love to see your creations on our Instagram @elabau.