These amazing Meringue-Topped Blondies start with a moist chocolate chip, coconut and pecan blondie batter baked with a brown sugar meringue on top. The meringue has a crisp outer texture and marshmallowy middle!
Meringue has never done much for me. I could take or leave a lemon meringue pie, and those crunchy meringue "cookies" that come in big tubs? Get those out of here and quit insulting me. But with this blondie recipe, I think I've finally found a legitimate use for meringue.
It turns out that when you top a dense, moist chocolate chip and pecan blondie with brown sugar meringue, and then bake everything together so that the meringue is crisp on top and marshmallowy in the middle, amazing thing happen. Surely this is the reason God gave us egg whites.
Oh meringue, let's never fight again.
This recipe is especially clever because the blondies are made with just egg yolks, and the whites from the eggs are used to make the meringue. Don't you hate it when recipes call for uneven numbers of whites or yolks, so you're left either tossing ingredients, or figuring out how to store one lonely yolk in the refrigerator?
Aside from the benefit of making my egg usage nice and symmetrical, using all yolks in the blondie layer makes it very tender. I actually made this recipe twice—the first time, the blondies were too crumbly for my taste (one side effect of using all yolks is that they don't bind as well as whole eggs do). For the second batch, I increased the butter and fiddled with the sugar and flour quantities, so that the cookies held together better, but still had a tender texture.
I think these blondies are best the day they're made, so the contrast between the crisp upper shell, gooey middle meringue layer, and cookie bottom is strongest. If you do want to make them in advance, they actually keep fairly well for several days (or maybe longer…but mine were all gone in a few days!). Just know that the top layer will gradually soften over time.
Eton Mess
Eton Mess has whipped cream, fruit curd, fresh berries, and meringues. All the layers have a light texture and delicate flavor that should be enjoyed shortly after it's made. Yum!
View Recipe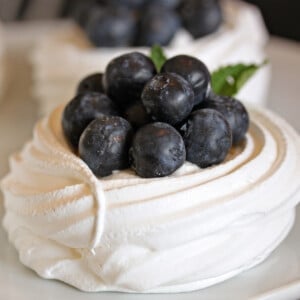 Blueberry Pavlovas
These Blueberry Pavlovas consist of a crunchy meringue shell, filled with whipped cream and topped with fruit. The moisture from the cream softens the meringue, so every bite is a little crunchy, a little gooey, and really delicious.
View Recipe
Meringue-Topped Blondies
These Meringue-Topped Blondies is amazing because the moist chocolate chip and pecan blondie with brown sugar meringue baked together so the meringue is crisp on top and marshmallowy in the middle.
Ingredients
For the meringue layer:
3

large egg whites

,

at room temperature

1

cup

brown sugar,

packed
Instructions
Preheat the oven to 350 degrees Fahrenheit. Line a 9x-13-inch pan with aluminum foil and spray the foil with nonstick cooking spray.

Place the butter and the sugars in the bowl of a large stand mixer, and beat them together on medium speed for 2-3 minutes, until light and fluffy. Add the egg yolks one at a time, beating well after each addition, then add the vanilla extract.

Whisk together the flour, baking powder, baking soda, and salt in a small bowl. With the mixer running on low, add the dry ingredients and mix them in until the flour is almost entirely incorporated—stop mixing when there are still a few streaks of flour.

Add the chopped semi-sweet chocolate, the chopped nuts, and the toasted coconut. Stir them in by hand, mixing in the rest of the flour as well. Be sure to scrape down the bottom and the sides of the bowl so that everything's well-mixed.

Scrape the dough into the prepared pan and smooth it into an even layer.

Place the egg whites in a clean, dry mixing bowl and begin to beat them using the whisk attachment. Once they have just started to form soft peaks, start adding the brown sugar, a tablespoon at a time. The process of adding the sugar should literally take several minutes. This slow and steady approach will help to get the meringue smooth and avoid a gritty texture. Beat the meringue until it's glossy and hold stiff peaks, about 7-9 minutes.

Spread the meringue over the blondies in an even layer, making sure all of the cookie layer is covered. Use a spatula or knife to give the top decorative swirls. Bake the pan in the preheated oven for 30-35 minutes, until the top is dry and golden, and a thin knife inserted in the center comes out with just a few moist crumbs attached. The meringue layer might crack a little bit—this is normal.

Let the bars cool completely at room temperature before cutting and serving. Store Meringue-Topped Blondies in a single layer in an airtight container at room temperature for three to four days.
Measuring Tips
Our recipes are developed using weight measurements, and we highly recommend using a kitchen scale for baking whenever possible. However, if you prefer to use cups, volume measurements are provided as well. PLEASE NOTE: the adage "8 oz = 1 cup" is NOT true when speaking about weight, so don't be concerned if the measurements don't fit this formula.
Want to learn more about baking measurements and conversion?
Nutrition
Calories:
480
kcal
|
Carbohydrates:
55
g
|
Protein:
4
g
|
Fat:
27
g
|
Saturated Fat:
16
g
|
Cholesterol:
68
mg
|
Sodium:
232
mg
|
Potassium:
200
mg
|
Fiber:
2
g
|
Sugar:
38
g
|
Vitamin A:
365
IU
|
Vitamin C:
0.1
mg
|
Calcium:
61
mg
|
Iron:
2.1
mg
Tried this recipe?
Snap a pic and hashtag it #SugarHero. We love to see your creations on our Instagram @elabau.