This post may contain affiliate links. Please see my disclosure policy for more information.
This is the Easiest Swiss Meringue Buttercream recipe you'll ever make! Once you try it, you'll want to use it to cover all of your cakes and cupcakes.
Hello, and welcome to SugarHero!
If you're looking for the Easiest Swiss Meringue Buttercream recipe (aka cheater's Swiss Meringue), you've come to the right place! While you're here, make sure you sign up for my newsletter so you get every future dessert post sent straight to your inbox!
Swiss Meringue Buttercream is my FAVORITE type of frosting—it tastes delicious, is a dream to work with, doesn't crust, and isn't overly sweet or greasy. In short, it's almost perfect!
Want to get recipes sent right to your inbox? Sign up for the free SugarHero newsletter! You'll get the first peek at every new recipe, plus fun news, giveaways, special offers, and much more!
Our promise: We'll never send you spam, just sweet, sweet sugar!
The only problem? It can be a big pain to make. I won't go into all the steps—for that, you'll want to read my post on how to make traditional Swiss Meringue Buttercream. But the point is, the whole Swiss Meringue shebang has been a necessary evil…until now. Introducing your new favorite recipe, The EASIEST Swiss Meringue Buttercream!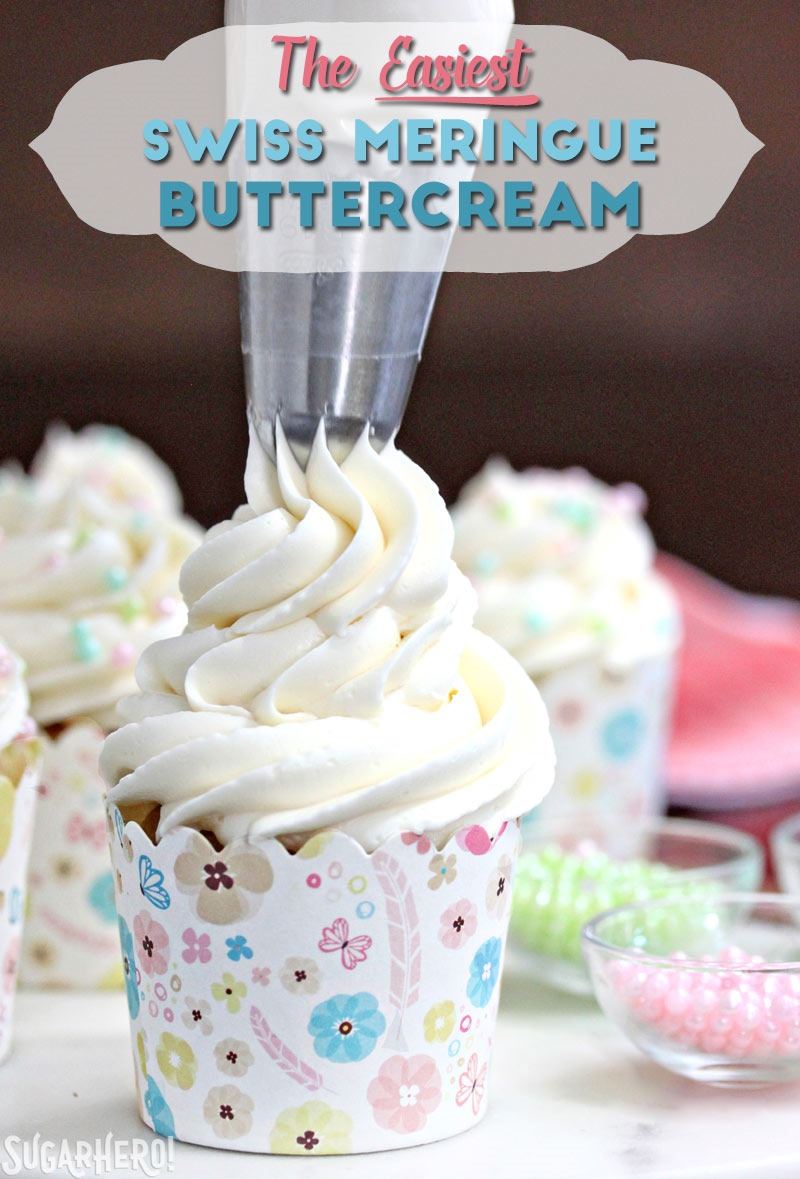 Traditional Swiss Meringue involves heating egg whites, then lots and lots of whipping. This recipe skips the heating step entirely, and still produces a rich, smooth, ultra-creamy buttercream with the characteristic texture and taste of Swiss Meringue. It's as easy to make as American Buttercream, but it doesn't crust over and it isn't teeth-shatteringly sweet. You seriously NEED to try this recipe!
First things first: this is based on a frosting recipe by the amazing cake decorator Lauren Kitchens. If you want to see some real talent, check out her site! The frosting is not technically a Swiss Meringue, because the technique is different, but the ingredients and final product are so close, I have no problem calling this a lazy version of SMBC! I did a lot of tweaking and ended up with some very different ingredient quantities than the original recipe, to find the right balance of sugar + butter for my personal taste buds.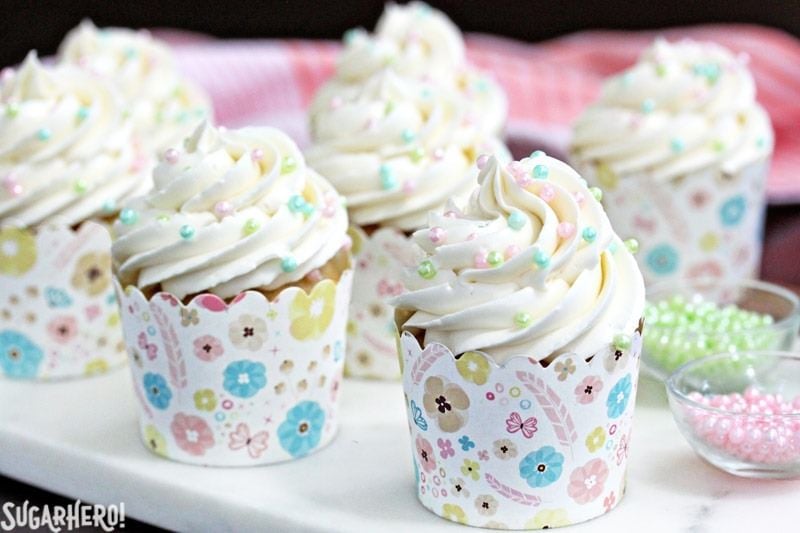 This recipe is so good, it's the starring player in my NEW Craftsy class! This is my second class I've filmed with them, and I am THRILLED to share it with you. I am so proud of this one! It's called "Get Started Decorating: Quick Birthday Cake Ideas," and it has twelve (twelve!!!) different cake designs/techniques. Most of the cakes also have accompanying cupcake suggestions as well, so there is a serious boatload of information packed into these videos.
I love this class because it's not fussy. None of the cake designs require a piping bag, we are NOT covering cakes in fondant, there are zero gumpaste flowers, and in short, it's for people who might not have a ton of decorating experience or a ton of time to construct a super-elaborate cake. (Soooo, basically everybody!) The cake designs use common ingredients you can find in a store, they're colorful and fun, and once you have the basic methods down, you can translate the specific design ideas to any occasion you want! ("Birthday Cake" may be in the title, but these are NOT reserved for just birthdays!)
Here's a little glimpse of all of the cakes we make in the class. This was taken at the very end of the last day of filming. We shot all of these cakes and cupcakes in TWO days! Believe me when I tell you I collapsed in bed at the end of that week!
My Craftsy cake decorating class is now live, and you can read about it and watch a trailer here!
Now let's get down to the business of buttercream.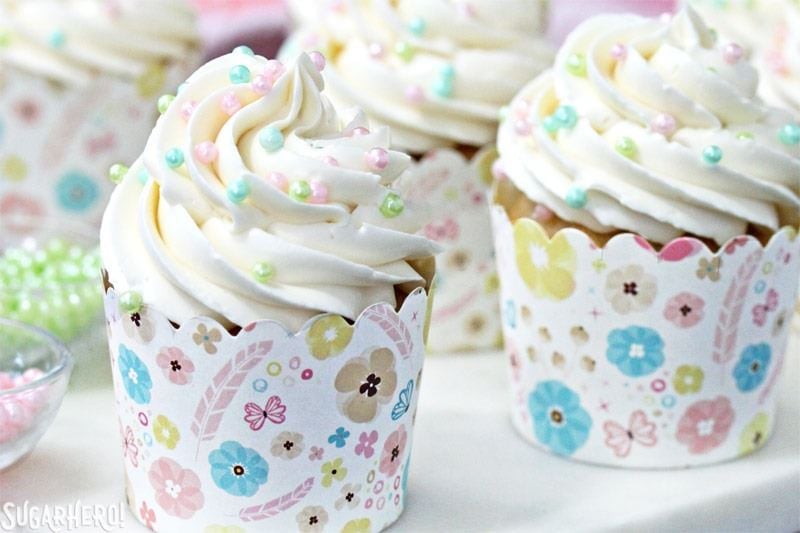 Because the Craftsy class is aimed at beginners, I wanted a frosting recipe that would be easy to make—no heating of egg whites required! But I also didn't want the standard American Buttercream, both because I think it tastes gross, and because it crusts over when it dries, and many of the designs require a non-crusting buttercream. Easiest Swiss Meringue to the rescue!
This frosting will seriously change your decorating life. I used it as a base for all of the cakes in the Craftsy class, and it was easy to work with, tasted great, and didn't crust over, so I could press the various candies, sprinkles, and many (MANY) other assorted goodies into it, even hours after I frosted the cakes. That is gold, people.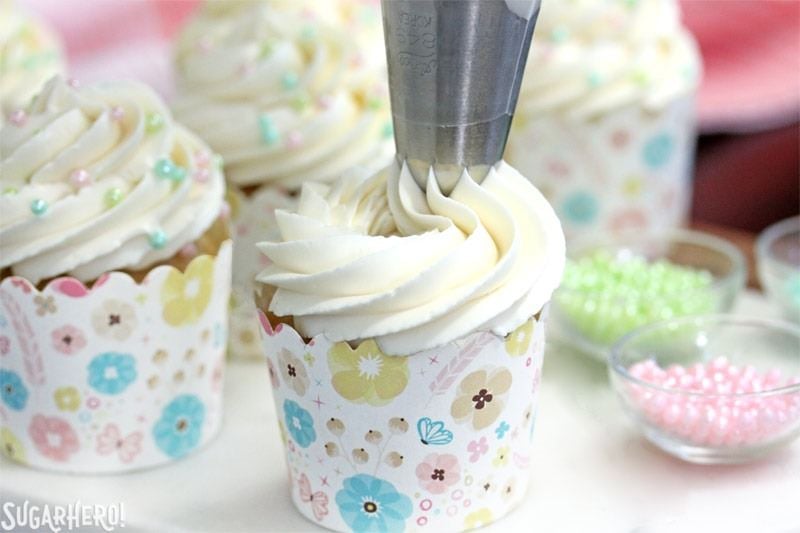 FAQ About the Easiest Swiss Meringue Buttercream Video
What piping tip are you using in the video?
It's a closed star tip, Ateco #849. You can get the closed star tip here.
What is that mixer attachment you are using?
It's called a beater blade, and I LOVE it. Literally never use my regular paddle, ever! Get one!
Where can I get those cupcake cups?
Sadly, I don't know! I bought them at Michael's Craft Store, but can't find a link to them online anywhere. If you search for "paper baking cups" online, you'll find similar shaped cups in lots of cute patterns, though.
Is it safe to eat raw egg whites? / Do I have to use egg whites in a carton?
I recommend using pasteurized egg whites for food safety reasons. Pasteurizing means the whites have been heated to kill the bad bacteria, so you can safely consume raw whites. If you cannot find pasteurized whites in a carton, look for pasteurized whole eggs, and separate out the whites yourself. If you cannot find either, and you personally feel comfortable eating raw egg whites, then you can use regular whites. OR just use this recipe for traditional Swiss Meringue! The whites are cooked in that recipe, so it is safe to use regular eggs.
Print Recipe
The EASIEST Swiss Meringue Buttercream
This is the Easiest Swiss Meringue Buttercream recipe you'll ever make! Once you try it, you'll want to use it to cover all of your cakes and cupcakes.
A note about the ingredients: this recipe calls for pasteurized egg whites. IT IS SAFE to consume egg whites without cooking them, as long as you make sure that the whites you buy are pasteurized. To save time, I buy them in a carton--look for 100% egg whites, not liquid egg substitute. If you cannot find them in a carton, you can buy pasteurized eggs and separate them yourself. You'll need about 5-6 large eggs to get the ¾ cup called for in the recipe.
Ingredients
6

fl oz

pasteurized liquid egg whites

(3/4 cup)

24

oz

powdered sugar

(6 cups)

½

tsp

salt

24

oz

unsalted butter

(3 cups) , at room temperature

2

TBSP

vanilla extract
Instructions
Combine the whites, powdered sugar, and salt in the bowl of a large stand mixer fitted with a paddle attachment. Mix everything together on low speed, until the sugar is moistened and no dry patches remain. Turn off the mixer, scrape down the sides and bottom of the bowl with a spatula, then turn the mixer to medium speed. Beat on medium for 5 minutes.

After 5 minutes, turn the mixer to medium-low and start adding the softened room temperature butter, 1-2 tablespoons at a time. Once all of the butter is incorporated, add the vanilla extract and mix it in. Stop the mixer and scrape down the bottom and sides once more. Turn the speed to medium and beat the buttercream for 10 minutes. At the end, you'll have a frosting with a wonderfully light and creamy texture. It can be used right away, or stored in the refrigerator for up to two weeks, or the freezer for up to two months. If you have chilled the frosting, let it come to room temperature and then beat it for several minutes to smooth it out and restore its texture before using it.

To make chocolate buttercream, chop 12 oz unsweetened chocolate, and place it in a microwave-safe bowl. Microwave in 30-second increments, stirring after every 30 seconds to prevent overheating. Once the chocolate is melted, let it cool until it is completely room temperature. Make the frosting as described, and after it is finished, add the melted and cooled chocolate. Mix on low speed until the chocolate is completely incorporated.
Video
Notes
This recipe is adapted from a frosting recipe by Lauren Kitchens.
Nutrition
Serving:
60
g
|
Calories:
250
kcal
Want to learn to make traditional Swiss Meringue buttercream? I have a Swiss Meringue Buttercream photo tutorial and recipe right here!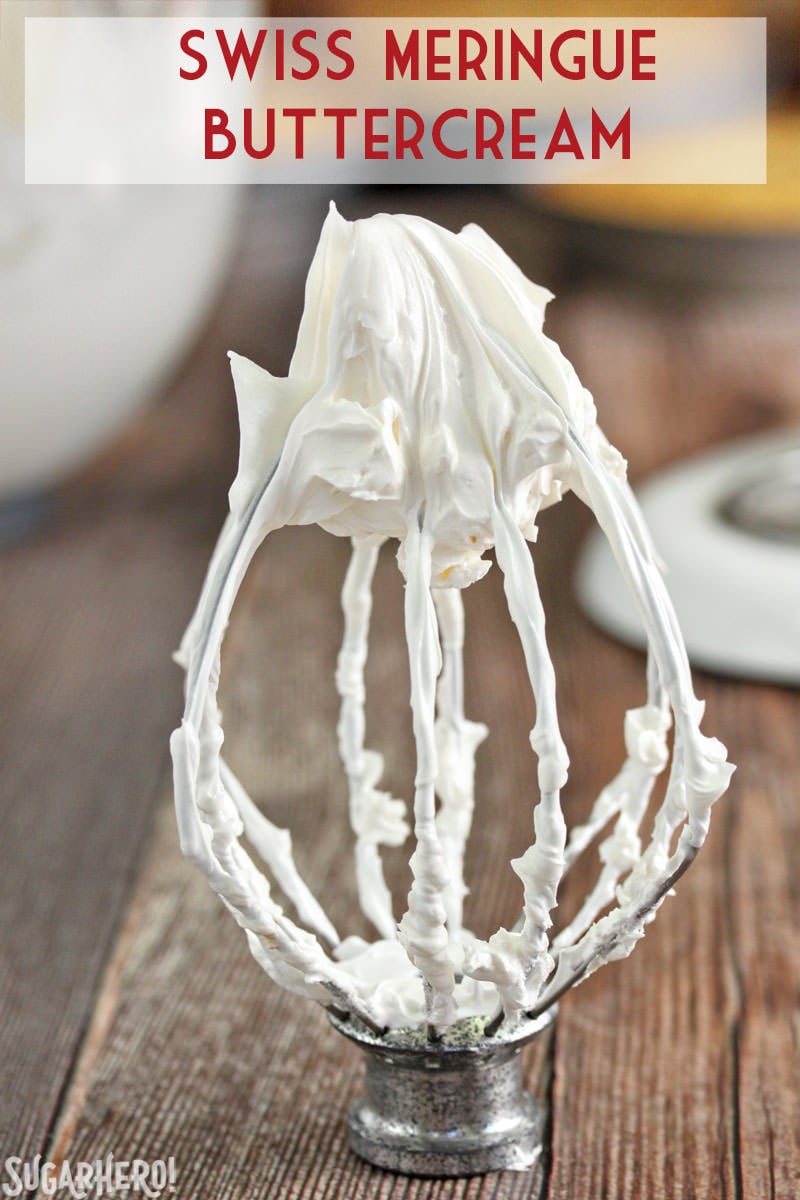 Here are a few of my favorite cake recipes that would be great with this Easiest Swiss Meringue Buttercream:
Chocolate-Covered Strawberry Cakes