This Banana Meringue Cake is not your typical banana cake; moist banana cake is layered with a unique cinnamon sour cream ganache and topped with a toasted meringue.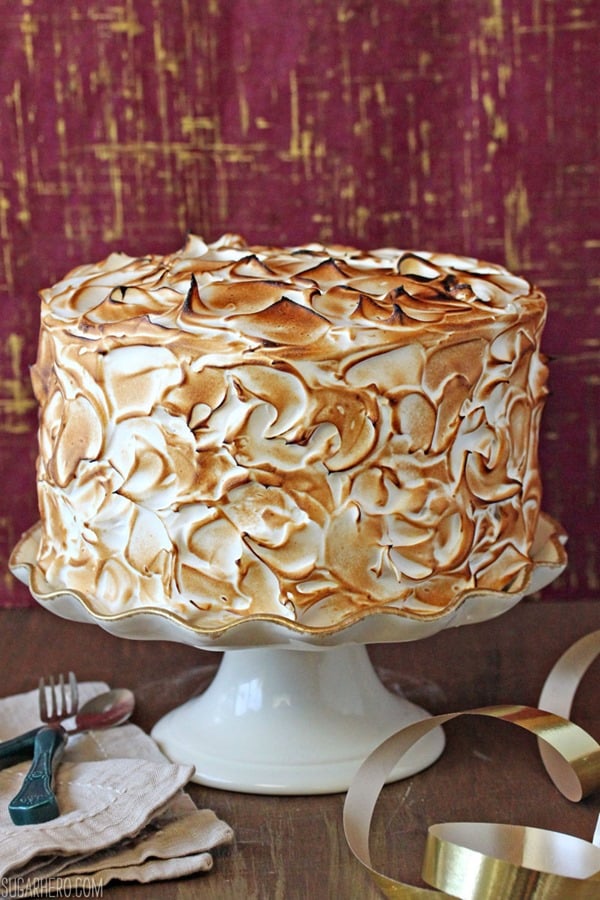 Riddle me this: why do bananas only have a 2-hour window in which they are the perfect texture? I buy them slightly green, and they stay slightly green for days and days. If I try to eat them early, they're hard and astringent and barely sweet. Then all of a sudden every single banana in the bunch is the perfect ripeness, a glorious symphony of perfect banana texture and sweet banana taste. When that happens you'd better gorge on bananas, because just as quickly as they ripen they become overripe, with brown spots and an unpleasantly mushy texture and a sickly-sweet flavor. Is this a genetically engineered plot by the evil banana industry to get us to buy more bananas? Jason says I'm a banana prima donna, I say there's a global conspiracy afoot. Discuss.
As a result of my pickiness (or impeccable banana taste, depending on your perspective) we buy a lot of bananas in my house. Those that are not caught during the teensy-tiny banana-eatin' window are usually frozen for smoothies, but I do sometimes save out a bunch for baking, which is how this banana layer cake was born.
I love banana cakes because they're naturally very moist, so they're a great make-ahead dessert and they keep well. I often pair them with caramel or chocolate frosting, but this time I wanted to try something different. The filling in this tall layer cake is an easy ganache made from white chocolate, sour cream, and cinnamon. It's made in the microwave, and has a wonderful fudgy texture, with a tangy cinnamon-vanilla flavor that goes beautifully with the banana cake.
The real star, though, is the fluffy meringue topping that covers the cake. If you've always struggled with getting perfectly smooth buttercream edges, or with making gloopy cream cheese frosting behave properly, then meringue frosting might be your Mr. Right. It 's perfect when it's imperfect, and it's just begging to be swooped and swirled with abandon. And of course, torching it until golden brown doubles the sexiness quotient.
Every time I make a banana cake, I'm reminded that being a banana prima donna isn't a bad thing. I get to enjoy creamy smoothies every morning, banana baked goods on a regular basis, and, once in a blue moon, an absolutely, perfectly, ripe banana. That's a win-win-win situation! Happy baking and banana-eating, friends!
Roasted Banana Bundt Cake
This Roasted Banana Bundt Cake is a fun twist on a traditional banana bundt cake! Pieces of Banana are roasted with butter and brown sugar, then the golden bruleed bananas and their syrupy juices are added to the cake.
View Recipe
Peanut Butter Cup Banana Cake
This rich Peanut Butter Cup Banana Cake is the ultimate banana layer cake! Moist, delicate banana cake is covered with layers of flavorful chocolate and peanut butter frosting.
View Recipe
Banana Meringue Cake with Cinnamon-Sour Cream Ganache
This Banana Meringue Cake is not your typical banana cake. Moist banana cake is layered with a unique cinnamon sour-cream ganache and topped with a toasted meringue.
Ingredients
For the Banana Cake:
12.75

oz

all-purpose flour

(3 cups)

1

tsp

baking soda

1

tsp

baking powder

3/4

tsp

salt

1

tsp

ground cinnamon

6

oz

unsalted butter

at room temperature

15.75

oz

granulated sugar

(2 ¼ cups)

3

large eggs

at room temperature

9

oz

sour cream

(1 cup + 2 TBSP),

at room temperature

2

cups

mashed ripe bananas

from about

5

large bananas

3

TBSP

fresh lemon juice

1

tsp

vanilla extract
For the Cinnamon-Sour Cream Ganache:
Instructions
To Make the Banana Cake:
Preheat the oven to 350 F (177 C). Line four 8″ round cake pans with parchment paper, and spray the pans with nonstick cooking spray. (Disposable foil pans work well for this purpose, if you don't have four regular cake pans.)

In a bowl, whisk together the flour, baking soda, baking powder, salt, and cinnamon, and set aside for now.

In the bowl of a large stand mixer fitted with a paddle attachment, combine the butter and sugar and beat on medium speed until well-mixed. Add the eggs one at a time, beating well after each addition. Add the sour cream, bananas, lemon juice, and vanilla extract and mix everything together. Finally, add the dry ingredients and mix on low speed until just a few streaks of flour remain. Finish mixing the batter by hand, using a rubber spatula to scrape the bottom and sides of the bowl very well.

Divide the batter evenly between the four pans. If you want to weight them out, it's approximately 17 ounces of batter per pan. Bake the cakes at 350 F for about 35 minutes, until a toothpick inserted into the center comes out clean. Cool the cakes on a wire rack for 20 minutes before flipping them out of their pans and letting them cool completely.
To Make the Cinnamon-Sour Cream Ganache:
Place the chopped white chocolate in a large microwave-safe bowl. Microwave in 30-second increments, stirring after every 30 seconds to prevent scorching. Stir until the white chocolate is completely melted and smooth.

Add the sour cream, vanilla extract, salt and cinnamon to the white chocolate, and whisk well. The ganache will be on the thinner side at first, but as it cools, it will thicken nicely. Whisk occasionally as it cools to room temperature. To speed the process, you can press a layer of cling wrap on top and refrigerate it. If you make it in advance and keep it in the refrigerator, you'll need to reheat it in short bursts in the microwave until it has an easily spreadable consistency, like peanut butter.
To Assemble and Make the Meringue:
Place a cake layer on a cardboard cake round. Place about a third of the white chocolate ganache on top, and spread it in an even layer to the edge of the cake. Place a second cake layer on top, and continue to alternate cake layers and ganache until your cake is assembled with 4 layers of cake and 3 layers of ganache. Refrigerate the cake to firm up the ganache while you prepare the meringue topping.

Combine the egg whites and the granulated sugar in the bowl of a large stand mixer, and whisk them together. Choose a small saucepan that lets you fit the base of the stand mixer snugly into the top of the saucepan—this is your makeshift hot water bath. (Alternately, you can use a different bowl or an actual bain marie and then transfer the mixture to a mixing bowl once it's heated.) Add an inch of water to the bottom of the saucepan, and bring the water to a simmer.

Place the mixing bowl on top of the saucepan, making sure that the bottom isn't in contact with the water, and heat the egg white mixture. Whisk frequently so that the egg whites don't cook. Continue to heat the whites until they are hot to the touch, and when you rub a bit between your fingers, you don't feel any grittiness from the sugar. Once the whites are hot, transfer the mixing bowl to your mixer and fit it with a whisk attachment.

Beat the whites on medium-high speed until they are a shiny, stiff, voluminous meringue, and are no longer warm to the touch—feel the outside of the bowl, and make sure that it is around room temperature. Add the vanilla extract and salt and mix them in.

Pile a big cloud of meringue on top of the cake, and gently cover the tops and sides with the fluffy meringue. Use a spoon or spatula to create big swoops and swirls in the meringue. Finally, use a kitchen torch to toast the outside of the meringue until it is a golden brown color over the entire cake. The meringue layer on this cake is best the day it is made, but it does have some staying power, so leftovers will be good for several days afterward. For the best taste and texture, serve this cake at room temperature.
Recipe Notes
The banana cake recipe is adapted from Bon Appetit. You will need a torch to toast the meringue layer—you can use a brulee torch, or just do what I did and buy a butane torch at a local hardware store! It might be possible to torch the cake in the oven under the broiler, provided you watch it very carefully. I haven't tried this method, and if you do, I recommend making sure that the assembled cake is very well-chilled before you add the meringue, so that the ganache doesn't melt while in the oven. Try this at your own risk!
Measuring Tips
Our recipes are developed using weight measurements, and we highly recommend using a kitchen scale for baking whenever possible. However, if you prefer to use cups, volume measurements are provided as well. PLEASE NOTE: the adage "8 oz = 1 cup" is NOT true when speaking about weight, so don't be concerned if the measurements don't fit this formula.
Want to learn more about baking measurements and conversion?
Nutrition
Calories:
777
kcal
|
Carbohydrates:
102
g
|
Protein:
9
g
|
Fat:
38
g
|
Saturated Fat:
22
g
|
Cholesterol:
95
mg
|
Sodium:
351
mg
|
Potassium:
425
mg
|
Fiber:
1
g
|
Sugar:
81
g
|
Vitamin A:
710
IU
|
Vitamin C:
4.3
mg
|
Calcium:
201
mg
|
Iron:
1.6
mg
Tried this recipe?
Snap a pic and hashtag it #SugarHero. We love to see your creations on our Instagram @elabau.