These Raspberry Brie and Chocolate Puff Pastry squares are so elegant; you won't believe how easy they are to make. Store-bought puff pastry is filled with fresh sweet-tart raspberries, melty brie and rich dark chocolate – perfection!
So what'd you have for breakfast? Probably something sensible, right? Oatmeal with flax seeds? Whole grain toast? Scrambled eggs? Or are you one of those egg whites only people? (No offense, but what is that about? I mean, have you tasted yolks? They're delicious! Give them a try and tell me your egg experience doesn't improve by at least 63%.)
Anyhow, you obviously have this breakfast thing all figured out. Give yourself a giant high five, and then look at what might have been, with a twinge of regret in your heart and a tear in your eye. While you were having oatmeal, you could have been having this:
Okay, I probably can't in good conscience recommend that you eat these puff pastries for breakfast. Even if they are stuffed with melted chocolate, juicy fresh raspberries and gooey melted brie, a.k.a. three of the best ingredients to ever comingle in a buttery, flaky pastry shell. Your doctor/trainer/Jiminy Cricket conscience would probably not be very happy with me if we had them for breakfast. Sorry.
…so do you think we can have them for brunch instead?
One of the reasons I love these pastry squares is because they can effortlessly slide from the breakfast table to the brunch menu to the dessert tray. They're casual enough for an easy meal with friends, but fancy enough to serve with pride if you want to impress your new neighbors, the VanSnootertons.
Even the ingredients help make this a dish for all occasions: raspberries call to mind fresh breakfasts, brie is a total brunch cheese tray staple, and chocolate is all day every day, baby a dessert super star.
I think the most impressive part of these squares is the flaky golden puff pastry itself, which—spoiler alert!—totally comes from a box. Show me the person who has time to make homemade puff pastry for eight stinkin' pastry squares, and I will throw my dirty laundry in their direction and request extra starch. I don't take too many kitchen shortcuts, but pre-made puff pastry is one shortcut I heartily endorse. When possible, I use all-butter pastry dough (I like Trader Joe's brand), but there are so many other flavors and textures going on in these squares, any puff pastry dough you can find will yield a fine dessert.
Let's talk customizations! Want to try milk chocolate or white chocolate instead of dark? Go for it. Blackberries, strawberries or blueberries? Get on with your bad self! Other cheeses? While I can't guarantee that blue cheese is the best choice, I think that a nice chunk of soft goat cheese would be equally amazing, although it won't melt quite so photogenically. If you're leaning in the fancy-shmancy direction, you could also make these in a miniature size and serve them as a sort of upscale dessert ravioli, with a side of assorted dessert sauces and softly whipped cream.
And if you just can't resist having these as a weekend breakfast, no judgment here. In fact, you have excellent taste! This must be why we're friends.
💖More Puff Pastry Recipes You'll Love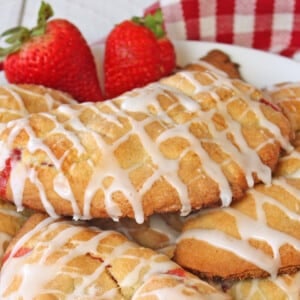 Strawberry Hand Pies
These Strawberry Hand Pies can be enjoyed with a knife and a fork for a civilized dessert (don't forget the whipped cream) or, serve them for breakfast like a gourmet Pop Tart!
View Recipe
Raspberry Brie and Chocolate Puff Pastries
These Raspberry Brie and Chocolate Puff Pastry squares are so elegant; you won't believe how easy they are to make. Store-bought puff pastry is filled with fresh sweet-tart raspberries, melty brie and rich dark chocolate – perfection!
Ingredients
1

sheet puff pastry

(1/2 of a standard 17.3-oz package)

1

large egg

lightly beaten

2

oz

dark chocolate

finely chopped

5

oz

soft brie

rind removed

6

oz

fresh raspberries

Chocolate sauce

for drizzling, optional
Instructions
Preheat the oven to 375 F. Allow the puff pastry to defrost at room temperature until it is supple but still cool. Dust your work surface and rolling pin with flour, and gently roll out the sheet of pastry until it is a rectangle approximately 12 x 16-inches. Periodically rotate and flour the pastry lightly, as needed, to prevent it from sticking.

Cut the rectangle in half lengthwise, so you have two 12 x 8-inch rectangles. Lightly score one rectangle in half lengthwise, then divide it into four sections widthwise, so you have the outline of eight rectangles, each about 4 x 3-inches. Brush the scored rectangle with a light coating of beaten egg.

Slice the brie into thin pieces. Place the pieces of brie in a single layer in the pastry rectangles, leaving a clear space around the edges. Imagine you are making ravioli—you want to keep all of your filling in the center of the rectangle, and leave a border around the edges of the pastry. Top the brie with a few raspberries and a pinch of chopped dark chocolate. Once all of the rectangles are layered with cheese, berries, and chocolate, gently transfer the second pastry rectangle on top. Press down gently but firmly along the edges and in between the rows and columns. The beaten egg on the bottom sheet will help the pastry stick together. Make sure you have a good seal along the edges of each rectangle, then use a pastry wheel or pizza cutter to cut them apart.

Transfer the pastry squares to a baking sheet covered with parchment paper and freeze them for 15 minutes, or until firm. Brush the tops with the beaten egg, and place the pastries in the preheated 375 F oven. Bake for 20-25 minutes, rotating halfway through, until the pastries are puffed and have a beautiful golden brown crust on top.

Let cool slightly before serving, but do serve them warm from the oven, so they are still crunchy out the outside and melted on the inside. They can be served plain, dusted with powdered sugar, or topped with a drizzle of chocolate sauce.
Measuring Tips
Our recipes are developed using weight measurements, and we highly recommend using a kitchen scale for baking whenever possible. However, if you prefer to use cups, volume measurements are provided as well. PLEASE NOTE: the adage "8 oz = 1 cup" is NOT true when speaking about weight, so don't be concerned if the measurements don't fit this formula.
Want to learn more about baking measurements and conversion?
Nutrition
Calories:
289
kcal
|
Carbohydrates:
19
g
|
Protein:
7
g
|
Fat:
20
g
|
Saturated Fat:
7
g
|
Cholesterol:
38
mg
|
Sodium:
197
mg
|
Potassium:
135
mg
|
Fiber:
2
g
|
Sugar:
2
g
|
Vitamin A:
140
IU
|
Vitamin C:
5.6
mg
|
Calcium:
49
mg
|
Iron:
2
mg
Tried this recipe?
Snap a pic and hashtag it #SugarHero. We love to see your creations on our Instagram @elabau.