These Cinnamon Puff Pastry Twists are the proof that sometimes things should just be kept simple. A little rolling, a little twisting, a little baking and you're done!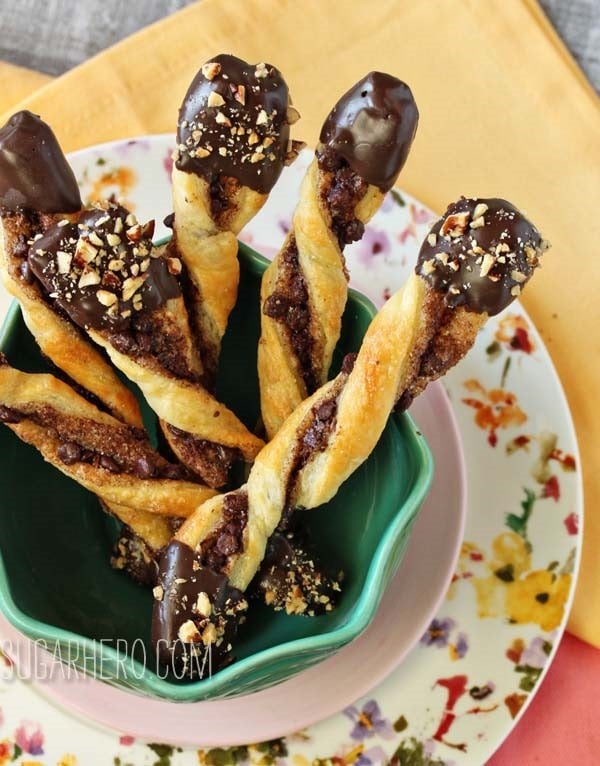 You know that saying, "Life is short, eat dessert first"? I've decided to rewrite it. First of all, it doesn't make any sense. Even if life was long, I would still be eating dessert first. And last. And probably in between bites of salad. Obviously.
Plus, there's a much more important life lesson I need to remember: "Time is short, make dessert fast." I seriously don't know what kind of voodoo my baby is practicing, but somehow one tiny human manages to suck up all the minutes in the day while simultaneously preventing me from accomplishing anything. I'll think back on the day and realize I ran around like a crazy person and still didn't manage to get a single thing done. What dark art is that?
So, although I love creating intricate recipes, I also recognize that sometimes a girl's got to know her limits, wave the white flag, and just keep things simple. You can't get much simpler than these Cinnamon Puff Pastry Twists, which use pre-made puff pastry dough and a few common pantry ingredients. A little rolling, a little twisting, a little baking, and you're done! Gorgeous pastries with zero drama.
If you're keeping track at home, the final score is:
Sexy, Elegant Dessert: 1
Sweat Broken: 0
In fact, these puff pastry twists are so fast and easy, I was able to make them from start to finish, from block of dough to fully dipped twists, in the space of one voodoo-master baby's nap. That never happens! Usually I'm in the middle of some crucial step when I hear him wake up, and I'm forced to go pick him up with buttercream-smeared hands, whimpering "Whhhhyyyy are your naps so shooooort?" (His response: evil baby cackle.)
When I want to keep things simple, my freezer is my best friend. I usually have a good stash of dessert basics in there, like pre-portioned cookie dough balls, packets of pie dough, and puff pastry dough. I'm not always the best at planning ahead, so having a freezer full of goodies has saved me more than a few times.
Puff pastry is one of my freezer staples, because it can be used for a million different things, both sweet and savory. If you buy a good-quality dough, one made with all butter, it's practically indistinguishable from homemade dough, and so fast and easy to work with. Now that I'm writing all this down, I'm sort of wondering why I always go to the trouble to make desserts from scratch when I could just use puff dough for everything. FrozenPuffPastryHero.com, anyone?
I happen to think that cinnamon and chocolate are two of the best things that you can pair with puff pastry, but you can absolutely customize these to your taste! Try spreading your favorite jam (or Nutella?) on the puff pastry, and fill it with chopped nuts, coconut, toffee bits, or anything else you can dream up. Candy bars? It's so crazy it just might work! Just don't forget the final dip in chocolate, which gives these crunchy, buttery fingers just the right amount of richness.
Puff pastry is often sold in sheets of two. This recipe calls for one 8.5 oz sheet, so you can either double the batch, or save the extra sheet and come back in a few days, when I'll have another recipe featuring puff pastry!
☕More Delicious Desserts You'll Love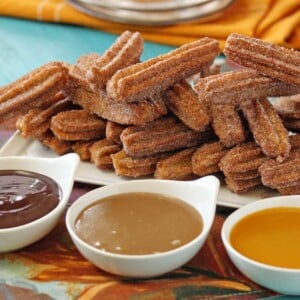 Homemade Churros
These Homemade Churros are just like what I remember from the churro carts of my childhood, extra-crispy and coated with cinnamon-sugar on the outside, and soft, pillowy goodness on the inside. Dip them in spicy chocolate sauce, dulce de leche sauce, and mango sauce with a hint of lime!
View Recipe
Doughnut Dippers
Doughnut Dippers are doughnuts and coffee like you've never had them before! Super easy doughnuts are dipped in a warm mocha sauce for the ultimate comfort dessert!
View Recipe
Cinnamon Puff Pastry Twists
These Cinnamon Puff Pastry Twists are an admittance that sometimes thing should just be kept simple. A little rolling, a little twisting, a little baking and you're done!
Ingredients
1 8.5 –

oz

sheet puff pastry dough

half of a standard 17-oz pack, thawed

3

tbsp

unsalted butter

or butter spread of your choice

1/4

cup

granulated sugar

divided use

1

tsp

ground cinnamon

1/4

cup

miniature chocolate chips

1

large egg

lightly beaten

Crushed nuts

for decorating, optional
Instructions
You need to start with puff pastry dough that is thawed but still cool, so take it out of the freezer and let it sit at room temperature for about 30 minutes before you're going to need it.

Preheat the oven to 400 degrees Fahrenheit. Cover two baking sheets with parchment paper.

Dust your work surface with flour, then roll out the sheet of puff pastry until it is about 14 inches long by 10 inches tall. Cut the sheet in half lengthwise, so you're left with two long rectangles.

Spread the butter on one half of the pastry. Mix together 2 tablespoons of sugar and the cinnamon, and sprinkle it generously on the buttered dough. Spread the chocolate chips evenly on top of the cinnamon.

Brush the second pastry half with the beaten egg. Carefully lift the dough and place it, egg side down, on top of the chocolate chips. Press along the edges, then lightly run a rolling pin on top of the dough to seal them together.

Use a pizza cutter or a sharp knife to cut the dough crosswise into 24 strips that are each about 1/2-inch wide. Gently twist the strips several times, then set them on a parchment-covered baking sheet. Press the ends down so they stay flat on the sheet. Repeat until all of the dough is formed into twists.

Brush the twists with the beaten egg, and sprinkle them with the remaining 2 tablespoons of sugar. Bake at 400 degrees for 10-12 minutes, until they're puffed and golden brown throughout. Rotate the trays halfway through baking so they bake evenly.

Let the twists cool completely at room temperature. Melt the chocolate candy coating, then dip each end in the coating. (Alternately, you can drizzle the coating all over the top of the twists if you'd like.) If you want to add chopped nuts, sprinkle them on top of the coating while it's still wet. Cinnamon Puff Pastry Twists are best the day they're made, but they can be kept in an airtight container at room temperature for up to 3 days.
Measuring Tips
Our recipes are developed using weight measurements, and we highly recommend using a kitchen scale for baking whenever possible. However, if you prefer to use cups, volume measurements are provided as well. PLEASE NOTE: the adage "8 oz = 1 cup" is NOT true when speaking about weight, so don't be concerned if the measurements don't fit this formula.
Want to learn more about baking measurements and conversion?
Nutrition
Calories:
135
kcal
|
Carbohydrates:
13
g
|
Protein:
1
g
|
Fat:
8
g
|
Saturated Fat:
4
g
|
Cholesterol:
10
mg
|
Sodium:
46
mg
|
Potassium:
9
mg
|
Fiber:
0
g
|
Sugar:
8
g
|
Vitamin A:
60
IU
|
Calcium:
6
mg
|
Iron:
0.4
mg
Tried this recipe?
Snap a pic and hashtag it #SugarHero. We love to see your creations on our Instagram @elabau.