Nutella Puff Pastry Pizza is easy to make, but it tastes like a million bucks! A buttery, crispy puff pastry crust is slathered with Nutella, drizzled with melted white chocolate, and finished with fresh, juicy berries.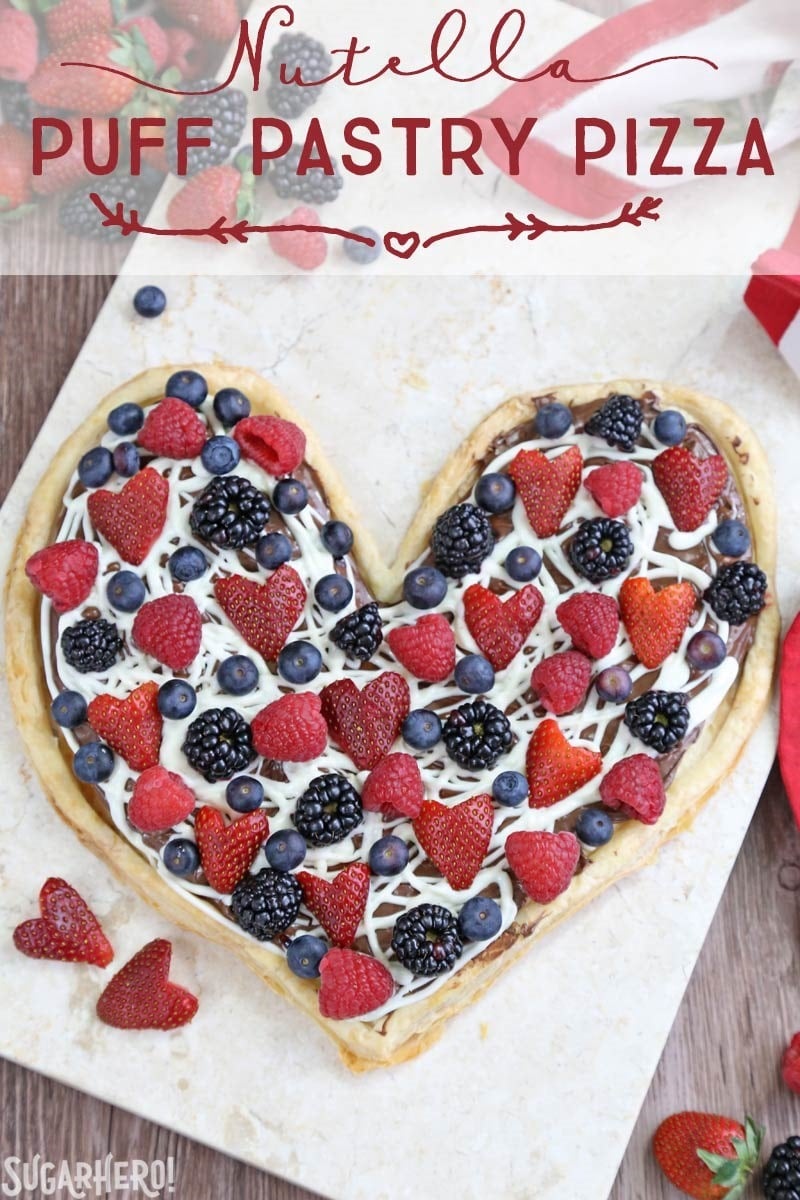 You'll have to forgive the number of shmoopy Valentines-themed posts that will be coming your way over the next few weeks. Even an innocent recipe like Nutella Puff Pastry Pizza, which could easily be served as a circle or rectangle, has been cut into a cute heart shape and recruited for the cause. Get used to it! It's gonna be all lovey-dovey, all the time, so buckle up—or should I say snuggle up?—and enjoy the ride.
Honestly, this Nutella Puff Pastry Pizza is actually a great Valentine's Day choice, even aside from the heart shape. Once someone tastes it, there's at minimum a 43% chance they'll fall in love with you, or at least your cooking. So use its powers wisely!
Puff pastry is a fantastic dessert shortcut, and I always try to have at least one box in my freezer at all times. Around the holidays, I stock up on Trader Joe's puff pastry, because it's made with all butter, so it tastes great, and it's rolled as opposed to folded, so I don't have problems with the pastry creasing and breaking like I do with some other brands. But I'm down to my last box and a half right now (sniff!) so I've become a little more discriminating (some might say stingy) when it comes to what I do with my puff pastry.
One thing I will never say no to: NUTELLA. And berries. And when those two things are combined together? Oh mama!
Here's what we have going on: after the sheet of pastry is baked and cooled, it's spread a with a thick, shiny layer of Nutella. (You can substitute any other chocolate spread of choice here if Nutella isn't your bag.) Since we're riding the "pizza" metaphor train, you then top the Nutella with random drizzles of white chocolate, to resemble strands of mozzarella cheese.
While the white chocolate is still wet and sticky, pile on those fresh berries—the more, the better! I used strawberries, blackberries (cut in half, because they were massive!), raspberries, and blueberries. I decided to get extra-cute and cut the strawberries into heart shapes, but I have to warn you that the chances of someone falling in love with you will increase by 14% if you make your berries heart-shaped. It's a burden!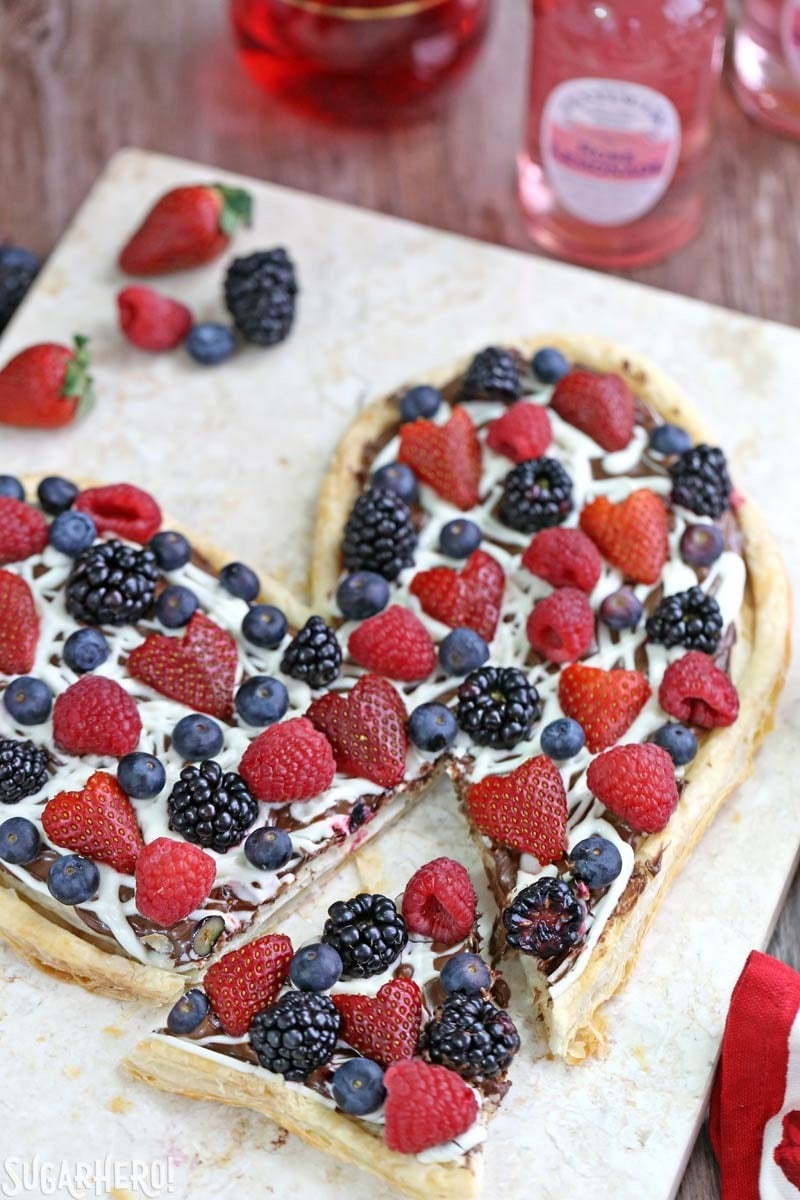 The combination of crispy, buttery puff pastry, Nutella, white chocolate, and tangy fresh berries is amazing. The dessert also LOOKS like a million bucks, even though it's dead simple to make. The hardest part was probably cutting it into a reasonably symmetrical heart shape, and that is, of course, completely optional.
This would also be great as mini desserts! Cut small squares or circles out of puff pastry sheets, and then decorate and top them as desired. It's a good way to customize the flavors and ingredients for guests, plus mini desserts always look adorable grouped together.
The one downside to this recipe, if it has one, is that it's not really a keeper. The combination of crispy pastry and juicy berries means that it really should be eaten shortly after it's made. You can buy yourself a little time and bake the pastry in advance, and then wait to assemble it, but that's about the only shortcut I can offer. Fortunately, assembly is fast so it should be a pretty stress-free dessert! (And if you're looking for a great make-ahead dessert, try this Chocolate Raspberry No-Bake Cake!)
I'd love to hear how you customize this pizza, so comment or tag me if you give it at try! And remember: I'm not saying you SHOULD buy people's love with food, but if you decide to try, this Nutella Puff Pastry Pizza is the way to go. (wink!)
💗More Lovely Desserts
Puff Pastry-Wrapped Pears with Chocolate Espresso Sauce
These puff pastry-wrapped pears are so elegant, you won't believe how easy they are to make! Serve them with chocolate espresso sauce for the perfect bittersweet accompaniment!
View Recipe
Puff Pastry Apple Roses
These Puff Pastry Apple Roses are a deceptively easy, elegant dish that dazzles as an appetizer or dessert!
View Recipe
Don't miss our collection of Fun Valentine's Day Dessert Ideas – see the whole web story here!
Nutella Puff Pastry Pizza
Nutella Puff Pastry Pizza is easy to make, but it tastes like a million bucks! A buttery, crispy puff pastry crust is slathered with Nutella, drizzled with melted white chocolate, and finished with fresh, juicy berries.
Instructions
Let the puff pastry defrost according to package directions. Preheat the oven to 400 degrees F.

Unroll the pastry on a piece of parchment paper. If it has cracked during the unrolling process, gently press it back together and roll it with a rolling pin to smooth any creases. If desired, use a sharp paring knife to cut the pastry into a heart shape (or any other shape you'd like!)

Gently cut a border all the way around, about ½-inch from the edge of the pastry. Don't go all the way through the pastry—just a small cut on the surface will do. Prick the pastry all over with a fork. Transfer the pastry on the parchment onto a baking sheet or pizza stone. Bake in the 400 degree oven until puffy and golden brown. Let cool completely.

Spread the Nutella over the cooled pastry. Wash and dry the berries, and cut the strawberries in half. (You can also cut them into heart shapes, if desired!) Melt the white chocolate in the microwave, and transfer it into a piping bag or a plastic bag with a hole snipped into the corner. Drizzle the melted white chocolate all over the Nutella.

While the chocolate is still wet, press the berries into the top of the pizza. Cut into slices and served! This dessert is best enjoyed on the day it is made.
Video
Measuring Tips
Our recipes are developed using weight measurements, and we highly recommend using a kitchen scale for baking whenever possible. However, if you prefer to use cups, volume measurements are provided as well. PLEASE NOTE: the adage "8 oz = 1 cup" is NOT true when speaking about weight, so don't be concerned if the measurements don't fit this formula.
Want to learn more about baking measurements and conversion?
Nutrition
Calories:
318
kcal
|
Carbohydrates:
35
g
|
Protein:
4
g
|
Fat:
19
g
|
Saturated Fat:
10
g
|
Cholesterol:
2
mg
|
Sodium:
80
mg
|
Potassium:
146
mg
|
Fiber:
3
g
|
Sugar:
20
g
|
Vitamin A:
21
IU
|
Vitamin C:
1
mg
|
Calcium:
45
mg
|
Iron:
2
mg
Tried this recipe?
Snap a pic and hashtag it #SugarHero. We love to see your creations on our Instagram @elabau.