This post may contain affiliate links. As an Amazon Associate I earn from qualifying purchases. Please see my disclosure policy for more information.
These Strawberry Hand Pies can be enjoyed with a knife and a fork for a civilized dessert (don't forget the whipped cream!), or serve them for breakfast like a gourmet Pop Tart!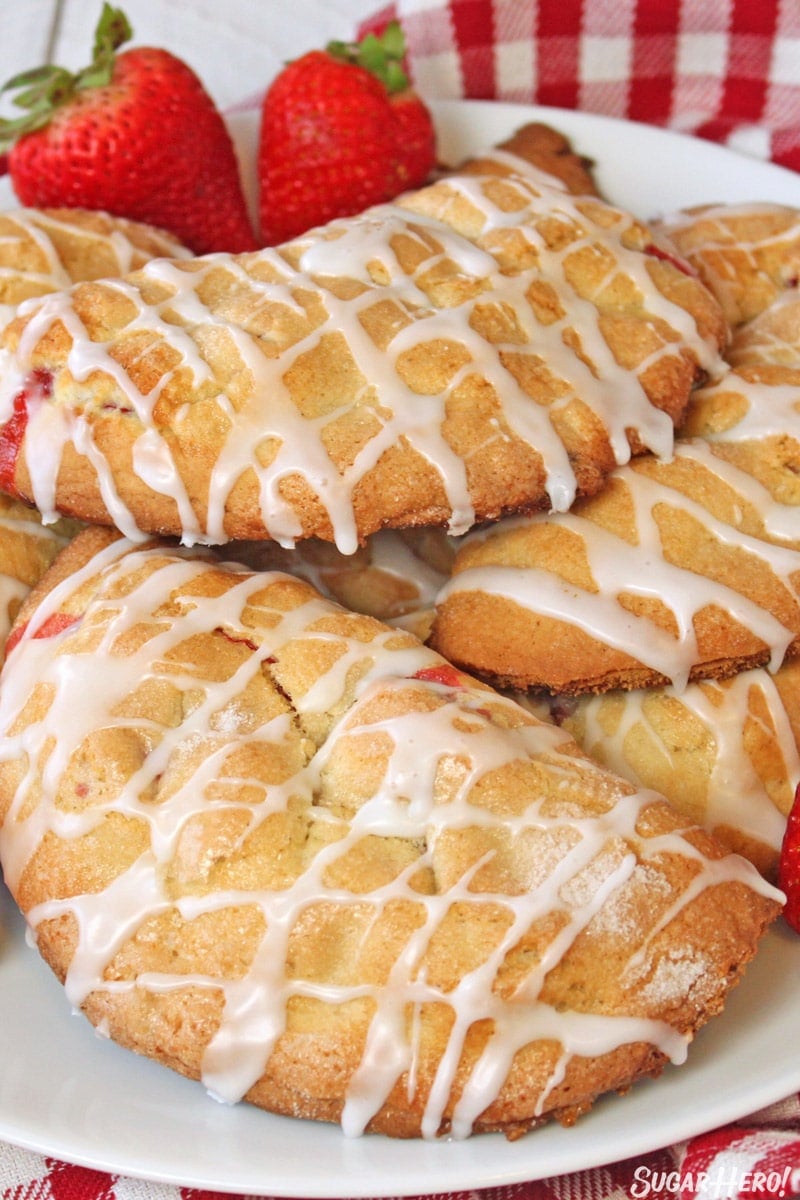 There are some compelling reasons not to make these strawberry hand pies.
For one thing, it's November. Unless you live in summery Australia, it's getting harder and harder to find good fresh strawberries these days. (And if you do live in Australia, you might be too busy riding kangaroos to make a silly hand pie recipe, mate.)
For another, the dough is a little finnicky. It's a cream cheese dough, which means it's flaky and tender, but also a little less forgiving and prone to cracking at the most inopportune times. It might make you curse me…or even worse, curse pies in general.
But at the end of the day, this recipe is too good not to make and share. It's worth paying a little more for berries that are a little less perfect, and muttering a few choice words under your breath as you patch torn dough for the third time. Because these pies? Are awesome.
How awesome are they?
They're so awesome, they converted a friend who hates cooked fruit in any form into a fruit pie lover.
They're so awesome, I've made them three different times for the blog, but usually end up eating them before I can photograph them. Curse their tastiness.
They're so awesome, they can be enjoyed with a knife and a fork and a topping of whipped cream for a civilized dessert, but if you serve them for breakfast, they're magically transformed into the world's most gourmet Pop Tarts. Eaten with a pinky in the air, of course.
And even though the recipe calls for strawberries, I think these would be equally delicious with any other berry, like raspberries, blackberries, or blueberries. Or sliced peaches or nectarines. Or rhubarb! Or figs! Or practically anything else that can be stuffed and baked into a pastry shell. But maybe not watermelon. That sounds iffy.
Cranberry White Chocolate Sweetie Pies
These Cranberry White Chocolate Sweetie Pies are throw back to the good ol' days when my dad made little hand pies called "sweetie pies". Flaky, buttery crust enfolds sweet-tart cranberries topped with white chocolate!
Get the recipe!
Mint Chocolate Chip Whoopie Pies
These Mint Chocolate Chip Whoopie Pies are a classic! They feature moist, cakey chocolate cookies and a rich mint chocolate chip buttercream filling! They make a perfect dessert for St. Patrick's Day or any day of the year you feel like getting lucky.
Get the recipe!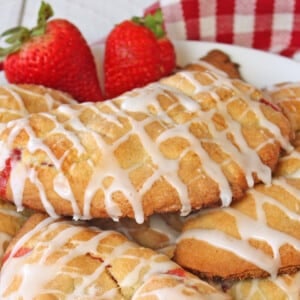 Strawberry Hand Pies
These Strawberry Hand Pies can be enjoyed with a knife and a fork for a civilized dessert (don't forget the whipped cream) or, serve them for breakfast like a gourmet Pop Tart!
Ingredients
To finish:
1

large egg whites

,

lightly beaten

2

tbsp

granulated sugar

1-1/2

cup

powdered sugar

3-4

tbsp

milk
Instructions
In a medium bowl, whisk together the flour, baking powder, baking soda, and salt. Set aside.

In the large bowl of a stand mixer, combine the butter and sugar and cream them together until light and fluffy. Add the egg and beat to combine, then add the cream cheese and vanilla. Beat until everything is incorporated, then scrape down the bottom and sides of the bowl.

Add the flour mixture and beat on low speed until incorporated. Scrape the dough out onto a sheet of cling wrap and wrap it tightly into a flat disc. Refrigerate the dough for at least 1 hour. (Can be made several days ahead of time and kept in the refrigerator.)

When you're almost ready to assemble the pies, place the sliced strawberries in a bowl and sprinkle the cornstarch and sugar over them and stir. Let them sit and get juicy.

When the dough has chilled, preheat the oven to 375 degrees F. Lightly flour your work surface, then roll the dough out until it is about 1/8" thick. Make sure to lift and rotate it occasionally to make sure it's not sticking on the bottom. Use a round cutter between 5-6" across to cut out large circles. (You can also trace around a bowl using a paring knife if you don't have a cutter large enough.)

Transfer the circles to a baking sheet lined with parchment paper. Place several spoonfuls of strawberry mixture in the middle of each pie. Fold the dough in half and crimp the edges with a fork to seal them together. If your dough starts to get too soft, refrigerate it briefly until you can work with it again.

Brush the tops of the pies with egg white and a sprinkling of sugar. Use a sharp knife to cut a few holes in the top to allow air to escape. Bake the pies at 375 for 20-25 minutes, until they're golden brown on top. Remove from the oven and let them cool completely on a wire rack.

While the pies are cooling, mix together the powdered sugar and milk until you have a glaze that flows but holds its body. Drizzle the cooled pies with the glaze.
MEASURING TIPS
Our recipes are developed using weight measurements, and we highly recommend using a kitchen scale for baking whenever possible. However, if you prefer to use cups, volume measurements are provided as well. PLEASE NOTE: the adage "8 oz = 1 cup" is NOT true when speaking about weight, so don't be concerned if the measurements don't fit this formula.
Click here to learn more about baking measurements and conversion.
Nutrition
Calories:
354
kcal
|
Carbohydrates:
70
g
|
Protein:
5
g
|
Fat:
5
g
|
Saturated Fat:
2
g
|
Cholesterol:
32
mg
|
Sodium:
192
mg
|
Potassium:
207
mg
|
Fiber:
2
g
|
Sugar:
38
g
|
Vitamin A:
220
IU
|
Vitamin C:
33.9
mg
|
Calcium:
55
mg
|
Iron:
2.1
mg
Share by Email
Share on Facebook
Share on Pinterest