These Raspberry Mousse Chocolate Cups have an amazing combination of edible chocolate cups, raspberry-chocolate ganache, and fresh raspberry mousse. They are gorgeous, easy and perfect for any occasion of the year.
Bow ties? Check. Cummerbunds? Check. Spats, top hats, and tails? Check, check, and check!
Now that we're wearing our fanciest of fancy outfits, we can get down to the business of making fancy raspberry mousse chocolate cups.
These mousse cups may or may not be Valentine's Day desserts that never got blogged in time (okay, they totally are) but don't let that stop you from making them now! The combination of gorgeous edible chocolate cups, raspberry-chocolate ganache, and fresh raspberry mousse is a winner year-round.
These are miniature 2 or 3-bite desserts, and their petite size makes them perfect for nice dinners, parties, or special events like weddings or showers. Not sure if you're fancy enough to make these fancy swirled chocolate cups? Never fear, photo tutorial to the rescue…
This is a perfect use for ugly Halloween liners you'll never use otherwise…
Start by drizzling some colored candy coating along the inside of a miniature muffin liner. (You can use candy cups instead, but those are really small and you'll end up making a zillion of them.) No need to be precise, just squirt it all around. Once it hardens, fill the cup about a quarter full of melted candy coating, and paint it up the sides of the liner in a thick layer. After it sets you can peel the paper off, and voila: one super-classy chocolate cup, ready to be filled with anything your fancy little head dreams up!
My fancy little head dreamt up a double-decker filling: a bottom layer of smooth, rich raspberry-chocolate ganache, and a top layer of fluffy pink raspberry mousse. We can't let our mousse cups go naked, of course, so they get topped with a fresh raspberry and some chocolate shavings. If you're thinking that it all seems time-consuming and complicated, know that although there are multiple steps, each in and of itself is pretty easy.
The mousse portion might sound a little intimidating, but it's fast and painless because I based it off of SprinkleBake's marshmallow mousse. Mousse made with marshmallows! No beating of egg whites or yolks required! It's a great idea and makes the mousse layer come together quickly and easily.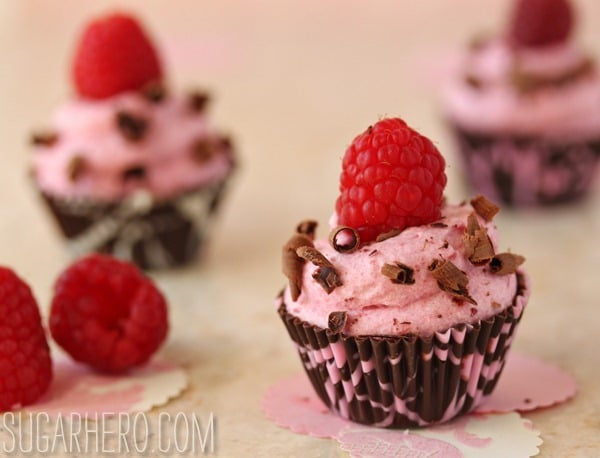 Although the garnishes are fresh berries, I actually used frozen berries to make the puree for the ganache and the mousse. Because the berries are pureed and then reduced, texture is not an issue, and the flavor is still vibrant and strong. This also means that you can use other frozen berries instead, like strawberries or blackberries. Remember: you're the one wearing the fancy pants, you make the decisions!
Chocolate Raspberry Mousse Cake
Chocolate Raspberry Mousse Cake – a gorgeous three-layer mousse cake with chocolate, raspberry, and vanilla mousse, all on a chocolate brownie base.
View Recipe
Chocolate Raspberry No-Bake Cake
This Chocolate Raspberry No-Bake Cake is an easy icebox cake made with just 6 ingredients! It's easy enough for kids to help with, and everyone will love the combination of dark chocolate, vanilla whipped cream, and tangy fresh raspberries.
View Recipe
Raspberry Mousse Chocolate Cups
These Raspberry Mousse Chocolate Cups have an amazing combination of edible chocolate cups, raspberry-chocolate ganache, and fresh raspberry mousse. They are gorgeous, easy and perfect for any occasion of the year.
Ingredients
For the Chocolate Cups:
2

oz

white candy coating melts

or other color of choice if you don't want to use food coloring

Oil-based candy food coloring

color of choice, I prefer Americolor brand, optional
For the Raspberry-Chocolate Ganache:
For the Raspberry Mousse:
1

cup

heavy cream

25

large marshmallows

not miniature marshmallows, about

6.75 oz

1/4

cup

raspberry puree reduction

made during the ganache steps

Pink gel food coloring – deep pink

optional

Fresh raspberries

to garnish

Chocolate shavings

to garnish
Instructions
To Make the Chocolate Cups:
Place 24 miniature muffin liners on your work surface. Melt the white candy coating in a small bowl in the microwave. If you want your swirls to be different colors, divide the candy coating into smaller portions and color it with oil-based candy coloring. (Regular food coloring is water-based and might cause the coating to seize.) Pour the coating into a paper cone made of parchment (recommended), a disposable piping bag, or a plastic bag with a small hole cut in the corner.

Holding a cup in the palm of one hand, drizzle the coating along the inside of the cup in a random pattern, taking care to go up and down the sides of the cup. Don't worry about being precise, and don't fill it up too much—just a few squiggles here and there are fine! Repeat until all of the cups have been drizzled. Let the tray set at room temperature to firm up the coating.

Once the squiggles are set, it's time to add the chocolate layer. Melt the chocolate candy coating in a bowl in the microwave, stirring after every 30 seconds to prevent overheating. Let the coating cool until it is still warm but not piping hot. Spoon enough coating in a cup to come up about a quarter of the way. Use a clean, dry paintbrush to brush the coating up the sides of the cup. (I like to hold the cup in one hand as I do this step so I can easily tilt it and manipulate it.) Try to work quickly, because the squiggles will melt as they come into contact with the warm chocolate. Make sure that you give the sides a thick layer of chocolate—it's better to err on the side of too thick rather than too thin. Repeat until all of the cups are made. Let them set at room temperature.

Once the cups are completely firm, carefully peel away the paper liners. If you have trouble, try refrigerating the tray to get the coating really hard before peeling the paper off. Chocolate cups can be made in advance and stored at room temperature for weeks until you're ready to use them.
To Make the Raspberry-Chocolate Ganache:
Blend the defrosted raspberries in a blender or food processor until they're liquid. Pour the berries through a fine mesh strainer and into a small saucepan to strain out the seeds. (A few will probably sneak through—that's okay.) Cook the puree over medium-low heat, stirring occasionally, until it reduces to a volume of 1/2 cup. Depending on your stove this may take anywhere from 5-15 minutes. You will use 1/4 cup of this reduced puree in the ganache, and 1/4 cup in the mousse.

Place the chopped semi-sweet chocolate in a medium bowl. Combine 1/4 cup of the puree with the heavy cream and corn syrup in a small saucepan, and whisk together. Heat over medium heat until it just starts to bubble, and pour it over the chocolate. Allow it to sit and soften the chocolate for one minute, then whisk everything together until shiny. Because of the berry puree, the texture will never be entirely smooth, but it should be thick and glossy, like pudding. Add the room temperature butter and whisk it in. If at any time it breaks (a layer of oil appears on the surface and it looks chunky) keep whisking until it comes back together.

Press a layer of cling wrap on top and let it sit at room temperature until it thickens enough to easily handle (45 minutes) or refrigerate briefly. Spoon or pipe a small amount of ganache in the bottom of each chocolate cup, about a teaspoon's worth.
To Make the Raspberry Mousse:
Whip the cream until it is just at firm peaks. Place the marshmallows in a large bowl and microwave them for 1 minute, then stir until they are completely melted and smooth. Add the reduced berry puree and stir it into the marshmallow until it's well-mixed. If the marshmallow mixture is still warm, let it sit until it is at room temperature

Fold the whipped cream into the marshmallow mixture until you have a light and fluffy mousse. If you want a stronger pink color, add just a drop or two of pink food coloring. Pipe big, generous swirls of raspberry mousse on top of the ganache in the chocolate cups using a pastry bag and coupler. Refrigerate the chocolate cups until the mousse is completely set, at least an hour.

To finish, top the mousse cups with fresh berries and chocolate shavings. Store Raspberry Mousse Chocolate Cups in an airtight container in the refrigerator for up to a week.
Measuring Tips
Our recipes are developed using weight measurements, and we highly recommend using a kitchen scale for baking whenever possible. However, if you prefer to use cups, volume measurements are provided as well. PLEASE NOTE: the adage "8 oz = 1 cup" is NOT true when speaking about weight, so don't be concerned if the measurements don't fit this formula.
Want to learn more about baking measurements and conversion?
Nutrition
Calories:
191
kcal
|
Carbohydrates:
18
g
|
Protein:
0
g
|
Fat:
12
g
|
Saturated Fat:
9
g
|
Cholesterol:
19
mg
|
Sodium:
26
mg
|
Potassium:
71
mg
|
Fiber:
1
g
|
Sugar:
15
g
|
Vitamin A:
230
IU
|
Vitamin C:
3.9
mg
|
Calcium:
18
mg
|
Iron:
0.8
mg
Tried this recipe?
Snap a pic and hashtag it #SugarHero. We love to see your creations on our Instagram @elabau.