This post may contain affiliate links. As an Amazon Associate I earn from qualifying purchases. Please see my disclosure policy for more information.
These Spicy Chocolate Caramel Sandwich Cookies are a riot of tastes and textures, with spicy cookies filled with chewy caramel and cinnamon frosting! They are half-dunked in chocolate for a taste experience you won't soon forget!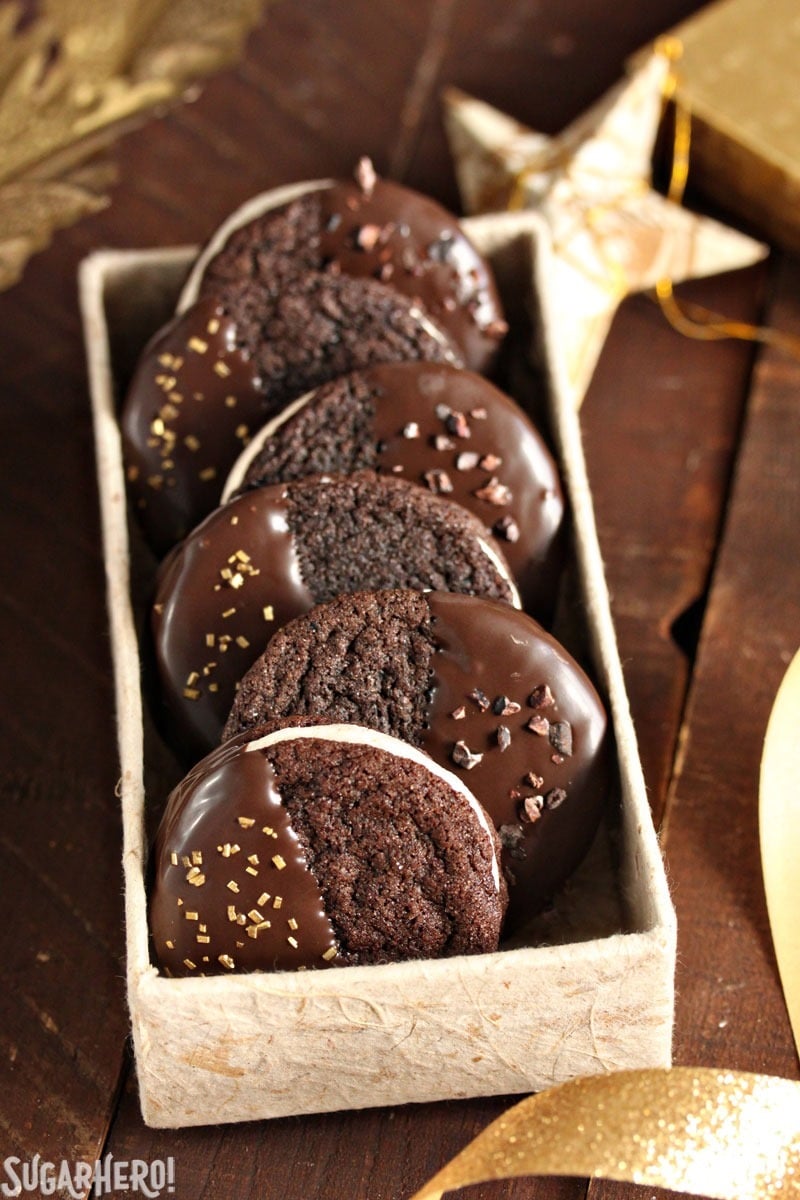 After getting all fancy with chocolate-wrapped present cakes yesterday, let's take it down a notch and talk about the official dessert of Christmas: cookies! They're Santa's favorite treat, they're a staple of gift boxes and gift plates everywhere, and they're the dessert I always turn to when I have a sugar craving and want instant gratification.
These particular cookies were made as part of the Great Food Blogger Cookie Swap, an annual tradition where food bloggers send cookies to each other in December. I participated last year for the first time, and it was so fun to surprise strangers with cookies in the mail, and YOU KNOW I just loved getting batches of cookies in return. It's a great way to get in the holiday spirit, and it's also for a good cause—this year, the almost 500 participants raised over $7000 for Cookies for Kids' Cancer! Sweeeeeet. (pun totally intended)
So these are the cookies I sent to my random matches: spicy chocolate cookies, filled with caramel and cinnamon buttercream, and half-dunked in chocolate. I always try to strike a balance between making something that is delicious, something that is unique, and something that travels well and stays soft and fresh for as long as possible. It's a lot of factors to consider!
I'll let my recipients be the ultimate judge of whether I hit all those checkboxes, but since they're not here to write this post, I'll just tell you that my father-in-law called these "the best cookies he's ever tasted. Period." And he is usually a bit of a chocolate dessert skeptic, so I considered that high praise indeed!
Let's start with the cookies: they're a soft chocolate cookie, firm around the edges but still moist and soft in the center. They're strong enough to hold together well as sandwiches but not too crunchy or crispy, since that might make the caramel ooze out when you bite into them. I added some black pepper, a healthy spoonful of cayenne powder, and a lot of cinnamon to make them spicy enough so they leave some heat in your mouth, but not tongue-searingly spicy. If you're worried about the spicy factor you can reduce or eliminate the cayenne, but if you're adventurous, then give it a try! Spice and chocolate are a wonderful combination.
The outside of the cookies are ringed with cinnamon buttercream. My original plan was to just fill them with caramel, but I was worried that it would get too messy and leak during shipping, so the buttercream was added as a sort of dam or blockade to prevent the caramel from going rogue. The cinnamon tied it into the chocolate cookies, flavor-wise, and also helped "cool down" the spice a little bit.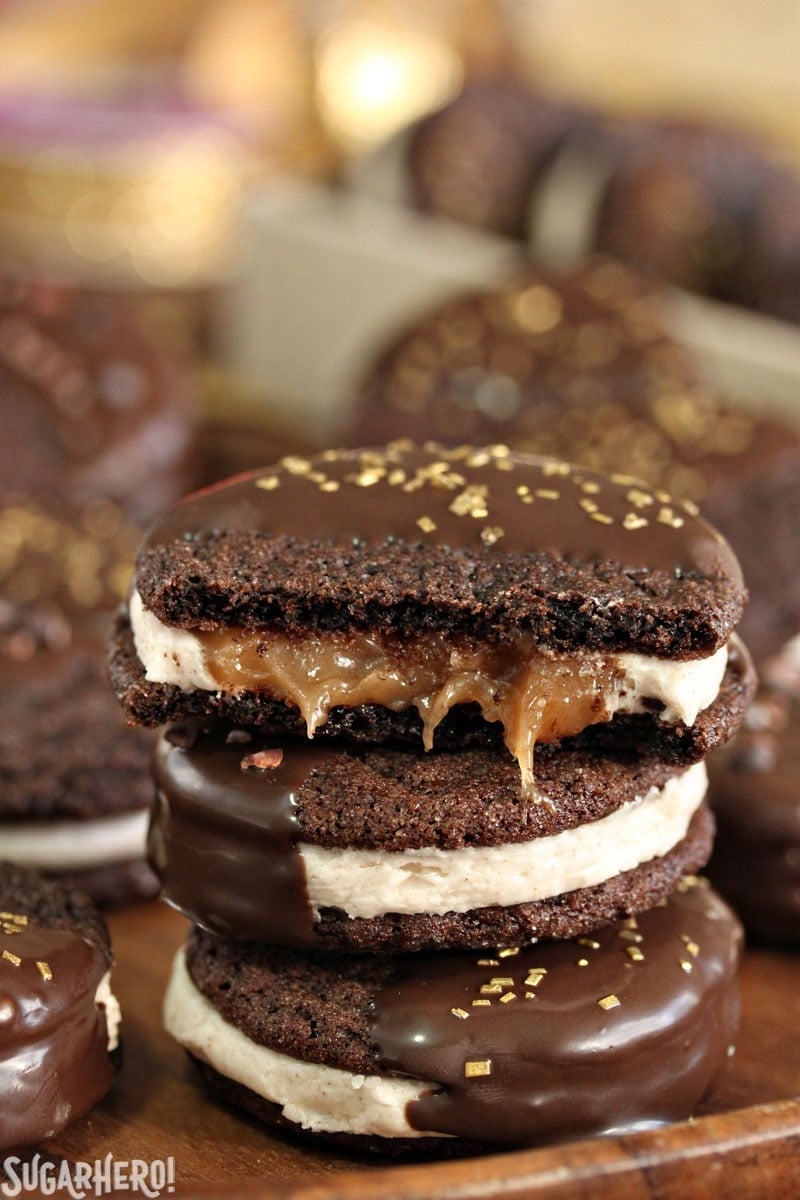 Finally, inside that ring of buttercream, is a rich, chewy caramel. It's firm enough so that it doesn't ooze out when you bite into it, but soft enough to kind of melt into the cookie and not cause you to have to CHOMP down and get that dog-eating-peanut-butter jaw action—if you've ever had too-hard caramels, I'm sure you know what I'm talking about! I kept it simple and just flavored the caramels with vanilla and salt, but this is another instance where you could add some spice or some cinnamon and it would be great.
Finally, the cookies were half-dipped in chocolate—actually, I used chocolate candy coating, to make them more stable while travelling, but regular tempered chocolate would work just as well. For the finishing touch, half were sprinkled with cocoa nibs and half with gold sparkling sugar. Crushed nuts, coconut, or holiday sprinkles would also be a great choice!
After my father-in-law's enthusiasm, I know these cookies are going to be in constant rotation at my house from now on. If you're looking for a special holiday cookie, give this a try and let me know what you think!
🤎More Cookie Recipes You'll Love
Cinnamon Mousse Tarts
These Cinnamon Mousse Tarts have a chocolate tart dough with cinnamon-spiked Mexican chocolate mixed right in. The cinnamon mousse filling is light, fluffy, and perfect with a chocolate cinnamon stick on top.
Get the recipe!
Dulce de Leche Swirled Tarts
These beautiful Dulce de Leche Swirled Tarts start with a dark chocolate crust, packed with thick swirls of chocolate, dulce de leche, and white chocolate ganache!
Get the recipe!
Spicy Chocolate Caramel Sandwich Cookies
These Spicy Chocolate Caramel Sandwich Cookies are a riot of tastes and textures, with spicy cookies filled with chewy caramel and cinnamon frosting! They are half-dunked in chocolate for a taste experience you won't soon forget!
Ingredients
For the Spicy Chocolate Cookies:
For the Buttercream:
12

oz

powdered sugar

, (

3 cups

, sifted after measuring)

4

oz

unsalted butter

, (

1/2 cup, or 1 stick

), room temperature

2

tbsp

milk

,

plus more if necessary

1

tsp

vanilla extract,

or other flavoring extracts

1/4

tsp

salt

3/4

tsp

ground cinnamon
To Assemble:
1 1/4

lbs

semi-sweet chocolate,

chopped or chocolate candy coating

Cocoa nibs

,

optional, for decoration

Sprinkles

,

optional, for decoration

Finely chopped nuts

,

optional, for decoration
Instructions
To Make the Spicy Chocolate Cookies:
Sift together the flour, cocoa, baking soda, salt, pepper, cayenne, and cinnamon into a large bowl, and set aside for now.

Combine the butter and both sugars in the bowl of a large stand mixer fitted with a paddle attachment. Cream them together on medium speed for 1-2 minutes, until fluffy and well-combined. Add the eggs one at a time, mixing well after each addition, then add the vanilla. Finally, turn the mixer speed to low and add the flour, mixing until almost all of the streaks are gone. Stop the mixer and finish mixing by hand, scraping the bottom and sides of the bowl with a rubber spatula.

Wrap the dough in cling wrap and refrigerate for at least an hour, until it's firmed up enough to easily roll into balls. Preheat the oven to 350 F.

Line your baking sheets with parchment paper. Take a small scoop of dough (only about 1 inch wide!) and roll it into ball, then roll the dough in granulated sugar. Place the dough ball on the baking sheet, and use the bottom of a glass to flatten it into a disc. Repeat with remaining dough—you should get about 72 small cookies from this batch. Bake the trays for 8-9 minutes, until they've spread and are set around the edges but still soft in the middle. Let cookies cool completely before assembling the sandwich cookies.
To Make the Soft Caramel:
Combine the water, light corn syrup, and granulated sugar in a large saucepan. Place the pan over medium heat, and stir while the sugar dissolves. Brush down the sides of the pan occasionally with a wet pastry brush to remove stray sugar crystals. Bring the mixture to a boil, then stop stirring and insert a candy thermometer. Allow the sugar to cook, undisturbed, until it is a medium amber color and reaches 330 F on the thermometer.

While the sugar cooks, combine the cream, butter, and salt in a medium saucepan. Place the pan over medium heat and bring the cream to a simmer. Once simmering, remove the pan from the heat and set aside.

When the caramel has reached 330 F, add the hot cream to the pan carefully—it will splutter, boil, and steam quite a bit, so stand back from the pot! Stir the cream and caramel together. Continue to cook the mixture, stirring occasionally, until it reaches 234 F.

Remove the pan from the heat and stir in the vanilla extract. Pour the caramel into a heatproof bowl or baking pan. Let it sit at room temperature until it is entirely cool and thickened. It should have a texture that is easily scoopable with a spoon, but it should mostly hold its shape on the spoon and not be too runny. The caramel can be made in advance and kept at room temperature for a week before using. If making it in advance, simply cover the bowl or pan of caramel with cling wrap until ready to use.
To Make the Buttercream:
Place all of the ingredients in the bowl of a large stand mixer fitted with a paddle attachment. Mix on low speed until the sugar is moistened. Scrape down the sides of the bowl, then beat again on medium speed until light and fluffy, 2-3 minutes. You can add more milk or sugar, if desired, to get the consistency you want.
To Assemble:
Transfer the buttercream to a piping bag fitted with a large round tip. Place one cookie, bottom-up, on your work surface, and pipe a ring of buttercream along the outside edge. Take a candy scooper or teaspoon and scoop up a small ball of caramel. Place it in the middle of the cookie and gently press a second cookie on top, pressing down so that the caramel is pushed to the edges of the buttercream. Repeat with the remaining cookies until you have 36 sandwich cookies assembled. Refrigerate to firm up the buttercream, about 30 minutes.

Melt the chocolate candy coating or semi-sweet chocolate in the microwave. (I recommend either using candy coating, or

tempering the chocolate following these directions

, since regular melted chocolate can get soft, sticky, or bloomed at warm room temperature.) Dip half of a cookie in the chocolate, and let the extra drip back into the bowl. Set the dipped cookie back on a waxed paper-covered baking sheet, and while the chocolate is still wet, sprinkle the top with cocoa nibs, sprinkles, crushed nuts, or your toppings of choice. Repeat until all of the cookies are dipped. Refrigerate the trays briefly to set the chocolate, then serve! For the best taste and texture, serve these cookies at room temperature.
MEASURING TIPS
Our recipes are developed using weight measurements, and we highly recommend using a kitchen scale for baking whenever possible. However, if you prefer to use cups, volume measurements are provided as well. PLEASE NOTE: the adage "8 oz = 1 cup" is NOT true when speaking about weight, so don't be concerned if the measurements don't fit this formula.
Click here to learn more about baking measurements and conversion.
Nutrition
Calories:
385
kcal
|
Carbohydrates:
46
g
|
Protein:
2
g
|
Fat:
21
g
|
Saturated Fat:
13
g
|
Cholesterol:
53
mg
|
Sodium:
144
mg
|
Potassium:
145
mg
|
Fiber:
2
g
|
Sugar:
35
g
|
Vitamin A:
515
IU
|
Vitamin C:
0.1
mg
|
Calcium:
31
mg
|
Iron:
1.8
mg
Share by Email
Share on Facebook
Share on Pinterest