These Spicy Chocolate Caramel Sandwich Cookies are a riot of tastes and textures, with spicy cookies filled with chewy caramel and cinnamon frosting! They are half-dunked in chocolate for a taste experience you won't soon forget!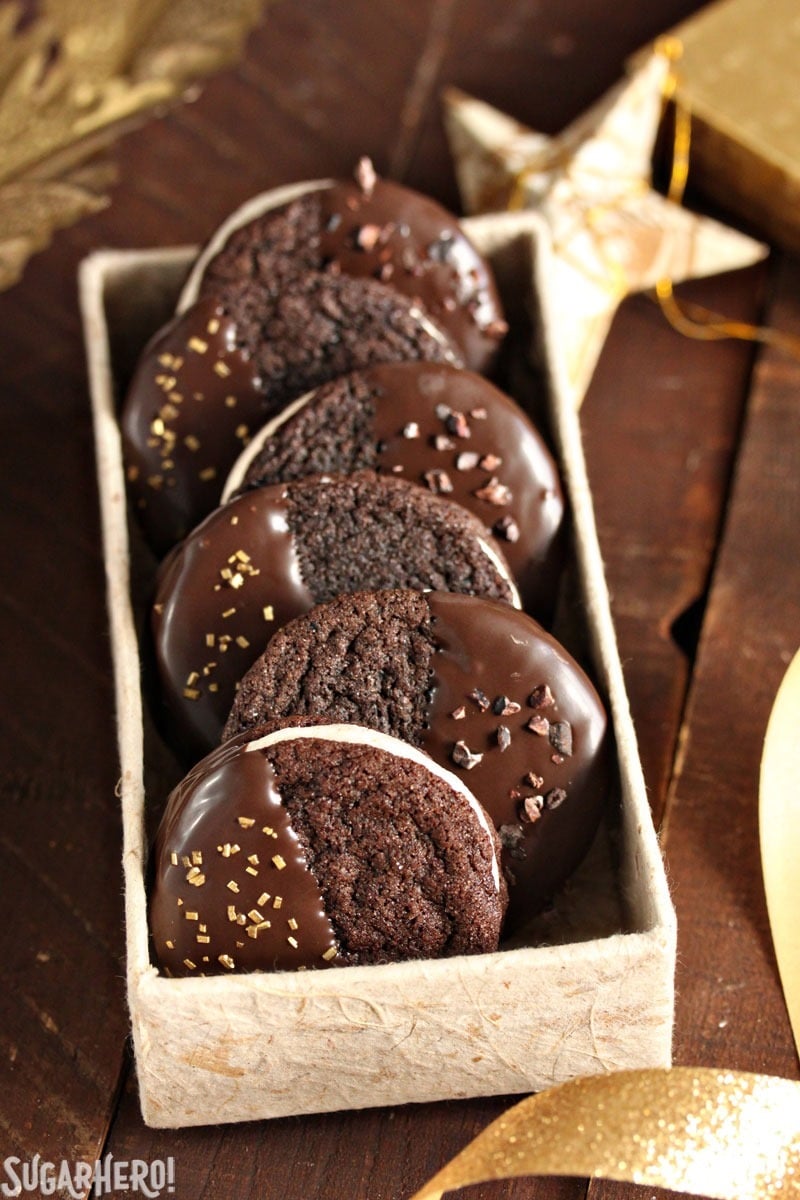 After getting all fancy with chocolate-wrapped present cakes yesterday, let's take it down a notch and talk about the official dessert of Christmas: cookies! They're Santa's favorite treat, they're a staple of gift boxes and gift plates everywhere, and they're the dessert I always turn to when I have a sugar craving and want instant gratification.
These particular cookies were made as part of the Great Food Blogger Cookie Swap, an annual tradition where food bloggers send cookies to each other in December. I participated last year for the first time, and it was so fun to surprise strangers with cookies in the mail, and YOU KNOW I just loved getting batches of cookies in return. It's a great way to get in the holiday spirit, and it's also for a good cause—this year, the almost 500 participants raised over $7000 for Cookies for Kids' Cancer! Sweeeeeet. (pun totally intended)
So these are the cookies I sent to my random matches: spicy chocolate cookies, filled with caramel and cinnamon buttercream, and half-dunked in chocolate. I always try to strike a balance between making something that is delicious, something that is unique, and something that travels well and stays soft and fresh for as long as possible. It's a lot of factors to consider!
I'll let my recipients be the ultimate judge of whether I hit all those checkboxes, but since they're not here to write this post, I'll just tell you that my father-in-law called these "the best cookies he's ever tasted. Period." And he is usually a bit of a chocolate dessert skeptic, so I considered that high praise indeed!
Let's start with the cookies: they're a soft chocolate cookie, firm around the edges but still moist and soft in the center. They're strong enough to hold together well as sandwiches but not too crunchy or crispy, since that might make the caramel ooze out when you bite into them. I added some black pepper, a healthy spoonful of cayenne powder, and a lot of cinnamon to make them spicy enough so they leave some heat in your mouth, but not tongue-searingly spicy. If you're worried about the spicy factor you can reduce or eliminate the cayenne, but if you're adventurous, then give it a try! Spice and chocolate are a wonderful combination.
The outside of the cookies are ringed with cinnamon buttercream. My original plan was to just fill them with caramel, but I was worried that it would get too messy and leak during shipping, so the buttercream was added as a sort of dam or blockade to prevent the caramel from going rogue. The cinnamon tied it into the chocolate cookies, flavor-wise, and also helped "cool down" the spice a little bit.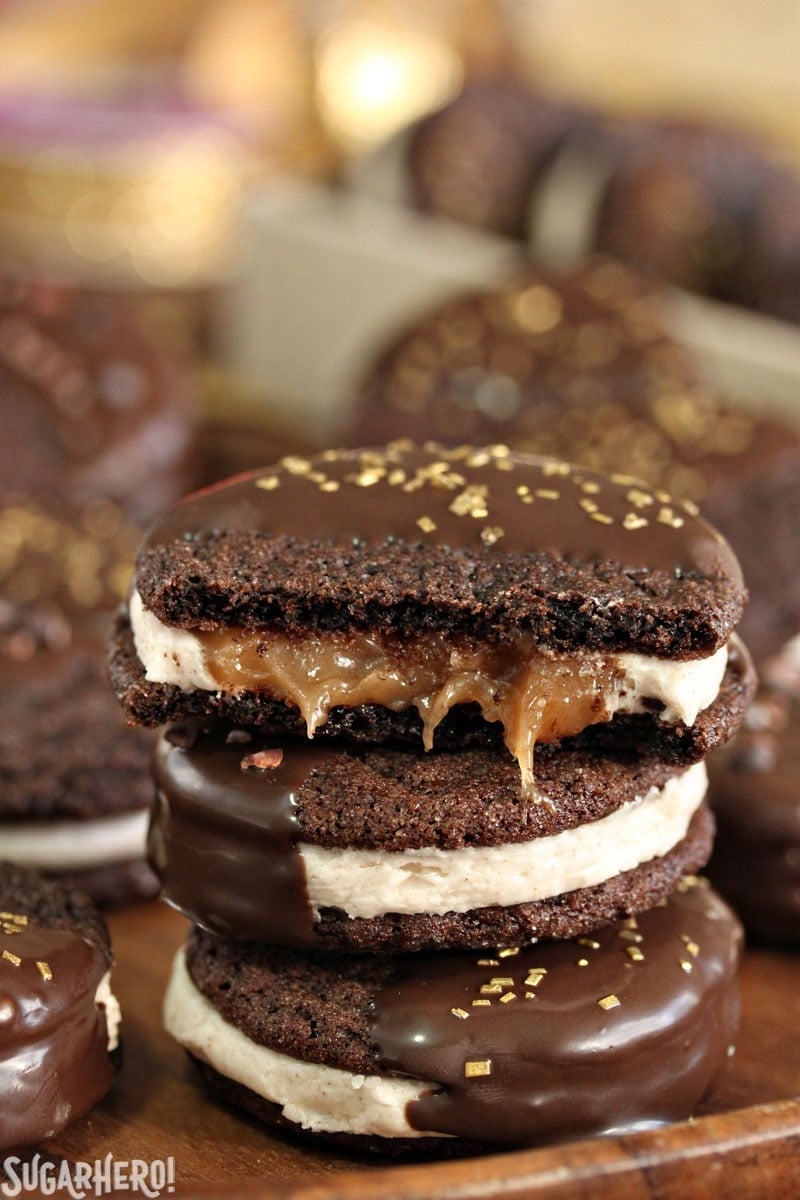 Finally, inside that ring of buttercream, is a rich, chewy caramel. It's firm enough so that it doesn't ooze out when you bite into it, but soft enough to kind of melt into the cookie and not cause you to have to CHOMP down and get that dog-eating-peanut-butter jaw action—if you've ever had too-hard caramels, I'm sure you know what I'm talking about! I kept it simple and just flavored the caramels with vanilla and salt, but this is another instance where you could add some spice or some cinnamon and it would be great.
Finally, the cookies were half-dipped in chocolate—actually, I used chocolate candy coating, to make them more stable while travelling, but regular tempered chocolate would work just as well. For the finishing touch, half were sprinkled with cocoa nibs and half with gold sparkling sugar. Crushed nuts, coconut, or holiday sprinkles would also be a great choice!
After my father-in-law's enthusiasm, I know these cookies are going to be in constant rotation at my house from now on. If you're looking for a special holiday cookie, give this a try and let me know what you think!
🤎More Cookie Recipes You'll Love