These Cinnamon Mousse Tarts have a chocolate tart dough with cinnamon-spiked Mexican chocolate mixed right in. The cinnamon mousse filling is light, fluffy, and perfect with a chocolate cinnamon stick on top.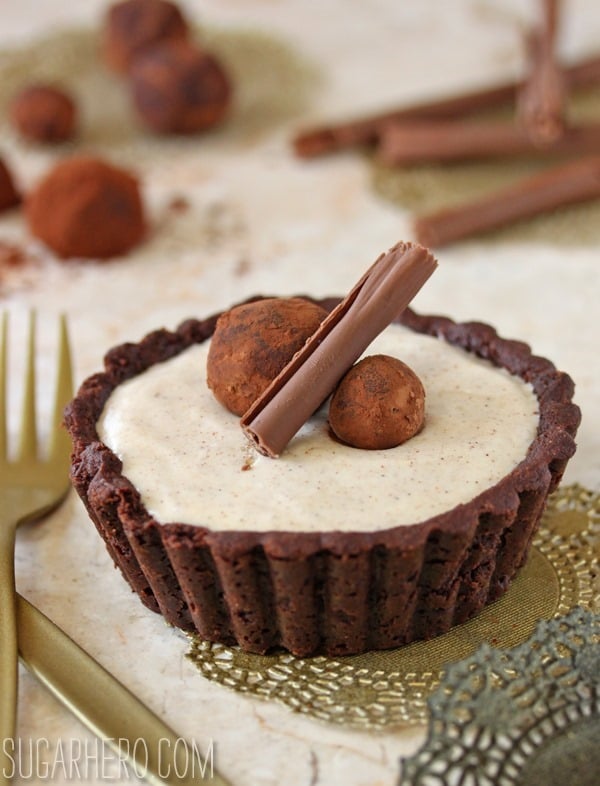 True confession time: these were supposed to be a Cinco de Mayo dessert. The shells are made with Mexican chocolate, the mousse filling is flavored with lots of cinnamon…it was all going to be so perfectly appropriate and on-theme. But, you know, baking and photographing food is only one part of this whole blogging dealio.
The second part, the writing up the recipe part, what some wise souls might consider the actual blogging part? It turns out that's equally important, and that's exactly the area where I always fall behind. If anyone has any leads on bright-eyed college students who want to write up recipes and do thankless administrative work in exchange for cookies, please do have them call me.
But I'm not even bothered about the tardiness, because you know what's better than a Cinco de Mayo dessert? A Diecisiete de Mayo dessert, that's what. (Boom, how you like my hastily-googled Spanish now?)
Okay, that's totally not a thing. But these tarts are so good, they don't deserve to be treated like a seasonal, once-a-year dessert anyhow. You can—and should!—enjoy them on diecisiete de Mayo, veintidós de Diciembre, and every day in between.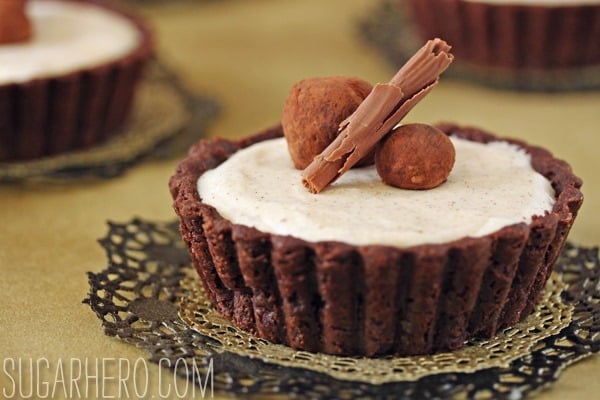 Mexican chocolate is a peculiar beast. It has a subtly spicy flavor and a slightly grainy texture that lingers in this tart dough. When you taste the chocolate on its own, you might not be convinced that you want to pair it with something elegant like a mousse. But that slight grittiness just serves to make the dough crunchier, and it becomes the perfect cookie-like contrast to the smooth, silky mousse inside the shell. I liked letting the cinnamon flavor shine, but if you are a fan of spicy desserts, you could add a pinch of cayenne to the tart dough to bring just a little heat.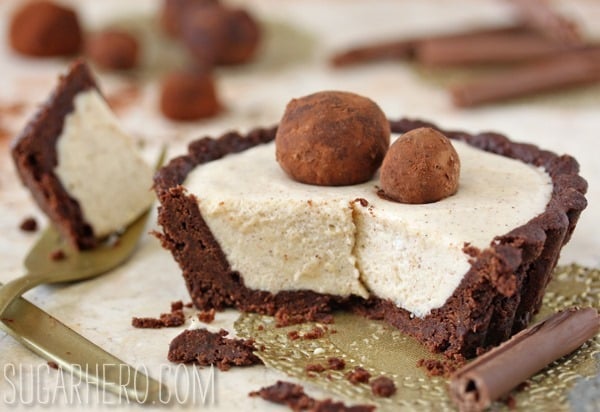 The mousse, quite frankly, needs the chocolate just as much as the chocolate needs the mousse. The mousse is white chocolate-based, meaning it's fairy sweet on its own. I love the strong cinnamon and vanilla flavor, but I don't think I could eat a whole bowl of it without adding something crunchy and a little less sweet. (Is this the part where I confess I made extra mousse and ate it on top of graham crackers? No? Well, carry on then.) And as long as I'm throwing out recipe variations, I think the filling could handle a nice shot of almond flavor as well, either from an extract or from a dash of amaretto.
I topped the tarts with a few chocolate truffles, and a decorative chocolate curl. I wanted the curls to resemble cinnamon sticks, so I purposefully made them a little rough to give them more of a "rolled tree bark" texture. If you'd like to make "Chocolate Cinnamon Sticks" of your own, here's a quick tutorial: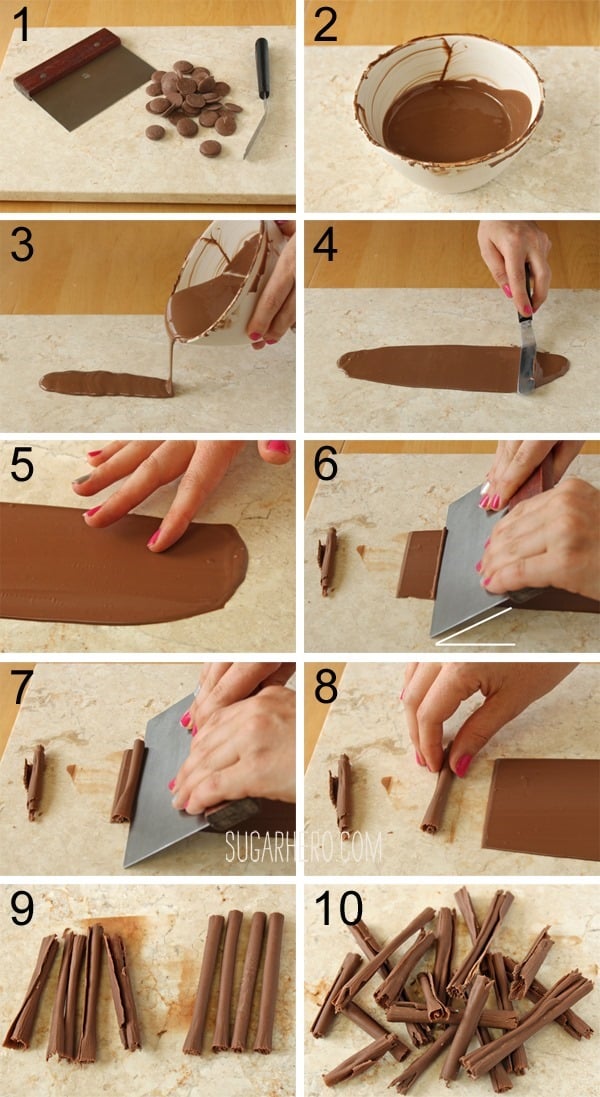 1. You'll need a few ounces of chocolate candy coating
, a bench scraper
, a small offset spatula
, and a flat work surface. I like to use a small marble slab because it cools the coating quickly and evenly, but you can use the back of a flat baking sheet if you don't have marble.
2. Melt the candy coating in the microwave.
3. Pour it in a thin line down the center of your work surface. Thin is key, since you'll be spreading it out in the next step and you probably don't want foot-long chocolate curls.
4. Use a small offset spatula to spread the chocolate into a very thin layer. Try to spread it lengthwise instead of widthwise. Keep in mind that the width of the chocolate will be the length of the finished chocolate curls.
5. Let the coating sit for a few minutes. As it sets, it will change from shiny to matte. When you can touch it gently without leaving a finger print, it's ready to roll. It shouldn't be set, just set enough to not be liquid anymore. That will make sense when you try it.
6. Stand behind the line of chocolate. Grasp the bench scraper in both hands. Position the blade an inch or so from the far end of the chocolate. Hold the blade at about a 45 degree angle from the surface. (See the white lines in the picture for reference.)
7. Working quickly and firmly, push the bench scraper away from you, causing the chocolate to roll over itself.
8. If it doesn't roll into a perfect tube, finish rolling and shaping it with your hands.
9. Keep forming curls, working quickly, until you've made curls from all of the chocolate. As the coating continues to set, the chocolate will be harder to roll and will have a rougher look. You can see the difference between the curls on the right, where the chocolate was very pliable, and the ones on the left, where it was firmer and more set. I wanted a rough, cinnamon-like look, so I let the chocolate set a little more before forming all the curls.
10. Hey, you made chocolate curls! Good job! If you find that your chocolate has set too much to make curls from all of it, scrape it off the surface and melt it again. The good news is that this project is fast, so even if it takes you a few tries to get right, you're not out more than a few minutes. And this is definitely a skill where you get better with practice. Plus, you can re-melt (or eat!) any failed attempts.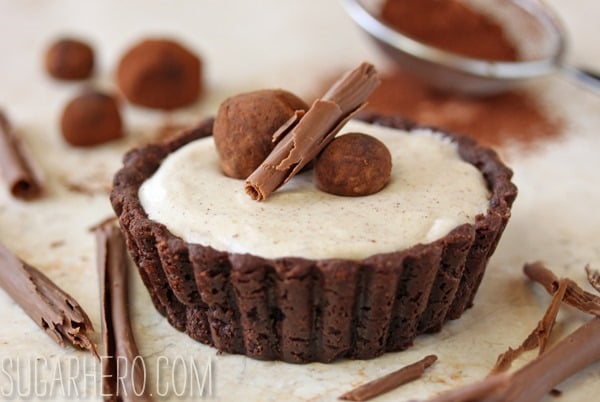 🤎More Mousse Recipes
Dulce de Leche Swirled Tarts
These Dulce de Leche Swirled Tarts are as delicious as they are beautiful. Dulce de Leche is mixed with white and dark to create gorgeous multi-colored swirls.
View Recipe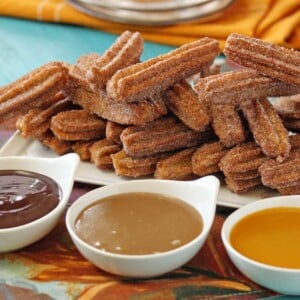 Homemade Churros
These Homemade Churros are just like what I remember from the churro carts of my childhood, extra-crispy and coated with cinnamon-sugar on the outside, and soft, pillowy goodness on the inside. Dip them in spicy chocolate sauce, dulce de leche sauce, and mango sauce with a hint of lime!
View Recipe
Cinnamon Mousse Tarts
These Cinnamon Mousse Tarts have a chocolate tart dough with cinnamon-spiked Mexican chocolate mixed right in. The cinnamon mousse filling is light, fluffy, and perfect with a chocolate cinnamon stick on top.
Ingredients
For the Mexican Chocolate Tart Dough:
For the Cinnamon Mousse Filling:
Instructions
To Make the Mexican Chocolate Tart Dough:
Place the chopped Mexican chocolate in the bowl of a food processor, and give it several long pulses until the chocolate is broken down into fine crumbs. Add the flour, cocoa powder, sugar, and salt, and pulse briefly until everything is well-blended. Add the cubed butter and pulse until it is in small pea-sized pieces. Add the egg yolk and pulse in 5-second bursts until the dough starts clumping together.

Turn it out of the food processor and knead it lightly several times to incorporate any extra flour and cocoa powder. At this point, the dough can be wrapped and refrigerated for several days. If you're ready to use it now, spray 6 4-inch tart pans with nonstick cooking spray. Press the dough into the bottom and sides of the pans in an even layer.

Freeze the shells for 30 minutes, and while they're in the freezer, preheat the oven to 375 degrees F. Spray the tops of the tart dough with nonstick spray, then press a sheet of foil into the shells and fill the foil with dry beans, rice, or pie weights. Bake the shells for 10-12 minutes, then carefully remove the foil and weights. Bake for an additional 8-10 minutes to fully bake the shells, until puffed, dry, and fragrant. Let the shells cool completely before filling them.
To Make the Cinnamon Mousse Filling:
In a small bowl, stir together the gelatin and the cold water, and let it sit for 5 minutes so the gelatin absorbs the water. While the gelatin is sitting, place the chopped white chocolate in a microwave-safe bowl and microwave in 30-second intervals until melted and smooth. Set aside, then microwave the gelatin mixture for about 15 seconds, until it is liquid. Set the gelatin aside as well.

In a separate bowl, whisk together the yolks and sugar. Pour the milk into a small saucepan, and heat it until it simmers. Drizzle the hot milk into the egg yolks while whisking, to slowly incorporate the hot milk. Pour everything back into the saucepan and return it to the heat, whisking constantly, just until the mixture thickens enough to coat the back of a spoon.

Take the pan off the heat and whisk in the melted white chocolate and the melted gelatin. The mixture may clump up a little at first, but keep whisking and it will smooth out. Whisk in the cinnamon, vanilla extract, and salt. Let it sit and cool at room temperature for about 5-8 minutes, until it's no longer warm to the touch, but has not yet begun to set.

When the cinnamon mixture has cooled off, whip the heavy cream to firm peaks. Fold the cream into the cinnamon mixture until no streaks remain. Divide the mousse between the tart shells and smooth the tops. Refrigerate until the mousse is completely set, at least 4 hours. Garnish with truffles, chocolate shavings, or anything else you'd like. Store in an airtight container in the refrigerator for up to 4 days.
Recipe Notes
Mexican chocolate is a fun ingredient, and relatively cheap, so if you have access to it I highly recommend picking some up. (It is often found by the hot chocolate mixes in my local grocery stores. Two common brands are Ibarra and Abuelita.) If you can't find any, you can omit the chocolate entirely without making any other changes.
Measuring Tips
Our recipes are developed using weight measurements, and we highly recommend using a kitchen scale for baking whenever possible. However, if you prefer to use cups, volume measurements are provided as well. PLEASE NOTE: the adage "8 oz = 1 cup" is NOT true when speaking about weight, so don't be concerned if the measurements don't fit this formula.
Want to learn more about baking measurements and conversion?
Nutrition
Calories:
774
kcal
|
Carbohydrates:
69
g
|
Protein:
9
g
|
Fat:
53
g
|
Saturated Fat:
32
g
|
Cholesterol:
210
mg
|
Sodium:
302
mg
|
Potassium:
275
mg
|
Fiber:
3
g
|
Sugar:
44
g
|
Vitamin A:
1335
IU
|
Vitamin C:
0.4
mg
|
Calcium:
136
mg
|
Iron:
2.6
mg
Tried this recipe?
Snap a pic and hashtag it #SugarHero. We love to see your creations on our Instagram @elabau.