This post may contain affiliate links. As an Amazon Associate I earn from qualifying purchases. Please see my disclosure policy for more information.
Red Hot Love Cookies – rich chocolate cookies sandwiching a spicy cinnamon buttercream, and finished with gorgeous glittery decorations!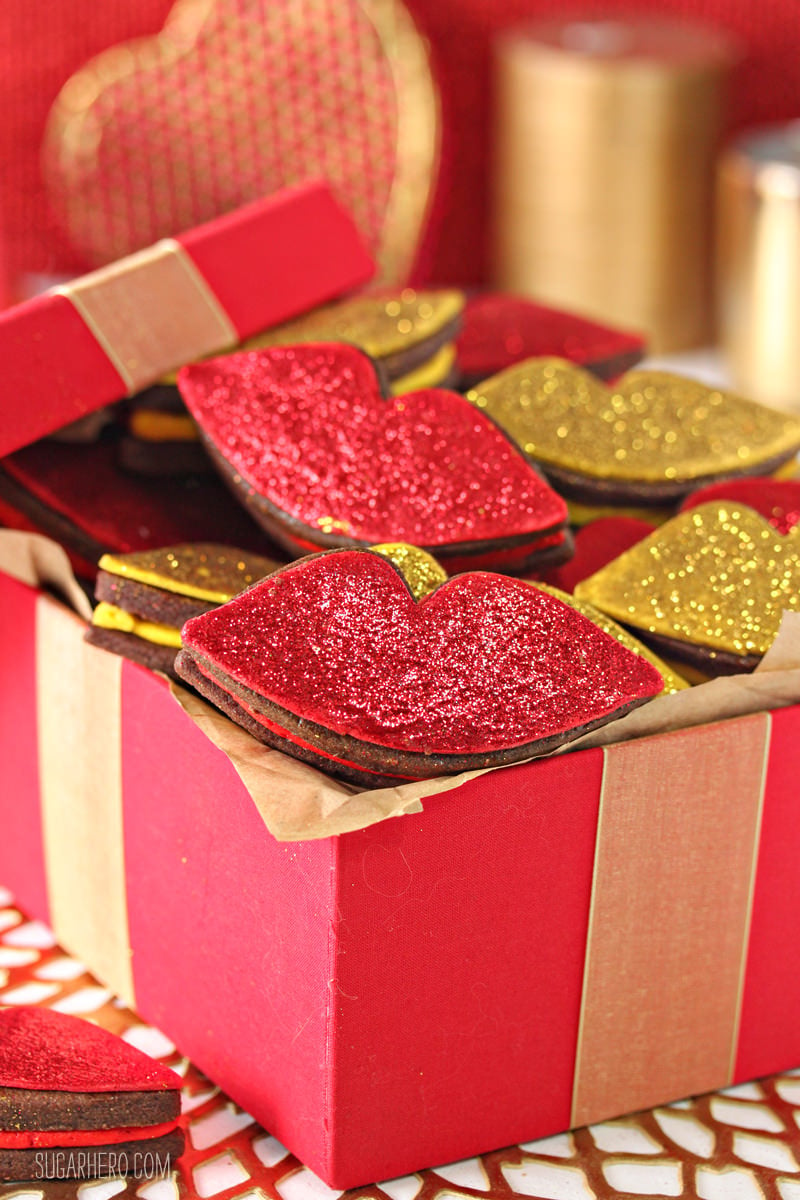 Hello, lovers. I know it has been a little tame around these parts. A little lovey-dovey. A little girly. A little too sweet, if you know what I mean. Today's recipe is intended to counteract all that sickly sweetness with a giant punch of flavor, right in the kisser.
If you're the type who likes a little heat with their sweets, this is the cookie for you! These Red Hot Love cookies scoffed at my delicate Watercolor Rose Cookies and spit in their faces, then they flexed and kissed their biceps a few times. Metaphorically speaking.
Metaphorical machismo aside, these cookies are awesome for folks who love bold flavors. They start with a deep, dark chocolate cookie dough flavored with espresso powder, cinnamon, and cayenne. Then they're sandwiched with buttercream flavored with cinnamon oil, which is nothing like ground cinnamon. You know the flavor of Red Hots, or Atomic Fireballs, or Hot Tamales? That is cinnamon oil, and that is what gives these cookies such a crazy, spicy, deliciously different flavor. If you're a spice weenie, you can of course reduce or omit the cayenne and cinnamon oil from the recipe, and I won't even judge you. (Much.)
To give these cookies appropriate sex appeal, I topped them with glittering red and gold disco dust. Whenever I post a recipe with disco dust, I invariably get comments and emails yelling at me, telling me that it's not edible. To which I say: you're right. (Please don't email me about it anymore.)
My position is usually that disco dust, while not sold as an edible product, is nontoxic, and is not uncommonly used in cake decorating, so a small amount as part of a decorative element doesn't bother me personally. You may feel differently. That is swell. Group hug.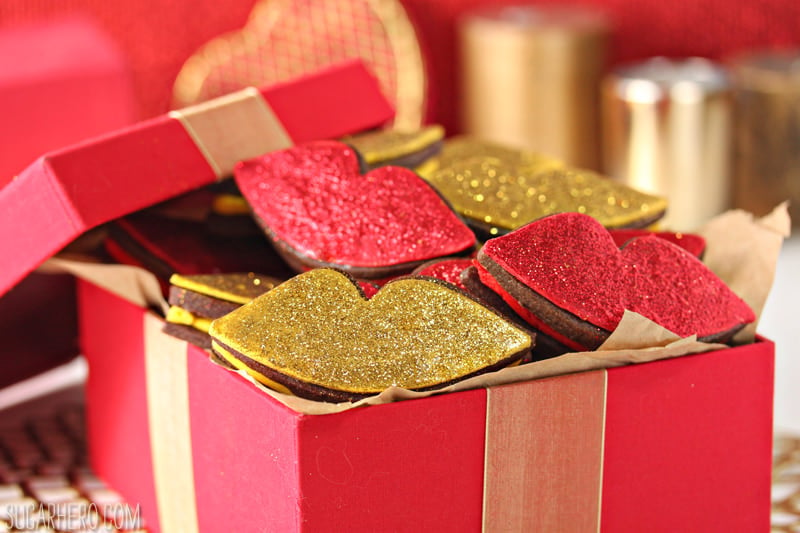 However! These cookies are different in that the amount of disco dust I wanted to use was, to put it in precise pastry terms, a mega bunch, and it seemed excessive even by my lax personal standards. I just didn't want to be picking disco dust out of my teeth the whole night after eating one cookie. So rather than brush the dust directly on top of the cookie, I made little fondant plaques and put the disco dust on the fondant. The plaques are attached to the cookies with just a few dots of corn syrup, so they can be popped off before eating. Everyone wins! I get cookies that are sparkly and beautiful, my loved ones don't have to eat big mouthfuls of disco dust, and my inbox remains a beautiful Shangri-La full of only the most positive, complimentary emails. Aaaaaahhhhh.
If you don't want to go to the trouble of making the fondant plaques, you could omit the dust entirely, or top the cookies with regular sprinkles instead, or brush the tops with FDA-approved luster dust. (Or court certain death by sprinkling the disco dust directly on top. Just don't say I didn't warn you.)
Did I mention that these are a huge hit with adults and kids alike? Because they are. (And did I mention that my particular kid is the cutest one ever? Because he is.) My toddler son really liked these, but he does have a decent spice tolerance. Your mileage may vary with your little ones, so consider reducing or eliminating the spices if they'll primarily be served to kids.
These would be so darling for a Valentine's Day party, or as edible Valentine gifts. Think of all the groan-worthy puns you could write on the accompanying card! Of course, now that I've written that, I'm drawing a total blank, but you're much more clever than I, so I'm sure you'll come up with something good. Mwwah!
Don't miss our collection of the 10 Best Valentine's Day Cookies – see the whole web story here!
Red Hot Love Cookies
Red Hot Love Cookies - rich chocolate cookies sandwiching a spicy cinnamon buttercream, and finished with gorgeous glittery decorations!
Calling all spice lovers! If you like a little heat with your sweets, this is the cookie for you. The dark chocolate cookies have cinnamon and cayenne, and the buttercream has cinnamon oil, which gives the cookies quite a kick. Feel free to adjust the cayenne and cinnamon oil amounts if you're sensitive to spices.
Ingredients
For the Spicy Cinnamon Chocolate Cookies:
11 2/3

oz

all-purpose flour

,

(2 3/4 cups)

1 1/2

oz

unsweetened cocoa powder,

(1/2 c)

1

tsp

instant espresso powder

1/2

tsp

salt

1 1/2

tsp

ground cinnamon

1/2

tsp

ground cayenne

,

adjust amount to your taste

8

oz

cold unsalted butter

,

cubed, (1 cup)

7

oz

granulated sugar

,

(1 cup)

1

egg

1

tsp

vanilla extract

Lip-shaped cookie cutter
For the Spicy Cinnamon Buttercream:
4

oz

unsalted butter

,

at room temperature

12

oz

powdered sugar

,

(3 cups)

2

tbsp

heavy cream

1/8

tsp

cinnamon oil

,

or more to taste

1/8

tsp

salt

Red, yellow, and ivory gel food coloring

,

(I like Americolor brand)
To Decorate:
8

oz

fondant

Red, yellow, and ivory gel food coloring

,

(I like Americolor brand)

Red and gold disco dust

,

(to decorate - optional)

Light corn syrup
Instructions
To Make the Spicy Cinnamon Chocolate Cookies:
In a small bowl, sift together the flour, cocoa, espresso powder, salt, cayenne, and cinnamon. Set aside for a moment.

Combine the cold cubed butter and the sugar in the bowl of a large stand mixer fitted with a paddle attachment. Beat them on medium speed just until they're mixed together and there are no longer any chunks of butter. The key is to get a homogenous texture, but not beat until it's light and fluffy—we don't want to beat too much air into the dough, because that will cause the cookies to spread!

Add the vanilla extract and the egg, and beat to combine. Stop the mixer and add the flour/cocoa mixture, and mix on low speed until most of the flour is incorporated and just a few streaks remain. Finish mixing the dough with a spatula, scraping the bottom and sides of the bowl. Wrap the dough in plastic wrap and chill for an hour in the refrigerator.

Dust your work surface and rolling pin with a light dusting of flour. Roll the dough out until it's about 1/4-inch thick, and cut out the lip shapes. Re-roll the scraps and continue to cut out cookies until you've used all the dough. Place the cookies on parchment-covered baking sheets. Chill the sheets in the refrigerator or freezer while you preheat the oven to 350 F. Bake at 350 for about 8-9 minutes, rotating halfway through, until the cookies are puffed and dry on top. Cool them completely on a wire rack before assembling.
To Make the Spicy Cinnamon Buttercream:
Place the room temperature butter in the bowl of a stand mixer fitted with a paddle attachment and beat on medium speed until light and fluffy. Add the remaining ingredients and beat on low speed until combined, then turn the speed to medium and beat for 2 minutes until light and fluffy. Taste the frosting and add more cinnamon oil, if desired, if you want a spicier flavor.

Divide the frosting in half and color one portion with red food coloring, and the second portion with yellow and ivory coloring to make a gold color. The frosting can be made in advance and can be stored in an airtight container in the refrigerator for up to a week. Let it come to room temperature before using it.
To Assemble:
Divide the fondant in half. Dust your work surface with powdered sugar, and if you have food-safe gloves, now is a good time to put them on. Place a squirt of yellow and ivory gel food coloring in the center of one of the fondant balls, and knead it well until the color is dispersed and your fondant is a nice gold color. Repeat this process with red food coloring (no need to change your gloves) to make a ball of red fondant.

Roll one of the colors out on your work surface until it is very, very thin. Try to make it as thin as you can. Cut 12 lip shapes from the fondant, and place them on a waxed paper-lined baking sheet. Repeat with the second color, and place it on a separate paper-lined sheet. You should have a total of 24 lips—12 red and 12 gold.

Brush the tops of the lips with a very, very light layer of corn syrup. Sprinkle red disco dust over the tops of the red lips, and gold disco dust over the tops of the gold lips. Let the fondant lips set for about an hour so that the tops aren't tacky and the fondant is a little stiffer.

Tilt the fondant lips to the side and tap them on the sheet to let an excess disco dust fall back onto the baking sheet. (You can then gather up the waxed paper and use it like a funnel to pout the extra dust back into the bottles.) Dot the tops of 24 cookies with a bit of corn syrup, and press the fondant lips on top. Don't use too much, since the idea is to make the fondant layer fairly easy to remove later.

Transfer the gold and red frostings into two

piping bags

fitted with a #8 or #10 round tip. Pipe an outline of frosting on top of the remaining 24 naked cookies, doing 12 red and 12 gold, and top the cookies with a fondant-covered cookie in a matching color. (Alternately, for a less precise application, you can just spread the frosting on the cookies with a knife or spatula.) These cookies can be made in advance and stored in an airtight container between sheets of waxed paper for up to a week.
Recipe Notes
If you use a cookie cutter the size of mine (a thin lip shape about 3 inches wide) you will get 4 dozen cookies from this batch, enough to make 2 dozen cookie sandwiches.
MEASURING TIPS
Our recipes are developed using weight measurements, and we highly recommend using a kitchen scale for baking whenever possible. However, if you prefer to use cups, volume measurements are provided as well. PLEASE NOTE: the adage "8 oz = 1 cup" is NOT true when speaking about weight, so don't be concerned if the measurements don't fit this formula.
Click here to learn more about baking measurements and conversion.
Nutrition
Share by Email
Share on Facebook
Share on Pinterest