This post may contain affiliate links. As an Amazon Associate I earn from qualifying purchases. Please see my disclosure policy for more information.
As I type this, there is literally a foot and a half of snow outside my front door, with more falling by the minute. "Have Yourself A Merry Little Christmas" is playing on the radio, and I'm wearing both a fleece sweatshirt AND fuzzy slippers. I am a total December cliché, and I am not even mad about it.
Earlier this fall our family moved from California to Utah, and I didn't make a secret about being a little apprehensive about the move, since I've been a thin-blooded warm-weather girl my whole life. Well, living in the snow is still very new to me, and I might be singing a different tune in 4 months, but so far I love it. It feels completely magical, the way the landscape transforms from the usual grass, trees, and sidewalks into a white winter wonderland. And the opportunities to wear cute hats and scarves! This winter thing is dreamy.
The snow is also going a long way toward putting me in a Christmas mood. I've been trapped in a work cocoon for weeks now (insert air kisses and requisite apology for blog silence here), and it feels like Christmas has kind of snuck up on me this year. We've put up a tree, and we've made a batch or two of gingerbread men, but I don't feel like I've had the time to stop, breathe, reflect, and just enjoy the season with my family. Hopefully that time is coming soon. But in the meantime, I have 18 inches of fluffy snow outside, reminding me to stop and hum a carol now and then.
I also have these mini present cakes bringing the Christmas spirit. How could I not grin like an idiot and feel all toasty-warm inside when I see these beauties?

Yes, friends, these pretty boxes are entirely edible, from their fluffy cake and frosting fillings to the patterned, glittery, be-decked and be-bowed exterior. They're one of my favorite things I've made this year, and I'm so excited to share them with you!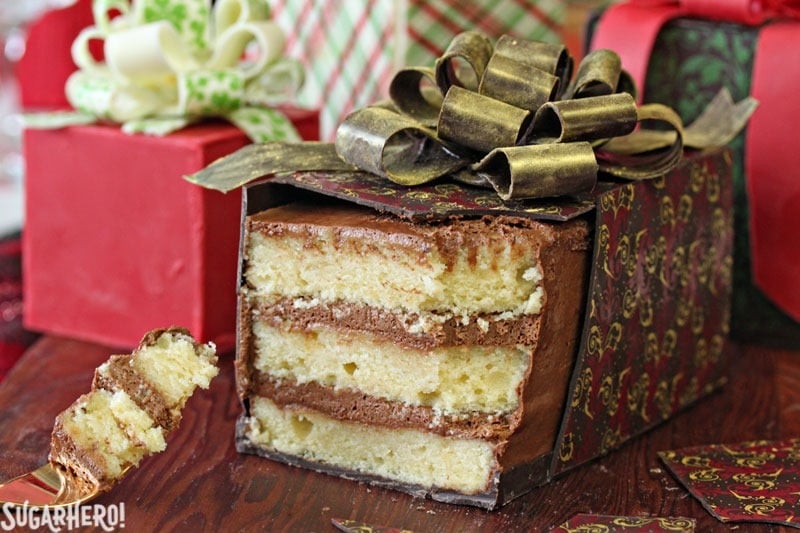 The cakes start with a cream cheese pound cake. It's dense enough to stand up to layering and stacking, but the cream cheese and butter keep it plenty moist. It has good staying power, and keeps its fresh taste for days. There is nothing worse than working for hours to assemble the perfect cake, only to have it be horribly dry! No chance of that happening with this pound cake.
The frosting is a little different than my usual egg white-based Swiss meringue. This time, I went with a French meringue, meaning the recipe uses egg yolks instead of whites. I did it mostly to use up some egg yolks I had lying around (because I'm a child of the Great Depression and cannot stand wasting food), but also because I wanted to branch out from the recipe I almost always use and provide you with some different options! If egg yolks aren't your thing, you can use your own frosting recipe instead, but if you're open to it, I hope you give the French buttercream a try. The yolks make it super silky and rich, and it tastes really luxurious, which is a nice pairing with the simple pound cake.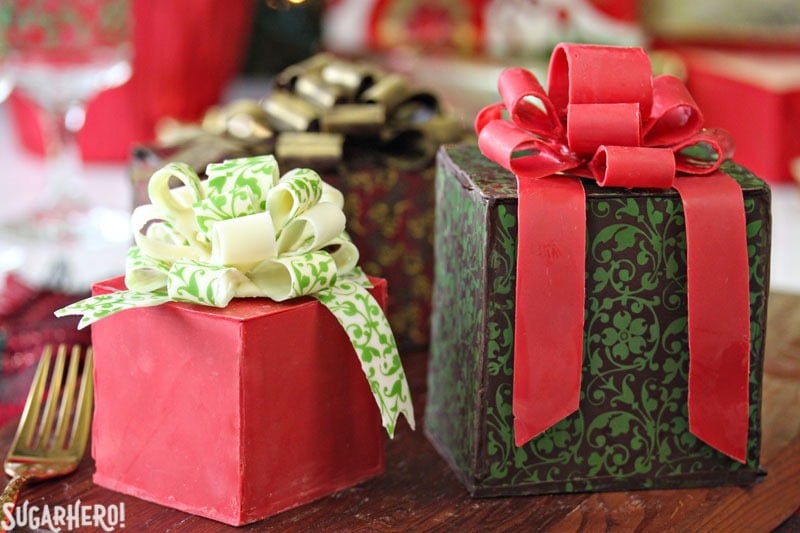 The cakes are finished with patterned chocolate panels and chocolate bows. This is what I like to call "An Object Lesson In Why One Should Not Shop Online At Midnight." I was buying just a few things I needed for upcoming projects, and ran across some incredibly cute transfer sheets that I thought would be perfect for a Christmas recipe. One thing led to another, there was a click of a mouse here or there, and pretty soon I had almost a dozen transfer sheets heading my way in all sorts of styles and patterns.
Fortunately, I still thought they were cute when they arrived and I wasn't in a sleepy stupor, so it all worked out. And I got to do some power clashing with patterns, colors, and prints! Plaid, meet your new friend floral. You guys are going to be BFF.
Of COURSE the recipe is below, but I also know that a visual guide is a huge help when trying to figure out more complicated recipes, so I put together two photo tutorials for you: one for making the present cakes, and one for making the chocolate bows. And in the future, I'm planning on including videos for more involved or complicated recipes. (yay!) But I don't have video of this one (boo) so please enjoy these non-moving pictures and check the recipe at the end for more info.
These presents would be nothing without the bows on top. The bows take them from "weird boxes that have a few crooked corners if you look closely" to "these are totally presents and they are edible and I'm about to die of cuteness squeeeee!" (It's a strange scale that was basically invented for this very recipe.) They are literally the crowning touch and I insist that you make them if you try this recipe. Don't even think about leaving them off.
Fortunately, making chocolate bows is totally easy! Definitely easier than assembling the present cakes, I'd say. You can make plain ones by using acetate strips, or you can use strips of chocolate transfer sheets to make patterned bows. You demand a photo tutorial, you say? Look what I made for you, you pushy thing:
This is an absolutely perfect holiday dessert. Not only because of the obvious Christmas/presents tie-in, but because it has such a WOW factor. The shapes, the colors, the patterns, and then the fact that your guests will have to cut through a whole chocolate box to eat the cake…it's fun, it's interactive, it's holiday magic. And in case you were wondering, I made 4 mini cakes of various sizes out of this recipe, but you can (and should!) absolutely customize it. So you might make fewer cakes that are larger, or a bunch of tiny cakes…it's up to you, and it can totally be made to fit your needs and your situation!
Chocolate-Wrapped Present Cakes
This is a hard recipe to write because it just begs for customization! I made 4 small cakes with this recipe, ranging in size from a 4-inch square, a 3x5 cake, a 4x6 cake, and a small 2.5-inch cake. However, I would encourage you to experiment yourself and make whatever size—and however many number!—of present cakes you'd like. Also, I used French buttercream because I had a lot of yolks I needed to use up, but you can always swap out the frosting for a Swiss or Italian buttercream if you'd like. Even American buttercream will work, but because it crusts, you'll need to spread a fresh layer of frosting on the outside before you attach the chocolate panels to make sure they adhere properly.
Ingredients
For the Cake:
9 1/2

oz

all-purpose flour

,

(2 1/4 cups)

1 1/2

tsp

baking powder

1/2

tsp

salt

8

ounces

butter

,

at room temperature

8

ounce

cream cheese

,

at room temperature

12 1/4

oz

sugar

,

(1 3/4 cups)

4

eggs

,

at room temperature

1

tbsp

vanilla extract
For the French Buttercream:
7

oz

granulated sugar

,

(1 cup)

4

oz

water

,

(1/2 cup)

1

TBSP

light corn syrup

6

egg yolks

,

at room temperature

1

lb

butter

,

soft but still cool

6

oz

dark chocolate

,

melted and cooled

1/8

tsp

salt

1

tsp

vanilla extract

1

tsp

instant espresso powder
For the Chocolate Wrapping and Bows:
Four 10x16-inch chocolate transfer sheets, or more if using them for bows as well

Acetate strips

,

(instead of transfer sheets for the bows)

2-3

lbs

candy coating

,

depending on number and size of cakes and bows
Instructions
To Make the Cake:
Preheat the oven to 350 F. Line a 13×18″ rimmed baking sheet with parchment, and spray the pan and parchment well with nonstick cooking spray. In a small bowl, whisk together the flour, baking powder, and salt, and set aside.

Combine the butter, cream cheese, and sugar in the bowl of a large stand mixer. Fit the mixer with a paddle attachment, and mix on low speed until combined, then raise the speed to medium and beat until light and fluffy, about 3-4 minutes.

Add the eggs one at a time, beating well after each addition, then add the vanilla extract. Finally, turn the mixer to low, and slowly add the dry ingredients. Stop when just a few streaks of flour remain. Finish mixing the cake by hand, using a spatula to scrape the bottom and sides of the bowl well.

Scrape the cake batter out into the prepared pan and spread it into an even layer. Bake the cake for about 20 minutes, until it is a light golden color, the top springs back when lightly pressed, and a about 20 minutes, until the top springs back when lightly pressed and a toothpick inserted into the center comes out clean. Cool it completely on a wire rack. The cake can be made several days in advance and kept, well-wrapped, at room temperature or in the freezer. If freezing, defrost before using.
To Make the Buttercream:
Combine the sugar, water, and corn syrup in a small saucepan, and place the pan over medium heat. Stir occasionally while the sugar dissolves, and use a wet pastry brush to brush down the sides of the pan to prevent sugar crystals from forming. When the mixture comes to a boil, insert a candy thermometer. Cook the sugar syrup until it reaches 230 F on the thermometer.

While the sugar syrup cooks, place the egg yolks in the bowl of a large stand mixer fitted with a whisk attachment. Start whipping the yolks on medium-high speed. They will get light and foamy, and triple in volume during the whipping process.

When the syrup reaches 230 F, remove the pan from the heat. Turn the mixer speed to low, and slowly stream the hot sugar syrup into the yolks. Once all of the syrup is added, gradually raise the speed of the mixer again until it is medium-high. Whip the yolk mixture until it is no longer warm to the touch—if you feel it with your finger, it should be body temperature and not be noticeably warm.

Switch the whisk out for a paddle attachment. Cut the cool-but-slightly-softened butter into cubes. Add the butter, a cube at a time, to the mixing bowl while it runs at medium speed. At some point while you add the butter, the frosting might break and look curdled. As long as you've made sure that your butter is slightly cool and your yolk mixture was not too warm, don't worry—it will come back together. Continue to mix until all of the butter is added. If the frosting is slightly separated, beat it at medium-high speed until it comes together (this usually only takes 2-3 minutes, but it might take longer. Just beat until it's light and fluffy and smooth.)

Add the melted and cooled chocolate, vanilla, salt, and espresso powder, and mix until combined. The frosting can be used immediately, or made in advance and kept in an airtight container in the refrigerator. If it's been refrigerated, bring it to room temperature and re-whip it before using.
To Assemble:
Cut the cake in thirds, and spread a layer of chocolate buttercream on one of the rectangles of cake. Slide a second rectangle on top, make sure the edges are even, and spread frosting on top of this layer as well. Top with the third rectangle of cake.

At this point, you need to decide what size cakes you want to make, and cut the cake into that many pieces. You can make them all the same size, or cut them into varying sizes of squares and rectangles. You can even make some really tall by stacking two squares of cake on top of itself. So cut your cake into the desired sizes, then cut pieces of cardboard to match. Slide the cardboard pieces until the bottom of each cake block.

Spread a very thin layer of chocolate buttercream on the top and sides of each cake, and refrigerate the cakes until the frosting is firm, about 30 minutes. This will make it easier to get clean edges later.

Spread the remaining buttercream over the top and sides of the cakes. Use an angled spatula or bench scraper to get the sides even and the corners neat. (Don't worry if it's not perfect—you'll be covering it up with chocolate anyhow. But it helps to start with a cake with even sides and sharp corners!) Refrigerate the cakes again to firm up the frosting.

Measure the sides of the cakes, and cut panels from the chocolate transfer sheets that are just slightly larger than the cake sides. You'll need four panels for the sides and one panel for the top of each cake. Set them, rough side up, on a long sheet of parchment or waxed paper.

Melt the candy coating, stirring after every 30 seconds so it doesn't overheat. Pour the coating across the transfer sheet panels. Use a metal offset spatula to spread it in an even layer across the tops of the transfer sheets, extending past the edges so every bit of the sheets are covered. Carefully lift up the chocolate sheets and scoot them to a clean section of parchment—this will make sure that the sheets have clean edges all around, and it's easiest to do before the coating starts to set.

Let the chocolate set completely at room temperature. Once set, carefully peel the transfer paper off of the chocolate. The design will be transferred onto the panels, and you're now ready to use them to decorate your cakes!

Cover a baking sheet with parchment or waxed paper. If necessary, re-warm the candy coating, and transfer some into a paper cone or plastic bag with a hole snipped in the corner. Spoon a layer of coating that is larger than one of your cakes onto the baking sheet. Transfer a cake from its cardboard and place it in the middle of the coating. Press one chocolate panel against the side of the cake, pushing it into the coating at the bottom and pressing it firmly against the sides of the cake to get a close fit. Pipe a very thin line of chocolate along one side of the panel, and press a second panel into the side of the cake, gluing it to the first with chocolate. Continue to glue the panels together, and finally pipe a thin layer of chocolate on top of the panels, and affix the chocolate lid.

Let the coating around the bottom of the cake set a bit, until it is only slightly tacky but not hard. Use a knife to cut through the coating around the base, but leave the cake in place until the coating sets completely. Once set, you can remove the excess from the sides and slide a spatula under the chocolate base of the cake to lift it off. Repeat this process until all of the cakes are covered with chocolate.
To Make Chocolate Bows:
Cut 1x3-inch strips from the transfer sheets—you can make them larger or smaller depending on the size of the bow you want. You'll want about 14 strips to make a bow the size of the larger ones you see on my cakes. If you don't have extra transfer sheets, or want plain bows instead, cut acetate strips (like the type used for clear cake collars) instead.

Set the strips on a long piece of waxed paper or parchment paper. If using transfer sheets, make sure the rough side is face up. Melt the candy coating in the microwave.

Pour the coating in a thin line across the strips, and use a metal spatula to spread it in an even layer, covering the strips completely. Let the coating set for just a minute or two, until it is not fluid but still very tacky. Lift up a strip and press the ends together, forming a tear drop shape. If it is droopy or starts to drip, wait another minute until it gets slightly firmer and then try again. Repeat until all of the strips have been formed into teardrops. Let them dry completely. Once dry, carefully peel off the acetate strips or transfer sheets.

Cover a baking sheet with parchment or waxed paper. Spread a small spoonful of melted coating onto the sheet. Press a ring of chocolate teardrops into the melted coating, forming a circle. Add another spoonful of coating in the center, and press another ring of teardrops into it, staggering them with the first row. Continue to add teardrops to your bow, building it higher, until all the space is filled. Let the chocolate set completely. If you used plain coating, you can brush the bow with luster dust if you'd like. You can also cut longer strips of acetate or transfer sheets to make ribbons that stick out from the bottom of the bow.

Move the bow by carefully sliding a spatula under it and transferring it that way. Affix the bows to the cakes with a bit of melted candy coating.
MEASURING TIPS
Our recipes are developed using weight measurements, and we highly recommend using a kitchen scale for baking whenever possible. However, if you prefer to use cups, volume measurements are provided as well. PLEASE NOTE: the adage "8 oz = 1 cup" is NOT true when speaking about weight, so don't be concerned if the measurements don't fit this formula.
Click here to learn more about baking measurements and conversion.
Nutrition
Calories:
780
kcal
|
Carbohydrates:
74
g
|
Protein:
4
g
|
Fat:
50
g
|
Saturated Fat:
35
g
|
Cholesterol:
177
mg
|
Sodium:
383
mg
|
Potassium:
156
mg
|
Fiber:
1
g
|
Sugar:
62
g
|
Vitamin A:
1130
IU
|
Vitamin C:
0
mg
|
Calcium:
56
mg
|
Iron:
2
mg
Share by Email
Share on Facebook
Share on Pinterest