This is an absolutely perfect holiday dessert filled with WOW factor. The shapes, colors, patterns and textures make eating this treat pure holiday magic.
As I type this, there is literally a foot and a half of snow outside my front door, with more falling by the minute. "Have Yourself A Merry Little Christmas" is playing on the radio, and I'm wearing both a fleece sweatshirt AND fuzzy slippers. I am a total December cliché, and I am not even mad about it.
Earlier this fall our family moved from California to Utah, and I didn't make a secret about being a little apprehensive about the move, since I've been a thin-blooded warm-weather girl my whole life. Well, living in the snow is still very new to me, and I might be singing a different tune in 4 months, but so far I love it. It feels completely magical, the way the landscape transforms from the usual grass, trees, and sidewalks into a white winter wonderland. And the opportunities to wear cute hats and scarves! This winter thing is dreamy.
The snow is also going a long way toward putting me in a Christmas mood. I've been trapped in a work cocoon for weeks now (insert air kisses and requisite apology for blog silence here), and it feels like Christmas has kind of snuck up on me this year. We've put up a tree, and we've made a batch or two of gingerbread men, but I don't feel like I've had the time to stop, breathe, reflect, and just enjoy the season with my family. Hopefully that time is coming soon. But in the meantime, I have 18 inches of fluffy snow outside, reminding me to stop and hum a carol now and then.
I also have these mini present cakes bringing the Christmas spirit. How could I not grin like an idiot and feel all toasty-warm inside when I see these beauties?

Yes, friends, these pretty boxes are entirely edible, from their fluffy cake and frosting fillings to the patterned, glittery, be-decked and be-bowed exterior. They're one of my favorite things I've made this year, and I'm so excited to share them with you!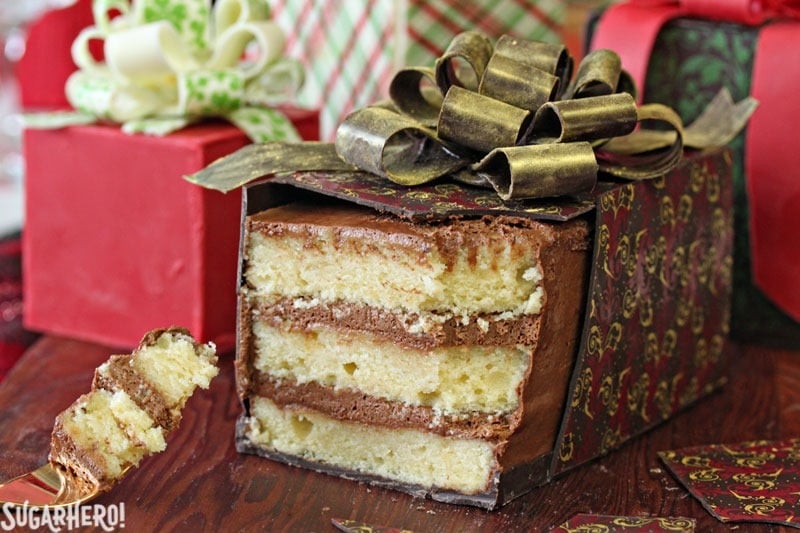 The cakes start with a cream cheese pound cake. It's dense enough to stand up to layering and stacking, but the cream cheese and butter keep it plenty moist. It has good staying power, and keeps its fresh taste for days. There is nothing worse than working for hours to assemble the perfect cake, only to have it be horribly dry! No chance of that happening with this pound cake.
The frosting is a little different than my usual egg white-based Swiss meringue. This time, I went with a French meringue, meaning the recipe uses egg yolks instead of whites. I did it mostly to use up some egg yolks I had lying around (because I'm a child of the Great Depression and cannot stand wasting food), but also because I wanted to branch out from the recipe I almost always use and provide you with some different options! If egg yolks aren't your thing, you can use your own frosting recipe instead, but if you're open to it, I hope you give the French buttercream a try. The yolks make it super silky and rich, and it tastes really luxurious, which is a nice pairing with the simple pound cake.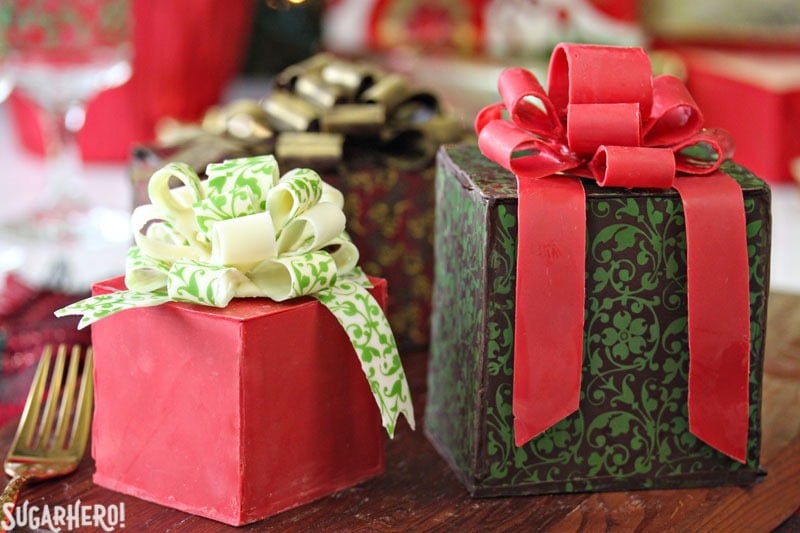 The cakes are finished with patterned chocolate panels and chocolate bows. This is what I like to call "An Object Lesson In Why One Should Not Shop Online At Midnight." I was buying just a few things I needed for upcoming projects, and ran across some incredibly cute transfer sheets that I thought would be perfect for a Christmas recipe. One thing led to another, there was a click of a mouse here or there, and pretty soon I had almost a dozen transfer sheets heading my way in all sorts of styles and patterns.
Fortunately, I still thought they were cute when they arrived and I wasn't in a sleepy stupor, so it all worked out. And I got to do some power clashing with patterns, colors, and prints! Plaid, meet your new friend floral. You guys are going to be BFF.
Of COURSE the recipe is below, but I also know that a visual guide is a huge help when trying to figure out more complicated recipes, so I put together two photo tutorials for you: one for making the present cakes, and one for making the chocolate bows. And in the future, I'm planning on including videos for more involved or complicated recipes. (yay!) But I don't have video of this one (boo) so please enjoy these non-moving pictures and check the recipe at the end for more info.
These presents would be nothing without the bows on top. The bows take them from "weird boxes that have a few crooked corners if you look closely" to "these are totally presents and they are edible and I'm about to die of cuteness squeeeee!" (It's a strange scale that was basically invented for this very recipe.) They are literally the crowning touch and I insist that you make them if you try this recipe. Don't even think about leaving them off.
Fortunately, making chocolate bows is totally easy! Definitely easier than assembling the present cakes, I'd say. You can make plain ones by using acetate strips, or you can use strips of chocolate transfer sheets to make patterned bows. You demand a photo tutorial, you say? Look what I made for you, you pushy thing:
This is an absolutely perfect holiday dessert. Not only because of the obvious Christmas/presents tie-in, but because it has such a WOW factor. The shapes, the colors, the patterns, and then the fact that your guests will have to cut through a whole chocolate box to eat the cake…it's fun, it's interactive, it's holiday magic. And in case you were wondering, I made 4 mini cakes of various sizes out of this recipe, but you can (and should!) absolutely customize it. So you might make fewer cakes that are larger, or a bunch of tiny cakes…it's up to you, and it can totally be made to fit your needs and your situation!
More Holiday Recipes💖