This post may contain affiliate links. As an Amazon Associate I earn from qualifying purchases. Please see my disclosure policy for more information.
Chocolate Truffle Peppermint Crunch Cookies are deep, darkly chocolatey cookies with mint flavoring and a soft, gooey texture in the center. They're topped with a white chocolate-mint ganache and crunchy mint pieces.
I've heard a rumor that it's cookie season. I've also heard that it's peppermint season, and gift-giving season, and "calories, shmalories" season. Huzzah!
I made these Chocolate Truffle Peppermint Crunch Cookies as part of the Great Food Blogger Cookie Swap. It's a fun blogging event organized by Lindsay and Julie, and the concept is simple: you mail out a dozen cookies to 3 different bloggers, and you receive 3 dozen cookies in return. It combines all of my favorite things: making cookies, giving cookies away so I don't eat all of them, meeting new bloggers, and getting surprise (cookie-filled) packages in the mail. Plus, it also serves as a fund-raiser for Cookies for Kid's Cancer, so it's a win-win-win-win-win!
There are probably sturdier (and lighter!) cookies I could have chosen to mail, but once I fixed on the idea of sending these super gooey, super minty, super chocolatey cookies, it was all over. Decision made.
These are another variation of my Gooey Chocolate Cookies, and if I spent the rest of my life just making riffs off of that cookie, I could die a happy lady.
What makes these cookies so intense, and so fabulous, is that they're practically all chocolate, with just a bit of butter, a few eggs, and a touch of flour to hold the whole thing together. They need to be baked just until they're set around the edges, so the center is still impossibly soft and gooey once they cool.
I added some mint extract to the cookie batter, as well as a few cups of Andes Peppermint Crunch Baking Chips–I love those because they're a nice mix of crunchy-but-not-too-crunchy, and they have a great peppermint flavor.
Because a giant hockey puck of chocolatey deliciousness didn't seem like enough, I topped the cookies with a layer of white chocolate-mint ganache and a flurry of peppermint chips. I made the ganache quite firm, so it would be stable once it set and hold up to whatever indignities the mailing process would bring. It's definitely optional, but it seemed like just the thing to take these special cookies over the top. I mean, other bloggers were going to be judging my cookies! And posting about them…on social media! *ominous music* Isn't that a perfect reason to pull out all the stops?
Most of the cookies were mailed off, but a I managed to sneak a few extras for our family. We happily discovered that microwaving these cookies for 5-10 seconds turned them into wonderful puddles of melting chocolate, barely held together, just waiting to be enjoyed with a fork or a few fingers.
However you choose to eat them, and whomever you choose to share them with, I hope you get to enjoy a few this season!
P.S. If you're a blogger and would like to get on the mailing list for next year's cookie swap, you can sign up here!
❤️ MUST-MAKE CHRISTMAS RECIPES:
Peppermint Hot Chocolate
This Peppermint Hot Chocolate recipe is made the old-fashioned way, with real melted chocolate for a rich texture and deep chocolate flavor. The bright minty flavor makes this the perfect holiday drink.
Get the recipe!
Chocolate Peppermint Kiss Cookies
These Chocolate Peppermint Kiss Cookies are the perfect combination of a deep rich chocolate cookie and crunchy sweet candy cane pieces topped with a striped Hershey's Kiss.
Get the recipe!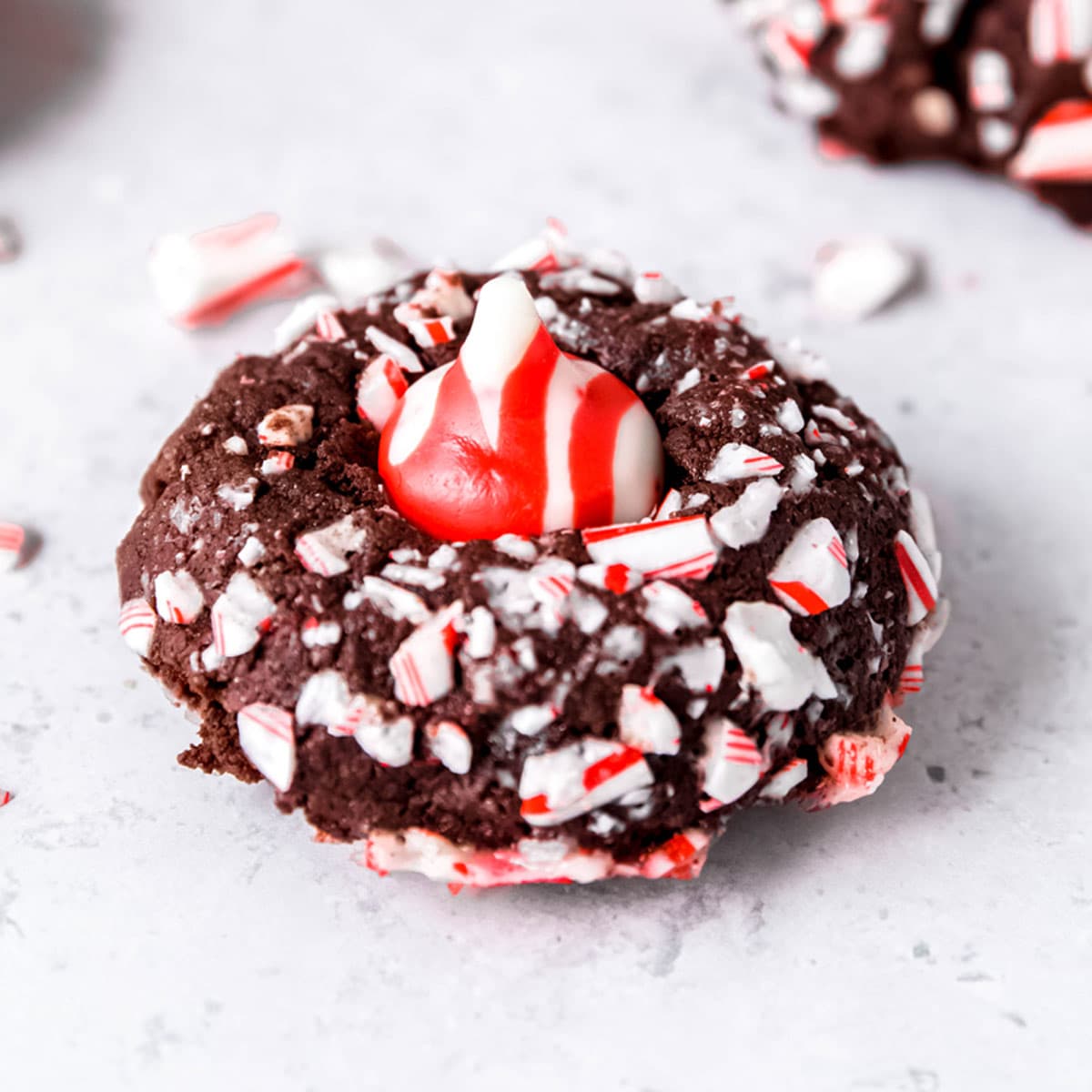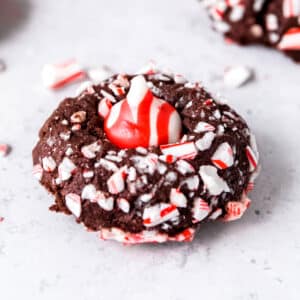 Chocolate Truffle Peppermint Crunch Cookies
Chocolate Truffle Peppermint Crunch Cookies are deep, darkly chocolatey cookies with a mint flavor and a soft, gooey texture in the center. They're topped with a white chocolate-mint ganache and crunchy mint pieces. I used Andes Peppermint Crunch Baking Chips, but you can substitute any other mint chips that are available to you. This recipe yields 36 large (3″) cookies, which is great for gift-giving but a little overwhelming for most normal purposes. It can easily be halved, though, and you can always make the cookies smaller to increase the yield.
Ingredients
For the Chocolate Cookies:
For the White Chocolate Topping:
24

oz

white chocolate,

(4 cups), finely chopped

4

oz

heavy cream

,

(1/2 cup)

1/4

tsp

salt

3

oz

unsalted butter

,

at room temperature

1

tsp

mint extract

6

oz

mint chips for topping

,

(1 cup), optional
Instructions
To Make the Chocolate Cookies:
In a small bowl, whisk together the flour, baking powder, and salt, and set aside.

Combine the chopped chocolate and the butter in a microwave-safe bowl, and microwave in 30-second increments until completely melted and smooth. Stir after every 30 seconds to prevent overheating. Let the mixture cool to lukewarm.

Place the sugar and eggs in the bowl of a large stand mixer, and beat with a whisk attachment until very thick and foamy, about 5 minutes. Add the chocolate mixture, the vanilla, and 1 1/2 tsp mint extract, mix them in until they're incorporated. Scrape down the bottom and sides of the bowl, as the chocolate has a tendency to sink to the bottom.

Stir in the flour mixture, and when that's incorporated, add the mint chips and chocolate chips. Taste the batter, and add additional mint extract if desired to your preferred minty flavor. Press a layer of cling wrap on top of the batter and refrigerate it until it's firm enough to scoop, about 1 hour. (The batter can be refrigerated for several days, but it will need to sit at room temperature to become workable if it has been chilled for an extended period.)

Preheat the oven to 350 degrees F and line baking sheets with parchment paper. Use a large 1/4-cup scoop to scoop large portions onto the baking sheets. Bake the cookies until they look dry and crackly on the top, but the center is still very jiggly and soft when pressed, about 12-14 minutes. Do not over bake them, or they'll lose their gooey enter! Cool the cookies on the baking sheet—if you try to move them too soon, they'll fall apart.
To Make the White Chocolate Topping:
Place the white chocolate in a large microwave-safe bowl and melt it in the microwave in 30-second increments, stirring after every 30 seconds until melted and smooth.

Pour the cream into a small saucepan and heat until it comes to a simmer, with bubbles appearing around the sides of the saucepan. Pour the hot cream on top of the melted white chocolate, and whisk gently until the ganache is smooth. Add the salt, the room temperature butter, and the mint extract, and whisk until well-combined. If at any time the ganache appears to separate, continue to whisk until it comes back together. Sometimes adding a spoonful or two of cream can help bring it together as well. (Different white chocolate brands behave very different in ganache, depending on their cocoa butter content, so it's hard to predict how any ganache will behave. But in general, I have had good success in bringing back separated ganaches simply by whisking consistently.)

Place a heaping spoonful of ganache on top of a cookie, and spread it out to the edge. Top with a generous pinch of mint chips, and repeat until each cookie has a ganache and mint chip topping. Let them sit at room temperature overnight until the ganache has set, or refrigerate them to speed up the setting process. Store cookies in an airtight container for up to a week. For maximum deliciousness, microwave them for 5-10 seconds before eating, to make the centers warm and gooey again.
MEASURING TIPS
Our recipes are developed using weight measurements, and we highly recommend using a kitchen scale for baking whenever possible. However, if you prefer to use cups, volume measurements are provided as well. PLEASE NOTE: the adage "8 oz = 1 cup" is NOT true when speaking about weight, so don't be concerned if the measurements don't fit this formula.
Click here to learn more about baking measurements and conversion.
Nutrition
Serving:
36
g
|
Calories:
514
kcal
|
Carbohydrates:
58
g
|
Protein:
5
g
|
Fat:
29
g
|
Saturated Fat:
17
g
|
Cholesterol:
58
mg
|
Sodium:
91
mg
|
Potassium:
299
mg
|
Fiber:
2
g
|
Sugar:
50
g
|
Vitamin A:
260
IU
|
Vitamin C:
0.1
mg
|
Calcium:
95
mg
|
Iron:
2.6
mg
Share by Email
Share on Facebook
Share on Pinterest

This post contains Amazon affiliate links. For more information, see my Affiliate and Advertising Policy.